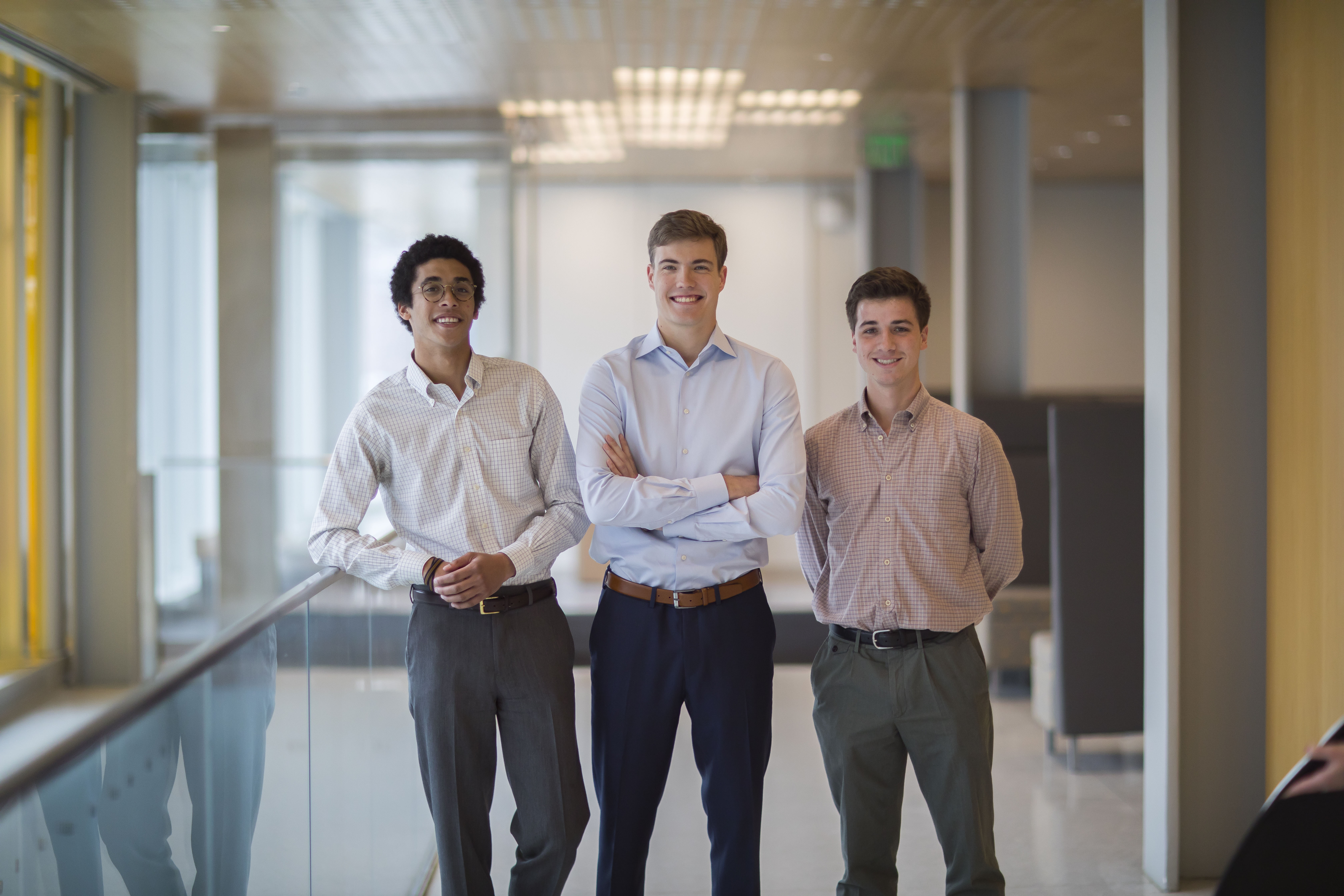 It was merely chance that Griffin Amdur, James McPhail, and Andrew Witherspoon crossed paths four years ago. As freshmen at Penn, the trio—from Chicago, Rye, N.Y., and St. Louis, respectively—formed a friendship that has not only lasted throughout college, but will continue to flourish as they embark on an entirely new journey: as entrepreneurs.
The Wharton students' nonprofit Chicago Furniture Bank, which will bundle used furniture and household items and distribute them at a discounted price to those most in need, recently earned recognition from Penn's President Amy Gutmann in the form of the 2018 President's Engagement Prize. Upon graduating this May, Amdur, McPhail, and Witherspoon, along with three other Penn teams, will receive $100,000 to get their projects off the ground, plus a $50,000 living stipend each. 
"We are grateful for this award and believe we will help many in the community I grew up in," says Amdur, a real estate, finance, and behavioral economics major. "This is a once-in-a-lifetime opportunity, and we are going to work our hardest to create a sustainable and long-lasting organization."
Innovative twist
The idea behind the Chicago Furniture Bank, Amdur says, stemmed after reading an article about the difference between millennials and baby boomers' discretionary spending: Younger generations spend more on experiences, and older generations on material objects. The article noted that it is becoming increasingly common for children to not want their parents' "stuff" as they age and downsize, so these possessions often end up in the garbage.
"I wondered, 'Where is all this stuff going?' and started looking at the secondary market for used furniture," Amdur says. "I found that furniture is the least recycled household item. It is just going into landfills, but it still has practical use."
Same goes for household appliances, and other items such as lamps, plates, and silverware, to name a few, says McPhail, a student in the Huntsman Program in International Studies and Business, which will also earn him a degree from the College of Arts and Sciences.
"A lot of these household items are just going to waste, but there's a significant need," he says. "There are thousands of people transitioning out of homelessness or domestic violence shelters every year, that are moving into empty, subsidized government apartments."
Often, because they feel uncomfortable in their empty apartments, [people] will use whatever disposable income they have to buy furniture, adds Witherspoon, a finance major and art history minor. "However, as they are often very low-income, whatever remaining portion of funds they have cannot cover their rent, and they get evicted, creating an unfortunate cycle."
Knowing that models for furniture banks already exist, but that Amdur's hometown of Chicago didn't have one, they figured it would be a perfect opportunity to form their own, with an innovative twist. 
Supply and demand
Amdur, McPhail, and Witherspoon's furniture bank will initially provide gently used products to women and children facing domestic violence. They've already secured partnerships with three nonprofits in Chicago—Housing Opportunities for Women, Family Rescue, and A Safe Haven Foundation—which annually transition more than 2,000 individuals into new homes. 
The nonprofits will connect those in need with the Chicago Furniture Bank, which will maintain a warehouse full of displayed, donated furnishings and household items. Clients will handpick their package for about $100—a fee that is "in line with other furniture banks, and is significantly cheaper than discounted furniture alternatives," says Amdur. 
A typical bundle will include a couch, bed, dresser, table, chairs, lamps, appliances, plates, and silverware. Making services even more accessible, the Chicago Furniture Bank will have a truck to allow for free delivery.
"Moving into a new home is stressful and challenging," says Witherspoon. "Our objective is to make their transition as welcoming, comfortable, and affordable as possible."
On the supply side, the Chicago Furniture Bank has partnered with Caring Transitions, a national senior relocation, downsizing, and estate sales company. The team will provide what they call a "painless service" to remove the seniors' unwanted belongings for a small fee that will be less than the cost of junk removal services.
Amdur says they have plans to continue pursuing other supply partnerships, with the likes of hotel liquidators, university housing services, and moving companies. But overall, he says, they aren't too worried when it comes to donations.
"There's such a demand for this service," says McPhail. "Even when we were chatting with a previous President's Engagement Prize winner—a phone call to talk about our project—she said, 'I'm moving right now, I'm having this same problem.' It's something that really does exist out there, and we saw a way for us to fill the need, both on the supply and the demand side."
Market research
Although Amdur and McPhail have volunteered as leaders of a nonprofit (they've been heads of Penn's chapter of the DREAM Program since their sophomore year), they understood that the team would need to do its due diligence if it was going to get the Chicago Furniture Bank right.
Their first step? Reaching out to Tyler Wry, an assistant professor of management in the Wharton School. At Penn for nearly seven years, Wry teaches entrepreneurship—particularly social enterprise creation.
"The first time we all sat down, they had some ideas, and I pushed back pretty hard. I wanted to challenge them to subject their ideas to real scrutiny," says Wry. To his surprise, "they really leaned into that."
Their model evolved as they began to better understand the space, and the students continued to make "good decisions based on the data they were gathering," says Wry. "That's not something you often see from young entrepreneurs. You have to overcome a lot of biases to be willing to be that flexible; I was impressed."
Amdur, McPhail, and Witherspoon also made sure to connect with the Philadelphia Furniture Bank, touring the local organization's space and conversing frequently with Thomas Maroon, its director.
"They are a really innovative model, and the first of their kind," says Amdur. 
Next up was finding their partner organizations that, in the end, all enthusiastically wrote letters of support for the creation of the Chicago Furniture Bank. Amdur, McPhail, and Witherspoon submitted these letters with their President's Engagement Prize application.
Notably, in the Housing Opportunities for Women letter, the dire need for the Chicago Furniture Bank was clear: "We rely primarily on community partners and donations to provide furniture to our clients, and the nearest furniture bank is located far in the western suburbs…Many individuals who work with HOW don't have access to transportation and cannot pick up the furniture, making this furniture bank virtually unusable for our organization."
It continued, stating that it would "greatly benefit" each client, providing them with "a complete home."
Full speed ahead
Amdur says the Chicago Furniture Bank hopes to help furnish 400 apartments in its first year, helping 1,000 individuals. A lofty goal, the trio isn't wasting any time.
"We are doing a lot of the legwork in terms of organizing and planning right now," says McPhail. "Finding a warehouse, and a truck at a reasonable cost. We'll move to Chicago at the very beginning of July and hit the ground running."
Chatting candidly, too, he adds how difficult—mainly due to high initial fixed costs—it would be to start something like this without the help of Penn.
"We're just so grateful to Penn for allowing us to have this opportunity," says McPhail. "It's amazing that they offer students the ability to positively impact the community on such a large level, and really pursue their dreams."