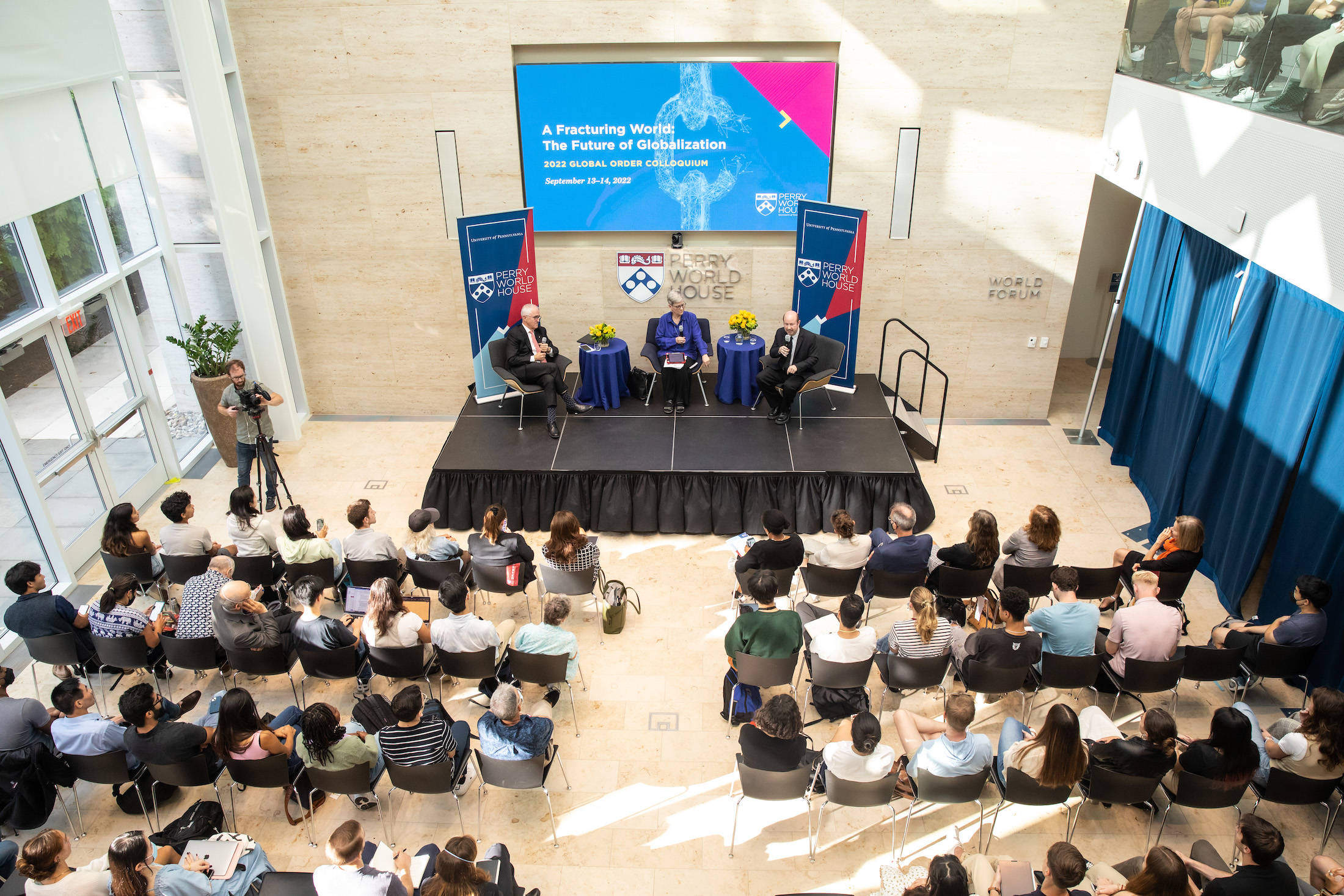 What does the future of globalization look like in a world that is increasingly fractured? Perry World House's 2022 Global Order Colloquium explored that question in a series of panels featuring experts from government, media, and across the University.
Starting the two-day colloquium was a conversation between Penn climate scientist Michael E. Mann and former Australian Prime Minister Malcolm Turnbull—moderated by Kathleen Hall Jamieson of the Annenberg Public Policy Center—looking at how Australia has become a leader in fighting climate change.
Penn President Liz Magill, in introducing the panel, noted that "the topics they will tackle could not be more urgent or more global in scope." Recent headlines, from devastating droughts in Europe and sub-Saharan Africa, to record-breaking heat, storms and wildfires in the United States, highlight the increasing threats of climate change.
"These grave challenges are increasingly the norm," Magill said. "Much like a pandemic, climate change does not respect international borders, does not distinguish among cultures or languages, and is a global fact. If we want to weather what is coming, then we need a global response. We also need the very best and brightest that great universities like Penn can provide."
Mann, a Presidential Distinguished Professor in the School of Arts & Sciences' Department of Earth and Environmental Science, with a secondary appointment in the Annenberg School for Communication, is also the director of the new Penn Center for Science, Sustainability and the Media. The talk was the Center's inaugural event.
Turnbull told the audience that nations around the globe already have the means and tools "to have abundant energy at affordable prices delivered in a reliable manner with zero emissions," pointing to wind and solar energy and batteries that can store it all. However, he said, climate change denial is standing in the way.
"We have been bedeviled by crazy politics and crazy media," he said, citing Rupert Murdoch's Fox News as the main contributor to the problem. "If we can replace ideology and idiocy with engineering and economics, we can get the job done. And that's what we should be seeking to do."
Mann recounted his sabbatical in Australia a few years ago, which coincided with one of the most profound climate-driven extreme weather events in Australian history.
"I first came face to face with the impacts of climate change in Sydney during what is now known as the Black Summer, the summer where Australia witnessed unprecedented heat and drought and wildfires that literally blanketed the continent," he said.
He said he didn't do as much research as he'd planned during his stay, but rather spent much of his time talking about the context for the extreme weather events, explaining how climate change was behind the real-time disasters that were playing out. That's also when he first met Turnbull.
"I think what bonded us was our mutual dislike of Rupert Murdoch and News Corp. and our willingness to call out bad actors in the media," he said. "As Malcolm explained, we have the technology to address the climate crisis. We can do it now with the energy technologies we have. The obstacles aren't technological; they are political."
Australia offers a lot of lessons that the U.S. could heed, especially just two months out from the midterms, Mann said. Of particular note is Australia's resistance to Murdoch's dominant media narrative and the country's ability to elect a government that defied that narrative of climate denialism and delay.
He said it's not overstating things to say that the upcoming midterm elections will determine the course of future action on climate in the United States and therefore globally.
"If we don't lead on this issue, it is unlikely that we can bring other nations, especially developing nations, to the table to join in this effort," he said. "This is a really critical moment. If we don't have a functioning democracy, we're not going to be able to address any of the major challenges we face, including the climate crisis. This is a moment of great opportunity but also of great peril."
Mann and Turnbull went on to discuss how Australia appeared designed to be maximally impacted by climate change and how the U.S., the largest cumulative carbon emitter, needs to own up to its legacy. They also pointed to how the current gatekeeper of American climate policy is one lone coal-state Democrat, Joe Manchin of West Virginia. They also highlighted voting rules in Australia that helped enable the nation's climate change agenda: compulsory voting, no gerrymandering, and ranked-choice voting.
Wrapping up the event, Jamieson asked them what they hoped attendees would take away from the discussion.
For Turnbull, it was simple: "Vote."
"Urgency and agency," said Mann. "We need dramatic action. It's not too late."
Day 2 started off with an ambassadors' roundtable featuring Ashok Kumar Mirpuri, Singapore's ambassador to the U.S.; Hilda Suka-Mafudze, permanent representative of the African Union to the U.S.; and Uruguay's ambassador to the U.S., Andrés Augusto Durán Hareau. The conversation was moderated by Edward Wong, diplomatic correspondent at The New York Times who reports on foreign policy from Washington, D.C.
The group explored how deglobalization is affecting their individual nations and the wider global economy and how the international community can still work together on economic issues.
Lessons from the pandemic, the U.S. and China's involvement in their nations, and the ongoing war in Ukraine and its effect on the movement of grain around the globe were among the topics discussed.
"The pandemic has taught us in Africa that we have to manufacture our own vaccines," Suka-Mafudze said, noting Africa-based companies are now making vaccines themselves in various regions across the continent. She also noted that Africa responded well to the pandemic because of its experience battling Ebola.
Wong asked the group if the idea of moving supply chains nearer to home is a good thing for free trade.

"For our country, it is good in the sense that we see more opportunities that we didn't have before, and we are positioning ourselves as an innovation hub, as a technology hub, and as a health care hub in in South America and working on how can we leverage our partnerships so that the U.S. and U.S. companies can be more engaged," said Durán Hareau. "In that sense, it's positive. Obviously, this pandemic has shifted many things, and it's inevitable. We are making the most of the opportunities that this brings."
They discussed how, for many countries, the future of globalization may be more globalization, as some nations do not have an alternative.
"Singapore is a country without any resources. We have to import our energy, we import our water, we import our food," Mirpuri said. "When you tell us that we're looking at a fractured world, a bifurcated world, that is not a happy outcome for us because every one of us, in all of Asia, want the people to be successful. And that really comes, we think, through economic interdependence, through economic links, through following the rules."
The final session featured Wharton School Dean Erika James in discussion with Rana Foroohar, global business columnist and an associate editor at the Financial Times.
They looked at how the COVID-19 pandemic has transformed the global economy, the shift of some nations toward deglobalization, and who the winners of deglobalization might be.
"The last few years, from the financial crisis to the pandemic to war in Ukraine, have been a bit like a scrim that has been pulled up on the vulnerabilities of our existing system, in particular the kind of globalization that we've seen," Foroohar said. "I define that neoliberal globalization as the IMF does, which is the assumption that there will be a globally free movement of capital, goods ,and people to wherever it is most productive. The assumption is that those things can move across borders and that movement will always end up in a kind of a win-win."
But throughout the globalization process, there were big areas of hollowing out in countries around the globe, even though the global economy was growing faster than ever before, Foroohar said. There was a huge growth in inequality, which she sees as having led to greater political polarization.
Foroohar said there is a deep social question for global citizens: Are we consumers or citizens?
"We've had 40 years of being consumers, and our entire economic policy has been run around that, everything from labor rights to corporate monopolies and antitrust policy to the way the SEC thinks about issues," she said. "We're now seeing a Biden administration that is pushing back against all of that and really making quite a pivot in a way that I think has been dramatically underreported. If you look back to the executive order that the president signed in July of 2021, saying, 'Guess what, it's not all about consumers anymore. It's about citizens, and it's about stakeholders. It's about communities. It's about a better balance between public and private.' That's a big deal."
But whether this regionalization or localization will in the end be a good or bad thing is up for debate, she said. An example she gave was working from home. If American workers can do their jobs from home, why couldn't that job be outsourced to people working from home in places like India?
Before turning to audience questions, James asked Foroohar what she hoped the audience took away from the discussion.
"Even though our system of neoliberal globalization has created a lot of wealth in the last 40 or 50 years, we also have a global economy that has run so far ahead of national politics that there are fractures in the system," she said. "We have to think a little bit more, no matter where we are—at a community level, at a state level, at a country level—about localism in order to save what's best about globalism."

The conversations with Michael E. Mann and Malcolm Turnbull, the ambassador roundtable and Wharton Dean Erika James and Rana Foroohar can be viewed on Perry World House's YouTube channel.