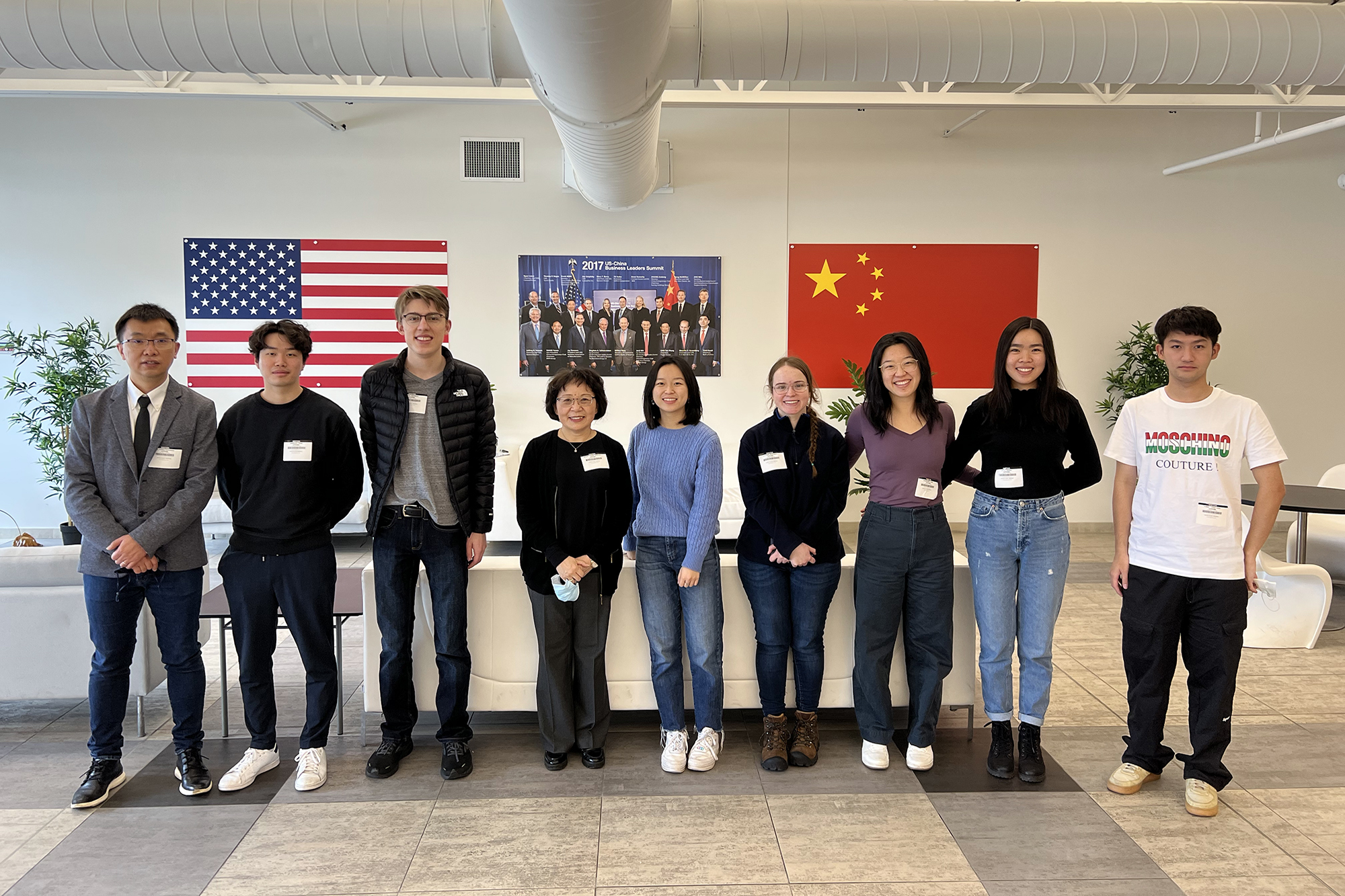 In February, a group of 10 students, studying in the Wharton School, School of Engineering and Applied Science, the School of Arts & Sciences, and the University of Pennsylvania Carey Law School, traveled to Moraine, Ohio, to get an up-close look at the operations of a factory that manufactures glass for the automotive industry. 
The factory, owned by Fuyao, a Chinese manufacturing company with a headquarters in Fuqing, China, was the subject of the Oscar-winning documentary film "American Factory," released in 2019. The documentary covered the opening of the factory following the closure of a General Motors assembly plant in Moraine, a small city in western Ohio steeped in manufacturing history. The film captured both the tension between management and workers during efforts to unionize and camaraderie between American and Chinese workers.
Mien-hwa Chiang, a senior lecturer in foreign languages in the Department of East Asian Languages and Civilizations (EALC), began using the documentary in 2019 as course material to demonstrate cross-cultural management styles. Last year, it occurred to her that it might be beneficial for students to connect with the plant themselves, as a location that houses Chinese and American workers. She wrote a letter to the CEO, Jeff Liu, explaining herself; he agreed to allow the students to visit. 
"My idea was that we learn [cross-cultural management], we know it, but we have to see it in practice," says Chiang, who teaches Business Chinese. "And the trip unfolded in a way in which we were able to talk with the CEO [in Chinese] the whole time, which was amazing."
The glass plant, she says, was a great example for students in the Advanced Business Chinese course of a clash of two cultures and the long-term investments between China and the U.S. Particularly, she says, it's an example of a Chinese strategy, the Go Out policy, that encourages companies to expand elsewhere and accrue more technology knowledge and skills. 
Moreover, for Wharton students taking classes in Business Chinese, it was an opportunity to interact with companies that could be future employers—and engage with their Chinese language skills in a professional environment. 
Ye Tian, director of the Chinese Language Program, who also attended the Fuyao factory visit, says students were particularly enthused when hearing that Liu, who speaks both English and Chinese, was able to leverage the skill to become CEO. 
"Students got excited—'Learning Chinese: It's useful!'" says Tian, with a laugh. "And I think, also, it was helpful to see diversity in the workplace. Students get to know more about how their boss, their colleagues, can be from anywhere in the world, from any race, speak another language other than English, be of another gender, and I think that's important. When we visited the plant … seeing American and Chinese workers together, to me, it's impressive."
Ryan Morris, a junior Wharton student from Malvern, Pennsylvania, delivered a presentation to the CEO in Chinese that summarized a case study conducted by the Harvard Business Review, which assessed the risks and benefits of manufacturing in Ohio versus Fuyao's plant in China—in addition to addressing geopolitical calculations. The case, which he encountered for a final project in a management class in the fall, was what spurred his interest in attending the trip to Fuyao. 
"It was nice to see what the factory was like after watching the documentary, and kind of get [Liu's] perspective on things as well, with regards to a bit of the conflict in the documentary between Chinese and American employees," Morris says. "It seems the plant is doing well now."
Sam Gan, also a junior at Wharton, from Vancouver, Canada, is a student in Advanced Business Chinese who was interested in the connection of a Chinese company's corporate culture and history with American backgrounds—a "reversal of a trend happening for many decades," he says, citing how the common narrative is of American companies investing in China.
"It was interesting, as someone studying business, to get the CEO and the employee side of the story," Gan says, noting that he waited until after the trip to watch the documentary film. 
"I never expected to visit something like this," Gan adds. "Especially through the Chinese Language Program; it's not the typical path for an interesting field trip. But I think overall it was a fun trip, and I got a first-hand perspective that the documentary didn't show as much, with the management perspective."
Lillian Wagner, a junior in EALC from Milwaukee, Wisconsin, says she was interested in attending the trip as someone who grew up in the Midwest and currently is working on a capstone paper on northeastern labor unrest in China. 
"Union issues are at the forefront of the documentary, and even though they didn't succeed [in unionizing], I imagine there might be some discontent," Wagner says. "I did ask the CEO about that, and I wasn't quite satisfied with this answer: He said it wasn't his decision to restrict the union organization, and he believed that the union didn't necessarily represent the interests of the workers."
Still, taken at face value, she says, she thinks the company has made strides in connecting with the local community and demonstrated meaningful investments in community outreach, while also better understanding how Midwest society works. She says she was encouraged to see the plant didn't seem to have as many problems as Foxconn, a Taiwanese manufacturer that invested in opening in Wisconsin but has experienced—and continues to experience—a tumultuous path with its investment. 
Chiang says she hopes to continue to take students on trips in the future. Tian, meanwhile, adds that there are many other notable Chinese companies that have offices in the U.S., including big names like TikTok and Alibaba, that would make for valuable student experiences. 
"[Students] learn the language and, in the future, will probably work for those companies or do business in the United States," says Tian. "So, it's really useful for them to actually visit those companies before they graduate."