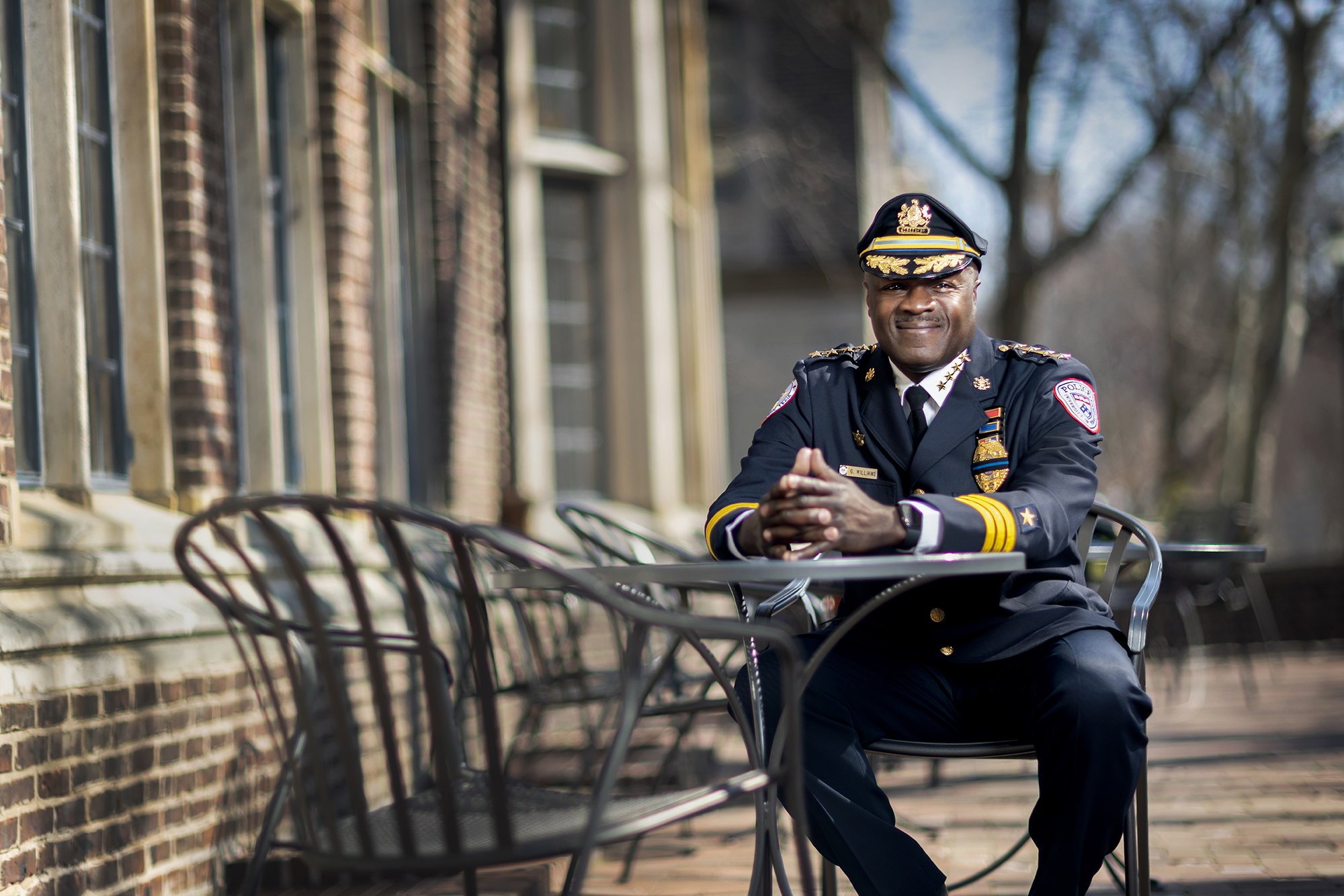 In conversation, James Atkinson, chief of security and parking at Penn Medicine, can't emphasize one simple fact about new Penn Police Department Chief of Police Gary Williams emphatically enough: "He's just a real good guy."
Atkinson, who has served at Penn for three decades, has watched Williams come through the ranks of the Penn Police Department: first as a patrol officer, then—after only a year—as a sergeant patrol, lieutenant, captain, interim chief, and now as chief of police.
Throughout those 21 years of working with Williams, Atkinson says, he's encountered someone who is "always there when you need him" and, most importantly, listens. 
"He's one-of-a-kind when it comes to how he thinks a police chief should be," Atkinson adds. "He's always stopped over at the School of Medicine to say hello, ask if I need anything. … He's a guy who really cares and demonstrates it every day."
Williams was appointed chief of police of the Penn Police Department in January, after most recently serving as interim chief of police since May 2022. He follows the appointment of Vice President for Public Safety Kathleen Shields Anderson. 
"Gary is known as being a trusted, empathetic partner on our campus and throughout the West Philadelphia community," says Anderson of Williams' appointment. "His strong relationships and proactive nature align with the vision for the future of the Division of Public Safety."
Williams grew up in South Philadelphia and attended public schools, graduating from South Philadelphia High School. He lived with his six siblings—three boys, three girls—who are part of a close-knit family; unsurprisingly, he recalls being protective of all of them. When he's not attending community events or meetings at Penn, he's often found at any number of family birthday parties or other functions. 
While he'd always wanted to be a police officer, he says, it became real when he was faced with a decision to move with his then job in telecommunications to Atlanta, or work with the Philadelphia Police Department and go through academy training. His wife similarly had a potential opportunity to move to Atlanta for a role, and they collectively decided to go with whichever opportunity presented itself first. 
The Philadelphia Police Department accepted his application to the academy soon after. 
He spent the next four years serving as a police officer in West Philadelphia's 18th district, which is how he became familiar with Penn Police. After working with Penn officers on multiple responses, he got to know them and admired the balance Penn police had accomplished, engaging with the community while responding efficiently to priority calls. 
"Here at Penn, you can be handling a major crime—a burglary, a theft, an accident—and then also be doing a check on the well-being of students [in the same day]," Williams says. "It was still handling police work, but not the way you would go from priority job to priority job. One day, as I was coming through the ranks, I made an arrest on a burglary warrant and then later that afternoon attended a [Police Athletic League] event at the Palestra, working with kids in the afternoon and doing very different police work in the morning."
It is this balance, he says, that he credits with giving him a "well-rounded approach to policing." He's particularly fond of the Police Athletic League of Philadelphia program, an after-school and summer program in which police work with Philadelphia youth through sports and other recreational, youth-development activities. Penn Police dedicates a full-time officer to PAL, having hosted the Tucker PAL center for many years and, in addition, works with Penn students on partnerships with the program, including fraternities and sororities.
"It's an opportunity for kids to see a part of Penn and play at the Palestra, a famous basketball venue, and they would probably not get to otherwise," Williams says. "This gives us the opportunity to meet kids in the community, sharing the experience of Penn."
In strategic vision, Williams echoes the work of Shields Anderson and, previously, Vice President for Public Safety and Superintendent of Penn Police Maureen Rush, that relationship-building is the cornerstone of police work at Penn. Not just with peer and neighboring institutions and agencies, but with Penn's own organizations and buildings.
"I like to say that we have one of the best liaison programs in the University," Williams says. "Our manned staff typically liaisons with resource centers that give us an opportunity to share resources, build relationships, and our sergeants are tasked with communicating with every single building administrator on campus."
Karu Kozuma, executive director for College Houses and Academic Services at Penn, and incoming vice provost for University Life, describes Williams as an invaluable resource for demystifying campus to new students during New Student Orientation, assisting with walking tours, presenting safety tips to transfer students, and generally making it known that Penn police are there for them. 
"And it's not just a one-time deal where he talks to them," Kozuma says. "He tries to take different opportunities to talk, engage, and connect with them."
"He leads with compassion," Kozuma adds, noting that he thinks it will serve him well as police chief. "Whenever I work with him, I've always felt that he understood it's about people."
Darin Toliver, associate director of the African American Resource Center, who works with the Penn Police on antiviolence trainings, among other collaborations, says Williams' demeanor is a large part of what makes him stand out. He characterizes him as someone who "commands excellence from his officers" and, when interacting with students, speaks with empathy. He recalls an instance in which Williams was called to a robbery involving people underage and, rather than immediately escalating the situation or arresting them, first spoke to them.
"He was like a parent talking to kids," Toliver recalls of observing the exchange unfold. "He explained what could have gone wrong, things that could have happened, and they were listening—they were very attentive. And he took the opportunity to call their parents, which I find unique in this day and time … 
"I thought it showed a lot of humility and professionalism and shows that he gets it. [Penn] got the right guy."
Williams also "gets" the immensity of the responsibility his staff holds. The department operates an Emergency Response Team that regularly runs drills for an active shooter threat—often making use of different kinds of buildings on campus, to be as fully prepared as possible—and is constantly in contact with Philadelphia Police, Drexel Police, SEPTA Police, and other organizations nearby. Under his guidance, Williams has also implemented a grid system for patrols, which includes a smaller area for individual officers to conduct their patrols. 
And as not just a police officer but a parent, he says, he recognizes the primary charge: Keep the community safe.
"I think as an officer, as a supervisor, and now as a chief of police, we realize that we are entrusted with the care of people's children," Williams says. "I myself have kids who are in college, and one of the things I preach and talk with officers all the time is we need to make sure we give these kids back home to their parents as whole as they came. That's what keeps me up at night. Making sure we are doing our job and providing that high level of safety and security so our kids are protected and get back home."