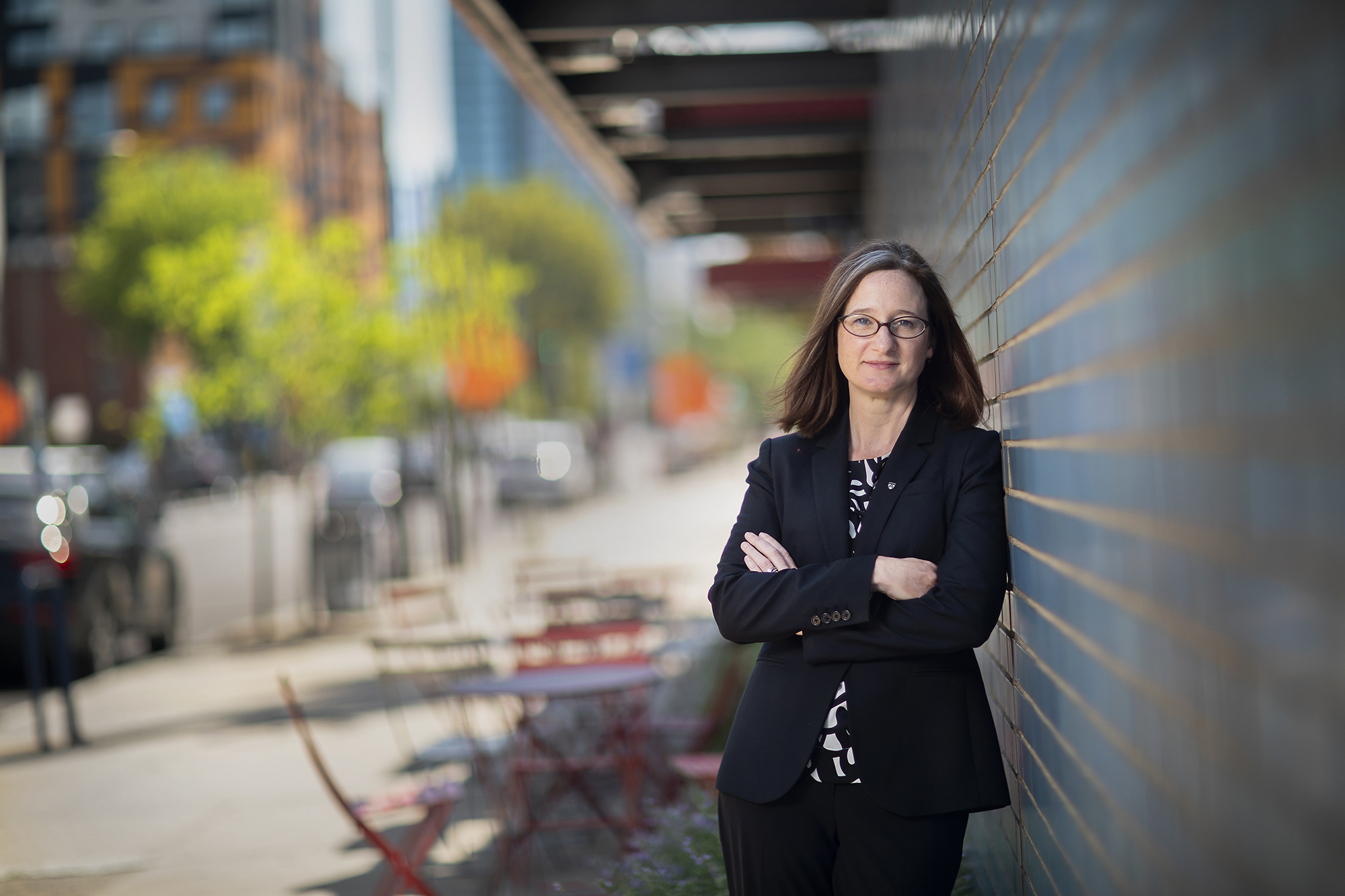 Kathleen Shields Anderson's call to service has been a long time brewing: As a Catholic kid in the Philadelphia suburbs, much of her commitment to social justice was molded through a community-minded upbringing. Service was part of her curriculum while attending a grade school run by Holy Child Sisters, constantly engaging in volunteer activities from back-to-school drives to visiting local nursing homes.
"The motto for their order is 'Actions, not words,'" Shields Anderson explains. "It's something I still say to this day. What you do is as important as what you say."
Shields Anderson was educated by Jesuits at the College of the Holy Cross for her bachelor's degree, an order popularly known for its role in education and fighting poverty—the most famous of these Jesuits, of course, being Pope Francis. She later received a J.D. from Villanova University School of Law and an MBA from Temple University's Fox School of Business. As a young professional, she also served as a legislative aide in the U.S. House of Representatives, working on foreign policy and environmental policy.
However, it was 9/11 that was the impetus for her career in social justice.
A career in justice
"When Sept. 11 happened, I sat in my office and watched the Pentagon burn from my window," says Shields Anderson. "I think 9/11 impacted a lot of people in different ways—I have friends who enlisted, others who were inspired to volunteer. But what inspired me was the work of the first responders."
Eager to learn, she spent time doing ride-alongs with the D.C. Fire and Emergency Services Department, observing the relationships between firefighters and their community. What struck her was the depth in which they knew the community they served, including the ability to put names to faces.
"To watch that level of intimate care and the relationships between the first responders and people experiencing what is likely one of the worst experiences of their life, [it was inspiring]," she says.
When she began as a prosecutor in the District Attorney's Office in Philadelphia, this same impression would again leave its mark—except this time, from Penn police.
While handling preliminary hearings at 55th and Pine streets, in the 18th Police District, often consisting of felonies related to charges like burglaries, robberies, gun possession cases, and more, she recalls the process often feeling like conducting a chaotic orchestra. But when she handled her first case involving Penn, she remembers vividly the attention to detail the attending Penn police investigators had paid—providing an immense amount of discovery paperwork, a written confession, video footage, and even a victim support unit to take the student home. Given all this information, the defense attorney agreed to a deal.
"I used to call Penn cases 'presents' because they'd be completely investigated and supported—like being wrapped up in a little bow—and that's what made me interested in coming here," she says. "It showed me the effectiveness of a complete public safety program."
Coming to Penn
She began as chief of staff and executive director of operations in 2012.
"At the end of the day, what makes this program really work is the dedication of the people who work in this building," she says, motioning around her while sitting inside a conference room at the Penn Public Safety headquarters on Chestnut Street. "You will never find people here who are not intellectually curious and want to know more. … They genuinely care about people here and our mission, and care about the success of this program."
Shields Anderson spent 10 years working with former VP and Superintendent of Police Maureen Rush, involved in everything from hiring to community outreach. She describes the division, which has seven departments, as a place where teams are communicative with one another and standards are rigorous—it maintains Advanced Law Enforcement Accreditation from the Commission on Accreditation for Law Enforcement Agencies for example.
A program she's particularly proud of helping with is the AR-1 Program, created in 2018 as a way to alleviate the stress on city ambulances, which often operate over capacity, as well as reduce financial and disciplinary anxiety of students with minor injuries or who are intoxicated. The AR-1 Unit responds to low acuity cases within the Penn Patrol Zone, working in partnership with Penn's student-run Medical Emergency Response Team and Penn Police to assess and provide medical transport as needed.
"What I like about working here is people are always looking for creative solutions for problems that not only affect the Penn community, but the Greater Philadelphia community as well," she says. "We are in and of the City of Philadelphia, and that's one of the things that makes us great. You can't talk about Penn without talking about Philadelphia, and vice versa."
Public Safety has seen ripple effects from the waves of gun violence like the one being experienced in recent years in Philadelphia. But she says the department is a well-resourced program.
"We're not immune to the effects," she says, "but we're not experiencing it at the same level other parts of the city are experiencing it."
Community leadership
Charles 'Chaz' Howard, University chaplain and vice president for social equity and community, first encountered Shields Anderson while she was chief of staff and director of operations, together working on panel discussions and issues related to contemporary policing, race, and law enforcement. Over time, he says, their interactions blossomed into a friendship.
"I think Kathleen likes to build relationships with different partners on campus and wants to dream and see what's possible," Howard says. "And I think people innately trust her, too—which is not easy."
Importantly, he says, she's someone who is a "great University citizen" and works to build bridges in the community—part of a broader mission established by a comprehensive review of DPS that took place two years ago, in collaboration with the Quattrone Center and a wide array of stakeholders across campus, including students and West Philadelphia community members.
William Gipson, associate vice provost for equity and access, is the chair of the DPS Advisory Board, was formerly the chaplain of the University, and was formerly faculty director of Du Bois College House. As faculty director, he recalled an effort by DPS that assigned a liaison to college houses; Du Bois' was a detective who would show up to community programming—in civilian clothing—and got to know students, even sitting with residents for Thanksgiving dinner.
"I believe that's an example of how you build a sense of community. When Black students see someone like [the detective], their first thoughts are not negative interactions with police, but a guy who sat with them at Thanksgiving," Gipson says. "All that is to say that our new VP, Kathleen, absolutely gets that piece about public safety: She understands that if members of a Penn community don't feel safe, no matter what statistics we can give or programs we can list, if they don't feel safe, our first responsibility is to listen, to listen with empathy, and to believe what people are saying, and I think she brings to the position a certain kind of wisdom and understanding that's remarkable and will serve her well in DPS going forward."
Craig Carnaroli, senior executive vice president, led a national search for the VP role. He says Shields Anderson brought with her knowledge of the complexities of Penn's environment and community relationships, and as former chief of staff and director of operations, she thoroughly understands the full suite of services that DPS offers beyond policing.
"Kathleen's diverse public safety experiences combined with her knowledge of Penn and her local relationships provide a strong foundation to address the current urban public safety challenges we see," he says.
She's also been deeply involved with the comprehensive review and resulting task force that informs changes to public safety with community feedback—important knowledge to retain. To boot, he says, she thinks proactively and demonstrates great compassion.
"Overseeing safety in an academic environment requires a skillful understanding of our educational mission—we're about access and community and inclusiveness, as opposed to 'There are four walls and we decide who to let in and not,'" he says. "Because we blend in with the community, [Shields Anderson] is appreciative of the nuances that creates."
Looking forward
Shields Anderson says she's full of ideas for the future, after working at DPS for 10 years, and is excited to have the opportunity to lead the department.
"I'm also excited to find new ways to define safety and find new ways to integrate our program into our community," she says.
Penn's new President Liz Magill describes Shields Anderson as a dedicated, forward-thinking leader who puts her all into every decision that's made.
"Kathleen brings so many great qualities to her work, which you see in her deft communications skills, her strong passion for Penn and devoted love to Philadelphia, and her unmatched commitment to her entire team at DPS," says Magill. "It is a great pleasure for me to know I'll be working so closely with her in the years ahead, thinking creatively about improving safety and security on and off campus."
"I think, one thing that will never change is it is our charge and mission, which is we are primarily here to keep the community as safe as we possibly can," adds Shields Anderson. "With everything going on in the city, that does not change, our mission does not change, and [the Penn community] will never meet a group of people more dedicated than those in this building."