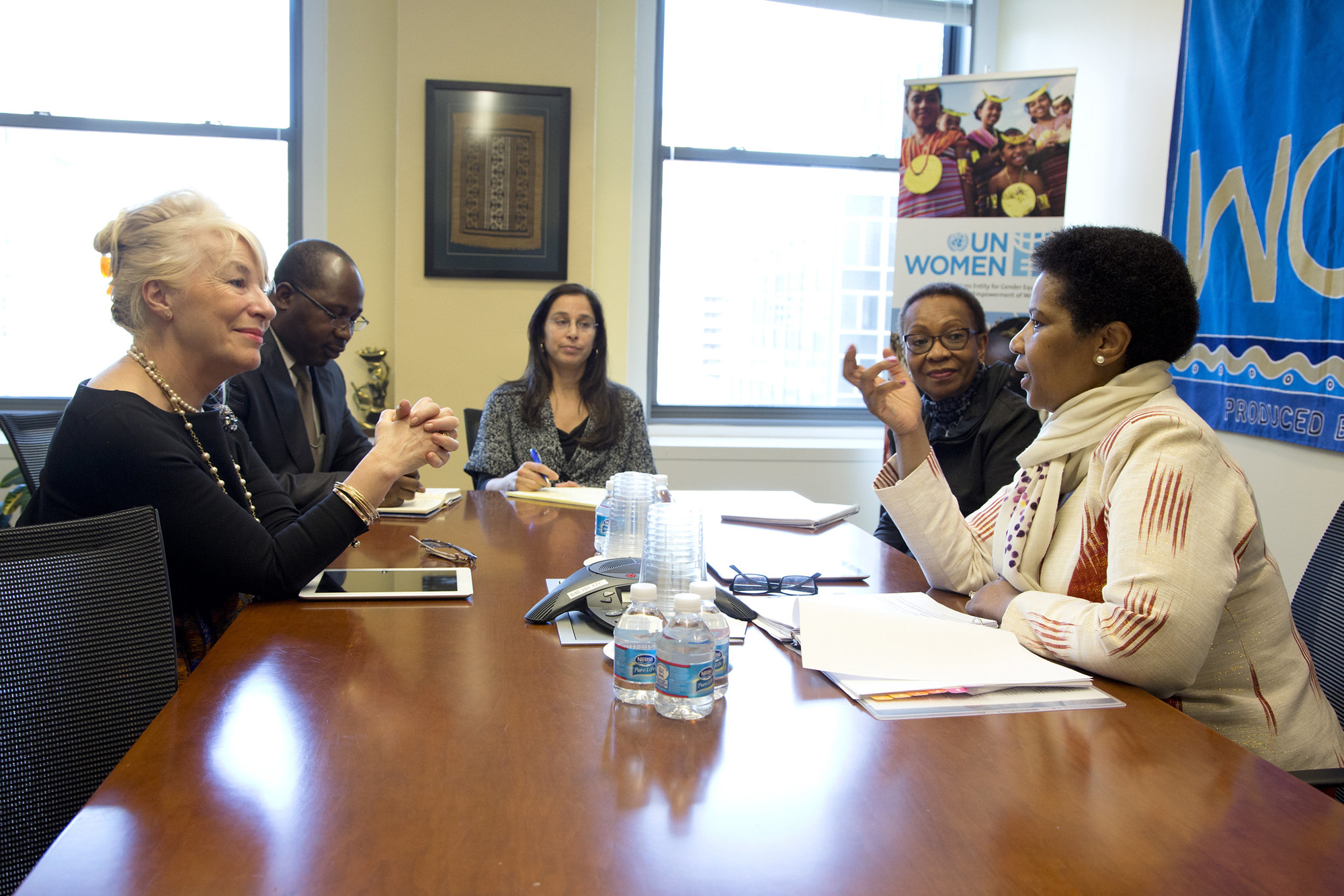 Sudan, Iran, the United States of America—these are three of the six United Nations member countries that have yet to ratify the UN's Convention on the Elimination of All Forms of Discrimination against Women (CEDAW). Adopted in 1979 and instituted by the UN in 1981, this treaty is considered an international bill of rights for women.
In an upcoming paper called "'Time is a-wasting:' Making the Case for CEDAW Ratification by the United States," University of Pennsylvania Carey Law School Professor Rangita de Silva de Alwis and co-author Ambassador Melanne Verveer draw on a quotation from then-Senator Joseph Biden to drive their point home that American ratification of the CEDAW is long overdue. Marking International Women's Day, Penn Today caught up with de Silva de Alwis, senior adjunct professor of global leadership, to ask about the urgency of women's rights in this moment.
You dedicated your recent paper to Hillary Rodham Clinton. Can you tell me a little bit about that and why you felt moved to do so?
Because of the fact that the ratification of the CEDAW was one of [Clinton's] primary priorities when she was Secretary of State, as well as the way in which she has spearheaded gender equality and women's issues globally, making her the icon, as well as the symbol, for the CEDAW ratification. She has been the courageous voice for women in issues ranging from child marriage, to violence against women, to trafficking of women, to women's equality, in both family and in public life.
In 2008, when Clinton was first running for president, I was in Bangladesh working with the Bangladesh National Women Lawyers Association on their Sexual Harassment Law. They told me, 'we support Hillary.' When I asked why, they responded very simply, 'she is like us.' What they meant was that at a very fundamental level, from across the world, Hillary stood with them on the issues they worked on—acid crimes, forced marriage, and 'honor' crimes. No other global figure had allied with them on these issues the way Hillary has and continues to do.
Twenty-five years ago, when Clinton was first lady and represented the United States at the Beijing conference, the fourth World Women's Conference in 1995, she galvanized a new global movement when she reinforced, in a clarion call to action, women's rights are human rights. And those words are writ large in the CEDAW. It is just so unfortunate that we are proclaiming on the global stage that women's rights are human rights and we are yet, in the 25 years post-Beijing, to ratify this universal bill of rights.
Biden has affirmed his commitment to the CEDAW in the past. Are you optimistic that it will be ratified under his tenure, and what will that take?
I am hopeful that it will be ratified under his tenure, as it's long past time, Madeleine Albright said and at that time, Senator Biden said 'time is a-wasting.' Biden was the architect and the champion for the VAWA, Violence Against Women Act. I see this nexus because the interlinked nature of the Violence Against Women Act and the CEDAW means they are mutually reinforcing. And as I argue in the paper, at this moment in time they are battling the dual forces of sexism and 400 years of racism in this country, as well as globally, the growing forces of nationalism and populism and the twin forces of economic crisis and the pandemic. This time is so appropriate, so auspicious for us to ratify the CEDAW as a way of addressing these interlinked crises.
In the paper, you write that the #MeToo and Black Lives Matter movements have made it clear that the U.S. must ratify the CEDAW. How has the Black Lives Movement in particular pushed this agenda forward?
The larger paper looks at the CEDAW committee's comments in the summer in the wake of the Black Lives Matter movement, where they uniformly address the issue of the interlinked nature of sexism and racism. Although the CEDAW is primarily a committee of experts looking at gender issues, gender cannot be seen in isolation, from race, ethnicity, class, nationality, and any other identity status.
At his most vulnerable moment, George Floyd called out for his mother, which the CEDAW Committee noted in its summer 2020 statement. There is no more powerful statement that could invoke that moment, and the ways in which mothers around the world have faced the losses and disappearances of their children due to authoritarian rule.
The way in which the committee looked at it connected [Floyd's death] to the mothers of the disappeared in Argentina, which was one of the first movements to coalesce around political violence and disappearances. I think the connection of that moment in time with George Floyd and the international movement of mothers coming together around the world starting with the mothers of the Plaza de Mayo—nationally locally, regionally—to address issues of violence is so powerful.
How does sexual violence affect the economic health and security of the state, as stated by Secretary Condoleezza Rice, and why is it important to make that argument, rather than a strictly human rights argument to ratify CEDAW?
I look at that tension, because as a human rights advocate, one life lost to domestic violence or sexual abuse is one life too many. But we have to make this national security as well as human rights argument—as Secretary Rice does extremely well—in trying to build this coalition. I argue that the national security argument is an argument that seems to bring together and coalesce those that are divided on political lines. The national security effort is bipartisan and can convince both the republicans as well as the democrats.
Condoleezza Rice introduced UN Security Council Resolution 1820 and that was followed next year by Security Council Resolution 1888, which was introduced by Secretary Clinton.
So, you see a juxtaposition there. From across the political divide, they agree on defining women's peace and security as a national security issue. The CEDAW strengthens the women's peace and security agenda because it ensures not only that women are part of conflict resolution, but that women are part of post-conflict nation building, in decision-making positions in government, and in economic participation. It's a much more holistic, panoramic suite of women's agency around the world. More must be done to link the CEDAW's human rights agenda with the women's peace and security agenda and see the WPS agenda as an extension of the CEDAW. If not, it impoverishes both agendas.
What are some of the primary benefits that the ratification of CEDAW would offer women in the United States?
It is about American leadership on the global stage. The Biden administration has said, 'We are back. Our Ambassador to the UN, Linda Thomas Greenfield said: 'Diplomacy is back.' And I think ratifying the CEDAW signals to the world that the moral authority of America is back, along with its soft power, the smart power, or what I would call the transformative power.
The CEDAW's impact on the foreign policy agenda is important, but I also argue that it's not only about foreign policy but about domestic policy. To me the dichotomy is this American exceptionalism, 'oh it's good for our development cooperation to get states to comply with the CEDAW,' but I'm saying, it's great for domestic policy too, for so many reasons. First, for the ACLU, NAACP, and other activist organizations it is one among the repertoire of tools in the toolbox to argue on behalf of these issues that connect to Black Lives Matter and the #MeToo movement. Second, it provides a way in which we can connect with peers from around the world. We're no longer fighting alone; we're fighting along with our colleagues and our peers, cross-fertilizing ideas and cross-pollinating movements. Finally, I argue that it provides ammunition to hold the government accountable.
Republican lawmakers may argue that, 'we are meeting the obligations of the CEDAW.' And to a large part they are in line, but we can still do so much better. We need to be a model for other nations, and for our own women and underrepresented women. This moment is important. COVID, in so many ways, at so many levels, has established the disproportionate impact of the crisis on women, both in economic terms and human security. It has both exposed and exacerbated violence against women here in this country. In addition, one in four women have decided to cut back on work. I call it the feminization of poverty all over again.
How could the CEDAW committee's recommendations acquire teeth? What will be the ramification measures that could be put in place to ameliorate some of the inequities that the committee highlights. In other words, tell me about what you call the vernacularization of the CEDAW, bringing it into the conversation.
The CEDAW has been translated and domesticated in various ways: through legislative reform, as persuasive authority in judicial interpretation, in human rights reporting, and in what late legal anthropologist Sally Merry at NYU Law School called vernacularization. I argue that the vernacularization becomes a tool for organizing, for galvanizing attention on these issues so you get a new vocabulary, you get a new lexicon to pitch and vindicate women's rights claims. You have another set of norms that will help you channel your organizing efforts.
This is the data that the World Bank just released in their flagship report on women, business and the law: in 18 countries in the world, men can legally prevent their wives from working; 59 countries have no laws forbidding sexual harassment in the workplace; 45 countries have no laws to protect women against violence in the home; 104 countries around the world have laws preventing women from carrying out certain jobs (for example, in manufacturing and construction industries), prohibiting women from engaging equally in the economy. Women own only 13 percent of agricultural land, although they bear the brunt of agricultural work. In my own research, I have identified far more subtle biases such as "husband and in-law obedience" laws and norms that allow men to retain the role of head of household.
This moment of global emergency is an opportunity to build back better. We are at a point of a reset to address these deeply entrenched inequalities. The CEDAW provides us with a universal, inalienable, rule-based framework to advance our own domestic policies.
Rangita de Silva de Alwis is the Senior Adjunct Professor of Global Leadership in the University of Pennsylvania Carey School of Law, and currently serves as the Hillary Rodham Clinton Research Fellow on Gender Equity at Georgetown University for the 2021-2022 academic year.
The article 'Time is a-wasting:' Making the Case for CEDAW Ratification by the United States' has been accepted for publication by several top international law journals. A symposium on the article is planned for when the CEDAW committee meets at the UN in the fall. A shorter version was recently published by Georgetown Institute for Women, Peace, and Security.