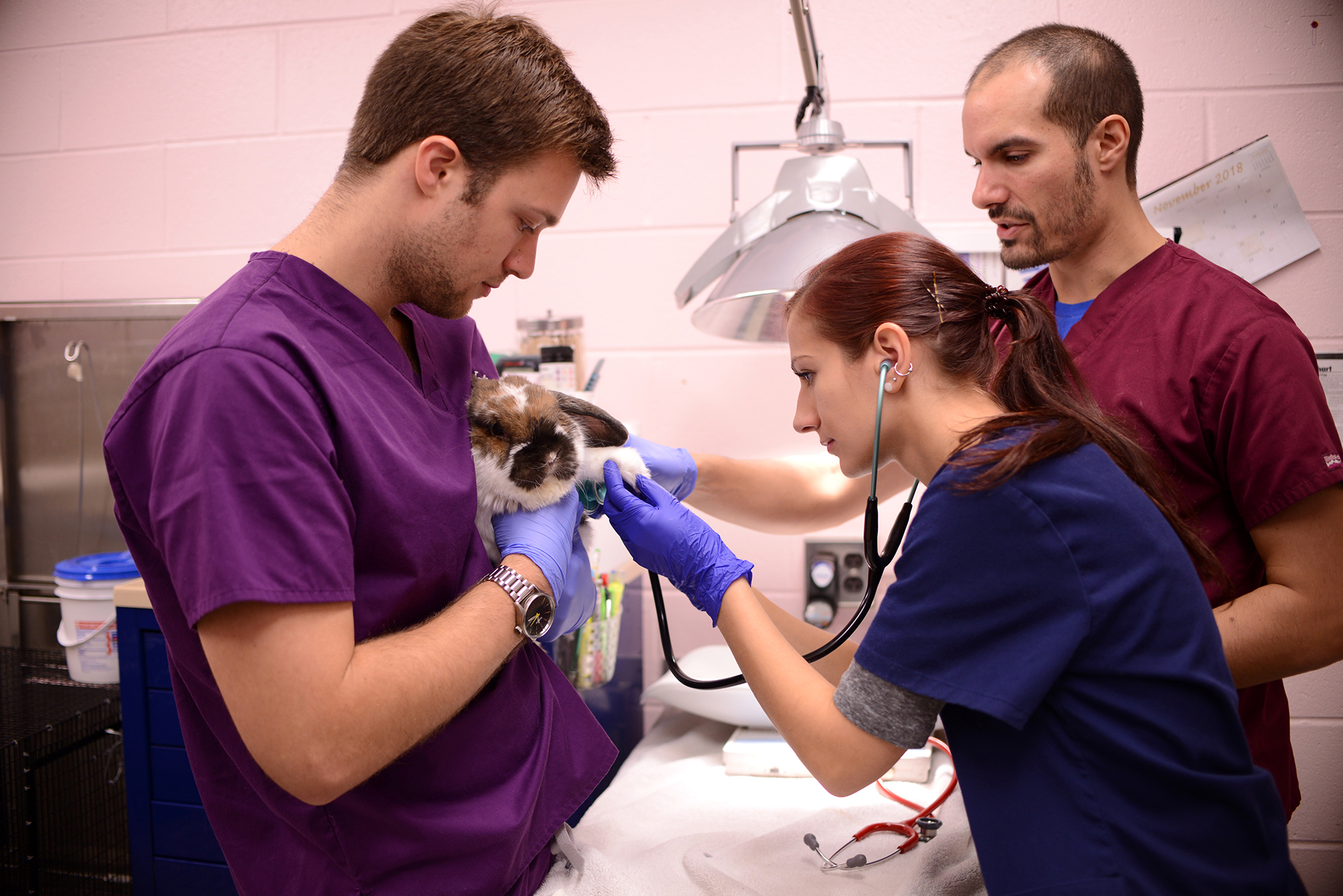 Rebecca Revay, a fourth-year veterinary student at Penn, never had a dog growing up. Instead, her home's animal census included "red-eared sliders, fire-bellied toads, some parrots, guinea pigs, hamsters, a lot of fish tanks, and a couple snakes," she says.
Perhaps it shouldn't come as a surprise, then, that she began to explore exotic animal medicine when she got to Penn's School of Veterinary Medicine. To get a boost in this competitive field, Revay and other students interested in treating animals beyond dogs, cats, and livestock, have carved out their own training and research opportunities to supplement the rigorous curriculum and advance in their field. At the same time, they're contributing new information that can be used to understand how to better care for everything from pets to wildlife to zoo animals with cutting-edge science.
An exotics veterinarian must be a virtuoso. In any given day patients may range from a pet guinea pig or parrot, to a captive tiger or a beached wild dolphin. To prepare interested students to treat such a range of species, Penn Vet offers introductory coursework on exotics medicine, as well as third-year electives in small mammal, avian and reptile and amphibian medicine. Students who are especially interested in the field can dive in more deeply during specialized rotations in the fourth year. To help themselves stand out as they think about future careers, however, many students who know they want to pursue exotics veterinary medicine choose to go above and beyond these offerings.
Peter DiGeronimo, a staff veterinarian in the Exotics Service at Penn Vet's Ryan Hospital, has done his best, along with colleague La'Toya Latney, the service head, to encourage students with an interest in the field to pursue additional opportunities to learn more about exotics medicine starting early in their time at Penn Vet since, as a subspecialty, exotics, and particularly zoo and wildlife medicine, can be a challenging one to break into.
"I think in zoo medicine we offer more research and publications opportunities," says DiGeronimo, "because the students need to have that additional experience to be competitive for internships, residences, or jobs in the field."
DiGeronimo himself conducts a number of research projects alongside his clinical work, and devotes time to connecting students who express an interest with projects that will deepen their experience. He emphasizes, though, that as exhilarating as it may sound to work with unusual species, the projects students wind up undertaking may not even involve touching an animal.
Stefan Gallini, a third-year student, got interested in focusing on wild animals in his veterinary studies after conducting field work related to toad conservation as an undergraduate at McGill University. Early in his first year at Penn Vet, he reached out to DiGeronimo to ask about opportunities and, in addition to shadowing his professor on the floor at Ryan, Gallini also worked with him on a partnership with the Marine Mammal Stranding Center in Brigantine, N.J.
The Center wanted to use data they had collected over 40 years about marine mammal strandings to identify patterns. "Which species are stranding, how old are the animals, where is it happening, is there a seasonality to it?" Gallini explains.
In his project, Gallini analyzed the data, also seeking to tease out factors associated with better outcomes after releasing animals that had gone through rehabilitation.
"We're finding that younger seals tend to strand more," says Gallini. "But they also tend to be more successfully rehabbed and nursed back to health versus a cetacean that might beach and then not be successfully rehabbed.
"We wanted to see how all these factors play into normal stranding patterns, and potentially help the Center allocate resources and learn to anticipate peaks in stranding activity."
In addition to his project with the Marine Mammal Stranding Center, which he presented on at the School's Student Research Day as well as at the Wildlife Disease Association International Conference, Gallini has pursued other opportunities, including a summer-long research project funded by the National Institutes of Health examining the effectiveness of probiotics marketed at keeping hermit crabs healthy. He's also fostering a rehabbed turtle that had been hit by a car. "It has a good prognosis," he says.
Gallini, who would like to go on to be a visiting veterinarian for small zoos and wildlife facilities, has also scheduled externships with the National Aquarium in Baltimore, the Philadelphia Zoo, and has others he's hoping to do in New Orleans and internationally.
Revay, on the other hand, doesn't plan to focus her career exclusively on exotics, but her enduring interest in out-of-the-ordinary species led her to pursue a research project mentored by DiGeronimo.
Working with wildlife biologists from the U.S. Department of Agriculture, Revay sought to assess whether canine influenza—an infectious disease akin to the human infection that is just beginning to emerge in part of the United States—was present in the state. Using blood samples collected from coyote and fox hunts, she tested them for multiple strains of flu.
"It's a virus that can jump species pretty easily," she says. "It can go from bird to dog to cat to pig, even to tigers. And flu in coyotes or foxes is something that could potentially affect our pet dog population."
Fortunately, she didn't find incidences of the disease in wild carnivores in the state as of yet. In learning of her findings at a Wildlife Disease Association meeting, other scientists reported finding small outbreaks in free-ranging carnivores around the Chicago area, so it may not be long before it moves east.
Other students have applied to work in the exotics service as nurses, such as Colin Hansen, a third-year vet student. "It works out for both sides," says DiGeronimo. "We get a chance to train them and have an extra set of hands, and they get paid and get additional training."
Hansen wound up with a publication to his name after helping to identify the first instance of a pathogen known to affect North American turtles in a critically endangered Vietnamese box turtle. "He knew more about the natural history of this animal than I did," DiGeronimo says.
For DiGeronimo, much of his mentorship aside from shadowing is done on his own time, over coffee in Green Line Café or on nights and weekends, but he remembers well what it was like being the students' place, having graduated from Penn Vet in 2010.
"Doing research is what motivates me, and by extension it's really gratifying when I can help students get involved with it, because I was recently in their shoes," he says.
His investment and that of his colleagues, matched by the students' own commitment, has paid off for some recent grads. Recent graduate Nicole White, who he met when she was halfway through vet school, is currently pursuing an exotics-only internship in New York. DiGeronimo involved 2018 graduate Carl Spielvogel in a statistics project on eye disease in captive fruit bats that led to him being a coauthor on a journal publication. The students' performances are attracting notice outside of Penn as well.
"A wildlife veterinarian—and a Penn Vet grad—with the Smithsonian came up to me at the Wildlife Disease Association conference and told me he couldn't believe there were Penn Vet students presenting at the conference, since opportunities like that didn't exist back when he was a student 15 years ago," says DiGeronimo. "A lot of times you might not participate in a research project until your internship or even residency, so he told me he thought it was quite impressive that they were there."
Homepage photo: Fourth-year veterinary student Sarah Gronsky gets a close-up view of a turtle at the School of Veterinary Medicine's Ryan Hospital. To stand out in a competitive field, students hoping to pursue exotics veterinary medicine often squeeze extra research and training into their schedules.