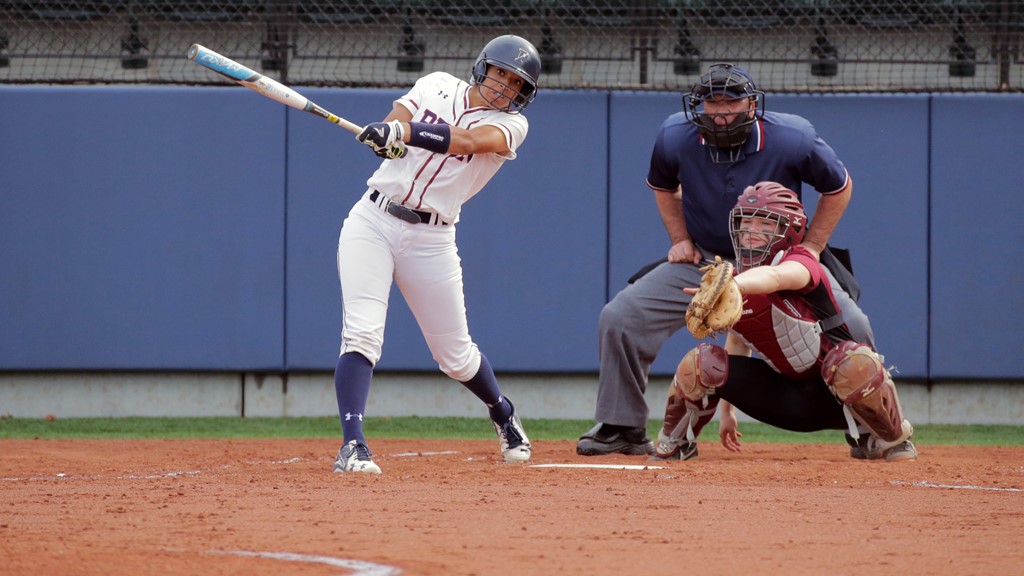 Freshman right fielder Leah Allen stepped up to the plate in the bottom of the fifth against Providence in Tampa, Florida, on March 12, 2014, with two outs and the bases loaded, and the Penn softball team trailing 7-3. Senior Elysse Gorney was on first, junior Sydney Turchin was on second, and senior Casey Stevko was on third.
Pressure busts pipes or makes diamonds.
Allen, 0-2 so far in the game, settled into the batter's box—and pulverized the first pitch she saw, sending it soaring over the left field wall for her first career grand slam, which tied the game up at 7 apiece. Freshman Alexis Sargent followed up with a solo homer in the bottom of the sixth and the Quakers won 8-7.
Of the 33 home runs she hit for the Quakers, the most in school history, Allen, a lefty, says her opposite field dinger against the Friars is her most unforgettable.
"I have a video that my mom sent me from that game, and I still watch this video every now and then," she says. "I will never forget that because it was my first grand slam, I was a freshman, it was in the stadium of [the University of South Florida], it was opposite. It was a big homerun."
Freshman phenom
Penn ended the 2014 season with a 19-22-1 overall record and 14-8-1 conference record, and lost to Dartmouth in the Ivy League Championship Series. The Red & Blue were solid from top to bottom, with eight All-Ivy players.
Primarily batting fourth, Allen was part of a batting order that featured four lefties in a row: Turchin, sophomore Kanani Datan, Gorney, and Allen.
"We were a great team," she says. "We had so many hitters. It was hard for pitchers to get used to us because you had to go back-to-back-to-back-to-back lefties, and then adjust for five straight righties. It was such a weird thing that you never usually see, but I loved that."
Allen had a monster season and almost won the Triple Crown. Her .383 batting average was second in the conference, and she led the Ivy League with 13 homeruns and 43 RBIs, both school records.
The Woodbine, Maryland, native and Health & Societies major was also tops in the conference in slugging percentage (.759) and total bases (101), and was second in runs scored (34) and hits (51), third in on-base percentage (.438), and third in steals (14). Most deservedly, she was unanimously selected Ivy League Rookie of the Year and First-Team All-Ivy.
Big things were expected from the hot-hitting freshman in the ensuing season, none more so than Allen herself, but she was felled by a mortal enemy of many second-year players: the dreaded sophomore slump.
Sophomore blues
Leslie King, head coach of the softball team, says it is common for freshman hitters to have out-of-this-world seasons, only for their stats to drop in subsequent years after they are scouted by opponents and pitchers figure out their weaknesses.
"Because you've had so much success your freshman year, the expectation is you come back and you build on that success, and unfortunately that doesn't always happen," she says.
So it was with Allen.
As pitchers learned how to pitch to her, they began to pitch around her, and Allen, a self-described super-aggressive hitter, would chase balls when she should have held her swing.
Her batting average dropped more than 100 points her sophomore year, from .383 to .278, and her homeruns and RBIs dipped as well (five and 24, respectively). 
"I struggled with that," Allen says. "I struggled with not being as good as I was the previous year." (Still, she was a Second-Team All-Ivy selection.)
The Quakers concluded the 2015 season with a 22-20 record, 13-9 in Ivy play, and again fell to Dartmouth in the Ivy League Championship Series.
At the end of the season, Allen says she realized she needed to make adjustments to her swing and approach at the plate. Something was very wrong.
Bat smarter, not harder
Allen is not a fan of taking walks. She likes to swing for the fences. Even when she was setting the league on fire her freshman year, she was second in the conference with 30 strikeouts.
One of the adjustments she says she made during her junior season was recognizing that taking big, gigantic swings at every pitch does not equate to hits.
"I had to be more strategic about what I swung at, when I swung in terms of the counts, and just make sure that I was a smart batter and not a batter just going up there to get hits," she says.
She also refocused on small ball. When struggling or in a slump, she made an effort to get bunts and use her speed (she was a sprinter in high school) to run those bunts out.
"I just really got better at reading the defense, reading the field, and utilizing all of the ways to hit and all of the skills that I had," she says.
Her hard work and dedication paid off on the field. Her batting average shot up from .278 to .331 her junior season and she led the Ivy League with 41 RBIs and five triples. She also hit six homeruns, which gave her 24 in total, tied for the all-time school record.
King credits Allen with disciplining herself at the plate and learning to take walks because pitchers did not want to throw her strikes.
"Those were conversations that I would have with her regularly, that you're just as valuable on base with a walk as you are with a hit," King says. "Pitchers know that you're a good hitter and you have power, and they don't want to throw pitches down the middle. You need to stop swinging at pitcher's pitches and take walks when they give them to you."
Allen, though, says her junior season was her least memorable year. Penn did not make it to the Ivy League Championship Series for the first time in her career, which she ways was a little disheartening.
And although she was a First-Team All-Ivy selection and voted Team MVP, she says she does not think her performance was all that remarkable.
"I think I played my normal game," she says. "I showed up. I did what I needed to do."
She knew she could do more.
Out with a bang
In the second game of a doubleheader on March 3, 2017, Allen stepped to the plate in the bottom of the first against Ball State with the game tied 0-0 in Clearwater, Florida. Batting leadoff, she homered to right field, putting the Quakers up 1-0 and lifting her career homerun total to 25, a new school record.
Entering the final season of her collegiate softball career, Allen was intent on leaving everything she had and more out on the field. She swung at every good pitch, stole every base she could, and focused on making moments and memories.
The adjustments she made to her hitting and work she put in to improve resulted in the highest level of returns: She was named Ivy League Player of the Year.
She had the highest batting average of her career, .408, which was tops on the team and third in the conference. She led the league in runs scored (34) and steals (20), was third in hits (58) and total bases (99), and fourth in homeruns (9).
A team captain, she led the Quakers in almost every offensive category, and ended the season on a 14-game hitting streak.
One of a kind
Not only is she Penn's all-time homerun leader, Allen is also No. 1 all-time in RBIs (135), stolen bases (61), and triples (10). She is No. 2 all-time in hits (118), tied for fourth in batting average (.352), fourth in runs (118), and eighth in doubles (28).
King says the fact that Allen holds the school record in both homeruns and stolen bases speaks volumes to the type of athlete she is.
"If you follow baseball or softball, you rarely get that combination of speed and power," she says. "The fact that Leah could do both really makes her special. I have no doubt that she is a future Hall of Famer at Penn Athletics. She was also a terrific leader, a good people person, and always a pleasure to have around. She worked very hard."
Allen is currently living in Austin, Texas, working in human resources at a startup company.
She says she misses softball dearly and talks about it almost every week with her former teammates, reminiscing about the old days. She still plays slowpitch softball, and is still swinging for the fences.
"Somehow I am still playing softball as much as I can," she says.