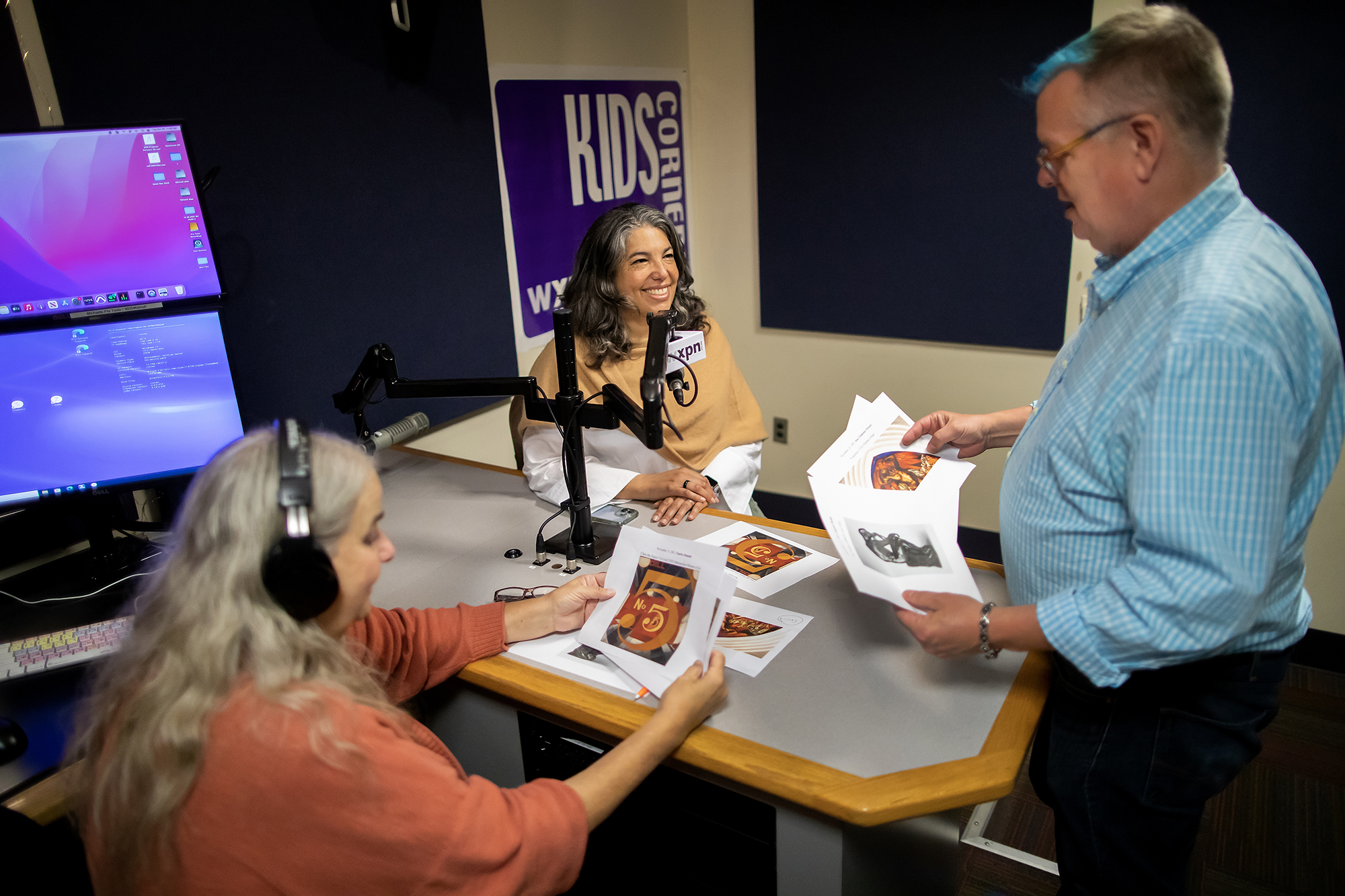 When her stepchildren were little, Penn art historian Gwendolyn DuBois Shaw would tune into WXPN in the evenings to listen with them to "Kids Corner", a wide-ranging radio talk show designed for children 5 to 13 years old.
Shaw now is a monthly guest, coming to the studio on Walnut Street to talk about art and artists with the show's host, Kathy O'Connell. Founded in 1988, the show is marking 35 years on the air in January, with O'Connell at the microphone and producer Robert Drake making it all happen.  
"We are in our third generation of listeners," Drake says. "So, kids who grew up with 'Kids Corner' as fans are now bringing their grandchildren to our events. They listened, their children listened, and now their grandchildren are listening to us." 
Starting with first ladies 
Drake contacted Shaw in 2021 when Shaw was curator of the exhibition "Every Eye Is Upon Me: First Ladies of the United States" at the National Portrait Gallery in Washington, D.C. O'Connell, who is interested in first ladies, thought the subject was perfect for the show. Since it was during the pandemic, O'Connell and Shaw recorded the segment in separate booths. 
"The dynamic between Gwen and Kathy was really natural," says Drake. "They were just chatting about everything. It was almost as if the mics weren't on. And that's when I said to Kathy, 'This is who we need to talk about art,' because Gwen has a way of talking about art." 
O'Connell says the fit was immediate, "Gwen is so comfortable on the radio. We thought, 'We have this great resource—what can we do?'" she says. 
Shaw, the Class of 1940 Bicentennial Term Associate Professor of art history in the School of Arts & Sciences, was game. "I said, 'Oh, that was so much fun. Anytime you want me to come back, just let me know.' And we started to brainstorm what a good segment would be," she says. 
Art is everywhere
Each month, Shaw chooses four artists to focus on based on their birthdays, with an eye toward diversity, including gender, race, and nationality of the artists. She also thinks about diversity of artistic mediums: paintings, prints, murals, sculptures, textiles, photography. She usually chooses artists from the 19th and 20th centuries, but sometimes she includes one who is contemporary. 
"I try to talk about diversity issues, like gender or race, and about that complexity and how it affects people's lives and how it affects our ability to be creative and pursue certain careers," Shaw says.  
In January, she spoke about Jose Campeche, a Puerto Rican artist of African descent who made portraits that included pineapples and maracas, as well as Clementine Hunter, a self-taught folk artist who worked picking cotton in Louisiana and who made hundreds of vibrant paintings depicting Black Southern life in the early 20th century.
Shaw also weaves in other challenges, like disabilities. In November, she featured painters Charles Demuth, who had adult diabetes, and Georgia O'Keefe, who had macular degeneration and was the first woman to have her paintings hung in the White House. 
"I think it's really important for kids who have people in their families who have medical challenges to understand that those things affect everybody and how those challenges can impact their careers and what they choose to do in their lives but not limit them from pursuing things," says Shaw.
She also chooses artists based on where they are from and where their work is on display. "I try to connect the artists, at least one each month, to the Philly region," she says, so kids and their families can think about artists who are from nearby or whose work is in places that they can visit.  
For example, Demuth says Shaw was from nearby Lancaster, Pennsylvania, where there is a museum of his works. Claes Oldenburg's sculpture of a huge button is on Penn's campus, and one of a huge paintbrush is in front of the Pennsylvania Academy of Fine Arts. Maya Lin, a contemporary artist, created the Decoding the Tree of Life sculpture for the Pavilion at Penn Medicine.  
The series began in August and airs on the first Thursday of each month. The first interview focused on how to "see art everywhere," Shaw says, in museums but also in murals, in landscape, in sculptures outdoors in the city. "We talked about how anything could be art, to encourage that exploration and that openness," she says. 
Shaw also talked about what to do in a museum, instead of what not to do. Drake says he found that episode especially helpful. "She really went into how to take your time and look, look at color, look for brushstrokes, how to look at portraits, how to look at paintings," he says. "I learned a lot from it, so I know the kids were learning as well." 

Seeing on the radio
O'Connell and Shaw make a point to describe the artworks as they are discussing them. Shaw detailed Demuth's 1928 painting "I Saw the Figure Five in Gold" as a "poster portrait," or representation of an aspect of a person instead of their image, in honor of his friend, the poet William Carlos Williams, a Penn School of Medicine graduate.  
Shaw first read "The Great Figure," by Williams: "Among the rain/and lights/I saw the figure 5/in gold/on a red/firetruck/moving/tense/unheeded/to gong clangs/ siren howls/and wheels rumbling/through the dark city." On air she described Demuth's abstract painting of a New York City street scene, with intersecting black and gray lines, repeated gold number five figures, white globes for streetlamps, and a red block for a firetruck. 
Such descriptions go a long way in satisfying what Drake says is "the most challenging topic on radio: visual arts." The segment reminds him of an earlier segment they did, "Radio Pictures," when kids would call in to describe what images went through their minds while listening to a musical guest perform. "We've always wanted to go back to that," he says.  

Show ends, show begins
"Kids Corner" came from "Kids America", a national live call-in radio show from WNYC in New York City, funded by the Corporation for Public Broadcasting. O'Connell was a co-host. In 1987, WXPN's general manager, Mark Fuerst, decided to air "Kids America" in the evenings, Drake says. A few months later, the Corporation for Public Broadcasting funding wasn't renewed and the show was cancelled.
"All of a sudden WXPN had no show and 90 minutes each weeknight to fill," says Drake. Penn's then-President Sheldon Hackney gave permission to bring O'Connell to WXPN on a trial basis to create a local version, he says. "Kids Corner" was born Jan. 4, 1988. 
"I was a fan of XPN, a regular listener," says Drake, who is from South Philadelphia. "The first day Kathy went on the air, she said, 'We are local, and we need some help answering phones if anybody wants to volunteer.' So I came down the next day."  
Drake was hired as a full-time producer once WXPN secured funding to continue "Kids Corner". "Kathy and I have pretty much been the show ever since," he says.  
The mission is about "Kathy and the kids," he says, and the goal is "getting kids to shut their eyes and do something that is just about their hearing and use their imagination." O'Connell and Drake mix games with conversation, depending on the topic.  
"When you combine 'Kids Corner's' unique service to kids and families with its longevity, it's undeniable that Kathy O'Connell is a University treasure," says Roger LaMay, WXPN general manager. 
Although Shaw's segment is taped, "Kids Corner", which airs from 7 to 8 p.m., Monday through Thursday, offers several live call-in segments each month. "It's about giving kids an opportunity to have an hour of radio for themselves so they can share whatever they want, knowing that their opinion matters," Drake says. "It's a combination of education and entertainment where kids can learn without realizing they're learning." 
Looking forward and up
Derrick Pitts, chief astronomer at the Fels Planetarium at the Franklin Institute, has been a regular since "Kids Corner" started with a monthly "space chat" about astronomy and the exploration of deep space. "The kids are really fascinated," Drake says. 
"The fact is that Derrick and kids can have a very equal conversation about space," says O'Connell. "And it's very much the same when Gwendolyn is here, I just kind of sit back and let people who know what they're doing and know what they're talking about talk about it." 
In the spring, "Kids Corner" is planning to collaborate with Pitts, Shaw, and the Franklin Institute to examine photographs taken by NASA telescopes that are now art pieces. "We want to beam them up onto the planetarium dome and have Gwendolyn and Derrick there with an audience, talking not only about the space behind it, the science behind it, but also what to look for in these works of art," Drake says. "I think that's something kids would really get into." 
And they plan to continue Shaw's art segment on "Kids Corner." "There are always going to be birthdays and different forms of art," O'Connell says. "And when you can show a kid that there is a place, an actual building, where they can go to see this? It's just a whole world that we get to talk about."  
WXPN is the non-commercial, member-supported radio service of the University of Pennsylvania.