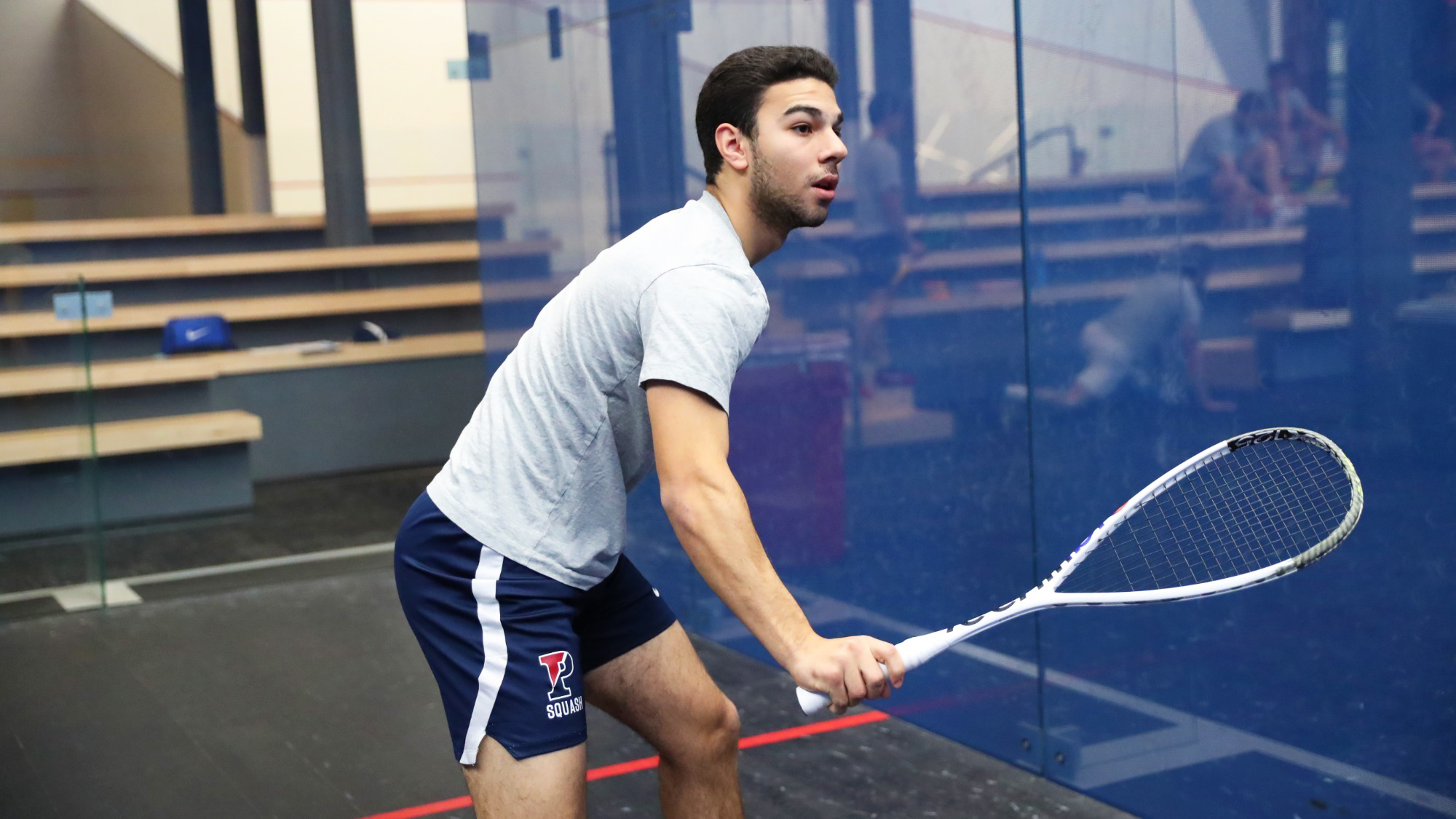 First-year Omar Hafez of the No. 2-ranked men's squash team has been named Ivy League Rookie of the Year.
Playing in the No. 2, No. 3, and No. 4 spots, Hafez, from Alexandria, Egypt, finished the regular season with a 5-1 mark against Ivy League competition and 13-1 record overall. His only blemish was a 3-2 loss to second-year Tate Harms of No. 1-ranked Harvard on Jan. 22.
Versus No. 3-ranked Princeton on Feb. 4, Hafez bested the Tigers' Ahmed Wael 11-3, 12-10, 11-7, one of his nine 3-0 match wins, including four against conference opponents. He also picked up a 3-0 match win against Drexel's Nicholas Serna (11-8, 12-10, 11-5) in the Pennsylvania State Championship on Nov. 13.
In the regular season finale against No. 5-ranked Virginia on Feb. 16, Hafez was down 0-2 to the Squires' Cullen Little, before he came roaring back for a five-game win (14-16, 9-11, 11-4, 11-3, 11-6).
Hafez is the second consecutive Quaker to earn Ivy League Rookie of the Year honors. Second-year Nathan Kueh won the award last year.
Kueh, third-year Nick Spizzirri, and second-year Roger Baddour received First-Team All-Ivy recognition this season, the first time three Quakers received All-Ivy accolades in 39 years. Kueh and Spizzirri were unanimous selections.
The Quakers finished the regular season with a 15-1 record, including a 5-1 conference mark and a perfect 9-0 slate at home. Their sole loss was a 5-4 defeat against Harvard.
Next up for the Quakers is the Potter Cup, which begins on Feb. 24 in Hartford, Connecticut. The CSA Individual Championships open on March 3 at Drexel's Specter Squash Center.