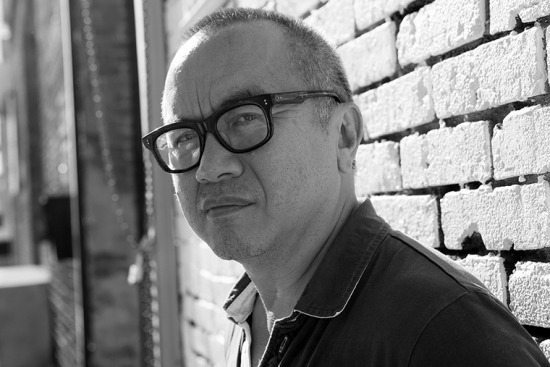 As Memorial Day approaches, Penn Today asked School of Design Professor Kenneth Lum, chair of the Fine Arts Department, about the war memorial he designed for the city of Toronto in his native Canada, and about war memorials he finds most memorable. Lum was one of the lead curators of the Monument Lab project, which examined monuments and memorials across Philadelphia. 
Lum's Peace Through Valour memorial, dedicated two years ago, commemorates the more than 93,000 Canadian soldiers who took part in the Italian campaign during World War II. The bronze sculpture is a topographical map depicting the destruction of Ortona, a medieval village on the Adriatic Sea, where Canadian soldiers fought and won the fiercest battle of the campaign. At each of the four corners of the map is a half-size bronze statue of a Canadian soldier.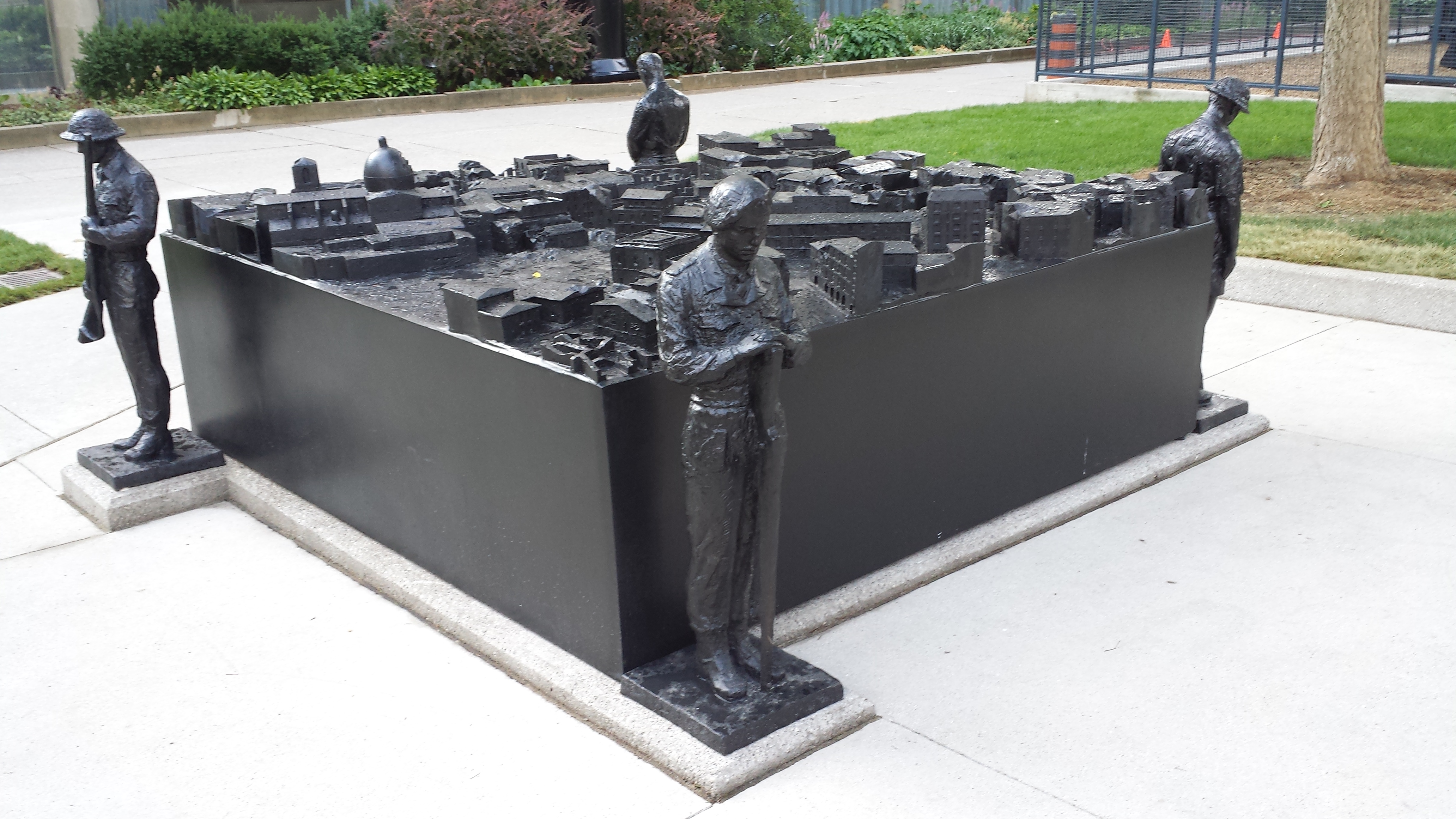 How did you approach your design of Peace Through Valour?
At first, I turned down the commission. I'd never designed a war memorial, and I didn't want to be shackled by the tropes and conventions of war memorial design. I am a contemporary artist. I thought, I can't make a standard war memorial. I wanted to make a memorial that wasn't one purely of eulogy, but has another element.
The site for the memorial, I discovered, was going to be next to a playground, on grounds of City Hall. I kept thinking about it. I thought it would be interesting at the eye level of the children. What if the memorial was quite low: children like looking at maps and landscapes. I thought, what if it was a sculptural image of the aftermath of war, this historical town in the aftermath of destruction. 
During the war, Charles Comfort, the Canadian war artist, took hundreds of black-and-white photographs and painted many scenes of Ortona. I studied those paintings and photographs. You can see the destruction of this beautiful village, including Canadian tanks marching a path from a high point into the ruined landscape. 
What about the four soldiers in each of the four corners?
These processes are very complicated. Some people were nervous about it just showing that war is hell, and they asked me to go back and think about it. At that point I was adamant to not have figurative representation. But I thought about it again and decided that it could. I designed four different soldiers based on the paintings by Charles Comfort. The soldiers are standing as sentinels. I thought of it as a tribute, but also a depiction of the immense destruction. It is not a depiction of death: at 30th Street Station in Philadelphia there is a memorial statue of an angel carrying a dead soldier; you see those all around in Europe and they are beautifully done, but tend to be abstract. In my war memorial, it is very literal: you see buildings collapsed, the houses razed by bombardment. 
What has been the reaction?
It has been well received. It is very modest in scale. It is at the eye height of little child, and that makes it very different. I have seen lots of pictures of children looking at it, and studying it. It is very modest. It is not heroic. But there is heroism there: the soldiers' eyes are downcast to ground, in sorrow. There is sorrow. 
What are three war memorials that stand out to you?

The USS Arizona Memorial at Pearl Harbor is an exquisite memorial. There is an iconic picture of Pearl Harbor, of the burning and sinking of the USS Arizona. More than 1,000 people died on that one battleship. The memorial, like a glass-bottom vessel, floats atop of the water and you see the wreckage below. There is something quite ingenious about the memorial as a resting place, with the bodies down below. 
The Vietnam Veterans Memorial in Washington, D.C. is ambiguous, inculcated with negative history. It is not celebratory, with mournful language. There is not representation of war, really. It is a wall. It has a tomblike facade. It is somewhat subterranean, going down into the ground, and then back up. It is a lateral monument, not vertical. The horizontality challenges the celestial upward gaze we often associate with memorials. The visitor walks along the wall, which takes time, and brings in issues of embodiment. The viewer is aware of their own body as they consider the names on the wall. It is a very complicated memorial. It is so moving, as a memorial.
And the Canadian National Vimy Memorial in Vimy, France, is a beautiful memorial, at the site of a terrible, bloody battle during WWI when Canadian and Allied forces defeated Germany. It has towering pylons, on one side a maple leaf, and on the other the fleur de lis. When you look down on the battlefield from atop the hill, it is very elegant. A lot of memorials owe their success to proper location, and this is a beautiful one.