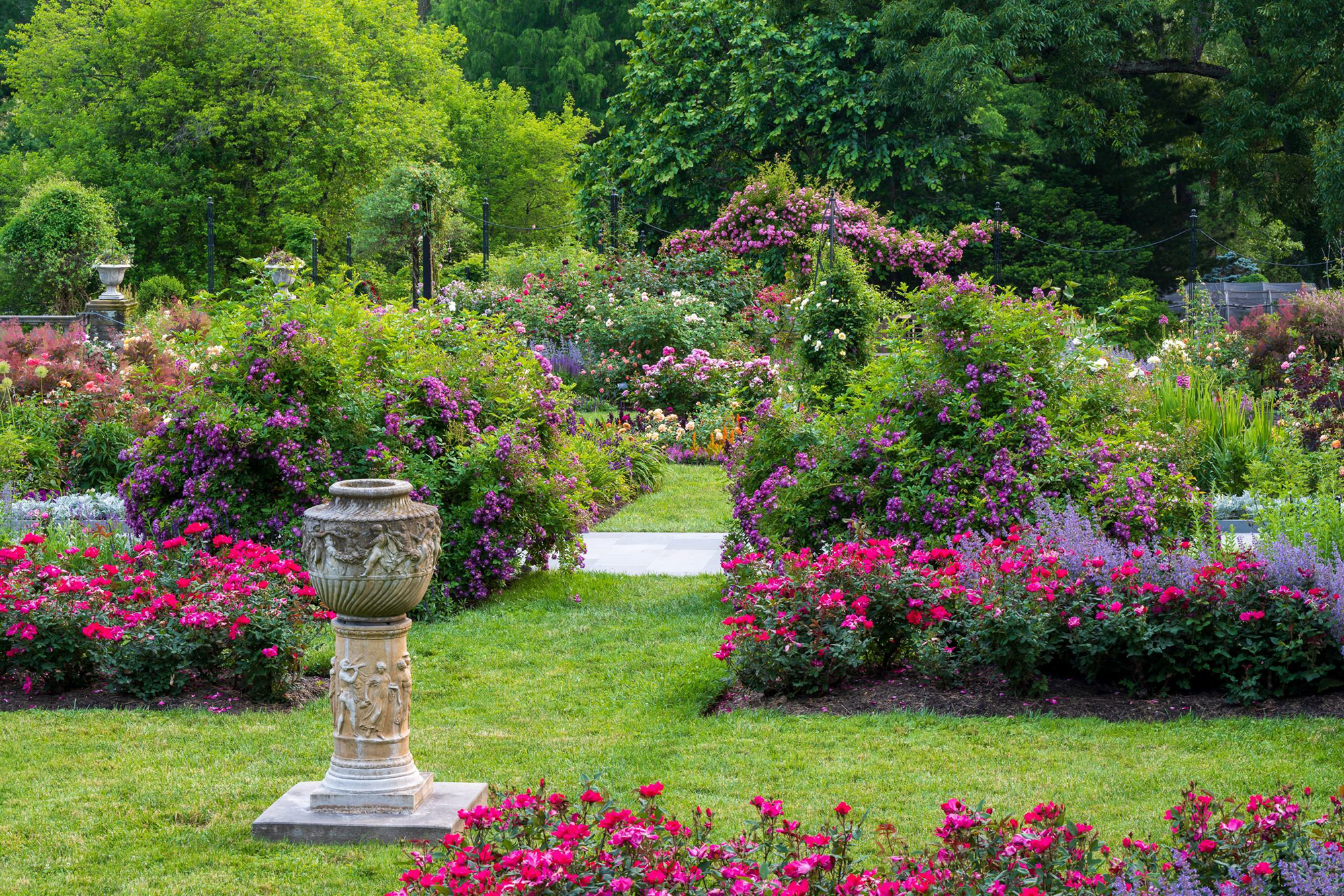 Among the many anticipated effects of climate change is a shift in what plants grow well and where. On that roster are roses.
Erin Conley, the rose garden horticulturist at Morris Arboretum & Gardens, oversees the Morris' procurement and cultivation of roses. Conley studied sustainable agriculture at the University of Wyoming and held several internships—one of which was with the Morris and led to her current position. She began managing the rose garden in 2021.
Conley discusses her experience with horticulture, the impact of climate change on roses, and what's new in the rose garden, which recently reopened after the Morris added a new path for improved accessibility.
Have you always had a green thumb?
It was mostly in an agricultural context. My parents had vegetable gardens growing up when we had quite a bit of land. I was really interested in animals, and we had farm animals, and I knew that I wanted to work outside. But the horticulture part came later.
Was working in the rose garden a natural change for you?
The rose garden piqued my interest when I was looking into internships, and I loved it. The rose garden is a mix of roses and perennials, and also other pockets of annuals where I can experiment with new colors and textures. The installation of the new path prompted the redesign of one of the quadrants, which helped push me to explore some new plants and combinations.
What was the task at hand with adding those perennials and revamping the rose garden?
I think the important thing in the rose garden is the color scheme of each quadrant. Already there were a lot of purples and pinks throughout the whole garden, so I wanted to work with a brighter, hotter color scheme. And we wanted to keep the palette of plants relatively simple.
Obviously, there are plenty of roses, but in terms of perennials we wanted to pick a smaller amount of core perennials and repeat those with accents of annuals, while also keeping the structures of the roses.
What is unique about the Morris' rose garden?
It's a pretty large rose garden, especially for this area. The Victorian four-quadrant layout is pretty unique, in addition to the fountain in the middle. Two years ago, we had a formal hedge that ran along the main pathway, but have since replaced it with tulips in the spring and annuals in the summer, which helps the garden stand out. Another special aspect about the garden is how you walk in at the top and have a view of the garden in its entirety. Often when you enter other gardens, it's the ground floor.
One of my favorite parts is doing the ornamental containers around the rose garden, which get switched out for spring, summer, and fall.
When was the garden planted?
The rose garden was created in 1888 and is one of the original gardens from the John and Lydia [Morris] era. It was originally a flower and vegetable garden and became a rose garden in 1924. One of our oldest roses in the collection is from the late '80s, called Rosa 'Mme. Hardy,' which was accessioned in 1989.
How endangered are roses by climate change? And is it only certain varieties?
It definitely varies a ton by variety. When we select roses for the rose garden, we are choosing ones that are really disease-resistant, that generally flower for a long time, and that a home gardener could grow at home. They also must be hardy enough to make it through winter and tolerate the humidity and heat of Philadelphia. Some roses are bred in England and thrive in that climate, which is different than ours. Others thrive in the Texas heat. It's thinking about what varieties might be bred for humid or hotter climates than we currently are in, so that we do well in the future. Roses as a whole grow well in the heat, but if it gets to be really hot, they don't flower as well.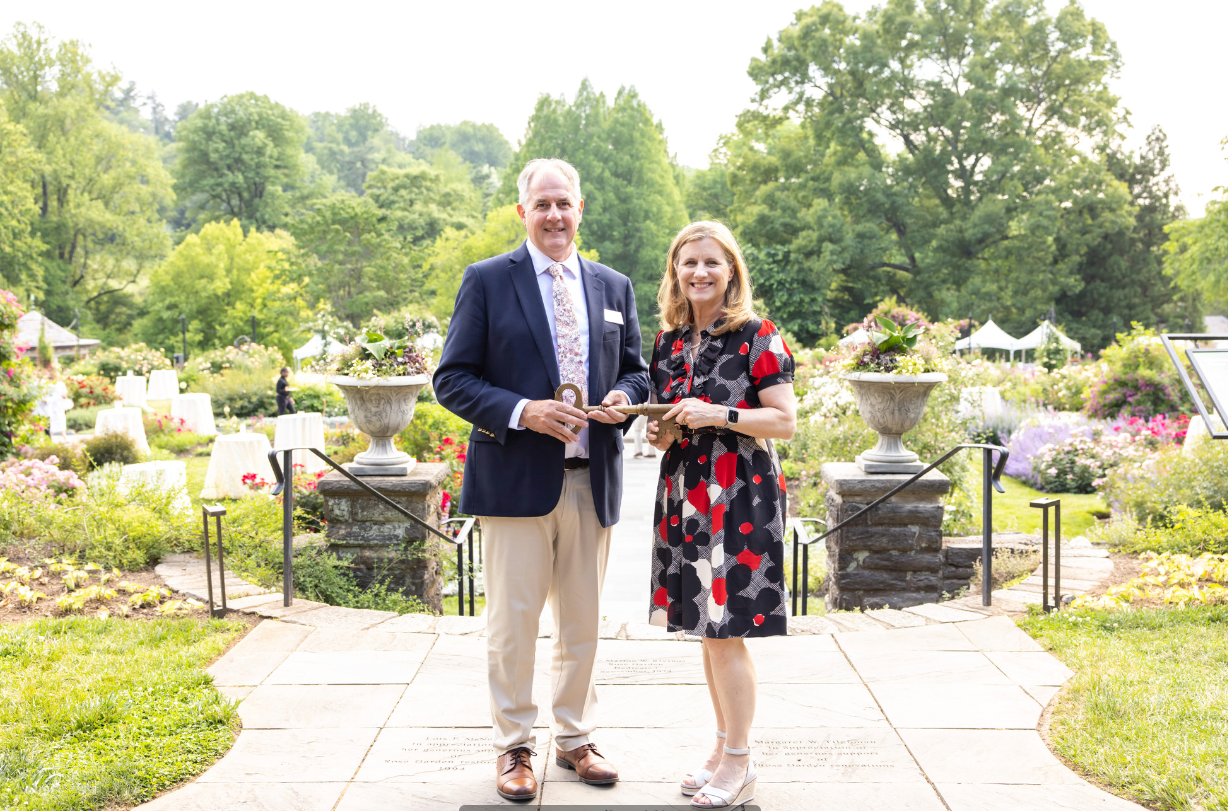 So it might be that roses won't thrive the way they used to?
Roses are incredibly tough and very old; they've been through a lot. However, the peak time where most roses are blooming is shifting. We've had the Moonlight & Roses [gala] for more than 40 years. When it started, it was always on the second Friday of June, and now it's the first Friday, and this year it could have been the last Friday in May.
And the other thing climate change affects is pests and diseases. Rose midge is one of the worst pests for our roses. They emerge from the soil in the spring and they eat the flower buds before they can flower. If the weather warms up earlier, the pest will emerge earlier and maybe even have shorter life cycles, leading to more life cycles throughout the summer and a worse pest problem. That's an effect, for sure.
Roses also take a lot of water to grow. How does the Morris factor that in?
Once they're established, they're able to survive periods of less rain. Along with the new path we installed, we also added drip irrigation that is very efficient. You have none of the evaporation of overhead irrigation; it gets right to the roots and uses less water and prevents water droplets from sitting on leaves, which can spread fungal diseases.
What's the future of the garden? What's coming up?
We're always in a process of evaluating roses in the garden. If there are some that haven't done well for a few years in a row, we remove them from the garden. We're always looking at new varieties selecting for the ones that grow the best in our climate.
Every year, there's always a changeover. We added about 10 new varieties this year and that number varies depending on the year. We want to display roses that home gardeners can grow, and we're always trying to find ones with fragrance. Sometimes, fragrance and scent get bred out of them if you're prioritizing for disease resistance and hardiness. One of our roses, Rosa 'Kazanlik,' is used to make rose oil and has historical significance for producing rose oil in Bulgaria, dating to around 1670.
Have you gotten any feedback since the garden reopened?
People are really excited about it. It's been great. People have had positive things to say, and we've seen quite a few people using accessible scooters. That's one of the new priorities behind the path, so you can use scooters and strollers in the garden, and I've seen people using them. I think some people didn't even notice the grass is gone, because the path feels more like it should be part of the garden.
Anything you want to add?
In terms of the new path, I think the accessibility was a huge factor, and also thinking about bringing the rose garden into the public garden era. The whole Arboretum was originally for two people, and now we have over 150,000 people a year.So, thinking about how that foot traffic affects the garden and keeps moving the rose garden to a more accessible public garden, as our visitation expands.