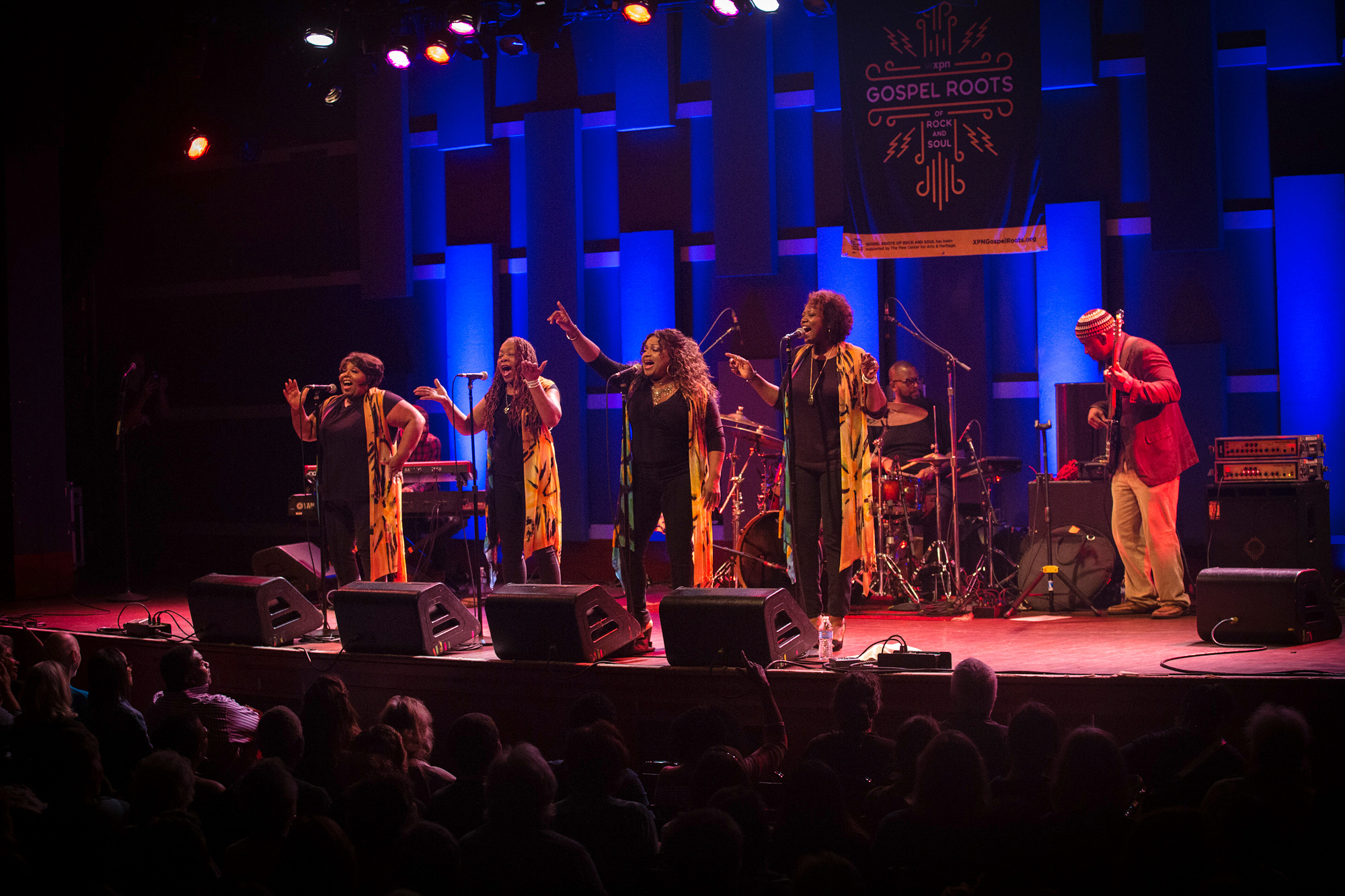 The story of gospel music is one of origins.
Ostensibly, it tells an origin story of people and the world. But examining it through a different lens—one that places it in pop culture—it unfurls the histories of modern music, reminding us that the soulful sounds of Ray Charles, the earnest wailing of Aretha Franklin, and the bluesy rock 'n' roll of Elvis Presley all owe themselves to the sonorous sounds of gospel.
It's this subject and more that WXPN tackles in its new radio documentary, "The Gospel Roots of Rock and Soul." The four-part documentary will air on WXPN from Feb. 4-7, with one-hour episodes airing every night at 8 p.m., and a four-hour broadcast of all four parts at a later date. The documentary will also be broadcast nationally thanks to distribution by NPR. (Just some of the other cities to air the documentary: San Francisco, Orlando, Baltimore, Denver, and Memphis.)
Following two previous successful projects funded by a grant from the Pew Center for Arts and Heritage, one focusing on Mississippi blues as a disappearing art form, and another on Zydeco music of southwest Louisiana, WXPN sought a third grant that further explored music culture and history.
Gratefully, it wasn't terribly difficult to sort through what that next topic would be.
"We hit on this concept that's not really written about but regularly discussed, which is the concept that 'without gospel, there would never be a Ray Charles, Aretha Franklin, or incredible early rock 'n' roll and R&B,'" says Bruce Warren, assistant general manager for WXPN. "That was the seed of the idea, and we did some research, had a number of conversations with gospel historians, scholars, and musicians, and everybody was just like, 'This is a no-brainer.'"
Following grant approval by Pew, the 16-month project took on the title of "Gospel Roots of Rock and Soul," entailing seven citywide performances and dialogues in 2018 from beloved gospel groups, influencers, and musicians, such as the Dixie Hummingbirds. Some visiting musicians included the Fisk Jubilee Singers, The McCrary Sisters, and a final event at Bright Hope Baptist Church that WXPN General Manager Roger LaMay says was received as "one of the best" they've ever produced, vocalist Sarah Dash—cofounder of Patti Labelle and the Bluebelles—performed alongside The Henderson Sisters, the Philadelphia Heritage Chorale, and more. 
The documentary will cap the educational performance project as a wellspring for music lovers who listen to WXPN, or anyone who listens to music and might be curious about the beginnings of their favorite songs and sounds.
"I think [the roots of gospel] are somewhat of an untold story, and there's been this silo-ing of gospel, and rock, and soul music—certainly in recent times—and people have forgotten about this really important history, and what drove a lot of the early rock and soul," LaMay says. "I think being able to illuminate and educate around that history, and that origin, really informs your love of music."
The documentary is narrated by gospel legend CeCe Winans, and produced by Alex Lewis, a Philadelphia radio producer, musician, and documentarian who has worked on previous WXPN projects. The radio documentary took the better part of a year to create, containing interviews with dozens of gospel musicians, historians, journalists, and radio programmers, and entailing trips to Nashville, Memphis, and Chicago—all hubs for gospel.
Lewis, who says he went in with a fairly limited knowledge of gospel, walked out of the experience as an admirer of the music, and excited to share stories that have gone largely untold in this unique audio format.
"A pragmatic thing [about this format] is, because the history of gospel music stretches so far back, while there might not be video available going back to the very beginning of the 20th century or earlier, there are recordings available—or if recordings aren't available from the mid- to early-19th century, there are certainly recordings of people performing the songs of the time," Lewis says. "You can transport people through audio in a way that would perhaps be more difficult and expensive through a video documentary.
"And one thing I always argue for, for audio or radio, is that in a way it's the most vivid genre because people can make the image in their head, as long as the audio is doing its job."
Lewis says the project mostly spans the beginning of the 20th century to present day. The first episode is an overview of the beginnings of African-American spiritual music dating to the time of slavery. It will also profile Chicagoan Thomas A. Dorsey, the so-called "father of gospel music," and his influence commercializing the sound, and touch on the golden age of gospel quartets.
The second episode moves the story forward with discussion from historians and musicians about the divide between secularity and faith in gospel, and musicians like Sam Cooke, who crossed over into secular music with a gospel sound and found pop stardom. That leads into Edward Hawkins' breakthrough "O Happy Day," considered the first mainstream gospel song.
The story broadens in the third episode, teasing out the story of Elvis Presley's Memphis roots listening to black gospel groups, and gospel's relationship with Martin Luther King Jr. and the Civil Rights Movement. This ends with a discussion—utilizing archived audio interviews with Aretha Franklin herself—about Franklin and her soulful contemporary, Marvin Gaye, two icons who might be the biggest faces of gospel with mass appeal.
The fourth hour consists primarily of music, with some narration built in.
Lewis says Winans, as narrator, was an especially notable "get" for the project, with her chart-topping songs like "Alabaster Box" and "Throne Room" and 12 Grammy Awards. A Detroit native, she has been largely influenced by Motown and R&B artists, as well as rap music she listened to in the '90s that also drew influence from gospel.
"She is one of the best-selling gospel artists of all time, one of the most award-winning, and she's a huge name in the gospel world," Lewis says. "Besides that, her music over the past 20 or 30 years sort of reflects the underlying idea of the documentary about the influence of gospel music, pop music, secular music, and also the crosscurrents between those things."
Overall, Lewis paints the documentary as a "powerful and vivid" excavation of the legacy of gospel music. An undertaking that, he adds, is unique to WXPN.
"As far as I'm aware, nothing like this has been on public radio before," he says.
Homepage photo: The Dixie Hummingbirds, a gospel group that's been together for more than 80 years, are paid tribute to on Aug. 31, 2018, at World Café Live during a public concert in tandem with the Gospel Roots of Rock and Soul project. (Photo: Ellen Miller)