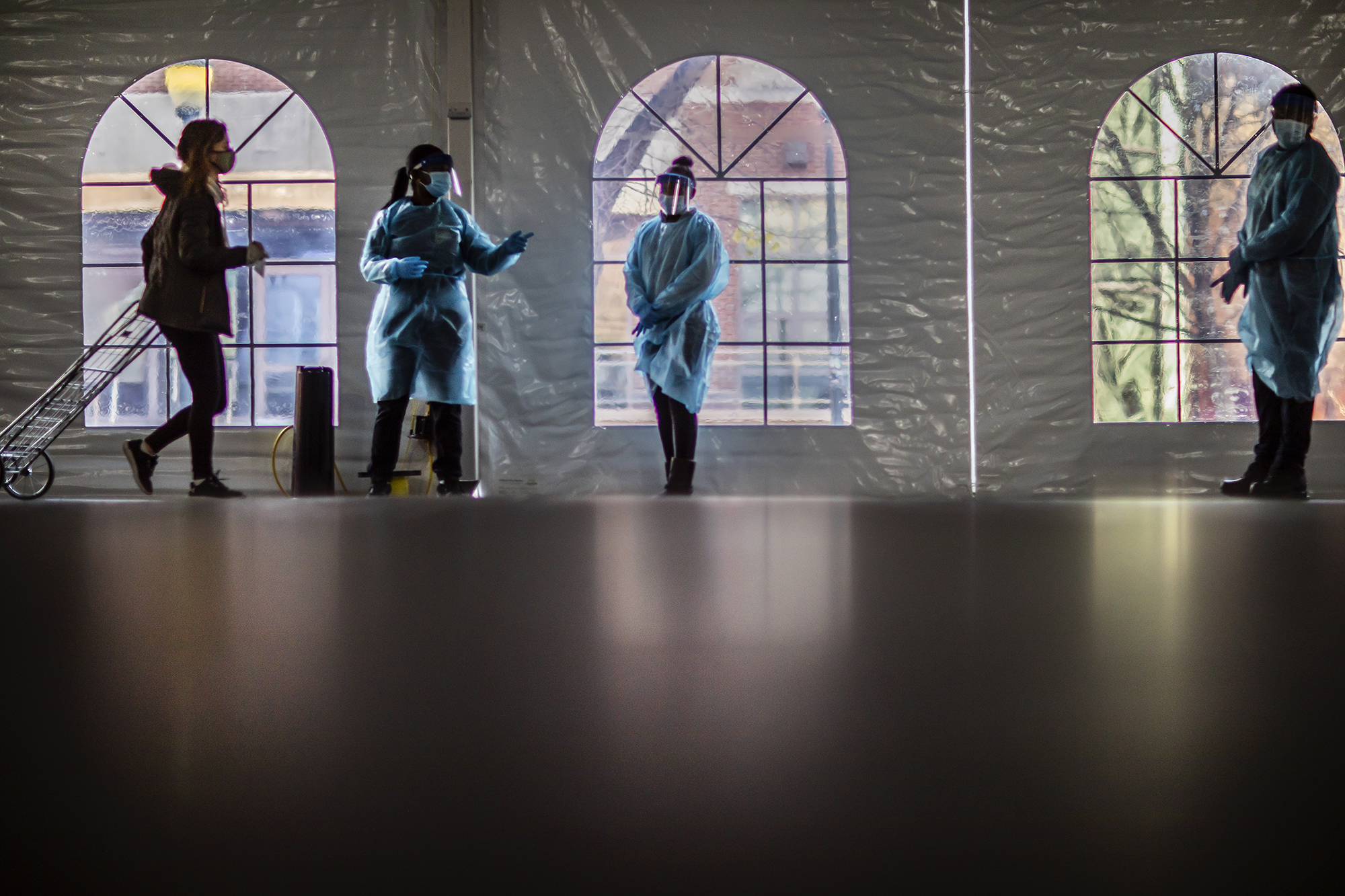 After launching a COVID-19 saliva-based testing platform to support last spring's reopening, as well as a successful vaccination campaign that began in April, Penn is now poised to bring students back to campus for a fully in-person fall semester.
Alongside requiring vaccinations for students, Gateway testing is an important tool for keeping the community safe as students convene on campus for the start of fall classes.
Here, Penn Today provides additional details on the Penn Cares testing program and how all undergraduate and graduate students who will be on campus for the fall semester can fulfil their Gateway testing requirements.
What is Gateway testing?
Gateway testing, also known as arrival testing, is a public health measure designed to minimize the introduction of the virus to the campus community.
All undergraduate and graduate students who are coming to campus for courses or other academic requirements must be tested through Penn Cares upon arrival. COVID-19 tests conducted at external locations, such as pharmacies, do not meet Gateway testing requirements.
For graduate, professional, and undergraduate students, the Gateway testing requirement can be met anytime between now and Sept. 7.
Even for students who have been on campus this summer and have already submitted their COVID-19 vaccination records, a Gateway test is still required.
Who is required to undergo additional COVID-19 screening testing?
Members of Penn community who are not fully vaccinated or have not recorded their vaccination status in Workday or the Student Health Portal are required to participate in twice-a-week COVID-19 screening testing.
Those who have been fully vaccinated against COVID-19 (defined as two weeks after the first of a one-dose series or two weeks after the second of a two-dose series) and who have uploaded their vaccination records are no longer required to participate in the Penn Cares testing program. Testing for those on campus who are vaccinated remains available as an added measure of comfort.
As the new academic year begins, all students who will be on campus this fall must complete Gateway testing for COVID-19 when they arrive to campus, regardless of their vaccination status.
What is the testing process like?
COVID-19 testing must be scheduled in advance and within 24 hours of arrival to campus. Appointments are available in 15-minute intervals on a first-come, first-served basis, and walk-in appointments cannot be accepted. For additional information on how to schedule an appointment, consult the tip sheet.
All COVID-19 testing will be conducted at the high-rise tent at Du Bois College House. For more information on how to access Du Bois, visit the testing site and hours website.
Anyone being tested is asked to not eat, drink, brush teeth, use mouthwash, chew gum, vape, or use tobacco products for at least 30 minutes before the test to prevent sample contamination.
Participants should bring only their PennCard and a completed daily PennOpen Pass to their appointment. All participants should wear masks and practice social distancing while waiting in line. The sample collection process should take less than 15 minutes.
What happens after Gateway testing?
Test results will be available on the COVID Results website within 48 hours.
While students are no longer required to quarantine upon arrival to campus, if a student tests positive during their Gateway test they will be required to isolate for 10 days and cooperate with contact tracing efforts even if fully vaccinated.
What other public health recommendations and requirements are currently in place?
As the COVID-19 situation continues to evolve, public health guidance on campus will be updated to reflect recommendations from the Philadelphia Department of Public Health, Pennsylvania Department of Health, and CDC.
As of Aug. 5, masks are now required for all while indoors in public or shared spaces, even if fully vaccinated. Exceptions include single-occupancy offices and shared spaces where six-foot distancing can be maintained, with roommates in college house suites/rooms and, by permission, in instructional settings for pedagogical reasons.
Penn will continue to adjust public health guidance as the effects of COVID-19 and its variants continue to evolve. For the latest information, visit https://coronavirus.upenn.edu/content/public-health-guidance.
For information on COVID-19, visit https://coronavirus.upenn.edu and follow @COVIDPenn on Twitter and Instagram.