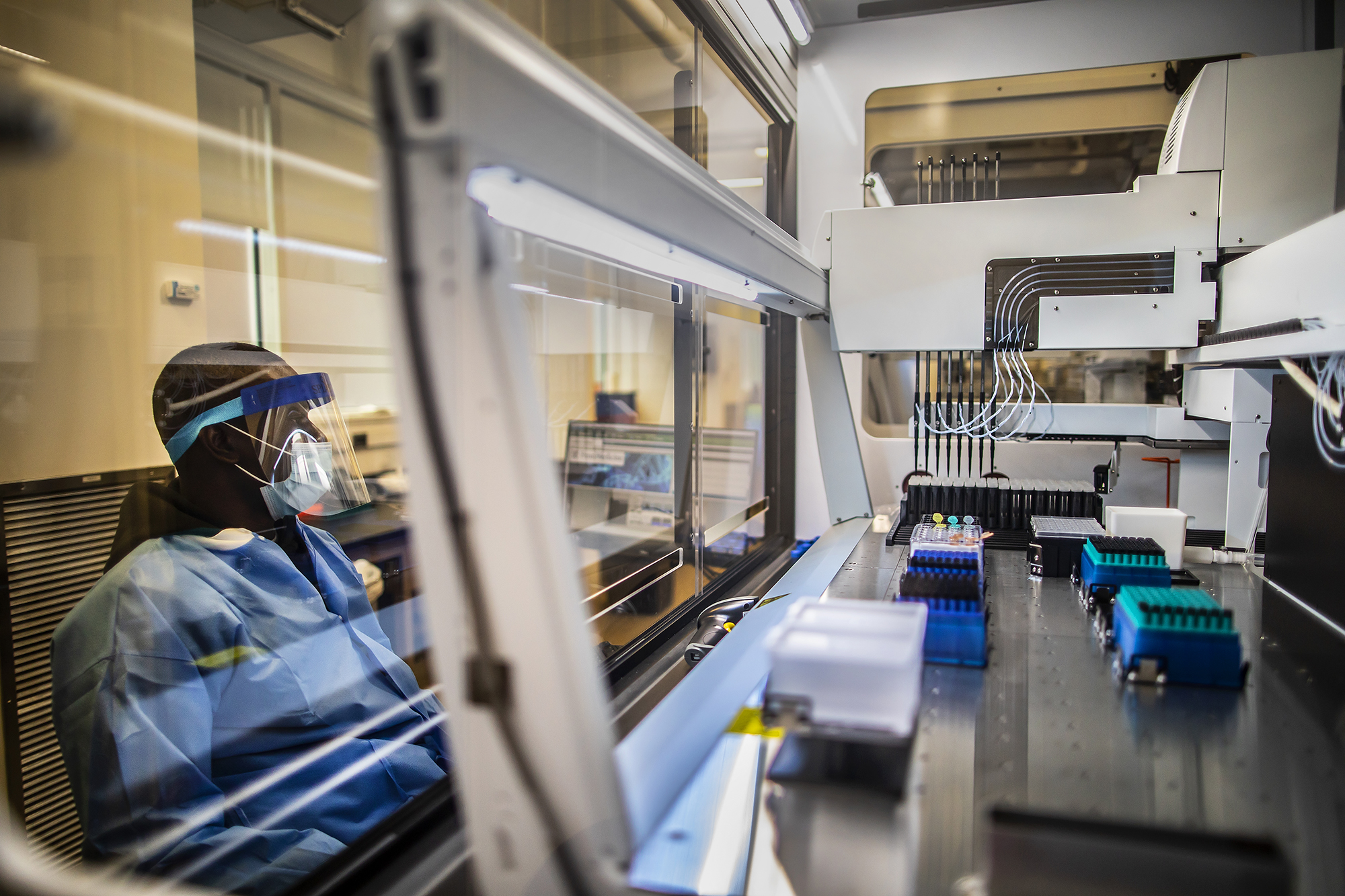 A coordinated campus testing plan for COVID-19 that relies on saliva-based tests had its soft launch in early December. The large-scale COVID-19 screening program known as Project Quaker will allow COVID-19 to be tracked and mitigated at Penn and is an essential component for plans to bring students back to campus safely for the spring semester.
The result of a partnership between Penn Medicine, Wellness at Penn, and the Center for Public Health Initiatives (CPHI), Project Quaker was able to create a massive testing infrastructure in a matter of months thanks to partners and collaborators across schools and centers. "Part of Wellness at Penn's mission is disease prevention and contact tracing, but we needed the institutional expertise that the health system could bring in terms of setting up this essential testing infrastructure," says Benoit Dubé, chief wellness officer and associate provost. "We're fortunate to have access to a leading health care institution and scientists who were able to put their minds together."
"Project Quaker is a real partnership between the Health System and the University, and one without the other isn't Project Quaker," says Michael D. Feldman, professor of pathology and laboratory medicine, whose clinical lab at the Hospital of the University of Pennsylvania conducts all of the COVID-19 tests done on campus. "Getting a result back quickly is important, but having the University do the contact tracing, quarantining, stand-up testing centers, coordinating the people and the movement flows, and the IT underneath is all from the University side. This has been a huge team effort."
Strategic screening
The infrastructure developed through Project Quaker will allow Penn to conduct 40,000 saliva-based COVID-19 tests every week. This includes twice-weekly tests for undergraduate students and those living on campus and weekly tests for graduate students, faculty, and staff who come to campus or who have regular contact with the campus community.
The goal is to test broadly and repeatedly to identify individuals with COVID-19 as early as possible in order to shut down transmission. The strategy incorporates approaches that have proven successful on other college campuses. "What we focused on here is screening testing," says Dubé about Project Quaker's design. "This is one of our public health tools that allows us to monitor disease. If we see a rise in cases, it tells us that we need to change the restrictions that we put on members of our community."
Large-scale, regular screening testing also reduces the potential for false negatives, which can occur early after a person is exposed to the virus but the virus hasn't had enough time to replicate to detectable levels, says Robert L. Challender, chief operating officer and corporate director of laboratory services and the operational executive of Project Quaker.
"In large scale screening programs, you're concerned more about false negatives than you are of false positives," he says. "If you have a false negative result on Monday, and your next test is on Thursday, the chances of a second false negative are greatly reduced. Many screening programs are not testing as frequently as Penn's, and by performing testing as often as this project aims to achieve, the University and the surrounding community will be safer."
State-of-the-art science and supply chains
Unlike the nasal swabs that were collected for COVID screening testing during the fall semester, the infrastructure developed through Project Quaker will rely on saliva. While it made sense in the early days of the pandemic to collect nasal samples because of how most respiratory viruses work, as more data has become available on SARS-CoV-2 these FDA-approved saliva tests are now known to be just as accurate and sensitive as nasal swab-based testing. Both the saliva and nasal swab testing performed at Penn Medicine employ the "gold standard" of COVID testing, or RT-PCR molecular viral testing.
Compared to the testing abilities on campus during the fall semester, where there were 7,000 to 8,000 conducted each week, Project Quaker has increased on-campus screening testing capacity by more than 400%. "We are probably only one of half-dozen universities in the country right now that are doing a saliva program of this scale and scope, and nobody in the greater Philadelphia area is doing saliva testing at this scale," says Challender.
Saliva-based tests are also much easier to do at scale. With saliva-based tests, says Feldman, there's a more reliable supply chain and also the ability to automate tests. "We're going to wind up doing 2 million tests over the course of a year. That means 2 million collection tubes, 2 million assays, and all the liquid handlers," Feldman says. "When we looked at what we could reliably get from our suppliers, this was more amenable than 2 million swab tests."
However, Project Quaker is more than just increased testing capacity and a solid supply-chain-management strategy. The program also relies on other essential "pillars" that make it successful, including collection-site logistics and facilities management, human resources, and a solid IT infrastructure. "There's this thread that weaves the entire project together, which is this whole data pathway, both upstream and downstream from the clinical laboratory," says Challender. "Your barcode is tied to your specimen, and every piece of instrumentation that we use, right up until the point where we make a clinical diagnosis and report back to the University's result and contact tracing systems."
This complex data pathway begins as soon as a person schedules a test at one of the eight campus sites. Participants will be asked to not eat, drink, brush teeth, use mouthwash, or smoke for at least 30 minutes before the test and to bring only their PennCard, a green PennOpen Pass, and a mask to their appointment.
Results will be available online within 48 hours, but both Challender and Feldman emphasize that Penn's testing infrastructure will strive to deliver results even faster. "Just this past semester, if you looked at all the samples we processed, our average turnaround time was less than 24 hours," says Feldman. "We've been pushing them through as fast as humanly possible."
Looking ahead
This past week was the start of saliva testing at Houston Hall, providing Project Quaker with an opportunity to smooth out any issues before its primary launch in 2021. Jennifer Pinto-Martin, CPHI executive director and Viola MacInnes/Independence Professor of Nursing, says this new testing procedure is working well already. "There were a couple of little glitches, but anything that came up was able to be managed quickly," she says. "It's why we are doing this pilot phase, and so far it's been very successful. I'm hopeful and optimistic that we can keep campus safe with these measures."
Before the end of the year, there will be a campus-wide email with testing-criteria details. Eligible members of the Penn community can then enroll in the program by scheduling their first test. Starting on Jan. 4, there will be four testing sites open, and by Jan. 11 all eight sites, plus one additional site dedicated to symptomatic and exposure nasal swab testing, will be operational. The goal is to conduct 7,000 to 8,000 tests on a daily basis by mid-January, and, as the "largest University testing operation in Pennsylvania," Feldman says that Project Quaker will be ready.
But testing is just one strategy to mitigate the spread of COVID-19, and it will take a continued focus on multiple public health tools, including the "Three Ws" of "watching distance, washing hands, and wearing a mask," to keep campus safe. "None of the strategies on their own is perfect; there are 'holes' in them that could allow virus to transmit if we only do one," says Dubé, referring to the "Swiss cheese" public health model. "But when we adopt all of them concurrently, the holes are misaligned, and it's how we optimize our level of protection."
For information on COVID-19, visit https://coronavirus.upenn.edu and follow @COVIDPenn on Twitter and Instagram.
To learn more about Penn's testing strategy and other considerations for the spring semester, a recording of the Virtual Town Hall "What to Expect for Penn's COVID-Era Spring Semester" will be available on the Office of the Faculty Senate's website.