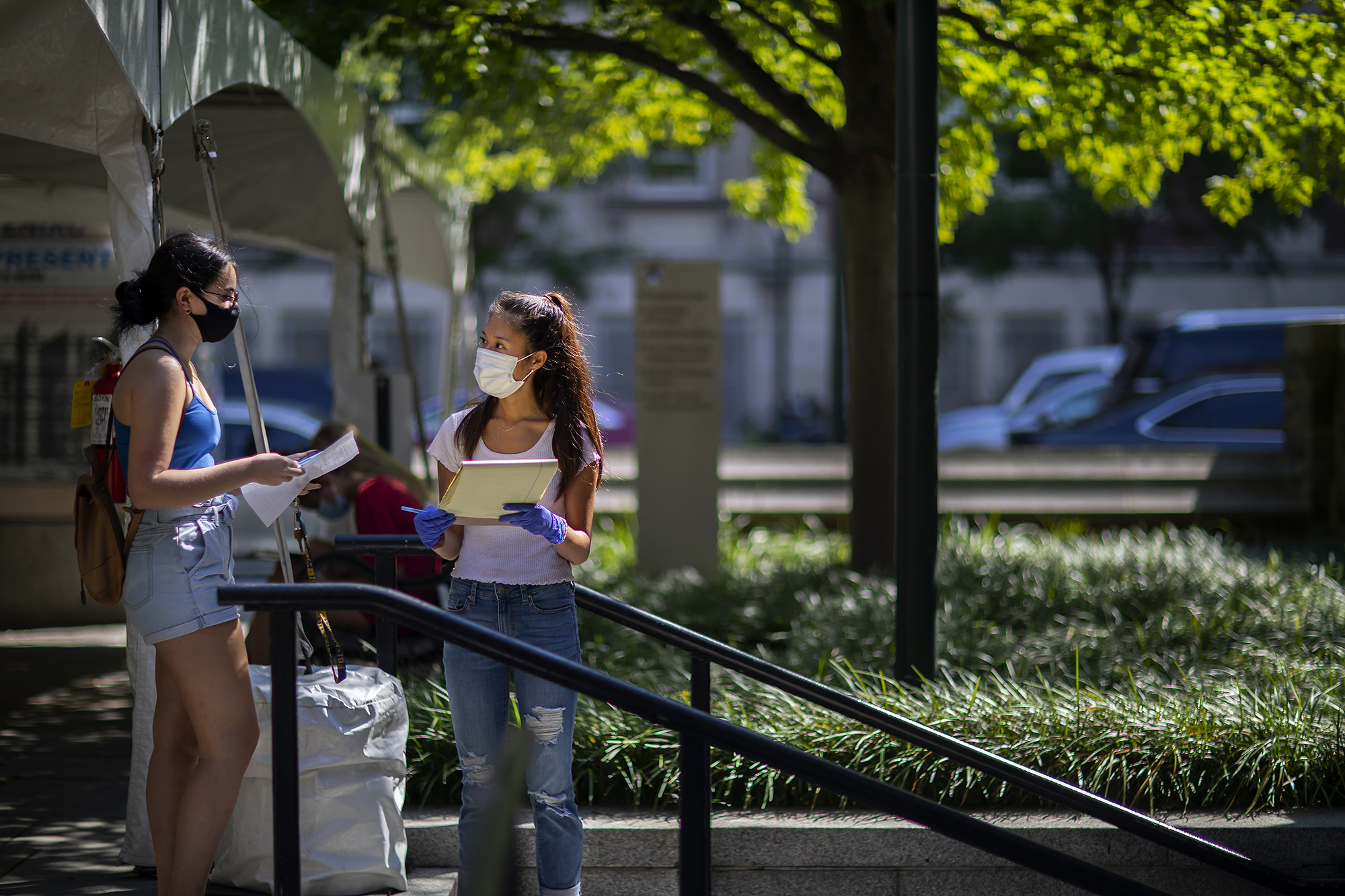 One of the tools used by public health officials to stop the spread of infectious diseases is contact tracing, a systematic approach to identify those who might be at risk of infection. To mitigate the spread of COVID-19 here at Penn, Campus Health, the Center for Public Health Initiatives (CPHI), and Environmental Health and Radiation Safety (EHRS) are working together to conduct contact tracing for students, faculty, and staff. The goal is to reduce the spread of COVID-19 and to support members of the community with health guidance and information. 
Stopping the spread
At the core of Penn's public health strategy are individual behaviors, such as hand-washing, social distancing, and mask wearing, while daily symptom checks on PennOpen Pass provides a first-warning system for potential new outbreaks and on-campus testing to confirm new coronavirus infections. 
The goal of contact tracing is to break chains of transmission. It's designed to provide guidance to those who are newly infected on how to self-isolate and monitor symptoms as well as talking through previous activities to see if they might have exposed anyone else. Contact tracers conduct detailed interviews on the phone to determine where a person might have been exposed, who else is living in their household, and if they came in contact with anyone while at work or in the community.     
Then, after identifying close contacts, defined as anyone who came within six feet of an individual for more than 15 minutes as long as two days before symptom onset, contact tracers reach out to contacts to let them know they were potentially exposed and should quarantine to minimize the risk of spreading the disease further. For both cases and their contacts, contact tracers will reach out by phone at multiple times of day to increase their chances of getting in touch with a case or contact and will send messages through other secure means if the person is not reachable by phone. 
Supporting students
For students who test positive for coronavirus, the public health office in Campus Health has contact tracers who use information from PennOpen Pass, the campus daily symptom tracker tool used for disease surveillance, as well as collated data on new cases identified during on-campus testing events. The contact tracing process here on campus, says Ashlee Halbritter, Campus Health director, is one that emphasizes keeping people safe over punitive measures. "It's not about who you were exposed by or where; no one's in trouble," says Halbritter. "It's about trying to guide people into appropriate care and to make sure that they have advice to stay safe."
Natalie Frost, a Wellness COVID-19 team lead, adds that contact tracing is also an opportunity to educate and to listen to student's concerns by explaining what they need to do next while acknowledging the emotional toll of testing positive. "We walk them through the process, answer questions, and take it all at their pace. We also use the call as an opportunity to educate them and ease their worries. It's a very stressful time, so we give them information to help calm their anxiety," says Frost. "We're a source of information that you can trust, and being that source of information can make a huge difference in the outcome of cases in a community."
Justin Diaz, another team lead who has been working with the contact tracing team, this summer, was reassigned from his work as a live event producer in Penn Athletics and took part in a two-week training program, which included how to speak with patients on the phone and a mock case investigation. He also emphasizes the importance of both giving information as well as listening. "If we get into the habit of reading from a script, people are more likely to go into automated response mode," says Diaz. "It's about being empathetic but firm, acknowledging that this is frustrating but that we're trying to keep as many people safe as possible. When we are willing to hear out their concerns, students are willing to get on board with what we are trying to do."
Contact tracers from Wellness also work at on-campus testing centers where they staff entrances and separate people who have received an exposure notice from those who have not. At the testing centers, contact tracers also speak with people who recently received an exposure notification to determine when their exposure might have occurred and to recommend that they come in for testing at a later date if they are still early within the virus' incubation period. 
Consulting faculty and staff
Earlier this spring, CPHI established an "army" of volunteer contact tracers, including master's of public health, medical, and nursing students, to conduct contact tracing for Penn Medicine patients. Now, a team of both newly hired staff and those redeployed from other roles at Penn will conduct contact tracing for faculty and staff in the entire Penn community.
Rachel Feuerstein-Simon, a research program manager at CPHI and an operations lead for faculty/staff contact tracing with Kierstyn Claycomb, says that working within the Penn community has helped their team obtain crucial information from contacts to help stop the spread. "Penn faculty and staff have been very forthcoming and transparent with our team regarding their close contacts," says Feuerstein-Simon, adding that even in the broader community, the percentage of people who answer the phone and participate in interviews has also been high. "About 75% of the individuals we reach out to for contact tracing answer their phones. This is much higher than rates reported by some municipalities," she says. 
To help investigate potential workplace exposures, Maureen O'Leary, associate vice provost for research, conducts "COVID consultations" for faculty and staff on campus. If a person working on campus, such as in a research lab, becomes infected, O'Leary helps conduct risk assessments to determine any close contacts. She then works with Facilities and Real Estate Services to clean public spaces and helps faculty determine if and when their labs should be closed for deep cleaning. She also provides guidance to programs with varying clinical guidance, including those in dental, medical, nursing, and veterinary programs, who have different Centers for Disease Control recommendations on quarantine and isolation procedures. 
"In terms of the research community, people are doing a fabulous job. They're wearing their masks, and they are social distancing, so when we have a positive case reported in a research building, most of the time we don't have any close contacts," says O'Leary. "We've not seen any workplace transmission in the Penn research world, where people are back full time." Now, EHRS is in the process of coordinating with CPHI to develop protocols so that the workplace contact tracing can be transitioned over to CPHI's contact tracing team. 
Learning and engaging
Feuerstein-Simon emphasizes that having this contact tracing program in place will be essential for responding quickly and effectively to new outbreaks while also allowing researchers to learn more about what public health measures work best. "We have a unique opportunity to study and enhance public health interventions, such as contact tracing. Our team is interested in identifying interventions that could be used to increase the likelihood of COVID-19 cases sharing complete information for all of their close contacts. The vast public health knowledge that we hope to build from these experiences can be just as important as a vaccine," says Feuerstein-Simon. 
With Campus Health's experience in monitoring diseases and outbreaks on Penn's campus, the office is also now working to diversify their contact tracing team, ensuring that they reflect the community members they are calling while also bringing in staff with different language capabilities. "It's great to work at a place where people are collaborative and where people engage proactively with students," says Halbritter. 
"The community buy-in is great, and if we can continue that we can continue to do a good job," says Diaz. "One of the most important things we can do on campus is try to protect people, and if we do our job well, less people will end up getting COVID-19. That's all the inspiration you need."
For information on testing and case numbers, visit the COVID-19 dashboard at https://coronavirus.upenn.edu/content/dashboard.