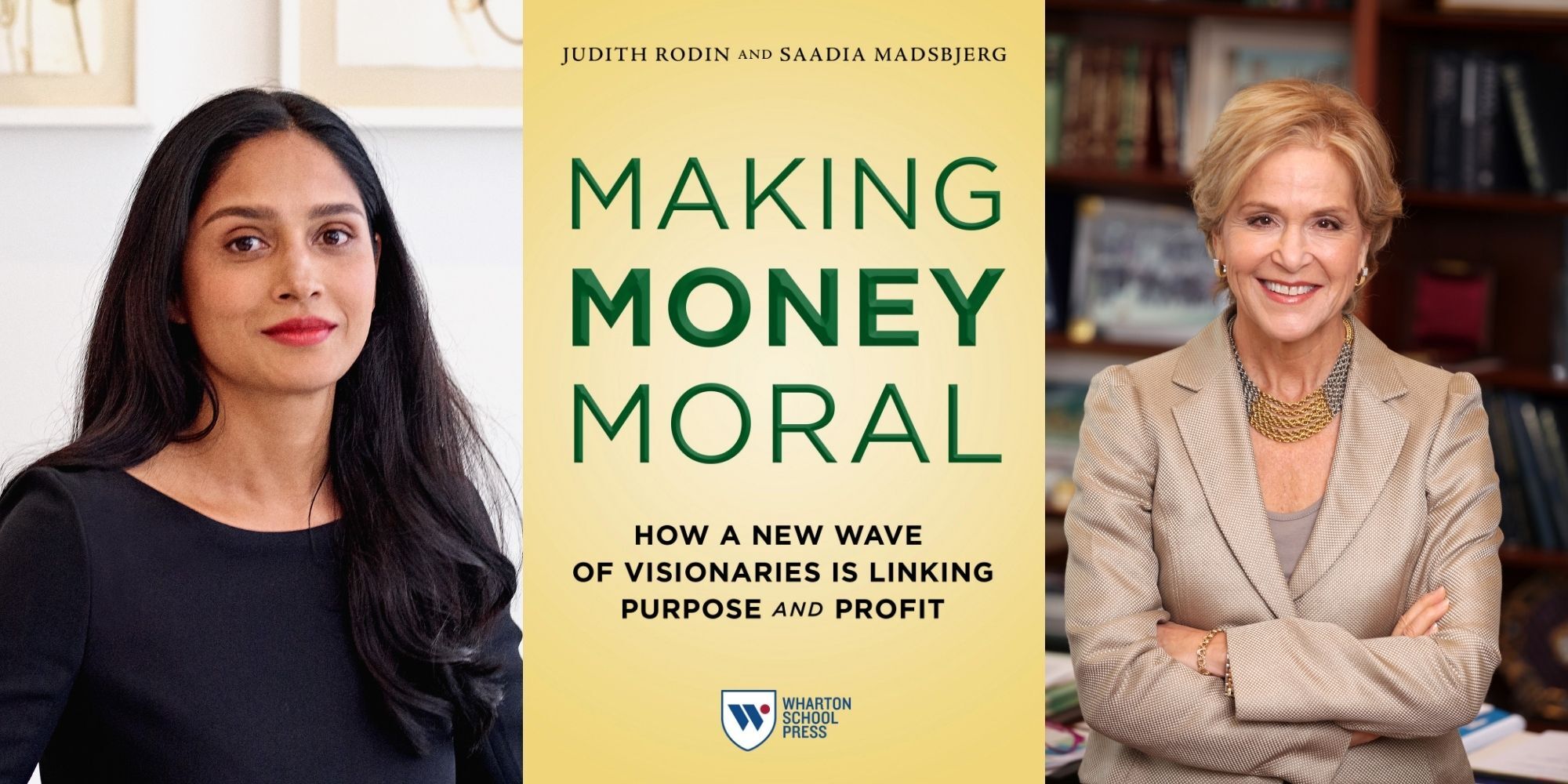 Published by Wharton School Press, the new book "Making Money Moral: How a New Wave of Visionaries is Linking Purpose and Profit," aims to explain, evaluate, and help accelerate the growth of a dynamic market that also does good. Written by former Penn President Judith Rodin and Saadia Madsbjerg, former managing director of The Rockefeller Foundation, the book identifies the key players, showcases the most promising innovations, and highlights the greatest opportunities for investors, the general public, and the planet.
"Making money moral happens when the world of financial markets meets the world of impact," says Rodin. "Making money moral is transforming our view of capitalism."
In addition, the book explores some of the innovative products and investment strategies that money managers—often in collaboration with problem solvers—have been developing to meet the growing appetite for sustainable and impact investing, and reflects on how these approaches are helping improve lives and protect ecosystems and natural resources.
In the book, the authors provide a hypothetical example of an investor who wants to focus on gender diversity and improving life for women and girls. They outline tools the investor can use to do that, such as a gender lens exchange-traded fund, an ETF, which invests in large global public companies that demonstrate effectiveness in promoting workforce gender diversity.
Rodin, former president of The Rockefeller Foundation, and Madsbjerg, a global leader in the field of sustainable and impact investing, are unlocking private-sector investments in new ways to solve global problems, from environmental challenges to social issues such as poverty and inequality.
Pioneers in the field of sustainable and impact investing, Rodin and Madsbjerg offer first-hand stories of how investors of every type and in every asset class are investing in world-changing solutions—with great success.
"'Making Money Moral' aims to show everyone what can happen when the bold world of finance meets the aspirational world of impact," says Rodin. "We hope to build on this progress so that capitalism benefits not only shareholders but also stakeholders."
In their book, Rodin and Madsbjerg offer a deep look at the most powerful tools available today—and how they can be unlocked.
"We know now that what happens in society has an impact on the long-term returns of investment portfolios," says Madsbjerg. "A key takeaway from the book is collaboration. We've seen many exciting innovations where investors have come together with those working on environmental and social problems to build impactful and sustainable investment strategies."
This is an excerpt adapted from "Making Money Moral."
When Money Managers Meet Problem Solvers
This transformation will take more than finance. It will take collaboration. And the Seychelles's blue bond is a good illustration of how this happens. The bond's development and its subsequent management brought together a national finance institution and an international finance institution, large global investors, international donors, and a conservation organization. As the blue bond demonstrates, sustainable and impact investing cannot be driven by one organization or sector alone. A number of different actors each play a part.
First, there are those in legal possession of the capital, the asset owners (from individuals to large pension funds, insurance companies, and sovereign wealth funds). They decide how and where to allocate funds, according to their objectives and current market conditions. And in recent years, social and environmental considerations have been playing an increasingly prominent part in those decisions, with many allocating more of their portfolios to sustain-able and impact investing.
Enabling their objectives to be realized are two key groups: the money managers and the problem solvers. In sustainable and impact investing, the financial resources and expertise of the money managers are what enable large-scale capital flows to be directed toward solving global challenges—social and environmental issues that the problem solvers are working to fix. So who belongs to each of these two groups? We define money managers as the asset managers and intermediaries—from fund managers and investment consultants to the sustainable investment offices of large banks—who need to satisfy clients' growing demand for sustainable and impact investing products and funds. In the process, they are amassing significant experience in building impact portfolios. In every asset class, they are developing financial mechanisms that can attract new sources of capital or bring together different types of capital in new ways. They are developing tools that assess social and environmental impact early in the investment decision-making process (origination and due diligence), and that ensure investments are indeed having the intended impact.
We define the problem solvers as an even wider group. They are the government agencies, advocacy groups, and large nongovernmental organizations (NGOs) working to solve everything from poverty and infant mortality to pollution, water scarcity, and climate change. They are the entrepreneurs looking for the capital with which to create and scale businesses that can solve some of these problems. They are philanthropies and NGOs that want to harness new sources of capital or engage in partnerships that will enable them to have greater impact. And they are public companies that are developing clean, green, and sustainable products, services, and business models, often in response to pressure from investors to address the negative and demonstrate the positive impacts of their businesses. In the sustainable and impact investing sphere, problem solvers play two key roles: They can tap directly into new sources of investment capital, and, by bringing expertise to the table and convening governments, companies, and investors, they dramatically impact the field as a whole.
As these two communities join forces, exciting collaborations are emerging between sectors, each using unique skills and resources in new ways to pursue investments and increase funding flows. This can dramatically increase the scale and accelerate the speed at which solutions can be found to many of the world's problems. When these two communities come together, things get really interesting.
Excerpted from "Making Money Moral: How a New Wave of Visionaries Is Linking Purpose and Profit," by Judith Rodin and Saadia Madsbjerg, copyright 2021. Reprinted by permission of Wharton School Press.