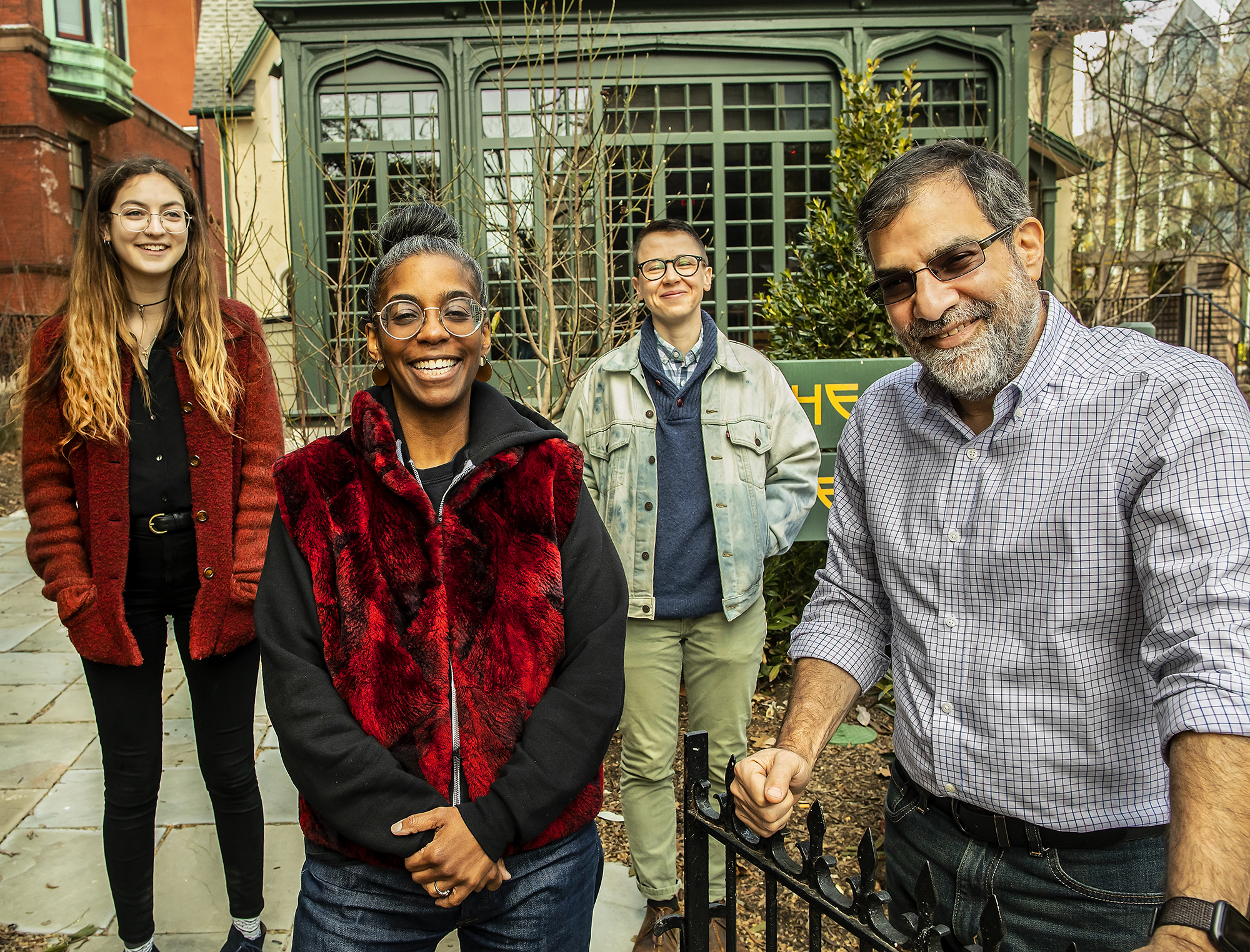 Walt Whitman's beloved poem, "Song of Myself," included in his most-famous work, "Leaves of Grass," opens with the following line: "I celebrate myself, and sing myself." Those words, and Whitman's poetry more generally, have spoken to people for generations, both at home and abroad.
On the 200th anniversary of his birth, the Penn Libraries is leading a yearlong celebration of the iconic poet who lived his final years in Camden, New Jersey, regularly taking the ferry across the Delaware River to visit friends and do business in Philadelphia.
Whitman is very much alive on Penn's campus, where his works are featured in literary courses, symposia, and projects, including many at the Kelly Writers House. The Libraries has an extensive collection of original correspondence and printed works by and about Whitman, including fragments of handwritten drafts of his poetry and prose that are used by professors and students.
The "Whitman at 200: Art and Democracy" celebration is a region-wide series of exhibitions and cultural events meant to reassess Whitman and examine his impact on art and society. The large-scale project includes more than 50 partnerships and dozens of exhibitions, performances, and events—even a birthday cake-baking contest. Support includes a grant from The Pew Center for Arts & Heritage to the Libraries for several artistic commissions.
"We are reaching across boundaries, trying to create programming that intersects with the many ways in which one can interact with Whitman," says Lynne Farrington, a senior curator of special collections in the Kislak Center for Special Collections, Rare Books and Manuscripts and project director for "Whitman at 200." "By building connections within Penn and beyond, we are working to bring people together to have conversations about Whitman that might not otherwise happen."
The effort to create "Whitman at 200" "was collaborative from the very beginning," Farrington says. The calendar of events continues to expand, as more institutions and organizations come on board, with many of the activities scheduled around Whitman's May 31 birthday.
Singer-songwriter Patti Smith and her daughter, Jesse Paris Smith, will perform a concert exploring Whitman through word and song at the Philadelphia Museum of Art on May 30. And the duo, along with Philadelphia Mayor Jim Kenney, will participate in the main birthday celebration on May 31 at City Hall.
The main Whitman event on Penn's campus takes place this weekend, March 29-30, a national symposium "Whitman at 200: Looking Back, Looking Forward," which will feature panels, student projects, and a pop-up exhibition of his works from the Libraries' Whitman Collection. One of those student presentations will be from the Penn Manuscript Collective, a group of undergraduates who meet on Fridays at the Kislak Center to transcribe original rare documents.  
And starting May 28, a major exhibition, "Whitman Vignettes: Camden and Philadelphia," will be on view at the Libraries, drawing upon the collection's important trove of hundreds of books, manuscripts, documents, correspondence, photographs, and objects by and about Whitman.
The exhibition, on display through Aug. 23, will focus on the last 20 years of his life when he was living in Camden, first with his brother George, and then in the little house he bought for himself on Mickle Street. Whitman is buried in Camden's Harleigh Cemetery, in a tomb he had specially built for himself and members of his family.
The most significant parts of the Libraries' Whitman collection, which will be highlighted in the exhibition, are the personal letters and other materials related to Whitman's relationship with Anne Burrows Gilchrist and her family, Farrington says. A widow living in London with her four children, she was smitten with Whitman from afar after reading "Leaves of Grass," finding in his poetry the words of a soulmate.
After years of corresponding, in 1876 she moved her family from England to Philadelphia to pursue a relationship. Although it soon became clear to Gilchrist that Whitman was not romantically interested in her, they remained very close friends, and he regularly visited her and her children in their Philadelphia home on North 22nd Street. Son Herbert Gilchrist painted the three oil paintings—of Whitman, of his mother Anne, and of a tea party at the Gilchrist home—that hang in the Kislak Center reading room.
The bulk of the Libraries' Whitman collection came from Harriet Chapman Jones Sprague, including the letters Whitman wrote to Gilchrist, penned in ink in an even cursive script and saved by Gilchrist's youngest daughter, Grace. Instrumental to the acquisition in 1944 was Edward Sculley Bradley, a Penn alum and English professor, who acquired many important literary collections for the University.
"It's a wonderful collection," Farrington says, with many early editions of his works, although it is strongest in materials relating to the last two decades of his life and his immediate legacy, especially as it relates to Camden and Philadelphia.
Not all of it is literary. There's even a box of materials from the Delaware Port Authority related to the controversial naming of the Walt Whitman Bridge in the 1950s, which became a public trial of his character, specifically his sexuality.
"I would say how timely this all feels, what his work has to say about our own political climate, just how relevant his words still seem," says Devinne Melecki, "Whitman at 200" project manager. "We are urging people to reconsider Whitman as a more modern poet."
Whitman continues to be relevant to this day on many fronts. "He lived through and reflected on a period of uncertainty and change in American politics, culture, and society that in many ways mirrors our own. This includes the growing economic gap between the rich and the poor experienced by Whitman," Farrington says.
"His writings reflecting on the importance of the natural world to human life find their echo today in the environmental movement, because for him the natural and spiritual realms were intermingled," Farrington continues. "Whitman continues to be read and studied, remaining influential in literary and artistic circles, as well as the academic world. He remains a compelling figure whose work may be viewed through many lenses, including sexuality, queer theory, and race."
Another nod to Whitman this semester at Penn includes an undergraduate course on public art, Walt Whitman and the People's Press, which is being taught by David Comberg, a senior lecturer in fine arts in Penn's Stuart Weitzman School of Design, and Catherine Turner, a lecturer in the English Department in the School of Arts and Sciences.
Funded by a Sachs Program for Arts Innovation grant, the course is engaging students with artists, writers, community leaders and the public to design and program a mobile poetry printing press that recognizes the legacy of Whitman to the art of printing. The creation is expected to visit locations in Philadelphia and Camden later in the semester.
The massive open online course on poetry, "ModPo," now in its seventh year, begins the discussions of modern and contemporary U.S. poetry with the pairing of Whitman and Emily Dickinson, and moves into Whitman's influence on later poets, including those during the Beat Generation. Contemporary poets respond to Whitman as well, says Professor Al Filreis, ModPo founder.
Filreis is also director of the Kelly Writers House, which has had many events focused on the poet, including "Five Up on Walt" last month, when people in the Penn community spoke about his resonance in light of his 200th birthday celebration.
Penn Today asked the four Penn scholars, including Filreis, who read excerpts of "Song of Myself" for the video accompanying this story, for their thoughts about Whitman and his work.
"Something that is important about Whitman is that he is writing really long lines, in really casual language, for the contemporary reader, and the 19th-century reader, his phrases sound a lot more like speech than with what you would associate with more formal terms of verse, more what you would say talking to your friend than a poem, and that is exciting for new readers of poetry," says Davy Knittle, a fourth-year doctoral candidate in English.
Sophia DuRose, a sophomore from Orlando, Florida, is an English major in the College of Arts and Sciences. "What surprised me was the accessibility Whitman's poems offered readers," she says. "It was accessible in a way a lot of poetry hadn't been before. It didn't rely on strict structure or meter or pattern. It was just kind of plain language that anyone could recognize as poetry. It was about him, and him sitting in the grass, and little things. I liked that all those little things could be important."
Says Simone White, an English professor in the School of Arts and Sciences, "I got really interested in Whitman while teaching 'Leaves of Grass,' but in the story of the book, the publication history of that book, and its physical appearance, the little green edition. That book became very much a part of my lectures on Whitman and talking about the framing of materials."
"I first encountered Whitman as a college sophomore," says Filreis, also the Kelly Family Professor of English. "The experience literally changed the way I read. Those long lines! I had been raised to value only precision, succinctness, the bon mot. But Walt's writing is deep and wide and all over the place." 
The final stanza of "Song of Myself" is a favorite for Filreis:
"I bequeath myself to the dirt to grow from the grass I love,
If you want me again look for me under your boot-soles.
You will hardly know who I am or what I mean,
But I shall be good health to you nevertheless,
And filter and fibre your blood.
Failing to fetch me at first keep encouraged,
Missing me one place search another,
I stop somewhere waiting for you."
"I can never quite get out of my mind the idea that if we just look under our boot soles we will find the traces, the leavings, of this generous character," Filreis says.
Sophia DuRose, a sophomore from Orlando, Florida, is an English major in the College of Arts and Sciences and writes free-verse poetry. She works at the Penn Review, the student literary magazine.
Al Filreis, teaching at Penn since 1995, faculty director of the Writers House, is also the Kelly Family Professor of English and the director of the Center for Programs in Contemporary Writing.
Davy Knittle, a fourth-year doctoral candidate in English works in the fields of feminist, queer, and trans theory, urban studies, and experimental American writing.
Simone White, an English professor in the School of Arts and Sciences, is a poet, author of three collections of poetry and chapbooks, and the 2017 winner of the Whiting Award for poetry.
Homepage photo: Poet Walt Whitman with friend and driver, Bill Duckett, Camden, October, 1886. Whitman was born on May 31, 1819 and died on March 26, 1892. He lived his last 20 years in Camden, and is buried there, in Harleigh Cemetery.