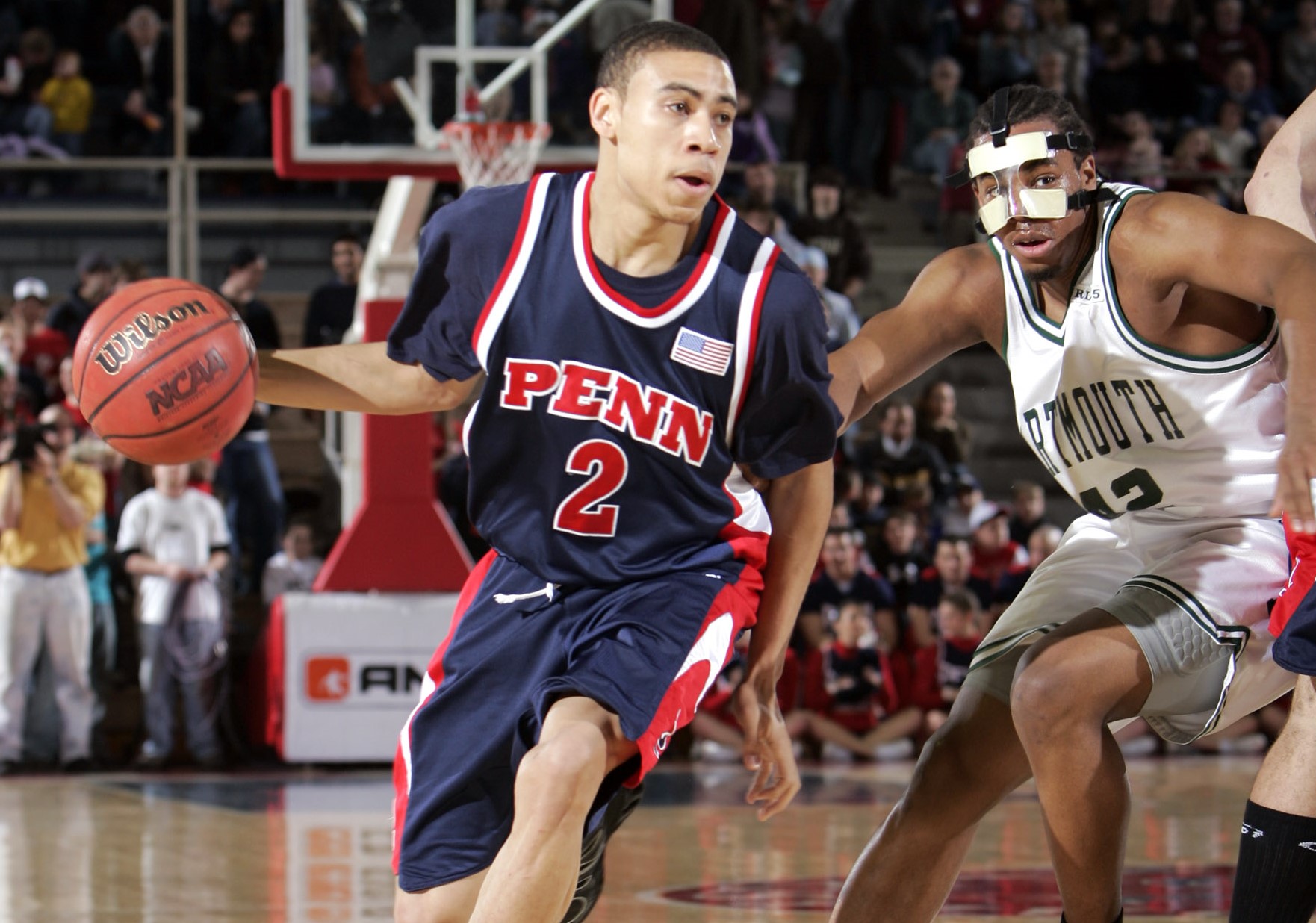 Ibrahim Jaaber played for the men's basketball team during its glory days, when the Quakers were expected to win the Ivy League every year—and usually did.
Between 1992-93 and 2006-07, the Red & Blue won 11 of 15 Ivy League titles, including four straight from '92-93 to '95-96 and three straight from '04-05 to '06-07. (The Quakers also won 11 of 13 between 1969-70 and 1981-82, including six straight from '69-70 to '74-75 and five straight from '77-78 to '81-82.)
Jaaber, a sociology major from Elizabeth, New Jersey, was a star 6-foot 2-inch guard on the Quaker team that three-peated in the mid-2000s across his sophomore, junior, and senior seasons.
He averaged 11.5 points and 4.6 rebounds per game as a sophomore and set the Ivy League record for steals in a season with 85.
During his junior year, he led the Quakers in scoring, averaging 18.2 points per game, broke his own conference record with 96 steals, and was unanimously voted Ivy League Player of the Year.
His final season at Penn saw him repeat as Ivy League Player of the Year and also garner Big 5 Player of the Year accolades. He averaged 15.9 points, 4.5 rebounds, and 36.9 minutes per game, tied the school record with 162 assists, and swiped 90 steals. He graduated in 2007 as the Ivy League's all-time leader in steals with 303, and was inducted into the Big 5 Hall of Fame in 2017. 
Jaaber took his talents to the EuroLeague after college, the second-highest league in the world after the NBA. He played in Greece, Italy, and Lithuania.
Following his retirement in 2012, Jaaber has devoted himself to writing books, mentoring, coaching, spoken word poetry, and working with underprivileged youth in inner-city communities.
Penn Today caught up with Jaaber to converse about the glory days of Penn basketball, how the game has been therapeutic, the art of stealing the ball, the EuroLeague vs. the NBA, playing while fasting, and what he's up to today.
What do you enjoy about the game of basketball? I like basketball for several reasons. One of them is just the competitive nature of the sport. Competition is a way for us as people to measure ourselves, measure our strengths, measure our will, and also build on those things. It was a very healthy outlet for me as a young person growing up. It was also therapeutic. It was an outlet for me to have my own space and go into my own zone as a young person growing up in a somewhat harsh terrain sometimes. Urban America can be very unforgiving, so [the basketball court] was a space for me to just zone out and escape some of the realities that I was facing around me.
When you were playing at Penn, did you have an expectation to win the Ivy League every year? Did you go into conference games confident that you would win every game? I think us losing the Ivy League my freshman year [Princeton won the title] changed that culture a little bit and made it where we would have to make our own name. We couldn't just ride off of the reputation and the previous success of the team; we had to carve out our own legacy at Penn. My sophomore year, we weren't picked to win the Ivy League, so it was like a new start, a new beginning, or a new chapter to that legacy.
Do you have a most memorable game from your Penn career? One of my most memorable games would be our senior year at La Salle [a 93-92 win]. I think that was the game where I showed the diversity within my game from a scoring standpoint, from a defensive standpoint, from a true point guard standpoint [27 points, nine assists, four rebounds, and two steals]. I transitioned into point guard my senior year, and I felt at that point that I was really ready to transition into the professional arena. That was probably one of the most memorable games where I really felt like all of the practice and all of the areas of my game that I focused on shined through, and against a very athletic team at that time, in front of a crowded arena.
The game against Temple my senior year was memorable as well because we actually faced off against Fran Dunphy, our former coach, who had just transitioned over to Temple. It was a barnburner, as they say, down to the last seconds, where Mark Zoller hit some game-winning clutch free throws to save us in the end [76-74]. But I feel like more so than the game itself, it was just symbolic playing against your coach, the one who shaped you and prepared you, and symbolic in a way where you are victorious in the end.
Against Dartmouth in March of 2005, you had nine steals, an Ivy League record. Why do you think you were so successful at stealing the ball? It's a science. It's an art that you learn by experience, and if you have the right coaches and the right teammates, they will support you in it and help you develop that. I would say I had really good coaches that recognized the special talent in me to be able to steal the ball in different ways, and to benefit the team in that way, and they allowed me to make mistakes at times, to take some risks at times. Through that experience, I became more refined at it to where I can say that it is an art, it is a science, and it is something that I am able to even teach.
The second thing is that I have an older brother, Luqman Jaaber, and he played at Virginia Union, where he won the Division II basketball championship. He was the superior defender in our household, and one of my favorite players of all time. He had a natural instinct to be able to steal the ball, so I think some of it is genetics as well.
What was the biggest transition from playing in college to playing overseas in Europe? Europe is more similar to college basketball in the U.S. than it is to NBA basketball. It's kind of like the polar opposite of NBA basketball, but it still has the rugged, rough nature like college basketball. I would say it was an easy transition getting accustomed to playing basketball overseas coming out of college. I think there's a bigger adjustment going into the NBA where the court is spaced out differently. Some of the rules are even different and the nature of the game, in terms of a team sport, is more reliant upon superstars than it would be in the college environment or overseas, where ideally the top teams overseas are spreading the ball equally between five players. They want to play players 25 minutes a game, max, and expect for even some of the top players only to score about 14, 15 points a game.
That's interesting. So the European game is much more of a team game than the isolation game you see in the NBA? Exactly. Absolutely. And I think the Duncan-Ginóbili-Parker [San Antonio] Spurs would be a perfect example of the overseas mentality kind of transposed into the NBA environment. You see how they shared the ball and how well they understood team basketball.
You tried out for a number of NBA teams after college, including the Golden State Warriors, Toronto Raptors, and Houston Rockets, before moving overseas. I read an article about you from 2011 that quoted Daryl Morey, who now runs the Sixers. He was GM of the Houston Rockets at the time. He stated that he believed you had the skills to play in the league, given the right opportunity. Do you ever wonder what would have happened if you focused solely on playing in the NBA? I don't really think about it that much. I am very grateful for the basketball career and experience that I had. My college experience as a basketball player was more than I could have ever asked for. My professional experience was very beneficial to me. I got to travel the world, I got to meet new people and learn about new perspectives. And every time the door to the NBA was open to me, the timing was bad or the situation wasn't ideal. For me, it's a matter of Divine decree. If it was written, it would have happened. But if you're asking me if I had the talent, I would say absolutely, 100 percent.
I know that you are a devout Muslim. One of the things that always amazed me is how Muslim athletes such as yourself or the great Hakeem Olajuwon can play basketball while fasting during Ramadan, when I presume you are in a weakened state. How do you go about doing so? I wouldn't say when you fast, you're in a weakened state. I would say that you are relying on different sources of strength. When you're fasting, yes, you don't have as much physical energy or access, but the spiritual and the mental is strengthened. Fasting has always been a part of my training since a young person, and it seemed to always follow the basketball season because we fast on the lunar calendar. I always found myself fasting during training camp, so it was a part of my practice as a player and a part of my preparation for the season, in a sense, where I would be strengthening my physical and I would also be strengthening my spiritual base.
And I feel like it prepared me to be more effective outside of Ramadan, outside of the month of fasting, because I was accustomed to playing on empty. Imagine how much energy I have and how much I can dig in in those tight situations, find a little extra energy in those late-fourth-quarter situations, because I was already accustomed to playing on empty, but now I'm drinking Gatorade, I'm drinking water. It actually made it easier for me to perform in the regular season and outside of Ramadan.
What are you up to today? At the end of my senior year, I had somewhat of a personal awakening in my life, and that was with the passing of my late grandfather, Heshaam Jaaber, who had always been this gigantic, heroic figure in my eyes. He carved his place out in history—Black history, and Muslim history, and American history—by standing up to perform the final burial rites for the one the world knows as Malcolm X after his assassination. This is the legacy that I inherit naturally, just by right of my grandfather.
He passed away in 2007, coinciding with my NBA Draft tryouts and workouts. Burying him and that legacy of activism and courage and divine purpose really shook me up and it made me begin to reflect on my own legacy, and to really start mapping out a true vision for myself as to what I want to contribute to this world before I leave it.
Once I graduated, I played basketball overseas for about five-and-a-half seasons, but I would spend just as much time as I spent playing basketball developing my mind, developing my heart, developing my spirit, and preparing myself to lead an impactful life.
Today, I have dedicated my time to working with underprivileged, at-risk youth, mainly in inner-city communities, and providing beneficial programming for them. The main program that I'm working on now is called the Young Scholars Apprentice Program. Basically, what we do is we take kids as young as 10, 11, 12 years old and we teach them how to build their very own business from scratch. It's a very intricate curriculum that we have for them that myself and my brother and partner have developed. It's a nonprofit and I'm continuously developing this program in order to reach as many young people as possible.
In 2017, I went over to Egypt for three years and I took a break from the activism that I was involved in with youth. I went to develop myself and also my family. I'm a husband now and a father of four children—one son and three daughters—and I wanted them to have a dynamic experience growing up and traveling. I, myself, wanted to also become fluent in the Arabic language and also memorize the Quran. Only recently in early November did I return to the U.S. to relaunch my life work with the Young Scholars program. I'm working here as well as youth director at Jesus Son of Mary Mosque, which is a Muslim community here in Allentown, Pa.