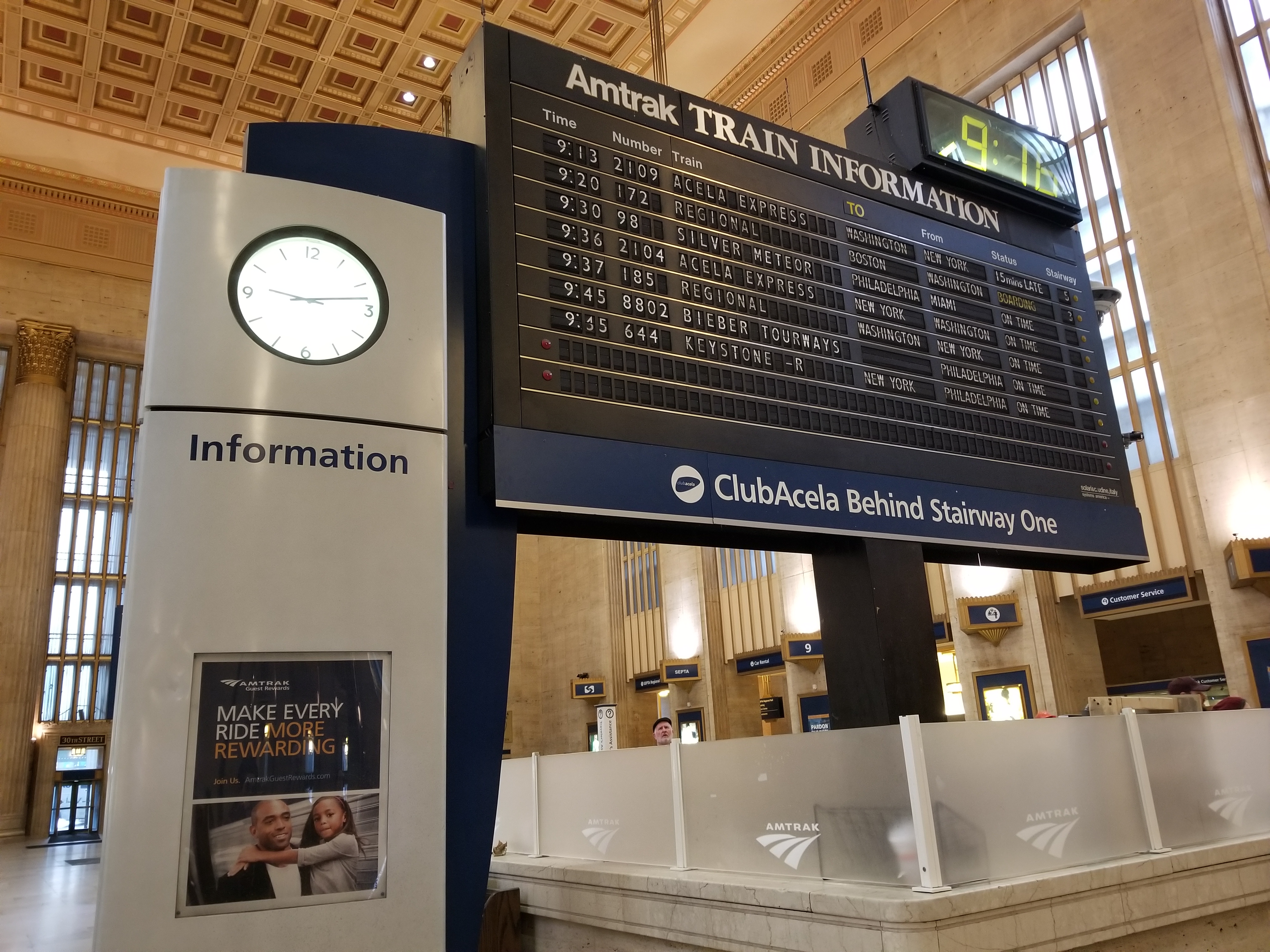 With Amtrak's long-standing 30th Street Station split-flap schedule board on the chopping block, sending Philadelphia commuters into a tizzy and prompting calls for it to be retained, professors at the School of Design say the debate is, admittedly, not exactly as black and white as the board's iconic lettering.
The split-flap concept so beloved in the board was developed by centuries-old Italian information display company Solari di Udine, and is an electromechanical display that rotates painted flaps. These were most common in train stations and alarm clocks, but have since fallen out of fashion; Solari still exists but today makes digital boards and signs. In statements to the Philadelphia Inquirer, Amtrak has cited the cost to maintain its current board as a leading reason for wanting to replace it, along with incompatibility with its information systems.
But nascent in this ongoing dialogue are all sorts of implications about transit culture and wayfinding.
Megan Ryerson, UPS Chair of Transportation and associate dean for research at PennDesign, is currently working on a wayfinding study with the Port Authority of New York and New Jersey that identifies pain points of airport design—specifically at JFK Airport. Amtrak, she says, is put in a position of weighing the implications of modern travel while considering what value an object like the board holds for place-making in an otherwise transient transit environment.
"The flip sign is iconic, both across older train stations and also within Philadelphia. It's also unique within 30th Street Station for remaining iconic; if you really look up and around, the station is beautiful, historic, and covered in advertisements," Ryerson says. "The [split-flap] sign is one of the few design components that keeps the station having a sense of place."
Among other potential pros for keeping the sign, she says, is the familiarity large numbers of people have with the sign concept, and its click-clack audio cues when information is updated and the seemingly static panels buzz to life. And, arguably, its simplicity as a central sign that, by way of being black and white, doesn't mix in colors that are open to interpretation and can confuse passengers.
At a glance, it meets the needs of what she calls "intuitive wayfinding."
"[Former PennDesign dean] Marilyn Jordan Taylor says that transportation should be 'enobling and exhilarating.' When I think about transportation being enobling, to me it means moving through our transportation infrastructure should be both intuitive and pleasant," Ryerson says. "I like to think that good wayfinding is intuitive, pleasant, and reflective of the city and community of which that infrastructure is part."
Complicated messages, she says, are hard to convey through a sign when people are busy, stressed, or confronted with a new environment for the first time—as they tend to be when passing through a transit hub. From that perspective, the split-flap board provides a desirably intuitive understanding, but also exists in a station that is not nearly as stressful to navigate as an airport with multiple terminals, security checks, and airlines.
What's ultimately difficult to determine, she says, is how much the sign's effectiveness has to do with its central location, as opposed to the design of the board.
"It has this authority of 'on your first stop.' Will it lose that [with a digital sign]? It's hard to say," she says. "The central nature of any sign might keep people coming back to it."
As far as the backlash over the sign's removal is concerned, Francesca Ammon, associate professor of city and regional planning and historic preservation, and a cultural historian of urban planning and the built environment, says Philadelphia's overwhelming response has been unusual compared to other board removals, speculating that it's likely because 30th Street Station's sign is one of the last remaining, particularly among major stations. Other split-flap signs still operate in Atlantic City Rail Terminal in Atlantic City, N.J.; Trenton Rail Station in Trenton, N.J.; Secaucus Junction in Secaucus, N.J.; and in Jacksonville International Airport in Jacksonville, Fla.
Part of the uproar over the sign is nostalgia and a new awareness of its significance to the station's sense of place, she says.
"Seeing them go away, it's now that people appreciate them," she says. "I don't think they were revelatory at the moment of their introduction, but typical."
The midcentury-modern, split-flap boards, which were introduced in the mid-1950s, began to be replaced in other train stations and airports starting in the 2000s. The removal was largely attributed to maintenance, as is the case now, but also changing navigation demands and digital trends. In 2000, New York's Penn Station was among the most notable to remove the boards; that station now uses a digital display and removed its last Solari split-flap board in 2016. 
Discussion about the future of the board is ongoing between public officials and Amtrak, with Amtrak currently weighing the option of, according to WHYY, implementing a new-but-upgraded split-flap sign instead of a digital one, as part of a $100 million 30th Street Station improvement project. 
Should the board be removed, it will be hauled to the Railroad Museum of Pennsylvania in Strasburg, Pa., as a display piece.