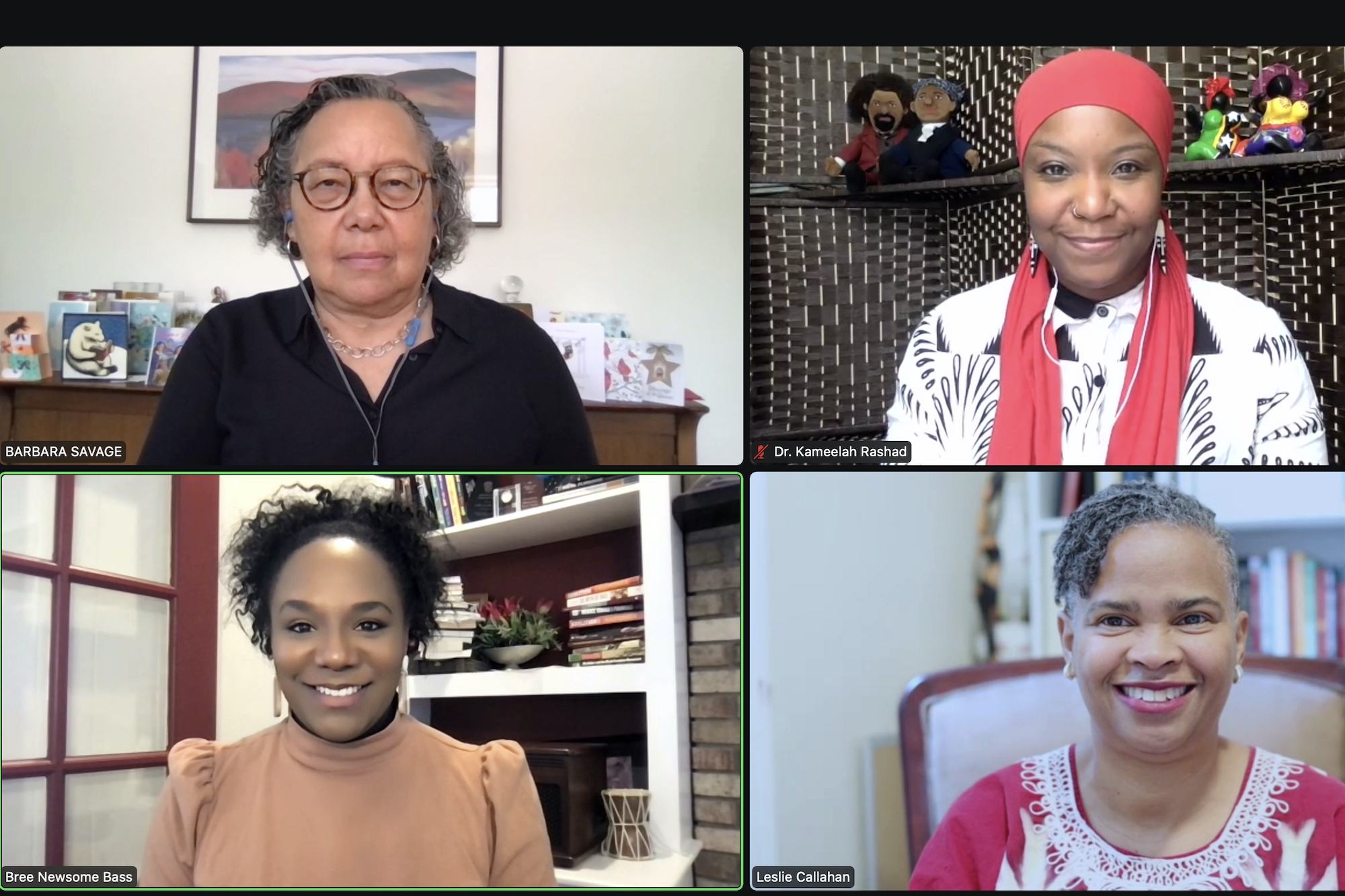 On June 27, 2015, activist Bree Newsome Bass made headlines by scaling the South Carolina capitol building flagpole to remove the Confederate banner. Ten days earlier, an avowed white supremacist opened fire during Bible study at a historically Black church in Charleston, killing nine people. The capitol building flew the American flag at half-mast, yet the Confederate flag flew high in what Newsome Bass called "this horrific visual." As she was taken into police custody, Newsome Bass recited Psalm 23, "Yea, though I walk through the valley of the shadow of death, I will fear no evil." Since that iconic moment, Newsome Bass has continued her activism work, most lately around issues of housing and land justice. She joined moderator Barbara D. Savage, Geraldine R. Segal Professor of American Social Thought and professor of Africana studies; Kameelah Mu'Min Rashad, founder of the Muslim Wellness Foundation; and Leslie D. Callahan, first woman pastor of St. Paul's Baptist Church, in a conversation that spanned religious faiths and generations. 
The conversation, the second annual University Forum on Social Equity and Community, was co-hosted on Feb. 2 by the Office of Social Equity and Community and the W.E.B. Du Bois College House, in partnership with the African American Resource Center and Makuu: The Black Cultural Center. In addition to Savage's appointment, Rashad and Callahan had additional Penn connections; Rashad earned both her bachelor's degree and a masters of education degree while Callahan previously taught in the religious studies department.
Savage asked each woman to reflect on how they, as people of faith, have been publicly engaged since 2015 and around what kinds of issues. Rashad reflected on how her family life had become increasingly intertwined with her activism. "I often felt like these events were sort of compelling me in a way that I had not anticipated to be vocal about issues that I cared about. And it really came from my love for my children," Rashad said. "What kind of world did I envision for them? When Tamir Rice was murdered, my daughter was also 12. And so, all of these events hit me very personally."
Callahan affirmed Rashad's perspective and noted that, especially during the pandemic, the needs of her children had to be balanced with the demands inherent in a leadership role. "So much of how I feel and even what I am able or not able to do is constrained by motherhood," she said. Sometimes, her work is about modeling justice, which includes making decisions with respect to family, she said. "How do I take care of the people who most need me to be present?"
Newsome Bass gave birth for the first time during the pandemic. Having a child centered her activism with a more concrete and urgent motivation, she said. "It's one thing to show up and protest. It takes it to another level when you're looking at your child and you are thinking, What am I doing for this child?"
The racially-motivated June 2015 killings, which were classified as a federal hate crime, made Newsome Bass realize that racial violence wasn't just in the past. "It's like this constant cycle of violence, and people, the society itself, are constantly claiming to rediscover a thing that was always there," she said. The pandemic has stripped some of the padding away, so "you're seeing the skeleton, the structure, the actual steel and bolts that is underneath this whole thing, and it's racism and homophobia and xenophobia," Newsome Bass said. "People keep talking about a reset; there is no reset. There's no way to build new walls around this thing. We have to take the thing apart."
Savage asked the group about their experiences as an interfaith coalition. "Black people have sought to live fully human and empowered," said Callahan. This includes a wide range of religious practice, she said. Interfaith work requires people to be open to those "who name God and life differently" as well as being open to what's possible within oneself, "so that you're not closed to other ways of knowing and experiencing the ultimate."
For religious institutions, authentic justice work requires avoiding performative actions and the temptation of power and money, Newsome Bass said. Religious institutions are sometimes used by the government and corporations to de-radicalize or de-mobilize the protest movement, "the righteous anger at injustice," she said, "and sometimes those institutions will be used to almost even weaponize the concepts of non-violence and love in a way that tries to separate it from justice."
Black people of faith have a collective responsibility to adhere to their faith in these moments, Rashad said. "If justice is being dismissed, it's been disrespected," she said. "If you believe in a god and a creator that is all merciful, that is all knowing, that will provide for you, then when someone sort of dangles cash in front of you, whatever that looks like, then you say no, my god is the provider."
The real power of deep spirituality and confidence is the power to resist being commodified, said Callahan. "If you really believe that your provision comes from God," you're operating in a different space, she said.