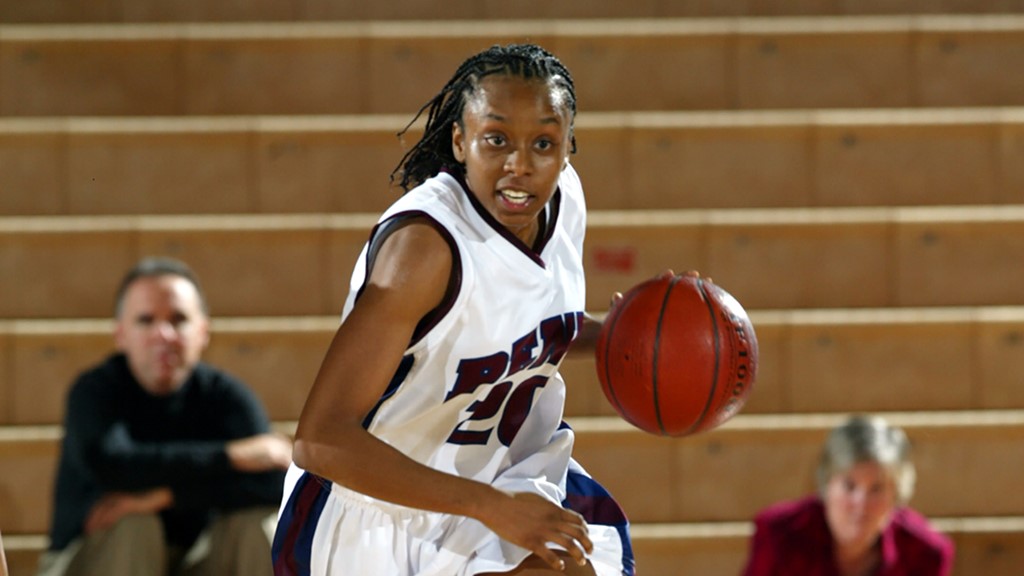 Jewel Clark introduced herself to the college basketball world with 21 points in the first game of her freshman season, a 75-81 loss at Saint Joseph's on Nov. 18, 2001. Although the Quakers did not triumph, they were competitive against the Hawks for the first time in several years; then-Coach Kelly Greenberg called it "the best game that Penn has ever given them."
"It was a really cool game because as a freshman, I think I really opened a lot of people's eyes," Clark says. "People were shocked when they saw me play. I think that there may have been a perspective that I would not have an impact, but I had a really strong game. I was excited because I think that game communicated to people that I was ready to have an impact at Penn."
It was a harbinger for things to come.
An English major, Clark graduated in 2004 as the second-leading scorer in Penn women's basketball history with 1,743 points, which currently ranks third. A well-rounded, 5'll" forward, she also is first in career free throws made (475), fifth in rebounds (933), and fourth in steals (204). Thrice, she was named First-Team All-Ivy and First-Team All-Big 5, and she was the 2003-04 Ivy League and Big 5 Player of the Year.
During her freshman campaign, Clark was part of the first women's basketball team in school history to win the Ivy League and advance to the NCAA Tournament. After starting the season 1-5, the Red & Blue won 21 straight games on their way to a perfect 14-0 conference record. They made a return trip to the Big Dance her senior season.
Penn Today caught up with Clark to discuss her Hall of Fame Penn career, twice playing in the NCAA Tournament, her flair for getting to the free throw line, and why she's still putting in work on the hardwood.
You were what they today call a 1-5 player: You could play all five positions. You were a forward, but sometimes brought the ball up the court. How did you develop your all-around game? My father coached me before I got to Penn. Something he always told me was that if you can learn how to play every single position, you might be a position on paper but you can do everything on the floor. And he said that if you learn every position and you can run every spot in a play, you always have an opportunity to stay on the floor.
When you were a freshman, the team got off to a rocky start before catching fire and advancing to the NCAA Tournament. How were you able to turn it around? That was a really cool season because we were up and down, up and down, and it just seemed like it was going to be a point of frustration. I think right after the Christmas holiday, we just kind of mentally decided that we were going to reposition ourselves, and then we worked hard to make the physical task of it manifest, if that makes sense.
Was there something that brought team together? Some people will believe this and some people say it's not true: A lot of the outcome associated with winning and losing, from my perspective, is you making up your mind that you are not going to keep losing, or you decide that once you start winning, that's what you are going to continue to do. In order for that to actually happen, you have to make sure that you are staying sharp, and you have to understand what you aren't doing too well so that you can sharpen that. It's about everything working together appropriately at the right time. I think that's what happened with our team, we just came together at the right time, and everybody having the mentality of we want to win and losing is really not on the table.
How was the experience playing in the NCAA Tournament in 2001? You were a No. 15 seed and played No. 2-seed Texas Tech at Texas Tech. It was an amazing awakening for me. I had never been in an arena where there was so much noise. I could not believe that people made so much noise for women's basketball. It was really cool to be a part of that. Even though that wasn't our experience at the Palestra, it was really nice to know that women's basketball had such as an amazing following in other places.
In your senior year, you won the Ivy League with an 11-3 record and advanced to the NCAA Tournament. Again a No. 15 seed, you took on No. 2-seed UConn, led by Diana Taurasi, in Bridgeport, Connecticut. What are your memories from the game? I was hyped to play against UConn, even though they smashed us. One of the things that can drive a person—and this is not limited to basketball—is if you want to measure your capability or measure your success, you should want to compete against or operate with people who are considered to the best in their field. I was just happy to have that opportunity to play against the best. And I tell people all the time, even though they beat us, it doesn't matter because they won the championship that year so they would have beaten anybody they played after us. That's how I think to ease the blow a little bit.
Why were you so adept at getting to the foul line over your career? Tenacity. When I was in high school, I used to just go to the basket. A lot of people would dribble with the basketball, play with the basketball, try to be fancy; my approach was just get to the basket. You're either going to make it and get a foul shot, miss it and get two foul shots, or you get the possession back. My father would say we play a north and south game, we go from one baseline to the other one. You don't have to go side to side playing around. I think having that mentality got me to the foul line a whole lot. And I love to rebound. I just love to jump. Oftentimes, I would get rebounds and try to go back up. But just playing around the basket makes it easy to get fouled.
Is it physically demanding to get fouled a lot? I think when I first got to Penn, it was, and that's because I was just very weak. Getting in the weight room made a difference and it didn't bother me as much, but as a freshman, I really felt like people were just having their way with me. It helped me to understand the need for weightlifting because I was lifting weights before college, but I wasn't doing as much as you do as a college athlete, and when I got to Penn, I didn't think I needed to lift weights. But when I realized how much I was getting off the floor, I said something has to change.
Do you still keep up with the women's basketball team? I'm so happy that they're doing what they're doing. I like to see Ivy League teams have success because a lot of people look at Ivy League student-athletes as just students who happen to play sports and that's not the extent of playing basketball at a place like Penn, or playing football or soccer. I like to see these young ladies having the success and going on to play overseas, and then some even having opportunities to possibility get into the WNBA. I would prefer to see Penn women do it, however, any Ivy League school that's sending talent onto the professional level, I think it just shows the standard associated with an Ivy League institution that many people would take for granted if they are not Ivy League students.
Did you consider trying out for the WNBA after college? I tried out for two WNBA teams and it didn't work out. I went overseas and played in Greece for a short stint, and since then I've played in two semi-pro leagues. I started playing semi-pro in 2005, then stopped, and then I started playing in another semi-pro league in 2008. I played in that from 2008 to this past year. The only reason I'm not playing now is because of the virus.
What do you enjoy about playing? I like to challenge myself and see if I can hang with these younger girls coming out of college. For me, that's personal. That's why I'm still playing, because if I couldn't keep up with the younger girls, my feelings would be too hurt to keep doing it. As long as my body is physically capable and I'm still able to produce on the floor, I'll keep playing.
What are you doing now, professionally? I'm a teacher in Baltimore and I am a teaching coach. I'm in front of the classroom and I also coach other teachers.