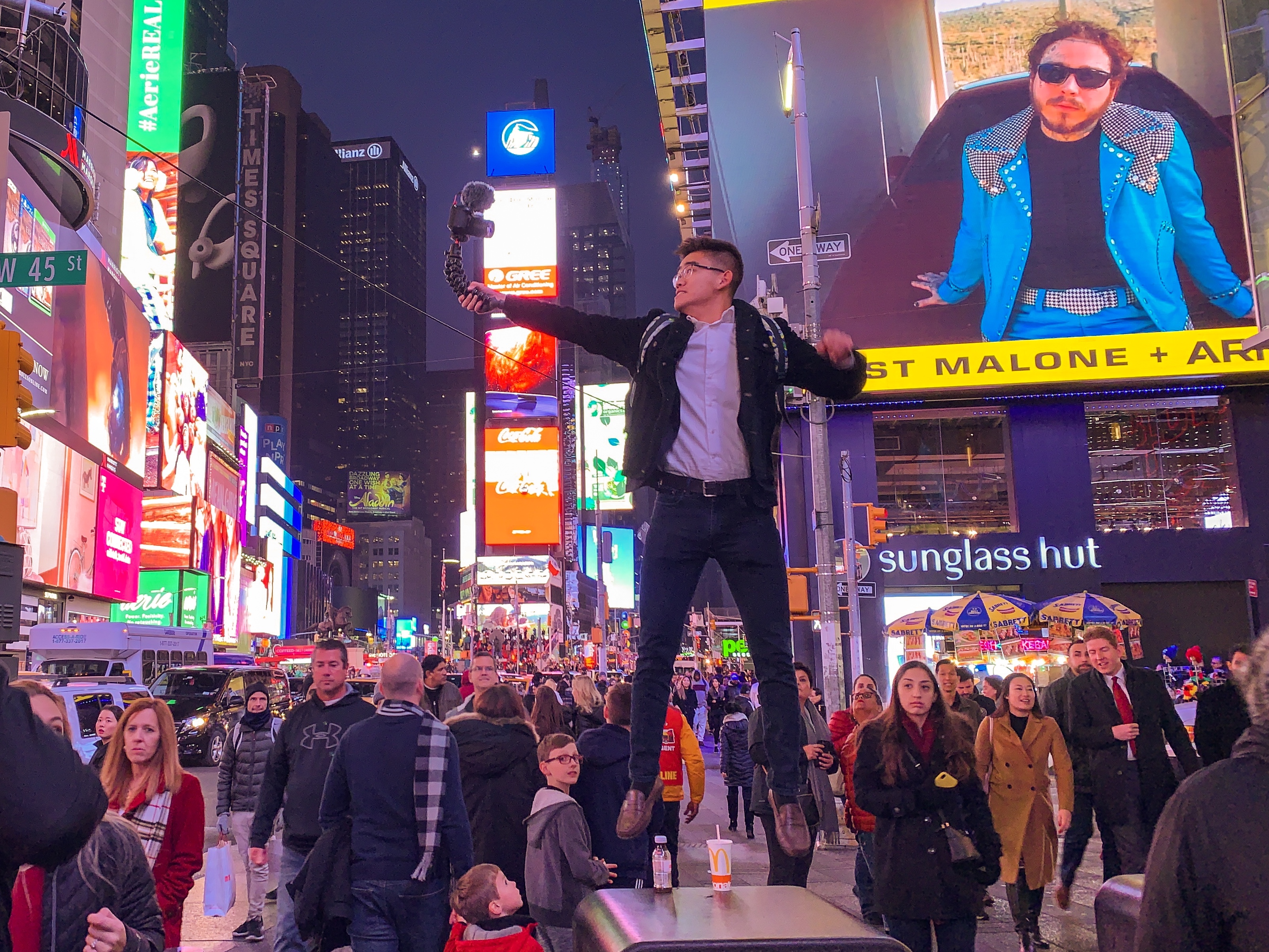 Jiaqi Song meant to study in Italy for his spring semester—just not like this. The Penn sophomore is taking international business classes at Bocconi in Milan as part of Penn Abroad, now via his computer from his family's home in Rome. 
Born in Beijing, Song moved to Italy with his family when he was 9. "I am probably a prime example of a third culture kid," Song says. He applied to the Huntsman Program in International Studies and Business because he did Model UN in high school and felt the program would be a good fit, exposing him to business and furthering his interest in international studies. The Huntsman program has been both challenging and supportive, Song says. "It's like you're going through college with 50 best friends," Song says of his cohort. 
Song chose to focus on Italy because he lived there and knew the language but didn't feel as connected to the culture because he attended international school. "I was excited to dive in," he says.
Italy was hit hard by COVID-19 early on, emerging as a hotspot in early March. It were one of the first countries to implement lockdown measures, but restrictions are starting to ease, Song reports. Infection is still a risk, so Song tends to venture outside at off-peak times. His typical quarantine schedule includes waking up at 8 a.m., checking on assignments, and cramming for finals. Lunch is a family affair. Song's parents cook, and he's starting to learn to prepare traditional Chinese meals. 
He's also learning how to code and teaching himself Korean through friends and books. After dinner, Song goes for a run and reads a bedtime story to his younger sister, aged 9. "We have read the entire "Diary of a Wimpy Kid" series two times," he says. "I'm kind of getting sick of Greg Heffley."
Song spends much of his free time working on his YouTube channel, which he generally updates twice a week. He isn't afraid to go out on a limb for his passion project: filming himself speaking to Chinese strangers only in Italian, diving into Lake Como during winter with fellow exchange students, or filming his haircut experimentation during quarantine. "My hair was getting pretty long," Song says. "In the beginning I wanted to go bald, but I talked to my grandma and she said, 'Don't do that. No, please. You'll look so bad.'"
Last winter, Song filmed his hunt for the best carbonara in Rome. He visited three well-reputed restaurants at different price points and spoke to the chefs about their pasta secrets. "In the beginning, I started it as a way to keep myself busy, as a side project," he says. 
Song noticed that his Penn-related content had a high viewership, so he decided to create additional college-related content that might be helpful to prospective students. One of these showcased the resources available at Penn. With the help of the Kislak Center and equipment borrowed from the Vitale Digital Lab, Song "got to flip through and read original manuscripts written by Bela Bartok, annotations of Torquato Tasso and Michelangelo's nephew, and even a first folio edition of Shakespeare," he says. 
During the pandemic, the channel has been an expressive outlet for Song. "Now it's personal growth," he says, and to "provide some comedy and entertainment to people my age." 
Song's summer goals include continuing with his biweekly YouTube videos, mastering Java,  becoming conversational in Korean, and learning "to sing without sounding terrible," he says. "So the next time I go to karaoke with my friends, I can sing on pitch."
He's also partnering with Penn alum Darius Arya, a 1993 College graduate who founded the Ancient Institute for Roman Culture. Song will be working on social media strategy, driving in more traffic and raising engagement levels, and on their YouTube platform, creating thumbnails and catchy titles as well as filming, outreach, and developing a business plan.
He was also offered a fellowship opportunity with the Lien Center for Social Innovation in Singapore, where he is scripting and producing videos to further his filmmaking goals. "The topics are up to me, so long as they are relevant and advocate the center's overarching goal: promoting human good," Song says. 
As part of his research, he spoke with Jason Lee, a 2009 Wharton graduate whose media organization Jubilee has a similar mission. "I want to change the narrative of the way that we are interacting with each other," Lee said in a video interview with Song. "The more we are able to do that with this younger generation, the more we are actually able to create a movement  where people would go forward with this heart of empathy."
Song is developing a series of questions he will ask people he meets via Tinder Passport to see how people of different cultures respond to the same set of questions, "such as how their experience with Tinder in quarantine has been, or if the type of people they are looking for has changed after quarantine," he said. Song will survey his footage at the end of the summer and look for the common threads. "Connecting the commonalities of strangers is how we're able to come together," Song says.