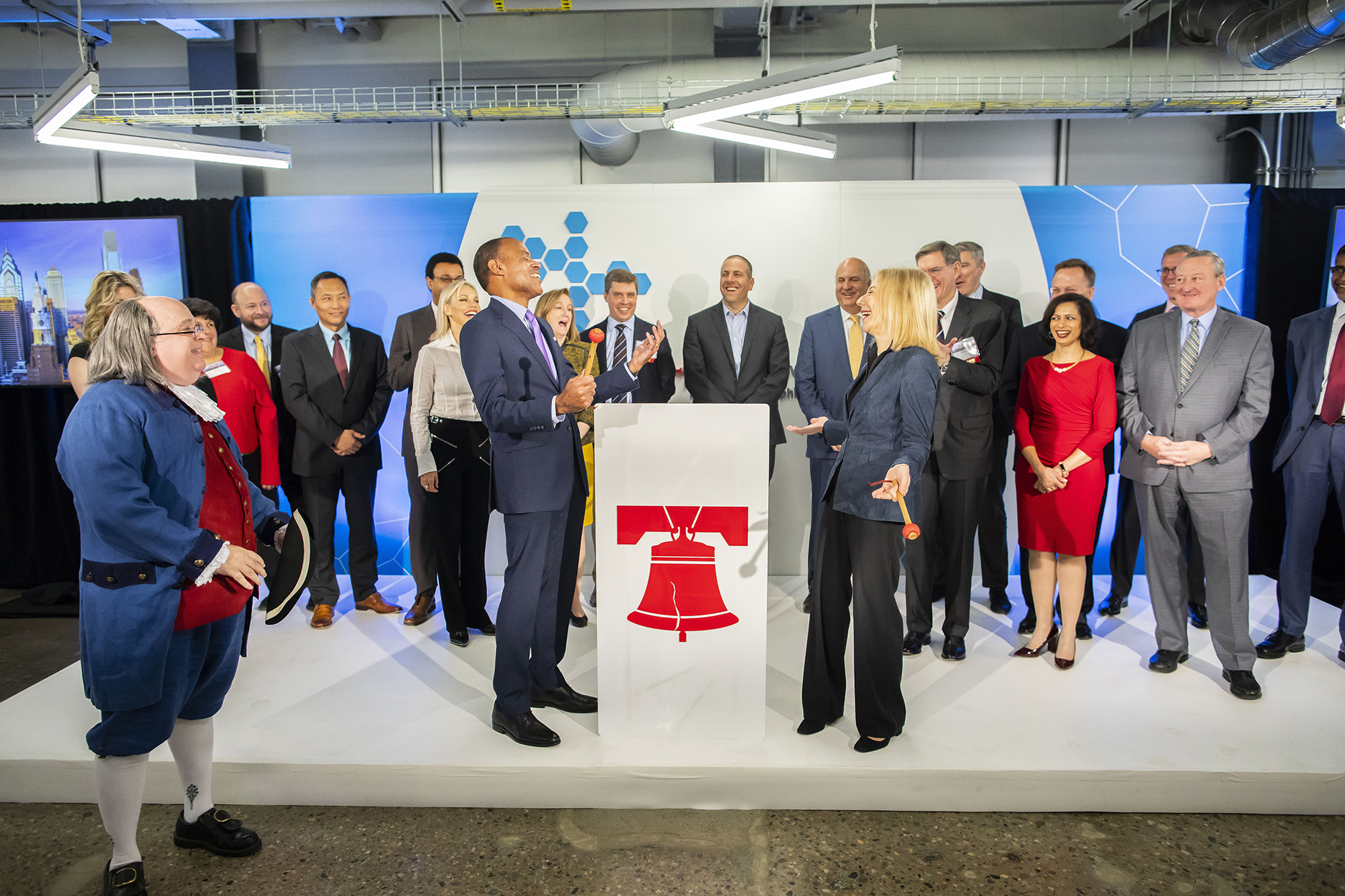 Philadelphia is a city not only rich in historic emblems and national landmarks, but also entrepreneurial spirit. It boasts an innovation ecosystem, thanks in part to Penn, that continues to evolve year after year—and people, and companies, are taking notice. 
Johnson & Johnson is just the latest.
On Thursday, Nov. 1, Penn officially launched JPOD @ Philadelphia, a new partnership between the University and Johnson & Johnson Innovation, the health care giant's collaborative arm. Located on the second floor of the Pennovation Center, JPOD operates on the same 23-acre site that hosts major corporations Hershey and Qualcomm, as well as dozens of startups and hundreds of entrepreneurs, scientists, and researchers.
"Today, we inaugurate an exciting new addition to Penn's innovation ecosystem, Philadelphia's innovation ecosystem, and the region's," said President Amy Gutmann, talking to a jam-packed lobby at the Pennovation Center. "And we can only begin to imagine what future amazing discoveries and breakthroughs will come, right here, because of this."
JPOD @ Philadelphia, the first of its kind in the nation, is a networking hub that includes a secure telecommunications conferencing system to connect regional innovators to the J&J Innovation and JLABS network. It's about leveraging the talent—particularly in the health sciences—that is rampant and unique to Philadelphia, as well as boosting it.
"The next great idea is just as likely to come out of the Penn ecosystem as anywhere in the world," said Michael Sneed, J&J's executive vice president of global corporate affairs. "It's that idea that may be something that could literally change the trajectory of health for humanity."
Penn Executive Vice President Craig Carnaroli, who's been instrumental in bringing JPOD to Penn, recalled an initial meeting he had with J&J executives last year, when they described the Philadelphia life sciences community as "hot." 
"To those of us present, it was like an extra validation of all the momentum and all the effort over many years that we've all been experiencing," Carnaroli said. "Since I'm a baseball fan, it's sort of analogous to actually making the all-star team. The question then became, 'How do we capitalize on this budding infatuation?' And the answer was the JPOD."
Mayor Jim Kenney, who spoke to the crowd, too, with excitement of the Penn-J&J collaboration, noted its undoubted significance as a means to "further innovation and increase Philadelphia's competitive advantage."
"I'm so proud to have many impressive, pioneering entrepreneurs and companies calling Philadelphia home," Kenney said. "And JPOD will be a great resource for them."
Kicking off the event first-thing in the morning were a series of pitch sessions from the inaugural cohort of JPOD resident companies, which J&J will support in various capacities from concept to commercialization. The seven early-stage startups are treating glaucoma, reconstructing peripheral nerves, developing brain stimulation therapies, and much, much more. The companies selected so far all have some Penn affiliation, but the opportunity is open to any interested regional companies, and applications will continue to be accepted on an ongoing basis. 
One company in particular, Allevi, co-founded by 2013 Penn Engineering alumnus Ricky Solorzano, offers an end-to-end, easy to use, automated bioprinter; a device that can print models of patient tumors, or layered skin, for example. Since commercializing his product two years ago, he and his team have watched scientists from around the world buy and use the platform, ultimately, to date, producing more than 30 publications and more than 100 citations.
"This matters," Solorzano said. "All of a sudden we are catalyzing the revolution of the way scientists study biology outside the body."
Talking after his impressive pitch, Solorzano, who's rented an office space for Allevi at the Pennovation Center for the past year, said he's planning to start testing drugs on the printed representations this year. This, he noted, is especially relevant when it comes to J&J. 
"They have a necessity to figure out how to bring drugs to market more quickly, using less money," he said. "I'm thinking, 'How can I begin to plug myself into their ecosystem to help co-create solutions to some very big problems?'"
Converging and collaborating to reinvent what's possible is key to new innovations, and innovating is part of Penn's DNA. In fact, it's Benjamin Franklin, Penn's founder, who helped form the nation's first public hospital—right here in Philadelphia, which is also home to the country's first medical school, where the first X-ray image was captured, as well as the first robotics spine surgery performed. Last year, the FDA approved the first gene therapy for cancer—discovered and developed at Penn. 
"The Wall Street Journal called it the 'world's greatest cancer breakthrough,'" Gutmann said. "We call it, 'A day's work.' Since that time, we have gained no fewer than four more FDA approvals. We are here today because our new collaboration with Johnson & Johnson will only elevate and accelerate all of our life-enhancing and life-saving work."
An interactive display outside of the JPOD highlighted various educational offerings and the impact made by the JLABS network worldwide. Signature programs such as the QuickFire Challenge competition—now launched in Philadelphia—are designed to attract and encourage game-changing, early stage innovation in the pharmaceutical, medical device, consumer, and health tech sectors. 
Gutmann, along with Sneed, Kenney, and numerous other leaders from Penn and J&J, got creative in their launch of JPOD @ Philadelphia, and instead of cutting a ribbon, per tradition, they "rang a bell" to signify the ringing in of a new era in health care innovation. In theme, attendees were also greeted by Franklin himself, who ran up the central bleacher steps to the "Rocky" theme, and energetically encouraged "huzzahs" from the audience before prompting the singing of "The Red and Blue."
Closing the unveiling was a panel discussion featuring J&J's Marc Leibowitz and William Hait; Justin Klein of New Enterprise Associates; and Penn Engineering Dean Vijay Kumar. 
Melinda Richter, global head of J&J Innovation, moderated the wide-ranging conversation, which touched on the experts' opinions when it comes to the good and the bad of health technology, what kind of guidance they'd give to budding students in the field, and what advice they'd offer to entrepreneurs.
She also asked what makes them most excited when it comes to technology, in which Kumar didn't hesitate: "Lowering the barrier to entry."
He explained how, throughout recent years, there's been an inflection point—where people have been able to more easily enter the field, and get excited about it—caused by computers being simpler to access, as well as people organically sharing information, and data. 
That kind of collaboration is evident in what will transpire within the JPOD partnership, he added.
"The presence of J&J Innovation in Philadelphia, at Penn, has that potential to really take us to the next level, by sharing information," Kumar says. "The fact that you're here interacting with students, with the faculty, with entrepreneurs, I think it will have a huge impact, and for me, that's the exciting thing about technology."