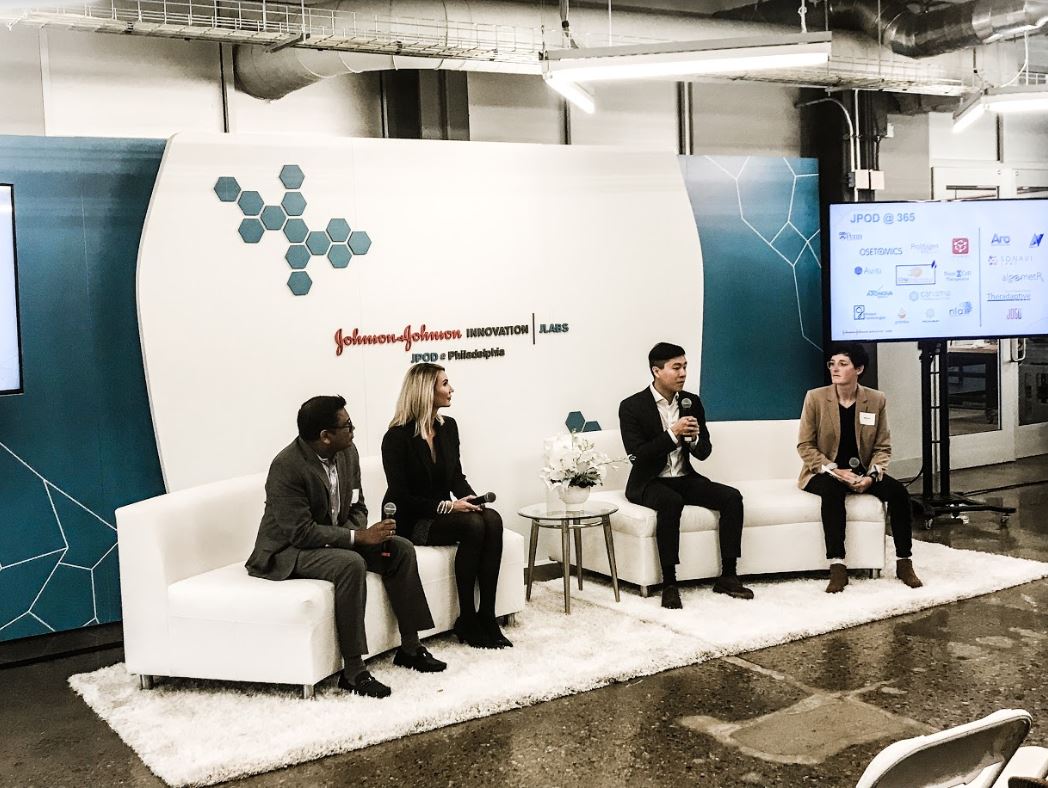 A year after the official launch of JPOD @ Philadelphia, the Pennovation Center celebrated the first 365 days of a successful partnership between Penn and Johnson & Johnson Innovation JLABS. To mark the occasion, nearly 100 entrepreneurs, businesspeople, and members of the Penn community came together to hear stories and milestones from its cohort of 15 companies.  
As a full-service business and technology incubator housed at the Pennovation Center, JPOD @ Philadelphia's goal is to identify and accelerate the development of early-stage health care solutions from the Philadelphia region's life science ecosystem. JPOD @ Philadelphia is part of the JLABS global network of open innovation environments, which have incubated more than 600 companies that aim to advance biotech, pharmaceutical, medical-device, consumer and health-tech programs around the world.
Welcoming attendees was Nicholas Pachuda, vice president of orthopedics innovation for Johnson & Johnson, who said he was already encouraged by the success stories seen in JPOD @ Philadelphia's first year. With other startups becoming more interested in the greater Philadelphia area thanks to its network of clinicians, scientists, engineers, business leaders, investors, entrepreneurs, and companies, Pachuda is also looking forward to seeing where the incubator's momentum takes JPOD @ Philadelphia next. 
"It's a tribute to the ingredients for success that are here in Philly," said Pachuda. "Philly is becoming a destination city for innovation, and the ability for JPOD @ Philadelphia to drive that regional ecosystem is exciting for us to be a part of."
The JPOD @ Philadelphia cohort includes startups working on technologies that aim to address significant unmet patient and consumer needs in medical devices, pharmaceuticals, and consumer and health technologies. Companies at the Pennovation Center are focused on technologies ranging from 3D tissue printing, wearable biosensors, CAR T cell therapies, nanoparticle drug delivery, and remote patient monitoring. During the celebration, representatives from six of the JPOD @ Philadelphia companies spoke during two panels to highlight how their partnership with Johnson & Johnson Innovation had impacted their company's growth during the past year. 
The panel on innovation was led by Glory Durham, associate director of Penn Health-Tech, which serves as a hub for health technology innovators at Penn. Panel speakers included Ilene Busch-Vishniac from Sonavi Labs, Dan Gurra from Algometrx, and Joshua Buser from Chip Diagnostics, a Philadelphia-based device company based on research from the lab of Penn's David Issadore. Chip Diagnostics was the awardee of the JPOD @ Philadelphia QuickFire Challenge Award earlier this year. 
When asked about the impact of joining the JPOD @ Philadelphia team, the panelists shared examples of how working with their company's JPALS helped launch each of their businesses. Buser said that the partnership helped Chip Diagnostics gain key insights on how to approach problems and how to position their technology to make an impact, both medically and commercially, which they wouldn't have been able to access to without the JPOD @ Philadelphia partnership. 
"Johnson & Johnson Innovation has a farther than 30,000-foot view," said Buser about the company's ability to look ahead, especially within the realm of medical diagnostics. "It's given us really valuable information on how to mitigate risks that come with being in this space."
The impact panel was moderated by Marion Leary, director of innovation at Penn Nursing who has worked with Johnson & Johnson Innovation  on numerous initiatives, including the QuickFire Challenge Award and an upcoming nursing hackathon. Panelists included Siva Nadarajah of Jogo Health, as well as representatives from two companies with strong Penn ties: Sasha Schrode of Verix Health formerly Greppo Technologies, a startup from Mark Yim of the GRASP lab incubated by the Penn Center for Innovation via its venture group, PCIV, and Brandon Kao of Avisi Technologies, one of the winners of Penn President Amy Gutmann's 2018 President's Innovation Prize.
The panelists agreed that being able to work at Pennovation Center alongside other startup companies and Philadelphia-area entrepreneurs was supportive and made their work feel less isolated and challenging. "Sharing investor contacts and best practices, all with people who are going through same thing as us, has been very helpful," said Kao. 
The Penn Center for Innovation's Laurie Actman closed the day, saying she is looking forward to seeing how JPOD @ Philadelphia continues to grow over the next year. "Having a partner like Johnson & Johnson Innovation and JLABS was our dream, and it really is amazing just one year later to see everything they've brought to help us grow this ecosystem," said Actman.