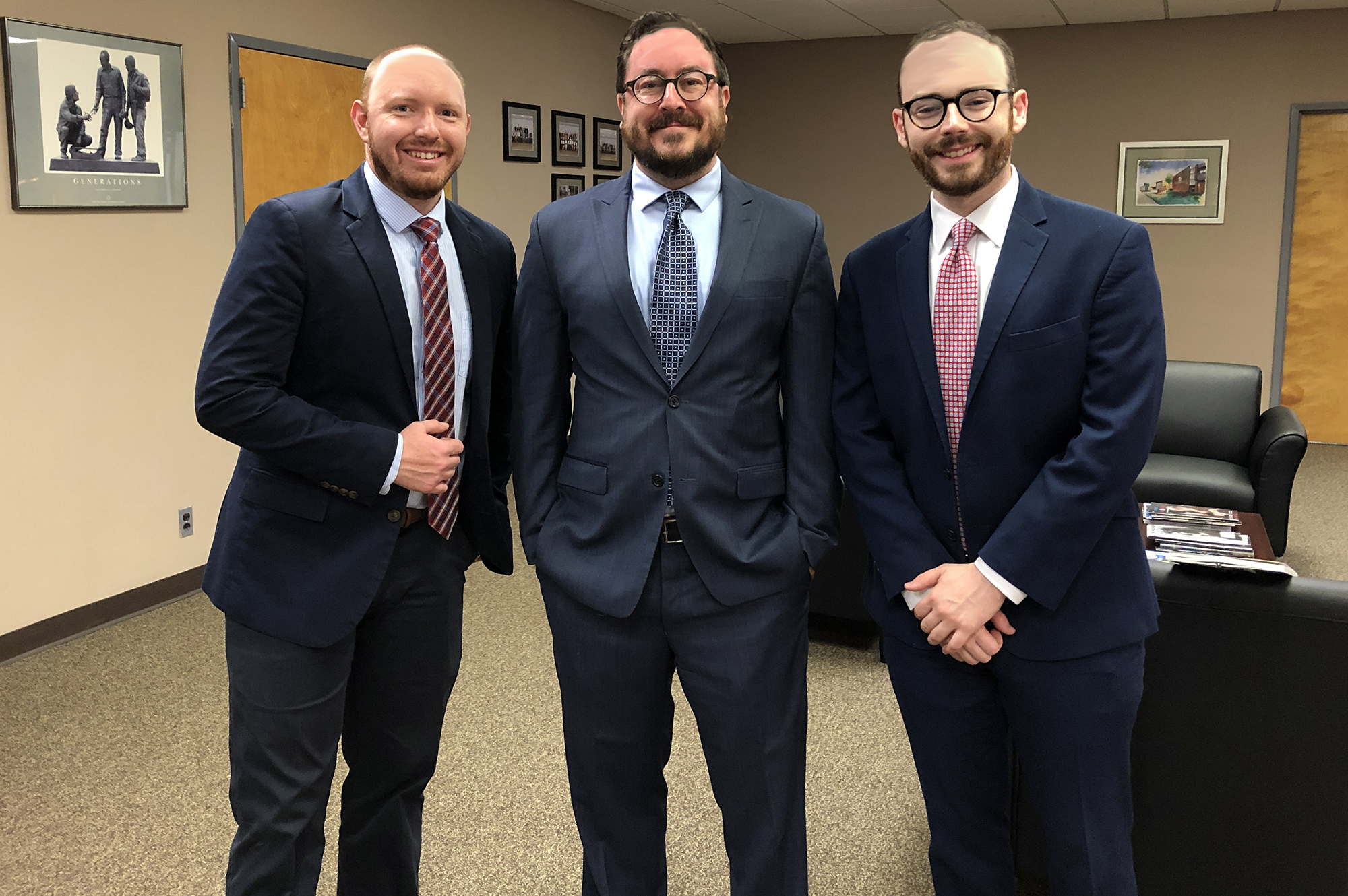 Monday through Friday, May through August, Julian Lutz, a second-year student at the University of Pennsylvania Carey Law School, would take SEPTA's Fox Chase line from his home in Northeast Philadelphia and travel south, disembarking at Jefferson Station and taking two buses through the Italian Market, down past the Vietnamese neighborhood and the Mexican district over to Columbus Boulevard. There, just south of Penn's Landing, lies the Philadelphia office of Sheet Metal Workers Local 19, a union where Lutz spent the summer as a Peggy Browning Fellow, a program that provides funding for law students working to advance labor rights.
Called "tin knockers" by the old-timers, sheet metal workers design, fabricate, and install the metal on construction projects, bringing the engineer's sketch to life, Lutz says. They also make metal signs and take care of all the ventilation and duct work. "In the age of global warming and coronavirus, this knowledge has become imperative," says Lutz. "If you're not careful with the air filtration, people can get very, very sick."
With a founding date of 1888 and more than 4,300 members strong, the union promotes safe and equitable working conditions along with technical skills, Lutz says. Using a "learn while you earn" model, following a day on-site, the apprentices take night classes, which include trigonometry, welding, and design, and follow diversity and affirmative action standards.
"By the time they graduate to journeyman, they are extremely qualified to do the job in the safest possible way," Lutz says. "The expectation is that wherever they work, they're going to stick up for their fellow workers and do a good job, be respected, show up on time, and maintain the highest standards."
During his first day on the job, Lutz watched union members file into the auditorium to vote on a new contract. Many were many fresh off a job site. Those who had showered sported Phillies regalia, shirts with Polish or Irish slogans, and old uniforms from the union softball team. The workers found seats at the banquet tables lining the assembly hall and readied themselves for a debate.
The union leaders, who serve as intermediaries between workers and the contractors looking to hire them, had to make a case for why the contract promised significant new benefits. The workers were looking for higher raises, more holidays, and additional safety provisions. Some were very outspoken, but everyone listened in turn, Lutz says.
"These were young workers, who were my age, standing up to ask for more," Lutz says. "They were taking an extra hour out of their day to hear the full agreement."
It was interesting to see President Gary Masino, an influential union leader with a long career, taking his members' feedback to heart and defending his own work, Lutz says. "There was more back and forth than I thought."
Lutz found it collaborative. Unions "want businesses to succeed, Lutz, says. "You're making the best version of capitalism work for everybody.
"The biggest misconception that I had is that organizing and collective bargaining is always this tough, brutal, winner-take-all" enterprise, he says. But Philadelphia—despite being the sixth largest city in the U.S.—can still seem like a small town. Union members know the big players and want to work with them; contractors know that unions train their workers to a high standard.
Ultimately the members of Local 19 voted to ratify the agreement, preventing a strike.
"It was this extremely democratic process," Lutz says. "It inspired a lot of confidence in me that the leadership of the union was really taking their responsibility to represent the workers seriously. From then on out, whether we were on the picket line, talking to the contractors, or discussing the benefits plans, I could see that they were thinking of the workers."
Born and raised in Northeast Philadelphia, Lutz, like most of the Peggy Browning fellows, has a family history with unions. His grandfather was in the steelworkers union prior to naval service in World War II; his mother, for one blissful summer, was a member of the ice cream truck driver's union. (They were part of the Teamsters, Lutz says, and his mother, at 18, was hired as part of an agreement to get women into the workforce. She still has the Hawaiian shirt.)
Lutz's family, while tight-knit and hard-working, was often financially stressed. The political and economic history of the Northeast rose and fell with industrialization, Lutz says. Built for white workers employed at strategically positioned factories, the area was in economic decline during Lutz's childhood.
Curious about poverty and systemic inequality, Lutz majored in political science at St. Joseph's University, then spent two years as a paralegal at Regional Housing Legal Services, a Pennsylvania nonprofit. Affordable housing is Lutz's first love, but he's taken a liking to labor law, which has a similar values-driven purpose.
The Venn diagram between the two fields doesn't always overlap, but Lutz sees a window where community groups negotiate a benefits agreement that includes affordable housing and jobs for residents. Those jobs could include union jobs, providing a pathway to marketable skills and a stable income, he says.
For many, unions are a way to climb the ladder. "They view it correctly as a ticket to the middle class and a way to gain job skills," Lutz says. Members will even cite their union affiliation in Tinder bios the same way someone else might reference their college degree. It's a reference to community and a bid that says, "this is the thing that's going to help me provide," Lutz says.
"I've always been curious about unions," Lutz says. Growing up in the Northeast, they were woven into the community's warp and weft and at Local 19, he met union members who came from the same neighborhood. "They'd say, 'What's your parish, where'd you go to high school?'"
Lutz, like many long-time Northeast residents, is Catholic and of central and eastern European descent. Yet that stretch of the city is changing, he said, with more immigrants moving in. These days, it's more of a mix. "People who don't know about it get a CliffsNotes version that it's white, conservative, Trump Philly," Lutz says of the Northeast, "but it's actually a bastion of blue-collar jobs and people from every background who work them."
"It's a still place where people want to live in the city, but they want to own a home or they want to have a lawn move in. It's a place where people know who their neighbors are and care about the community and the businesses and their neighborhoods. And sometimes, you know, people will disagree with each other. There are political disagreements because it is very politically mixed. But it's very representative of America. You have all different ethnic groups, all different religions. You have people from upper-middle class to people fighting off poverty," Lutz says. "It's just my little slice of America. In this era where it feels like everybody is from one extreme or another, it's right smack dab in the middle."
Lutz believes in little "d" democracy. At 25, he's fired up about civic discourse, community spirit, and belonging. It might be easy to dismiss this as youthful naiveté. But at Local 19, he's seen this democracy in action, with different people coming together to argue, not just for their interests, but for a higher standard. And Lutz? He wants more.
"I was really sad to stop going in full time. Even though I love law school, I was like, 'I like this. I don't want to stop,'" Lutz says of his summer days at union headquarters. "I guess I'm the stereotypical millennial because I like working in a place that has values, that knows what it stands for. The union cared about its values and representing the workers. And that really fired me up to go to work every day."