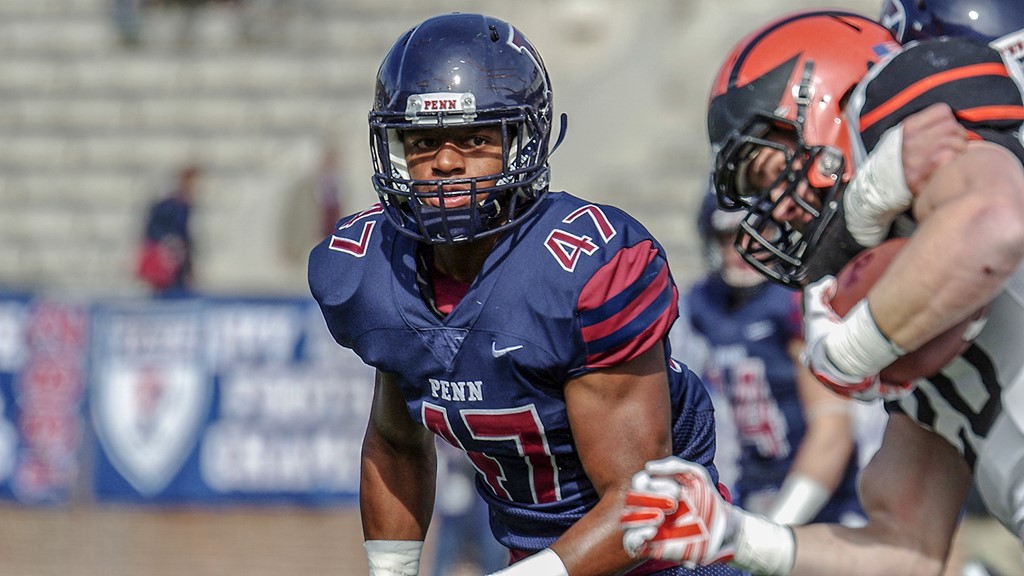 Rising senior Nick Miller, a linebacker on the Penn football team, was recently named a Second-Team STATS FCS Preseason All-American.
The New Market, Md., native finished last season with 104 tackles—the most by a Quaker since 1997—3 sacks, 2 interceptions, 3 forced fumbles, and 5 fumble recoveries. He was a First-Team All-Ivy selection and led the league in tackles. He was also an ECAC First-Team All-Star and a finalist for Ivy League Defensive Player of the Year. 
Miller's 6.6 solo tackles per game ranked No. 5 in the FCS. He had 10 or more tackles in eight of the team's 10 games.
Against Lehigh on Sept. 23 in Bethlehem, he had 10 tackles (8 solo), a sack, an interception, a forced fumble, and a fumble recovery. Aptly, he was honored as Ivy League Defensive Player of the Week.
On Oct. 24, in a game versus Columbia in New York, he had 11 total tackles (8 solo), two tackles for loss, a sack, and returned an interception 25 yards for a touchdown.
Miller was also recently named one of 25 FCS players to the initial Watch List for the 2018 Buck Buchanan Award, which is presented each year to the most outstanding defensive player in FCS football. He was the only Ivy League player selected to the Watch List.
 
Miller and the Quakers report to camp on Aug. 16. Penn kicks off its season on Saturday, Sept. 15, against Bucknell at 3 p.m. at Franklin Field.