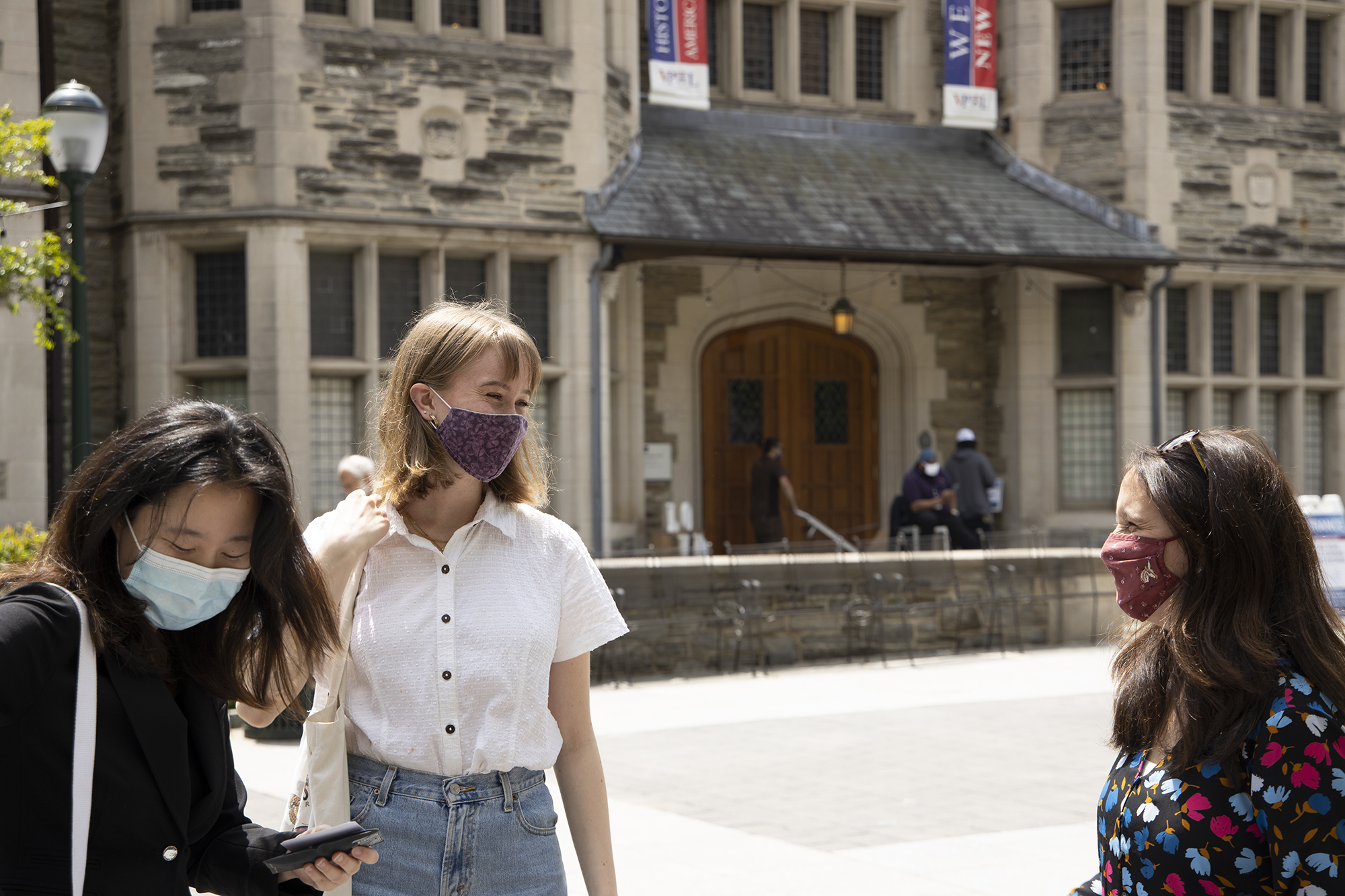 The first cohort of Stavros Niarchos Foundation (SNF) Paideia Fellows has wrapped up its inaugural year, committed to continuing to develop the knowledge and skills needed for effective, civil dialogue and looking forward to an in-person fall.
The fellowship program is tailored to encourage undergraduate fellows to connect their general education and major requirements to public engagement and community building through dialogue across differences. The fellowship is an offshoot of Penn's SNF Paideia Program, which launched in 2019 and reimagines the ancient Greek ideal Paideia—or "education of the whole person"—for the 21st century and beyond, with courses focusing on dialogue, wellness, service, and citizenship. 
While individual Paideia courses are designed to be taken by any undergraduates, the program also provides a more structured and immersive experience for a select number of SNF Paideia Fellows.
"We have been amazed and inspired by the first cohort of SNF Paideia Fellows, who all demonstrate a deep desire to make positive contributions to the communities in which they live and work," says Leah Anderson, executive director of SNF Paideia. "Each fellow brings a unique constellation of academic, professional, and personal interests to the program."
Shortly after the newest cohort was announced in the spring, both classes of fellows took part in an open forum virtually with President Amy Gutmann. In her initial remarks to the group, she thanked them for their commitment to the program, noting how what they do here matters profoundly for higher education and democracy. "We are on a mission," Gutmann said, "and you are part of leading that mission."
Thomas Kyong, a rising junior at the Wharton School from Las Vegas studying economics and management, was drawn to the fellowship because of the program's emphasis on the importance of dialogue.
"With the growing polarization of our country, this is a great way to improve on those skills and get a better understanding of how to unite people and unite communities of different voices, different opinions, and different cultures," he says. 
The fact that the program was completely virtual didn't detract from the experience, he says. "It has been just as exciting, and I've met some extraordinary people," says Kyong, adding that a few Paideia fellows even have a Zoom cooking group where they share recipes. "We've been able to create a close-knit community, even though we've never met in person."
Angelina Oh, a rising junior from San Diego in the College of Arts and Sciences studying philosophy, politics, and economics, says she looked into the Paideia program toward the end of her freshman year, when she was uncertain about her career path.
"I did know that I wanted to pursue activities related to civic engagement and dialogue because that was something that was really important to me back in high school, and this program was perfect for that," says Oh.
She was struck by how involved the program directors, Anderson and Lia Howard, were with the cohort and how much personal guidance the fellows received. 
"You really got a sense for how much they cared about each individual fellow," Oh says. "They really helped me find my niche passions within the program and supported me throughout the whole process, allowing me to further expand upon my interests." 
It was a challenging year with everything being remote, Oh says, and the Fellows Proseminar I taught by Anderson and Howard in the fall was the one course in which she felt truly engaged with other students despite the distance, enabling them to get to know one another well.
All sophomore fellows take the proseminar, which introduces them to academic research and practice related to the civic engagement mission of the SNF Paideia program. It engages diverse perspectives on the purpose of higher education, the nature of citizenship, the value of civility, and the relationship between the individual and community wellness.
There's also a proseminar for juniors in the fall, helping the fellows explore dialogue, citizenship, wellness, and service, especially considering potential connections with their chosen major.
Oh says her co-fellows come from all different backgrounds, with different majors in different schools, allowing her to meet a broader spectrum of students than just those within her major.
"I wouldn't have met them, if it wasn't for this program. Being able to meet so many different types of people is a really unique experience," she says.
Inthat Boonpongmanee, a rising junior from Richland, Washington majoring in linguistics, had attended a high school focused on educating the "whole person" and when he arrived at Penn, as he decided between several different majors, he was drawn to the Paideia program.
"I think that mentorship is really important in college, and the way that the program is structured offers many opportunities for mentorship," he says. "It's small, but you have close contact with faculty, and that's really unique."
One aspect he appreciates is being around people who are working toward similar goals in different ways.
"There's a lot of serendipity that you can get by interacting with people who are doing different things than you are," he says.
Thriaksh Rajan, a rising junior in the College of Arts and Sciences studying medical anthropology and public health, says the Paideia fellowship was the perfect fit for him to combine his interests across health care, anthropology, and public policy. 
"The fellowship has opened my eyes to the importance of civic engagement in society," he says, pointing to the proseminar in particular. "It taught me about past and current scholarship in civic engagement, for example, why some university programs fail and others succeed in assisting marginalized communities. As an aspiring doctor, I hope to integrate this knowledge of civics and wellness into my future clinical practice.
"In addition to the research opportunities, I have been able to find an academic community at Penn through Paideia," says Rajan, of Freehold, New Jersey. "Through the seminars and break-out groups, I have been continuously pushed and challenged in the way I think by my peers."
Fellows also must complete a senior capstone project that integrates a Fellow's major with civic dialogue, service, and/or wellness. 
Even during their first year of the fellowship, many have undertaken projects planned with support from the SNF Paideia Program. 
Following her participation in the Fellows Proseminar, Ayana Shirai, a rising junior double-majoring in health care management at Wharton and philosophy in the College, designed a project for the Philadelphia community to explore philosophy through experimental participatory theater. Having completed the participant handbook for Reflact! Philosophy x Theater, she plans to implement the project idea with support from the program when pandemic restrictions are lifted. 
Shirai, of Tokyo, is also utilizing funds from SNF Paideia for a research assistant position with Professor Jennifer Prah Ruger's Health Equity and Policy Lab, where she combines her interest in social justice with concrete health policy research. 
Rajan says he values how fellows can request funds to support their goals during the summer. He said he hopes to use the financial support of the program to travel to Botswana to understand the quality of life in cervical cancer patients there.
"Such an opportunity is only made possible through the SNF Paideia Fellowship," he says.
For Boonpongmanee's project, he's been working with the Netter Center for Community Partnerships to bring public health benefits access to West Philadelphia via popup tables in the community.
Kyong also has projects in the works, including starting a podcast about education through multiculturalism and a workshop on political identity that is getting a boost from the Penn Program on Opinion Research and Election Study.
"If you're someone who wants to be a maker of change, this fellowship program is for you," Kyong says. "Everyone is uniquely passionate and intellectually curious, and when you're surrounded by people like that it really just inspires you."