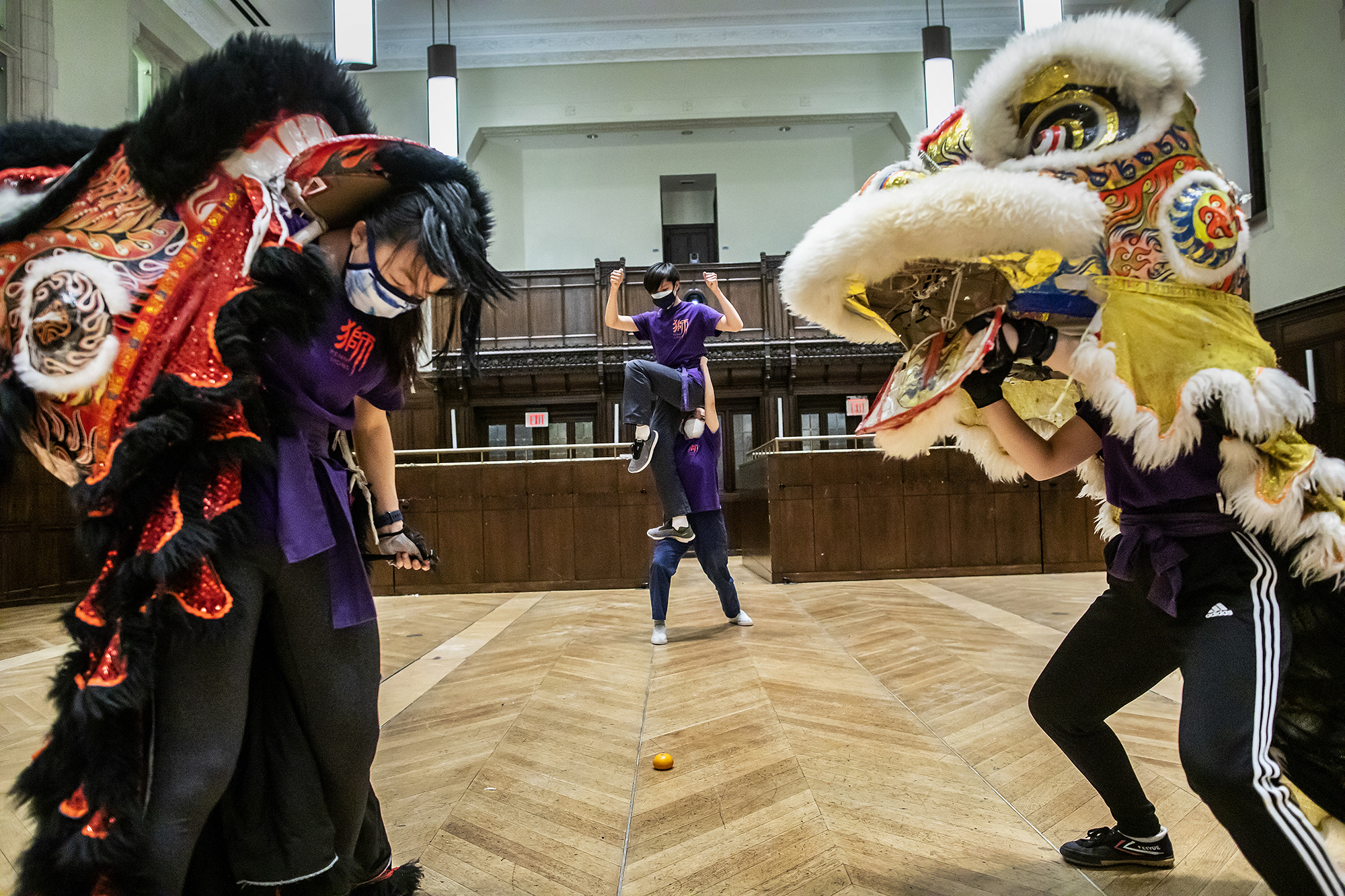 Dripping rain falls through barren branches along Locust Walk late on a Thursday night. Students hurry past, unwilling to linger in the unhospitable February weather. But the ARCH building glows golden. Drumbeats reverberate through the structure. Four solemn thumps announce the interplay between two fighting lions engaged in a tug of war. The ornate animals, enhanced with vibrant red, bright gold, and ruffles of sparkling sequin fabric trimmed in faux fur, are tussling over a head of romaine, the lettuce symbolic of wealth. These are the Penn Lions, an undergraduate group that spreads good luck and blessings through the traditional Chinese lion dance, and they are practicing for the Lunar New Year, a reminder of rebirth and new beginnings to come after the cold rain.
The Lions, who have two practices per week during the academic year, are training for Feb. 8 performances in collaboration with Penn Dining, which is featuring a Lunar New Year menu with recipes from Fuchsia Dunlop, Andrea Nguyen, and David Chang.
Traditionally spent with family, Lunar New Year is a time to "root ourselves within all of our connections," says Peter Van Do, director of the Pan-Asian American Community House. The multiweek holiday is celebrated in many parts of Asia, including China, Korea, Vietnam, and Mongolia. It's a time to prepare and reflect on "how we can wish each other and ourselves blessing, prosperity, health, security, and peace for the rest of the year," he says.
This year marks the year of the water tiger, says Van Do, as one of the elements—wood, water, metal, fire, and earth—are also associated with the zodiac animal. This year will draw upon the embodiment of both the element and the animal, which is associated with ambition, bravery, courage, and strength, he says. 
The lion dance is believed to good luck throughout the community. "The lion dance wards off evil spirits and brings prosperity," says Tiffany Lu, a junior from Hershey, Pennsylvania, studying fine arts in the College of Arts and Sciences.
Lu is one of the Penn Lions' two dozen members. While she came into her freshman year as an experienced dancer in both Western and Eastern traditions, most learn lion dancing mainly through oral tradition, with upperclassmen teaching the newcomers. Only about one person per class has prior experience.
One of these was Zelan von Kaenel, a senior at Wharton specializing in finance and operations. Born to a Dutch father and Chinese and Costa Rican mother in Princeton, New Jersey, von Kaenel went to a Cantonese primary school, where the students were taught lion dancing basics. Reigniting this passion in college has been "one of my best decisions," von Kaenel says. "The Lions has some of the friendliest and best community of people that I have met at Penn, and very diverse. If I wanted to know someone from a specific school, they are probably in Lions."
Friendship bonds are consistently cited and praised within the Lions. "You come for the lion dancing; you stay for the community," says Luke Bandeen, a senior from London. Far from a benign quality, this trust is essential as the two parts of the lion, the "tail" and "head," work together as one. "The tail stabilizes the head while they do crane stands, wild kicks," says Bandeen, who dances as a tail. He's tall and robust—well over 6 feet—which comes in handy with the heavy lifting, called "stacking," that is part of the tail's role.
The Lions practice stacking by doing exercises that combine a deep squat with the bottom half of jumping jacks. The tail stands in front of the lion and they both jump, squat; then the head jumps on top of the tail's bent quadriceps. And that's one of the easier moves. More difficult is the head stack, where Bandeen holds his partner by the thick cotton sash wound around her waist and hoists her on top of his head while she kicks her legs in a v-shape, all while holding on to the lion head.
It's an impressive athletic feat that has its roots in martial arts. Traditionally, dojo students who train for at least five years might be invited to start lion dancing, says von Kaenel. This style of lion dance is an extension of martial arts training, designed to showcase strong powerful forms, he says.
The Penn Lions follow a style called hok san. Rooted in southern China, the focus of hok san is on realistic animal motions. "We're trying to mimic the motion of a lion to really pull the audience into believing that we are actual lions, rather than martial artists inside of the lion costume," von Kaenel says.
All the Lions are trained in both head and tail positions, as well as on cymbals. Percussion is the heartbeat of the lion dance. While two members play cymbals, a third takes on a large wooden drum, animal skin stretched taut over its top, anchored by rows of metal studs. The percussionists use all these surfaces to make a wide variety of sounds, says Alex Ge, a junior from Northville, Michigan, in the School of Engineering and Applied Science. "There's no moving melody," he says, "so to make something interesting, you have to play with the rhythm."
Ge, who plays cello in the Penn Symphony Orchestra, along with piano, French horn, and trumpet, loves experimenting with music and composes for Lions, who create new routines each year. "It's a good place for me to relax, unwind, and be creative after playing with equations all day."
But the pressure mounts during Lunar New Year, the Lions' busiest season. And they have a lot of catch-up work to do. Quarantining members watch from a Zoom screen, offering feedback in lieu of their physical presence. Last year, the Lions practiced in a parking garage for COVID safety. "We couldn't even touch each other," says Lu, which means that the Lions had difficulty drilling head/tail coordination. "We had to figure out ways to incorporate that back into our routines and practice," she says.
Unity between the head and the tail is crucial. "We usually pair people up," says von Kaenel. This is what Bandeen calls the "home stack," a trusted partner. The two have to work as one "because if you are a strong head and a strong tail individually, but, if you don't have any coordination, it will be obvious to the audience that it is two people inside the lion," von Kaenel says. The group is trying to embody the lion's spirit, "and the only way to really achieve that is by having good coordination between the head and the tail. So, a lot of the performance comes down to how well can the tail react to the head's movement, how well can the head move in a way that the tail can easily react?"
Inside the head, a dancer manipulates strings to flutter the lion's eyelashes and open and close its large mouth, shaped like a slice of red watermelon. As the dance ends, the lions sprinkle torn lettuce leaves, an auspicious blessing for all.