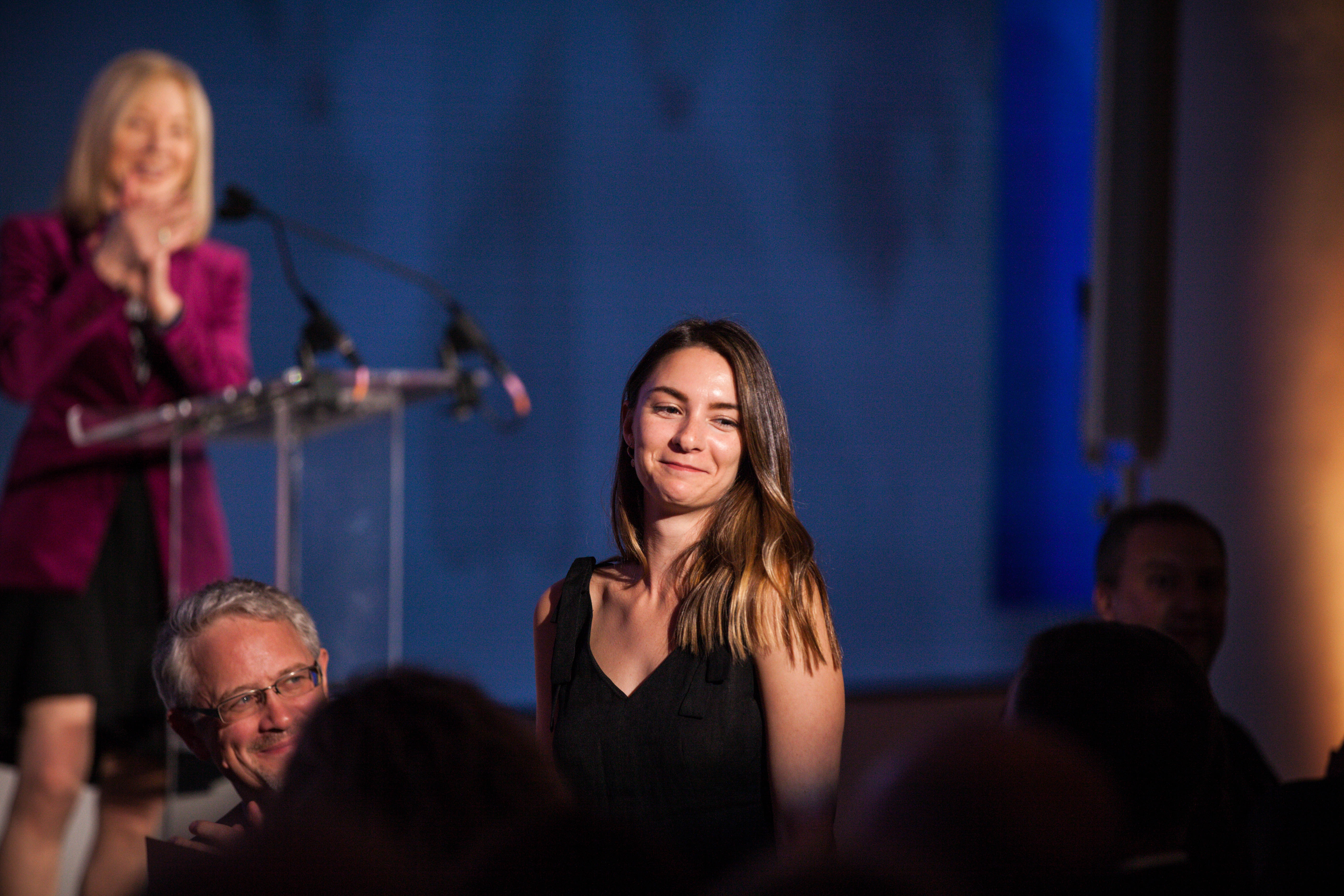 For 150 years, Penn has been a home to teaching and learning about great architecture. And great architecture, as President Amy Gutmann put it, is "magic brought to life."
Talking to a crowd in New York City last week, at a Penn School of Design awards and fundraising gala—with all proceeds going toward student fellowships—Gutmann focused less on the University's rich history in the field, and instead, appropriately, on the future of the program and its daring architecture students.
"It's the younger generation that is going to push forward PennDesign's legacy," she said, noting the significant impact donations have on financial aid. "These students who you support, who you inspire and teach, are poised to expand the practice of art and design to meet the challenges of this century."
Alexandra Adamski is one of those ambitious students, in particular. The third-year Master of Architecture student—and the first in her family to attend college—received the inaugural $50,000 Kanter Tritsch Prize in Energy and Architectural Innovation, funded by a $1.25 million gift from PennDesign alumna Lori Kanter Tritsch, a member of the PennDesign Board of Overseers, and Wharton alumnus William P. Lauder, a Penn trustee. Adamski, whose impressive portfolio earned her the award, accepted the honor at the event, which kicked off the School's Lead by Design fundraising campaign.
"What always drew me to architecture was the possibility of improving the lives of others," Adamski said. "Looking ahead to graduation, I'm more committed than ever to making work that matters."
Discussing Adamski's portfolio, Winka Dubbeldam, Chair and Miller Professor of Architecture at PennDesign, said she was not only impressed by her work, but also by the way Adamski chose to present it.
Dubbeldam said the submissions made it clear the prize "was not only about how well students design, but also how they present themselves as a person, as an identity, and as the architect they are going to be."
Also recognized at the event were Billie Tsien and Tod Williams, recipients of the inaugural Kanter Tritsch Medal for Excellence in Architecture and Environmental Design. Tsien and Williams began working together in 1977 and co-founded their New York architectural practice in 1986. Ever since, as educators and practitioners, the duo behind the Barnes Foundation design and Penn's very own Skirkanich Hall have been "dedicated to creating a better world through architecture," said PennDesign Dean and Paley Professor Fritz Steiner. "They design beautiful, useful spaces that are meant to last, and are environmentally friendly to boot."
Steiner read aloud a letter he received from Michelle Obama about Tsien and Williams, who are designing the Obama Presidential Center in Chicago.
"It was clear they had an extraordinary talent for bringing the heartbeat of a community into a space," the former first lady wrote. "And they are using these talents on one incredible project to the next."
Honored to receive the award, Tsien said, she and Williams were most proud to see a light shining on Penn students whose work focuses on energy, ecology, and social equity.
"Never before have these concerns been more urgent," Tsien said. "More than ever in our lives we need the creative thinking of designers, and this is what the Kanter Tritsch award supports at PennDesign."
Calling it a "life-changing" award, Adamski, who will soon enter a field in which women continue to be dramatically underrepresented, said it won't only impact her financial situation, but also her creativity and professional plans upon graduation in May.
"This award relieves the financial burden in the last year in such a way that I can really focus on studio and focus on my studies, and when I start my career after graduation I can be open to more possibilities," Adamski said. "It's opened a lot of doors for me."
Providing such a good "head start" is what Kanter Tritsch was hoping for.
"What it costs to go to college today makes it hard for [students] to really have a big impact early on, and this generation—as I know well, because my daughters are the same age [as Alexandra]—can really change how we live," Kanter Tritsch said. "Our children can teach us how to be better people and how to live better."
Kevin Penn, chair of PennDesign's Board of Overseers, which provides leadership, direction, and support for the future of the School, said the Kanter Tritsch prize's focus on energy and architectural innovation is especially telling.
It's a prize, he said, that "brings into sharp focus a profession that impacts the lives of almost every person on the planet through that innovation."
In her remarks, Gutmann also underscored how PennDesign is "absolutely committed" to being at the forefront of innovation, as well as sustainability. Chatting amongst friends of the University in Frank Gehry's stunning IAC Building, just a block from Professor Emeritus of Landscape Architecture Jim Corner's High Line, Gutmann listed off several of the School's key initiatives, including the Architectural Archives, PennPraxis, The Ian L. McHarg Center for Urbanism and Ecology, and the Kleinman Center for Energy Policy—with a nod to the generosity of PennDesign Overseer Scott Kleinman, who was in the audience.
"For PennDesign, it's a true moment of transformation," Gutmann said. "And in the words of the song that we all know: 'This magic moment, so different and so new.'"
This story originally appeared on PennDesign's website.