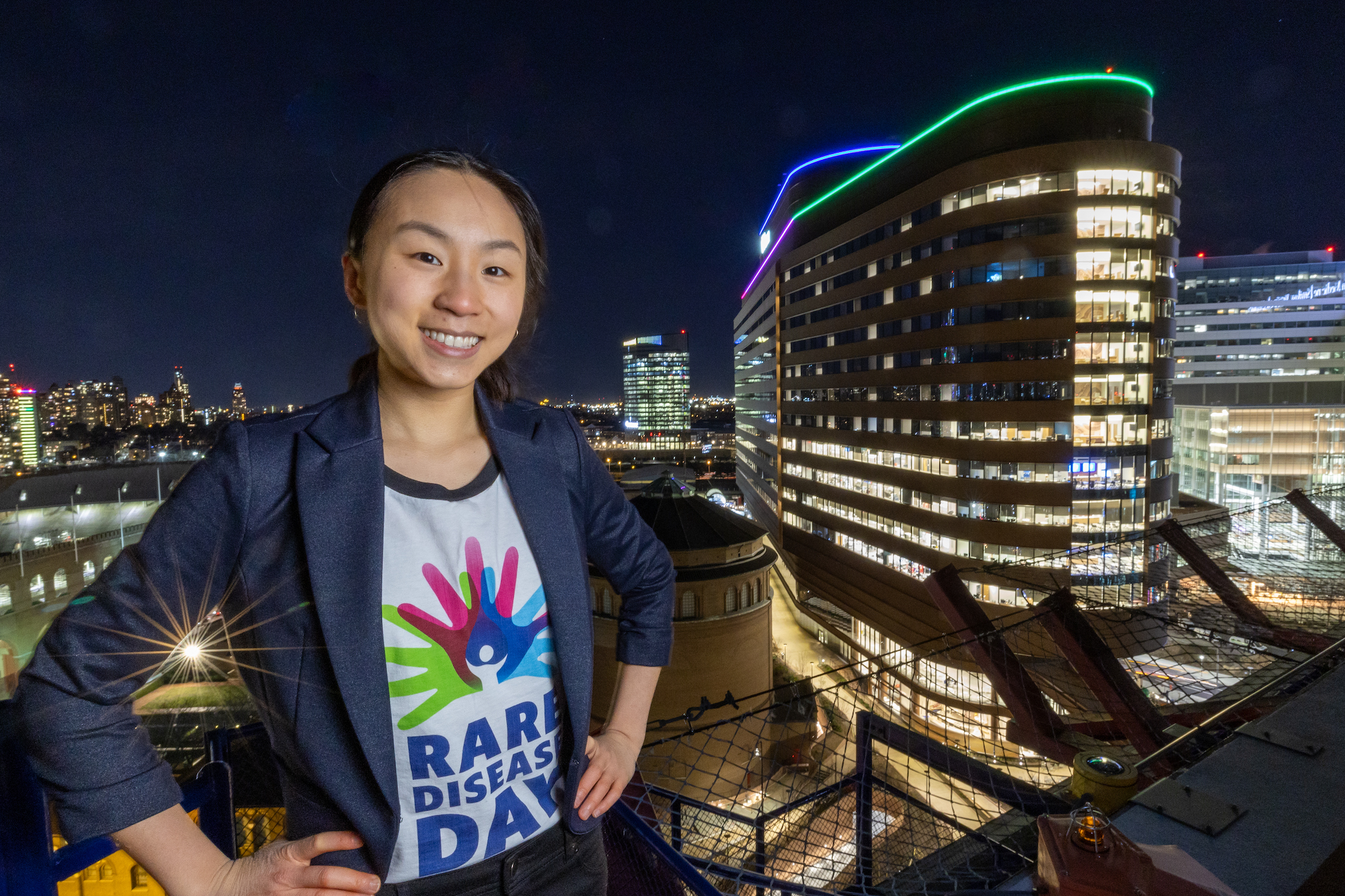 Over Zoom, Magnolia Wang pretended to make a cup of tea. Using her hands to suggest the outline of a teapot, she mimed pouring hot water into a cup, then delicately dipped an imaginary tea bag into the pantomimed porcelain.
In the fall of 2020, Wang, then a sophomore at Penn, spent her Friday evenings learning this skill under the guidance of a professional pantomimist as part of a course taught by Toni Bowers in the School of Arts & Sciences' Cinema & Media Studies program. While others might wonder why a future doctor might learn how to mime, Wang, a biology major with minors in chemistry and English, believes the two things are more related than one might think.
"Being able to analyze a patient and what they're feeling, reading body language and communicating using gestures and body language" are crucial parts of bedside manner, she says.
Throughout her years at Penn, Wang, now a rising senior, has leveraged this ability to connect seemingly unconnected ideas and individuals, enabling her to found organizations and pursue research opportunities that might have otherwise never existed.
Founder/effect
One of the most crucial connections Wang made—one that would eventually lead her to research and advocacy across the East Coast—began in an introductory biology class. While taking Introduction to Biology in her first year with professors Mark Goulian and Michael Lampson, she learned about the founder effect, a phenomenon where a relatively small group of individuals become isolated from a larger population, leading them to accumulate genetic variations or mutations not found in the larger group.
The class sparked her curiosity, and Wang began searching to see if there were real-life examples in humans. After some research, she found out about STAC3 (pronounced "stack three") disorder. The rare genetic disease is most prevalent in the Lumbee tribe of Native Americans in North Carolina, affecting around 1 in 5,000 members, with isolated cases in other communities.
The disease results from a mutation in the STAC3 gene, which is essential for the normal development and movement of muscles. Patients living with STAC3 disorder are more likely to struggle with weight gain, impairment of growth and motor skills, and heart or lung conditions. No cure has yet been discovered.
In addition to physical ailments, patients with STAC3 disorder often bear disproportionate medical expenses and can be subjected to social stigma and bullying due to their perceived physical deformities.
For Wang, this brought to mind a guest lecture in her Introduction to Medical Anthropology course. There, Puneet Sahota, director of research at the National Indian Child Welfare Association, spoke about the health care disparities faced by Native Americans. Wang realized that STAC3 disorder and the social issues surrounding it fit squarely into what she was learning at Penn.
"I just thought, 'This is the combination of these two classes,' and I became compelled to raise awareness," says Wang.
Wang founded STAC3 to do just that. She reached out to Cynthia Powell, a pediatric geneticist at the University of North Carolina at Chapel Hill, as well as Kurt Beam and Stefano Perni, researchers at the University of Colorado, and recruited them to form the advisory board.
From here, she began taking action. To commemorate Rare Disease Day, celebrated on Feb. 28 this year, she organized a lighting of the Pavilion at the Hospital of the University of Pennsylvania in support of the National Organization for Rare Disorders (NORD).
The idea first came to her while walking to class while the Pavilion was under construction. Knowing that there would be an advanced lighting system on the roof of the building, she wondered if she might be able to get the NORD colors of pink, purple, blue, and green shining at Penn. Wang got in contact with Stephanie Byers Asher, associate director of genetic counseling at Penn Medicine, and together they organized the lighting. "Personally, I just wanted to bring this issue to my home campus," says Wang.
As the lights shone, Wang hosted a special speaker symposium on rare disease. As editor-in-chief of PennScience, an undergraduate research journal, she invited experts, including Penn alumna Susan Furth, the chief science officer and executive vice president at the Children's Hospital of Philadelphia, to discuss their research and the need for advocacy for patients with rare disorders.
In her hometown of Livingston, New Jersey, Wang organized the town hall to be lit in the NORD colors and spoke to her city council about the importance of raising awareness and research funding for STAC3 disorder and other rare diseases.
Since then, STAC3 has partnered with Rare and Ready, a coalition of organizations that advocate for legislation to support those living with rare disease. Most recently, STAC3 joined Rare and Ready in signing onto a piece of legislation to the Agency for Health Care Administration of Florida calling for improved access to FDA approved therapies, greater coverage for telehealth services, and further access to gene therapies.
Back on campus, Wang received approval to found a club called Rare at Penn to work with fellow students to amplify rare disease issues on campus.
This summer, she plans to pair her advocacy with research for people living with STAC3 disorder. Under STAC3 board member Powell's guidance, she will survey patients and their caregivers to gauge their perspectives on newborn screening, genetic counseling, and medical insurance. She will also conduct interviews with patients in the Bronx and North Carolina and visit patients in the Lumbee tribe to understand more about accessing health care, receiving diagnoses, and caring for those with STAC3 disorder.
"The ultimate goal is to be able to inform health care workers and insurance companies to understand that there are members of the Lumbee tribe that are really suffering and struggling with their STAC3 and that action must be taken to better their quality of life," says Wang.
Seeking the perfect combination
While her advocacy work is a key part of her experience at Penn, Wang was first drawn to the University by her interest in research. "Honestly, Penn is such a great hub for research, and I knew that was something I wanted to do in college," says Wang.
Since spring 2020, Wang has been working with Patrick Seale, an associate professor at the Perelman School of Medicine, studying the ways that inflammation affects the development and metabolism of fat cells.
Once Wang graduates next year, she hopes to continue conducting research while earning an M.D./Ph.D. Even on such a seemingly STEM-focused path, she believes her minor in English will let her communicate more ably with her future patients, preparing her for a career as a physician-scientist. "It combines science and the humanities, and to me that's the perfect combination."
She hopes that, by delving into both the basic science of disease and the way people living with disease navigate the health care system, she will gain insight in how to diagnose the condition and care for her patients.
Until then, Wang is happy to have the opportunity to keep following her curiosities—whether that be forming clubs, conducting research, or miming. "Just that flexibility that Penn has to have been able to pursue my interests. It's been really great," she says.