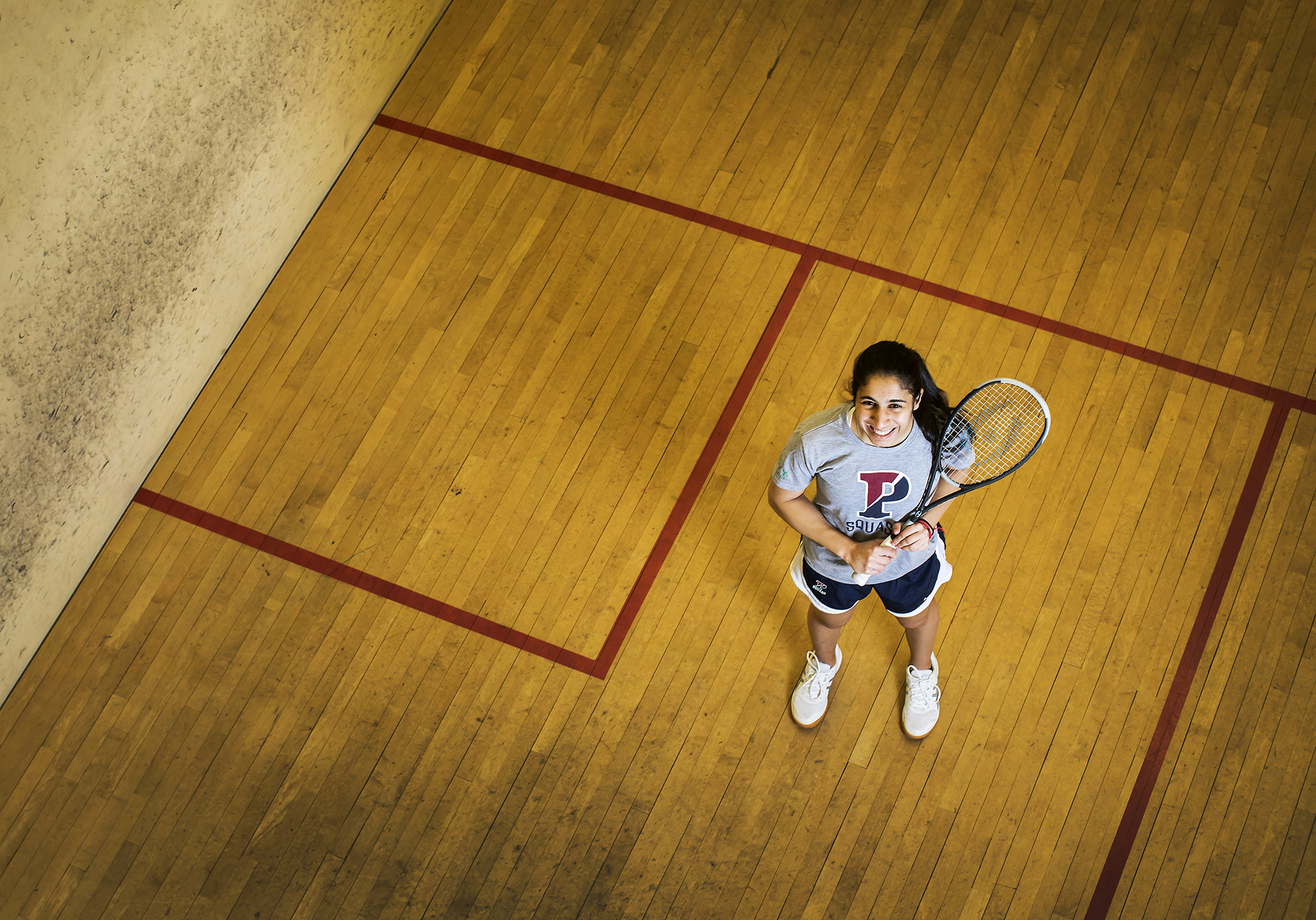 NATIONAL CHAMP: Reeham Sedky, a junior from Sammamish, Wash., won a national championship in squash this past season at the College Individual Nationals in Washington, D.C. In her third straight trip to the championship match, Sedky (20-0) avenged last year's loss to Georgina Kennedy of Harvard. She won in four games to become Penn's first women's national champion in 22 years.
"It was definitely very exciting," she says. "There were a lot of emotions. There was a feeling of relief because I've been in the finals for the past two years and haven't won it. When I won, it was like, 'I finally did it.'"
BACK TO BACK: Sedky made history this year when she became the first Quaker to win consecutive Ivy League Player of the Year awards. She was also named a First-Team All-American. Over the past two seasons, she is a perfect 28-0 in regular season play. She credits her championship performance to increased dedication, on and off the court.
"On court, whether that's the drills of the game, and off court, the fitness and the running," she says. "I think this year has definitely been the most time I've committed to the court, and because of that, obviously, the results showed."
SERVE & VOLLEY: A computer science major, Sedky has been playing squash for 11 years. "I'm Egyptian so it kind of runs in my blood because everyone in Egypt plays squash," she says. "My dad plays. Growing up, I was experimenting with all types of sports, like swimming, tennis, and squash. I really fell in love with squash."
PHYSICAL CHESS: "I like the intensity," she says of the game. "It's super intense, super fast, and it's a great combination of running plus mental strength. They call it physical chess because you're running all the time, but you also have to think about the placement of the ball."
HERE COMES THE HAMMER: Owning to her tendency to smack the ball with all her might, Sedky has been nicknamed "The Hammer." This year, she says she has brought more variation to her game, incorporating more drops and volleys, and a heightened focus on making sure she is moving her opponent as much as she can.
GLOBAL GAME: Squash has taken Sedky all around the world. Prior to enrolling at Penn, she played for the U.S. Team at the World Junior Championships in Poland, Namibia, and The Netherlands. She has played in France, Egypt, England, and Canada as well, and will play in China in 2019.
100%: Sedky says her goals for next year are the same as this year: practice and train as hard as she can. "It would be really cool to get another individual title, and maybe another Ivy League Player of the Year, but my main focus—aside from having fun, because I love the sport so much—is making sure that I put in 100 percent every time I train, every time I play," she says. "As long as I know that I put in 100 percent on the court, I'll be happy with the results."