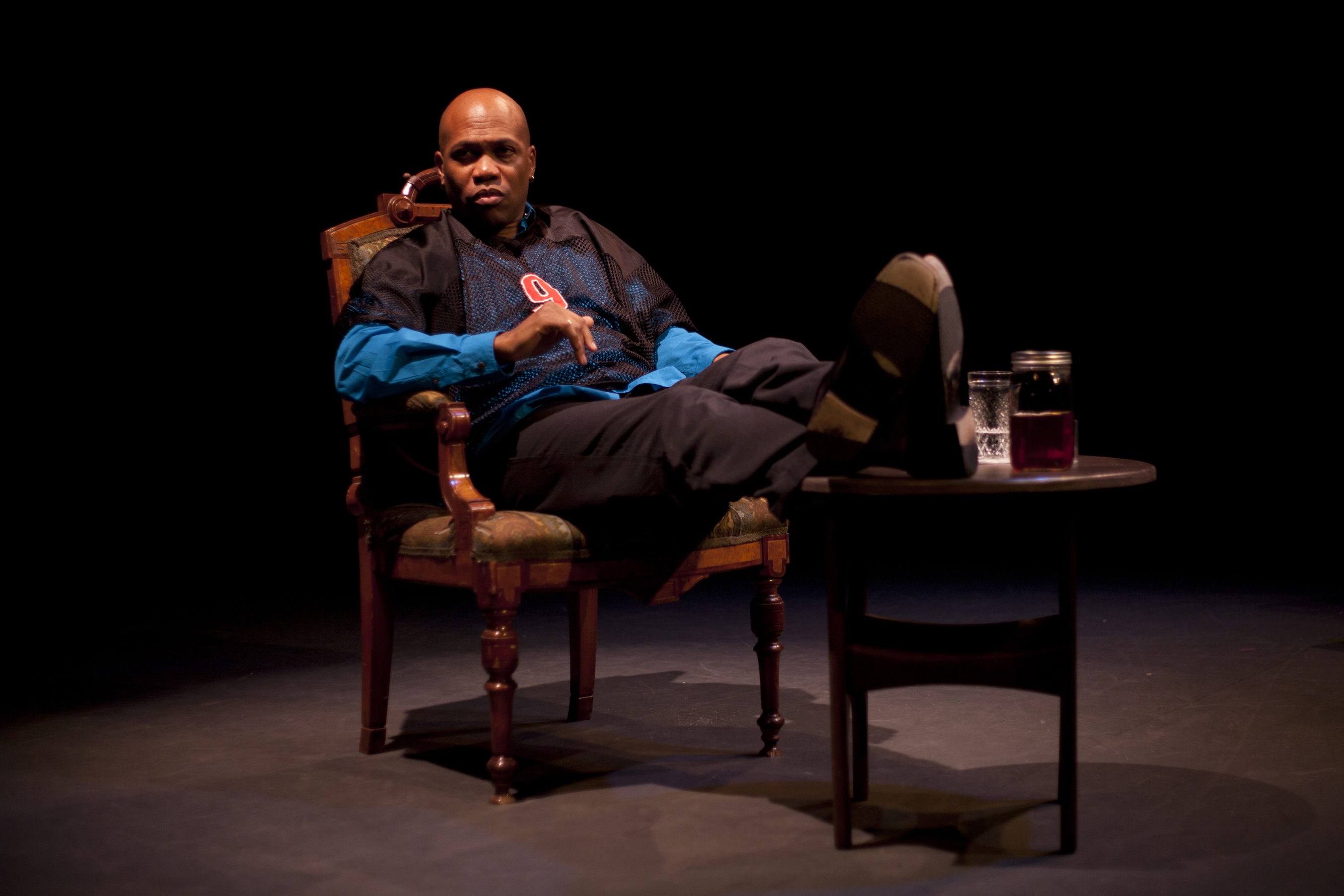 E. Patrick Johnson has been talking about life as a gay, black man in the southern United States for more than a decade. At first, the voices came from Harold and Freddie and many others who shared their stories with Johnson for his 2008 academic book "Sweet Tea." Then John L. Jackson Jr. saw an early version of the one-man play that followed; he immediately thought that Johnson should incorporate his own story, too.  
"I'm an ethnographer who always tries to write from a perspective that doesn't pretend away the researcher," says Jackson, dean of Penn's Annenberg School for Communication. "I was struck that E. Patrick was doing a classic ethnographic portrait of a particular portion of the American community, but I also felt there was a story to be told about him, about what he's doing, and how we define what knowledge looks like in the academy. That seemed really interesting and powerful to me." 
He said as much to Johnson. "I told him, 'We should try to create the film adaptation of the process and your relationship to the men, of the experiences and interactions that help define black, gay life in the South,'" Jackson says. "We filed it away for a couple years, but it kept coming up." 
Recently, the culmination of those early conversations and many more premiered as a 90-minute, full-length feature documentary, "Making Sweet Tea." The film, co-produced by Jackson and Penn doctoral student Nora Gross, describes life through the eyes of seven African American gay men, including Johnson, who have spent their lives in the South. It's the first such feature-length project completed in association with Penn's Collective for Advancing Multimodal Research Arts (CAMRA) and included a score from Penn Music professor Guthrie Ramsey and singer-songwriter Vince Anthony. It also involved at least three undergrads and seven graduate students from Annenberg, the Graduate School of Education, and the School of Arts and Sciences. 
Gross has been part of the project for nearly six years. "Sometime in May or June, right after my first year as a Ph.D. student, John sent an email to the CAMRA listserv saying the film was getting underway," she says. "I jumped at the chance to get involved." 
Since then, she, Jackson, and Johnson have been shaping what a documentary based on several iterations of a play based on a book would actually look like. Was it about these characters' experiences? About capturing and documenting the theatrical production process? Or does it distill the ethnographic research path of an academic like Johnson, who is a Northwestern University professor? 
Even in its final product, the film does a little bit of each, Gross says. "In certain phases of production, it's been about more one than another," she says. "The challenge is how can you ensure it doesn't feel too academic or go too far in the direction of any one character that you lose the strand about the research and artistic process?" 
The film succeeds by following Johnson, as narrator, interacting with each person (and with his mother). There's Harold, who had been with his partner, a white man also named Harold, for nearly 50 years before he passed away in 2017, and Duncan, a Unitarian minister in Atlanta who has spent much of his life as an AIDS/HIV activist. "Making Sweet Tea" closes with Charles, a hairdresser from Hickory, North Carolina—where Johnson also grew up—and who had previously performed in drag as a woman named Chastity.  
When Charles saw Johnson perform his story for the first time, he started crying. Gross vividly recalls shooting that particular scene. 
"Patrick performed the monologue—Charles' own words from their original interview a decade earlier—in the same cabaret space where Charles used to perform in drag himself. I don't think we anticipated that Charles was going to have such a strong reaction," she says. "But during that 10-year period, so much happened in his life and he'd gone through so many transformations, including finally feeling comfortable in his own skin. That moment is a reminder of how versatile we each are, how much we evolve, and that each of us is not just one thing. That's a moment when people are often moved to tears, and I always am, every time I watch it." 
For Jackson, the film represents another step toward infusing into the Annenberg curriculum a strong link between production and theory, between teaching students to think deeply about media made by someone else and having students produce those media themselves. For "Making Sweet Tea," Penn students helped transcribe and log 70 hours of raw footage, assisted in winnowing down the best of that footage, and helped with initial edits. 
"We're trying to get students working as scholars, as intellectuals in nonconventional ways," says Jackson. "The students often feel like so much of what they get is theoretical and analytical, but they often pine for more skills, more tangible calling cards. Part of our goal is to short-circuit any too-easy distinctions between thinking and doing to create academics who produce the kinds of multimodal research that can redefine what scholarship looks like in the 21st century." 
To that end, Jackson is spearheading another feature-length documentary, about the origin of HBO in the 1970s, that incorporates Annenberg and other Penn students in a similar fashion. He's aiming to have a rough cut complete by December. As for "Making Sweet Tea," after its premiere in Chicago on Sept. 23—where it won the festival's second annual Silver Image award—and a showing in Atlanta, the production team hopes it will get accepted into several film festivals during the next year. 
Ultimately, they want as many eyes as possible on the picture. "Some of these are stories that we won't get to hear again," Gross says, referring to the fact that several people passed away during the decade of the film's production. "The stories humanize this group of people that we don't get to hear from very often. The film offers counterexamples to traditional stereotypes, and a fuller palate of experiences, not only the challenges and struggles but also really beautiful love stories and personal triumphs." 
John L. Jackson Jr. is the Walter H. Annenberg Dean of the Annenberg School for Communication and the Richard Perry University Professor at the University of Pennsylvania. He is a Penn Integrates Knowledge Professor and was previously dean of the School of Social Policy & Practice and special advisor to the provost on diversity at Penn.
Nora Gross is a sixth-year doctoral student in the Sociology Department in the School of Arts and Sciences and part of the Education, Culture, and Society program in the Graduate School of Education at the University of Pennsylvania.