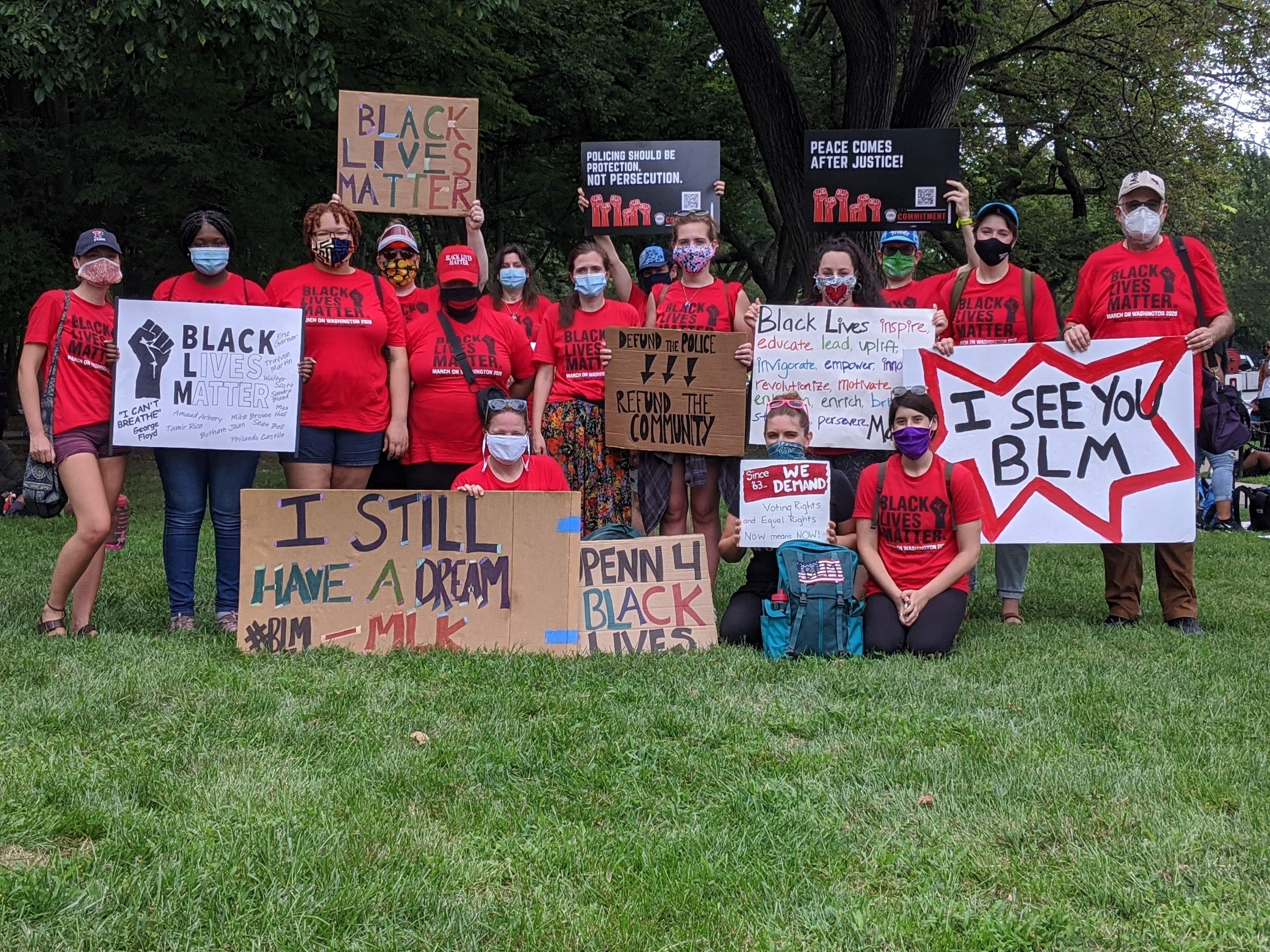 A score of people from the School of Social Policy & Practice (SP2) attended the recent March on Washington in Washington, D.C.
Co-convened by civil rights activists Al Sharpton and Martin Luther King III after the killing of George Floyd, the demonstration, dubbed the Commitment March, was held on the 57th anniversary of the historic 1963 March on Washington for Jobs and Freedom, where Martin Luther King, Jr. delivered his famed "I Have a Dream" speech.
Johanna K.P. Greeson, an associate professor at SP2 and managing faculty director of the Field Center for Children's Policy, Practice & Research, organized and led the SP2 delegation, which was composed of students, faculty, and staff.
Greeson says she felt it was important for the SP2 community to be present at the march, even during the pandemic, in order to cultivate a sense of community at the school and take a public stance against racism and police violence.
"Given that we're the social change school on campus and we advocate for social justice, it just was a no-brainer to me that this was an event that SP2 needed to be at, showing up as advocates, and using our voices for change and to influence policy," she says. "I think all schools of social work should have been there, to be honest, and I'm glad to have made SP2's presence possible."
The group arrived in the nation's capital around 11 a.m. Before their departure, participants had to agree to socially distance, wear a mask, and quarantine themselves upon return. 
D.C.-native Chelsea Thaler, a first-year student in SP2's Nonprofit Leadership Program, was among the attendees and assisted the group with logistics and navigating the District. She had been protesting all summer, following Floyd's death, and says she thought it was important to join the march to show a recommitment to King's legacy, especially around nonviolence and during a pandemic.
"I definitely wanted to feel like I was showing up for my values and feel like I was showing up for my community," she says.
Flocking in front of the Lincoln Memorial, speakers included the family of Jacob Blake, who in August was shot in the back seven times and partially paralyzed by a police officer in Kenosha, Wisconsin; the family of Floyd, who was suffocated and killed by Minneapolis police officers in May; and the family of Breonna Taylor, who was shot and killed by Louisville police officers in March while in her home.
 Thaler says the words of Floyd's sister, Bridgett, and brother, Philonise, were particularly moving. Bridgett spoke of the power of the assembled coming together to fight against injustice; Philonise expressed gratitude to the crowd for showing up for his brother and the movement his death created, but was saddened that George was not there to see it or take part. 
"The sadness and the grief in George Floyd's brother's voice was apparent and will stick with me for a long time," Thaler says.
Wamweni Joanna Shamambo, a master's student in the Nonprofit Leadership Program and a march participant, says hearing from the family members hit home and was a reminder that racism and police violence is not a political matter, but a matter of "human beings having their loved ones taken away for no good reason."
Originally from Zambia in East Africa, Shamambo previously partook in Black Lives Matter marches in New York and New Jersey in June. She says participating in the March on Washington and being socially active in general is important to her as a Black woman, and is part and parcel of being a responsible citizen.
"One day, that could be my dad, it could be my cousin, it could be someone I know and is dear to me," she says, about victims of police violence. "I may not be the victim in the moment, but [being socially active] is me empathizing with other people and understanding that what's happening is not fair. I feel like if I can speak up, if I can march, if I can just try to talk to people to help them understand and empathize with the cause, then hopefully we can actually see change happen much faster than it's been happening in the past century."
After listening to the speakers, the SP2 group marched to the nearby Martin Luther King, Jr. Memorial, before returning to Philadelphia.
Greeson says everyone at the protest took their social-distancing and mask-wearing responsibilities seriously.
"I didn't see one person throughout the day not wearing a mask, which was awesome," she says.
Thaler says many of the people in the SP2 contingent had not met each other before, due to classes being online, and when they were first introduced in person, there was no handshaking or hugging.
"Not only were we distanced from other people while we were protesting, but we were also pretty much distanced six feet apart from people we were actually protesting with in our group," she says.
A filmmaker, Thaler captured the day on her iPhone and is in the process of making a documentary-style video of the demonstration as a living document to the recommitment of King's legacy.