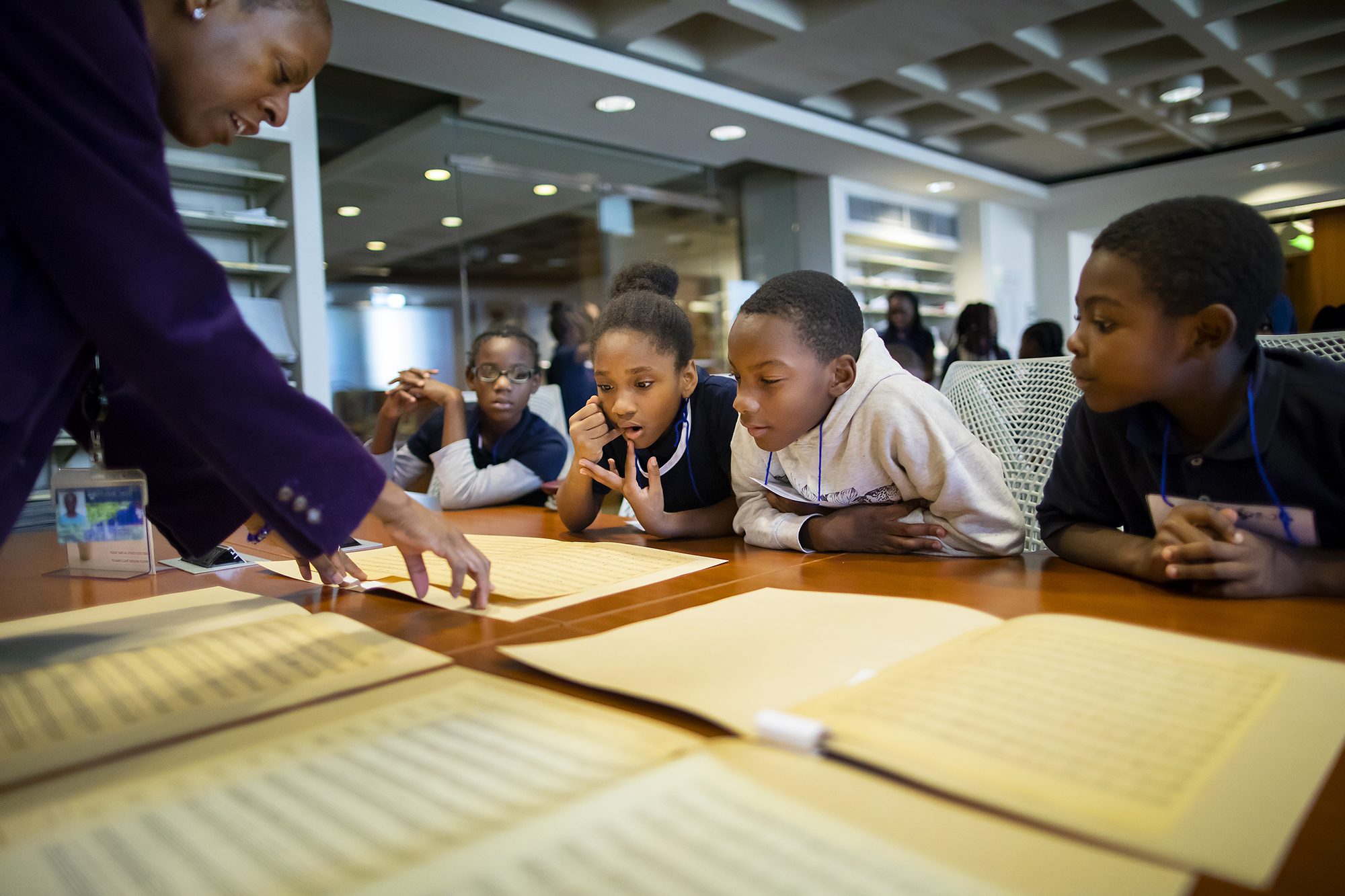 Few people realize that the exalted contralto Marian Anderson, known for defiantly singing at the Lincoln Memorial nearly 80 years ago, recorded an album of songs and stories about her black cat, Snoopy. 
Now, 50 students in the fourth and sixth grades at Philadelphia's Edwin M. Stanton elementary school know all about that 1963 album, "Snoopycat," after a visit to campus and the Penn Libraries on Oct. 25. 
"There is a little black kitten with very green eyes and such a curious nose," Anderson sings in one of the 12 songs. 
Gathered in the Libraries' Marian Anderson Study Center in the Otto E. Albrecht Music Library, the students listened to the album and saw four versions of the sheet music, with notes written by Anderson in pencil. 
The Penn Libraries holds most of Anderson's personal collection, thousands of items, including photographs, sheet music, sound recordings, diaries, notebooks, correspondence, interview transcriptions, and recital and performance programs. A permanent exhibit of selected items is on display just outside the music library.
April James, reader-services librarian in the Kislak Center for Special Collections, Rare Books and Manuscripts, explained the scores, spread out on a table for the students to see up close. 
"Do you see anything that has been crossed out and written above?" James asked, and one of the students pointed to the page. "Yes, there you go, right here. The line is, 'She is always snooping about,' and Marian Anderson has crossed out 'snooping' and written above it 'sniffing.' 
"So at some point she and the composer were thinking maybe the word should be 'sniffing,'" she continues. "But in the final version of the song the cat is 'snooping about.'" 
Of the more than 4,600 pieces of sheet music in Anderson's collection, James says, about 1,000 are by women, including the "Snoopycat" songs, written by composer Frida Sarsen Bucky after she visited Anderson's Connecticut farm. 
"How many of you play an instrument or sing?" asked David McKnight, director of the Kislak Rare Book and Manuscript Library.
Nearly every hand shot up, with answers of drums, violin, trumpet, piano, recorder, and other instruments. But when he asked how many had been on Penn's campus before, only a couple of hands were raised.
"I think getting to see a college campus is amazing. I think it's great for them to see something they could have and be a part of," said Anne Olvera, a sixth-grade teacher. "Talking about Marian Anderson, somebody from where they grew up, and thinking about being famous and being part of a college from where you are, it is inspiring." 
The Stanton school was built on the spot where Anderson's school building used to stand. The school is near Center City, about three miles from Penn's campus, at the intersection of 17th and Christian streets, near Marian Anderson Park and the city's Marian Anderson Recreation Center. 
"I want them to know as much as they can about her," says Helene Furlong, music teacher, who each year includes Anderson in her sixth-grade curriculum. "This is a great program so they can actually hear her speak."
The children also viewed two films, with an introduction by Liza Vick, head of the music library: "Marian Anderson, a Life in Song," with excerpts of performances, recordings, interviews, and home movies, and "The Marian Anderson Story," about her life. 
Brandon Rodriguez, a student in Joan Williams' fourth-grade class, said he learned a lot about Anderson during the visit. "She performed on the stage for the Lincoln Memorial. It was outstanding. Because her voice was beautiful," he says. 
The effort to connect Philadelphia elementary school students with the Marian Anderson collection at the Libraries was the brainchild of Jamuna Samuel, a Penn lecturer in music in the School of Arts and Sciences.  
The idea came to her when she read the book "When Marian Sang" with her daughter. "I started to imagine bringing kids to campus," Samuel says. "There's something about voice, Marian Anderson's voice, yes, but about being heard, and about a voice belonging to a people, that is powerful for this age group." 
Stanton student teacher Alicia Halpin Ortiz is a master's student in the one-year Urban Teaching Apprenticeship program at Penn's Graduate School of Education. "It was really cool for me to say that's where I go to school. I think it's interesting for them to think about one of their teachers being a student too," she says. 
Many of the students commented on how large the campus and the library seem. "I love the library. There are so many books," says Sydney Smith, who is in the 6th grade. "This place is so huge." 
The school visit idea by Samuel then expanded into an all-day symposium,  "Sound, Gender, and the Color Line" on Oct. 26. Penn professors Guthrie Ramsey and Timothy Rommen in music and Africana Studies, as well as Glenda Goodman, assistant professor of music, were on the academic panels, along with professors from several other universities across the country. 
A pop-up exhibition of items from Anderson's collection was in the historic Lea Library on the sixth floor of the Van Pelt-Dietrich Library Center during the Friday symposium. The day concluded with a solo performance of Anderson-inspired songs by Philadelphia soprano Karen Slack. 
"It's part celebration, and part inquiry," McKnight says, noting that Anderson died 25 years ago, in 1993, at the age of 96.
Born in Philadelphia in 1897, Anderson was one of the most celebrated singers of the 20th century, with an international performance career that spanned nearly 50 years. In April 1939, she gave an open-air performance at the Lincoln Memorial to more than 75,000 people after the Daughters of the American Revolution refused to let her sing in Constitution Hall because she was black. 
In January, the Libraries received a grant to digitize about 2,500 items in the Anderson archive, including her programs and non-commercial recordings. The Libraries previously digitized thousands of her photographs.
"We want to engage the community, and foster interaction and awareness," says McKnight. "Connecting Marian Anderson with the community is key here. It's making the archive real and alive."