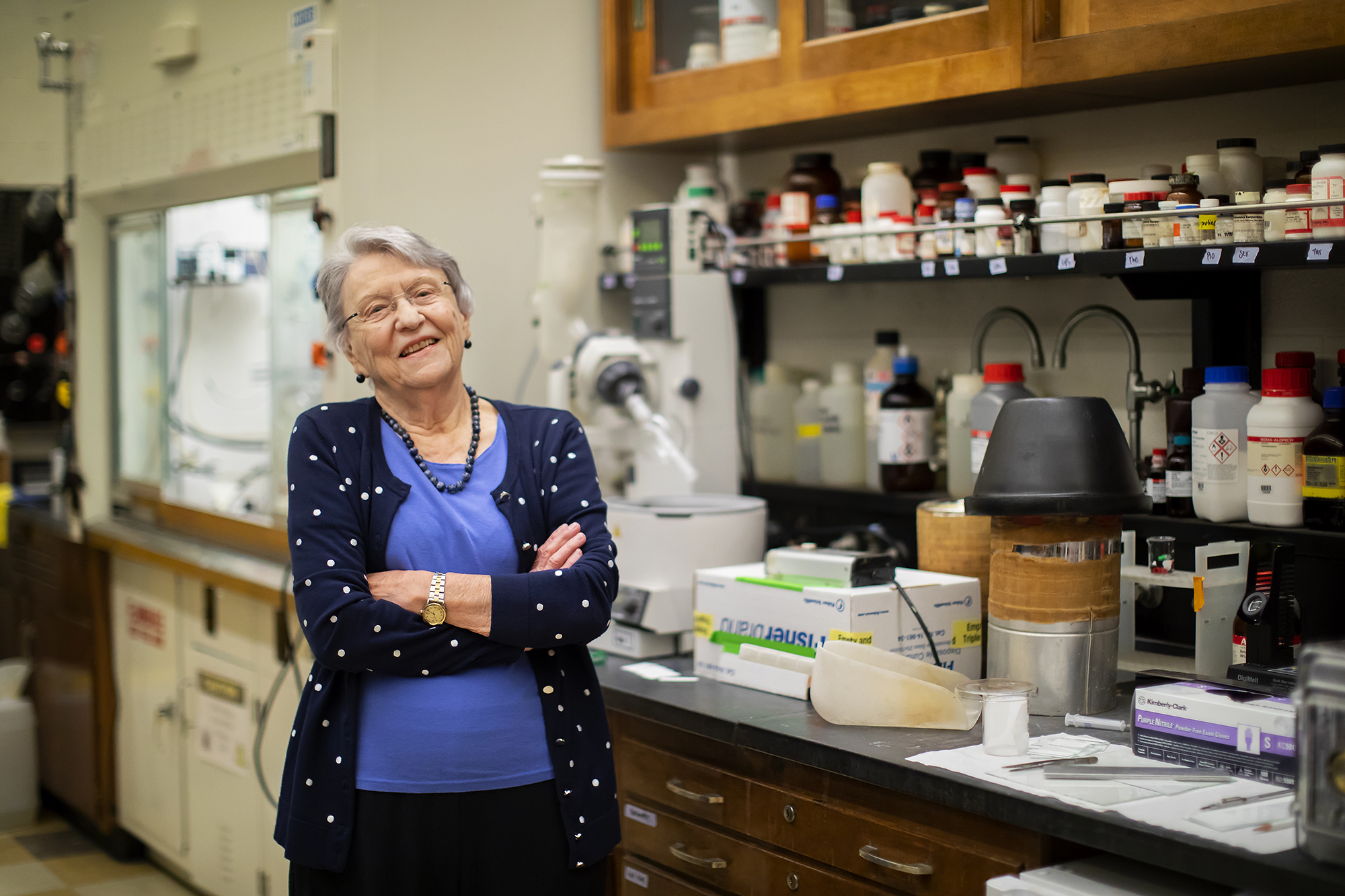 When Madeleine Joullie came to Penn as a graduate student in the summer of 1949, it was an entirely different world for women in chemistry. She remembers having to cross the street to use the restroom because there were no women's restrooms in the chemistry building at the time. She had trouble finding students who wanted to join her research groups because she was a woman.
"My experience as a woman in chemistry, even by those days' standards, was horrible," she says. "Nobody paid attention to me, it was like I didn't exist. I didn't mind it so much because I wasn't paying attention to other people. I could do my work and that's all I cared about. But it was tough. It was all about men, and women were clearly at the bottom of the list."
But Joullie persevered, becoming the first woman to join Penn's chemistry faculty and the first female organic chemist to be appointed to a tenure track position in an American university. In the '60s, Joullie became Penn's first affirmative action officer, which she says is probably the most important thing she did at Penn.
"My job was to tell the chair of all the departments that they had new rules about hiring people, and they had to pay attention to biases about gender and race," she says. "As you can imagine, it wasn't very popular at the time. I was probably the most unpopular person on campus for about seven years. But it ended up working so well that I was eventually asked to chair a committee on equal opportunity for the whole University."
Joullie, now 91 years old, says that the experiences of women going into STEM fields, in particular chemistry, has changed a lot over the years. The number of women in branches of chemistry such as biochemistry, inorganic, and physical chemistry has improved immensely. But organic chemistry, she says, still remains somewhat a male-dominated field.
"I think the reason for that," she says, "is that organic chemistry is an old science, so it's still attached to the old boys' club. Other fields have a different culture. You always have a ways to go, but things are still changing. I see women being more included in a lot of things where in my day, we wouldn't even dream of having women. Progress is slow, but it works."
Joullie is a synthetic organic chemist who has dabbled with mechanistic chemistry, medicinal chemistry, and even, (by accident, she adds) forensic chemistry. Something she has recently been working on with her group is finding ways to isolate compounds in plants that are believed to have certain curative properties. Recently, her group published a paper in which they devised a novel synthetic route for generating a compound believed to be in the extract of red root, an American Revolutionary War and American Civil War era remedy also known as the "New Jersey tea plant" that was used to treat high blood pressure and lymph system problems.
Although she says picking her favorite research is like picking a favorite child, she says one of the more interesting projects she worked on was the investigation of "sea squirts" or tunicates, which produce metabolites that kill fish to protect their larvae. It was discovered that the compounds they produce are potent immunosuppressants that also impact cancer. Joullie's goal was to find the mechanism through which these compounds work, and synthesize several of the metabolites.
Joullie says she went into organic chemistry because she loves working with chemicals: mixing them together and seeing what comes out of it. She adds that she probably likes it "a little too much for my own good." She remembers doing many experiments with benzene, a chemical that has since been found to be extremely poisonous.
"I was exposed to it for over 25 years, it's a wonder I'm alive today," she says. "I know many people who died from benzene poisoning. Sometimes I feel like I must be a bad weed that thrives on poison."
Joullie says that her favorite part about working at Penn is the students. When Joullie set out to become a chemist, she had no interest in teaching, but a mentor had suggested to her that she would learn more from teaching than taking a course. Now, Joullie says she can't imagine doing anything else.
"I've been at Penn for more than 65 years, according to the records," she says. "It's a long time, but it doesn't seem so long to me. It seems like it was yesterday. I've seen a lot of changes, some good and some bad, but I'm still in love with the place."
Jisun Lee, who studied under Joullie as a graduate student and postdoctoral fellow before eventually joining the Penn staff as a full time lecturer, says she loves the freedom Joullie gives students to pursue things that interest them.
"The thing that she always tells us is that she doesn't consider her students to be a set of hands," Lee says. "She really cares about individual development and wants to know about her students as people. Every morning I go talk to her and we have a little chat about the weather or how we're feeling. She has the ability to create that kind of friendly atmosphere that brings out the best in most people. You really don't get that kind of mentoring at a large university. She's very special in that way."
Lee adds that she enjoys how Joullie allows her to emphasize the educational value behind the research.
"Oftentimes when you're on a research project," Lee says, "you just have the end goal in mind and that's all you care about: As long as you synthesize that final compound that's all that matters. But she's always taught all of us that even if reactions don't work, even if the product doesn't go the way you thought it would, it doesn't matter because you're learning. She teaches us to be able to accept failure and see everything as an educational experience."
Joullie recognizes that there is still discrimination against women today, but she says the most important thing is for women not to let it hold them back.
"When you feel discriminated against," she says, "you should of course speak up and fight, but the thing you shouldn't do is let yourself feel hurt, because then you're playing the game of the people who are trying to put you down. Why should you help other people make you feel bad? I think what saved me is that I didn't care what other people thought. I always managed to ignore it and I think that's probably the reason that I survived. It doesn't matter what other people think, unless it is constructive criticism."