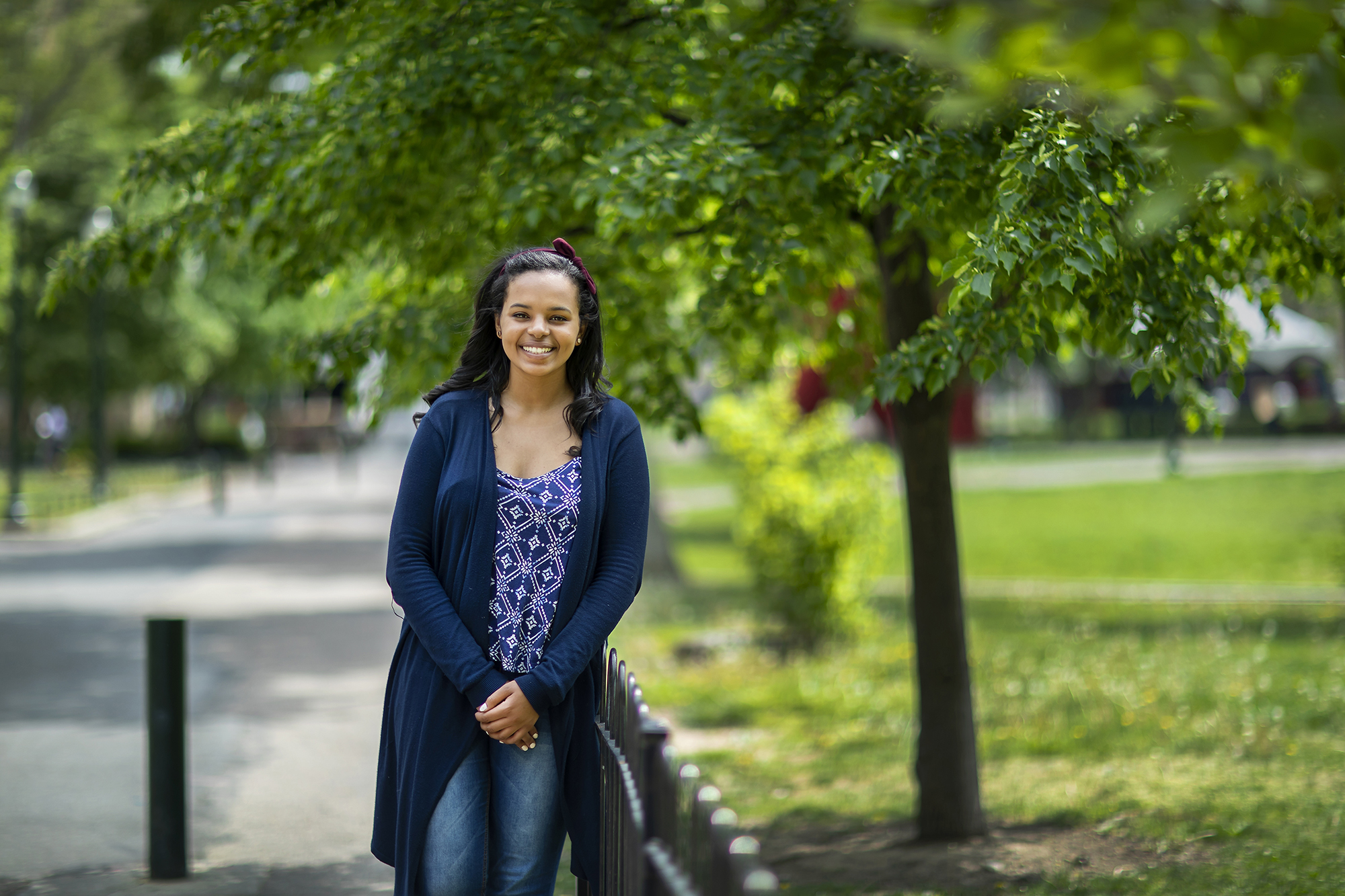 In third grade, Helen Fetaw told her parents that she'd go to medical school and become a doctor. "They were thrilled," says calm and confident Fetaw. "And they've supported this dream since."
Fetaw, who graduated this week from Penn's College of Arts and Sciences, says she wants to tackle health problems with not only a knowledge of medicine, but also a nuanced understanding of social justice and health policy. She wants to advocate for patients who may not know how to fight for themselves in the healthcare system, whether in underserved areas of the United States or globally. 
This interest stems from Fetaw's studies and research at Penn, but also from her admiration for her parents. They emigrated from Eritrea to Italy, where Fetaw was born, before immigrating to the United States and settling in Milwaukee, Wisc., when she was 3 years old.
Fetaw says her parents instilled an eagerness for education in her and her two sisters, leading by example. "Education and hard work were a part of my life from an early age, so I owe a lot to them," she says. "My dad works as a psychiatric nurse, and my mom studied her nursing textbooks each night at the kitchen table, even while raising three daughters, which I find really inspiring." 
Fetaw entered Penn at 16, a bit younger than her peers. Early in her first semester, Krimo Bokreta, dean of Kings Court English College House, asked freshman Fetaw to organize an interdisciplinary lecture series. She invited several professors to speak to her peers at the freshman hall over lunch. This program led to Fetaw's enrollment in classes taught by Penn Integrates Knowledge Professors Ezekiel Emmanuel, Adrian Raine, and Dorothy Roberts, who inspired Fetaw to focus on the intersections of health, justice, and medicine and to pursue programs that care for underserved and underrepresented patients.
By the time last summer came around, Fetaw wanted to back up her interests with research experience in the Summer Undergraduate Minority Research program. Working with pediatrician Stephanie Doupnik, a core faculty member at The Children's Hospital of Philadelphia, and an instructor of pediatrics at Penn's Perelman School of Medicine, who seeks ways to increase positive health outcomes for adolescents and children who have both a mental and a physical medical condition, Fetaw's research examined how parental education, socioeconomic status, and housing status influenced hospital readmittance rates. She focused on the association between asthma, anxiety, and depression. Fetaw analyzed a group of patients aged 7 to 17 who had been initially diagnosed with asthma exacerbation. She used a Patient Reported Outcome Measure Information System, which asks the patient to respond to prompts about mental health, asthma, and at-home care. Early results indicate that the majority of these patients came from low-income, single-parent households, and that negative social components worsened both physical and mental conditions, leading to increased hospital readmittance rates.  
Later that same summer, Fetaw also worked with Jaya Aysola, an assistant professor at Penn Medicine, to further understand how patients' social circles influence cancer prevention behaviors. Fetaw tested associations between social relationships and individual behaviors, attitudes, and knowledge related to cancer prevention. 
"I developed a dataset to evaluate lifestyle behaviors and characteristics of social networks that influence individual-level cancer prevention," she says. A lack of cancer-preventing behaviors, she found, often coincided with inadequate social support, a lack of material resources, and psychosocial characteristics such as depression or social anxiety.
Fetaw says this research has taught her to seek innovative solutions to complex health and justice issues. Simply addressing these patients' symptoms won't cut it. 
She says a conversation with Roberts, the George A Weiss University professor of law and sociology, taught her a valuable lesson. "Sometimes when we present this type of research," Fetaw says, "we almost create a sense of pity or blame for vulnerable populations, which is harmful because instead of addressing the existing structural inequities, we're focusing on what is currently wrong with these populations in terms of health."
These research experiences have stoked Fetaw's interest in health policy, an area that would allow her to address these structural inequities. "I definitely see myself working in health policy at some point," she says.
Following medical school, however, the newly minted grad says she'd like to work for Doctors Without Borders, which delivers emergency medical aid to people across the globe where and when they need it the most. She'd especially like to spend time in villages in Eritrea—her parents' homeland—where people have suffered from decades of violent border disputes. 
She visited Eritrea with her family when she was 10 years old. "It's a beautiful country, she says, "and I loved spending time with my family and learning more about my parents' childhood. But it was clear to me at a young age that there were a lot of unaddressed needs."
This past week, Fetaw reflected on her time at Penn. Upon arriving on campus, she initially felt nervous and homesick. "But just after the semester started, my whole freshmen hall, Kings Court English House, helped me celebrate my 17th birthday."
This made Fetaw feel right at home. "The inclusive atmosphere definitely helped," she says. Fetaw spent her upperclassmen years as a Residential Advisor for the College House system, advising first-year students and creating the same welcoming environment that she received as a freshman. She also served on the board of the Minority Association of Pre-Health Students, and served on the planning team board of the inaugural Black Ivy League Business Conference for the Black Wharton Undergraduate Association. 
When asked about her most memorable experiences at Penn, Fetaw laughs and says, "Oh, besides the long nights in the library?" She notes that she enjoyed Philadelphia's diversity as well. New friends introduced her to new things, from dim sum and bubble tea to ideas about foreign affairs and immigration reform. She has fond memories of getting lost and exploring Philadelphia when the streets were unexpectedly closed due to the Pope's visit in September 2015, and enjoyed long-weekend trips to the Poconos with friends. 
"I had some great professors during my time here, too." she says. "I'm extremely grateful to have learned so much from them—each made a big impact on me and my future career."
Now, armed with a degree in health and societies and a minor in health services management, Fetaw says it's time to begin applying to medical schools—the next step toward her ultimate goals. But first she'll return home to Milwaukee for the summer, where she hopes to spend the summer working at the Medical College of Wisconsin in either an administrative or research position and spending time with her family.
Whether in Wisconsin, Philadelphia, or Eritrea, Fetaw seems poised to make her own impact in the world. And for now, quick-witted Fetaw jokes that she'll have to miss out on certain aspects of the graduation celebrations—after all, she's still only 20.