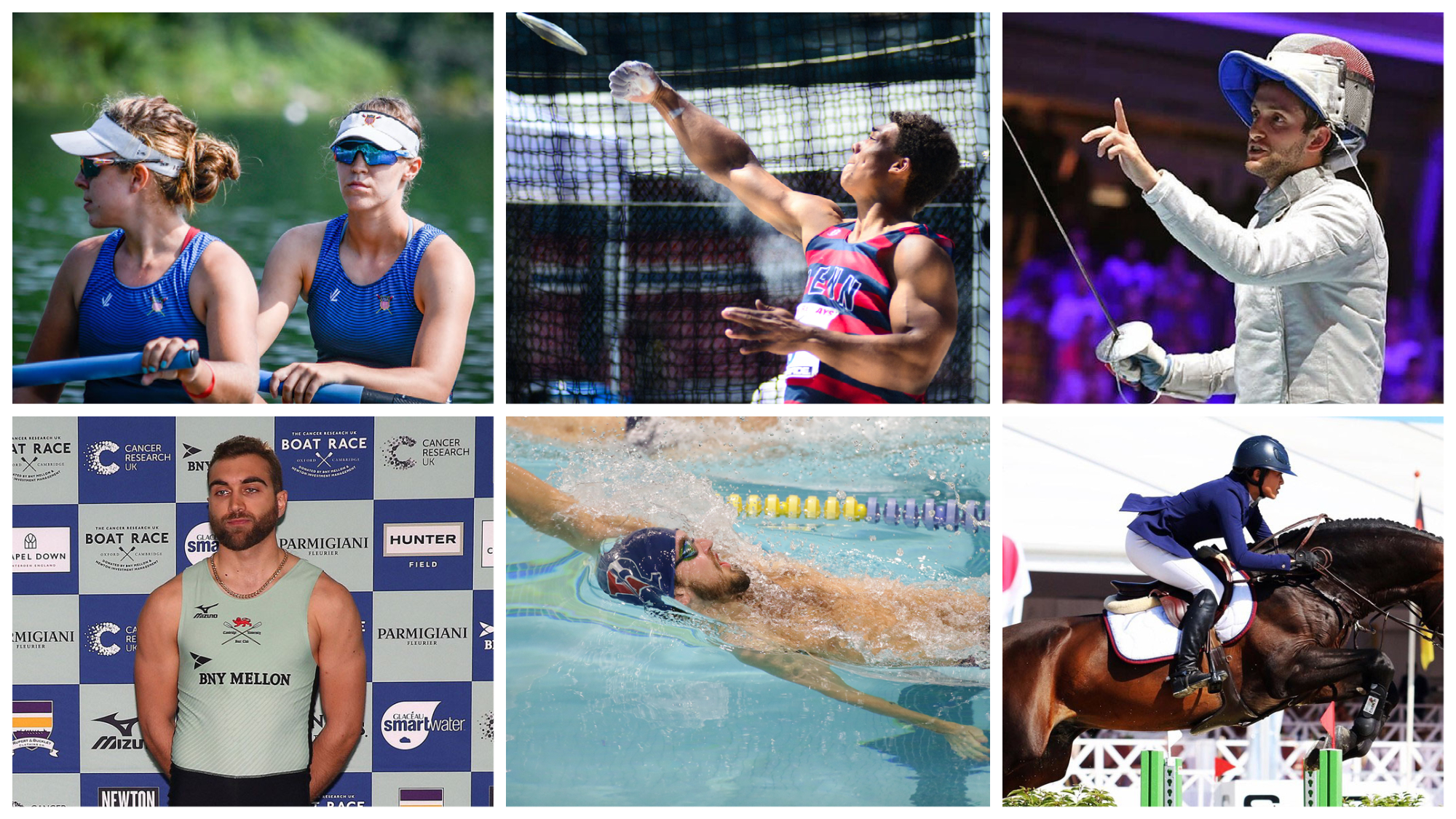 Let the games begin!
The Games of the XXXII Olympiad open on Friday in Tokyo, Japan, after a 365-day delay because of the coronavirus pandemic. More than 11,000 athletes from 200 countries or territories are participating, including six from Penn.
Regina Salmons, a 2018 alumna, is representing the United States in rowing in the women's eight. A native of Methuen, Massachusetts, and training out of Princeton, New Jersey, Salmons has been a part of four national teams and won three gold medals in international competition.
As part of the Red & Blue's women's rowing team, Salmons was a First-Team All-Ivy honoree, a Collegiate Rowing Coaches Association All-Conference selection, and a member of the Quaker varsity eight squad that placed third at the 2018 Ivy Championship.
Also representing the U.S. is 2016 graduate Sam Mattis of East Brunswick, New Jersey, who is competing in the discus in track & field. Mattis was the 2015 NCAA National Champion in the discus, the 2015 USTFCCCA Outdoor Male Field Scholar Athlete of the Year, a three-time Ivy Heps champion, and a three-time First-Team Outdoor All-Ivy selection. He holds the school record in the discus with a mark of 67.45 meters (221 feet, 3 inches).
2016 alumnus Shaul Gordon is representing Canada in fencing in the men's sabre. From Richmond, British Columbia, Gordon has represented Canada at two Pan American Games and six FIE World Championships. He was a three-time NCAA Championships qualifier for the Quakers, a First-Team All-American, and he helped the Red & Blue earn a No. 1 national ranking and win its first Ivy team title in seven years during his senior year.
Dara Alizadeh, who graduated in 2015, is representing Bermuda in rowing in the single sculls competition. He is scheduled to carry the Bermuda flag during the Opening Ceremonies.
While an undergrad, Alizadeh, who grew up in Boston, Massachusetts, was a member of the heavy rowing team's varsity eight boat. After graduating, he won a silver medal as a member of the American Men's Eight at the U23 World Rowing Championships. He also boasts a pair of Boat Race wins with Cambridge University in the United Kingdom, and he has extensive international experience as Bermuda's single sculler.
2011 alumna Jasmine Chen is representing Taiwan/Chinese Taipei in equestrian in the individual jumping division. She previously represented Taiwan/Chinese Taipei at the World Equestrian Games, the Asian Games, and the FEI World Cup Arab League.
During her Penn days, she would take classes from 9 a.m. to 2 p.m. and then take a three-hour roundtrip commute to the Philadelphia suburbs four times a week to ride with trainer Kevin Babington.
Rising senior Keanan Dols of the swimming and diving team, the only Penn undergrad competing in the Tokyo Olympics, is representing Jamaica in swimming the 200 individual medley. Born in Jamaica, he moved to the United States when he was 3.
Dols, from Sarasota, Florida, is a two-time Ivy League Championships qualifier. He is the first Penn swimmer/diver to make the Olympics since current Penn diving coach Robert Cragg competed in the Montreal Olympics in 1976.
"We are so proud of our former and current athletes who will be representing their countries at the Olympic Games," says T. Gibbs Kane, Jr. W'69 Director of Athletics and Recreation Alanna Shanahan. "Our Olympic history is impressive, with more than 200 athletes having competed since 1900 with 74 earning medals. Regina, Sam, Shaul, Keanan, Dara, and Jasmine have reached the pinnacle of their respective sports and we will be rooting them on for gold from here at Penn."
Barring any unforeseen or foreseen circumstances, the Olympics will run through Aug. 8.