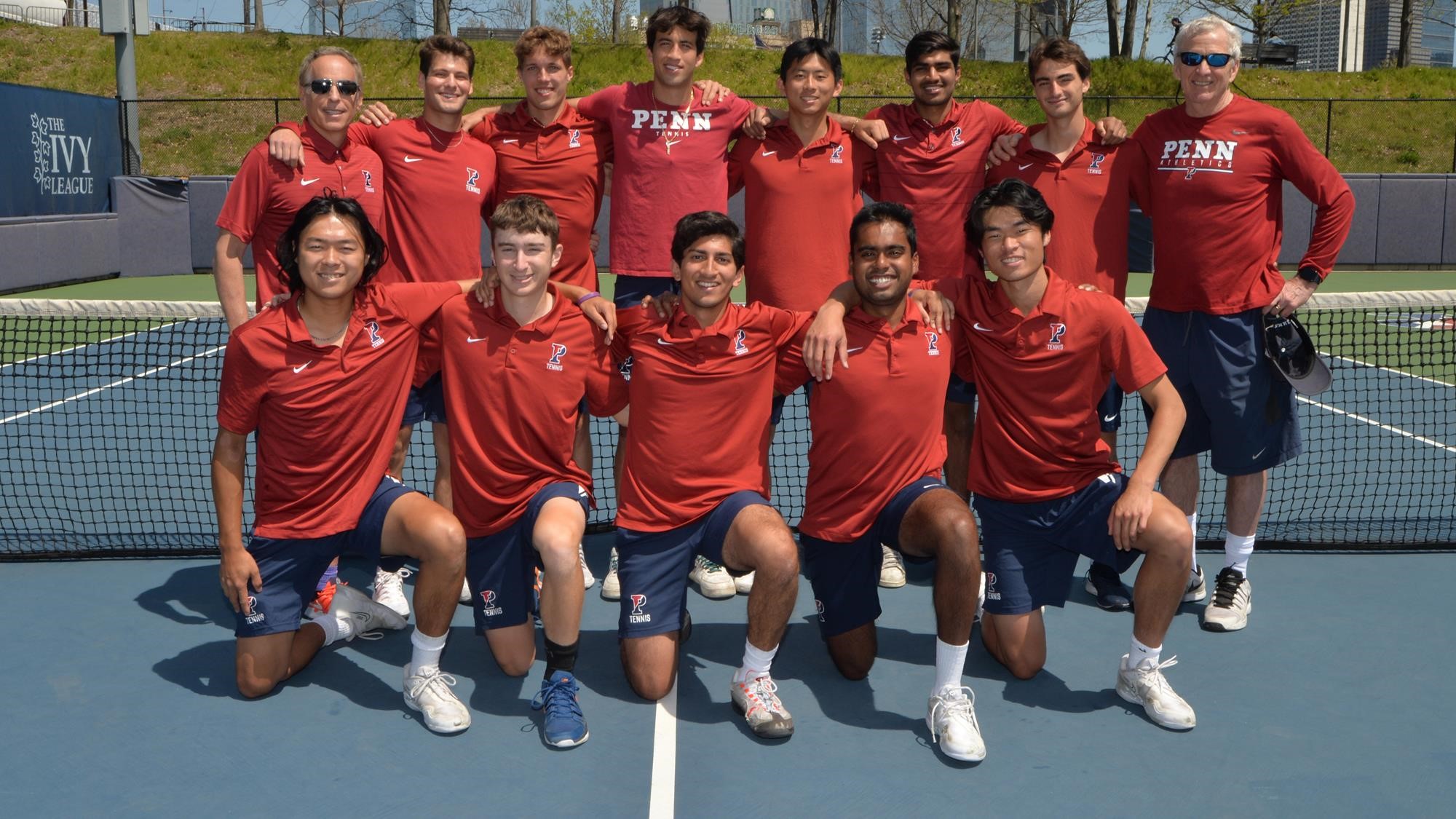 Following a regular season that saw them win a program-record 19 matches, the men's tennis team has advanced to the NCAA Division I Men's Tennis Championship tournament for the first time in school history.
The 36th-ranked Quakers, who finished the regular season with a 19-5 record—including a 6-1 conference mark and an unblemished 11-0 record at home—earned an at-large bid to the 64-team tournament. On Friday, May 6, at 1 p.m., the Red & Blue will battle No. 31-ranked Virginia Commonwealth University, the champions of the Atlantic 10. The winner will face either No. 7-ranked Virginia, the champions of the ACC, or Fairleigh Dickinson, champions of the Northeast Conference.
Penn's top three aces are juniors Edoardo Graziani, Aditya Gupta, and Harsh Parikh.
Playing in the No. 1 spot, Graziani, the 41st-ranked player in the country, had a 15-5 record during the regular season and a 5-1 mark in conference play. Notable wins included defeats of No. 22-ranked Alex Kotzen of Columbia on April 22 (6-3, 4-6, 6-4) and No. 44-ranked Alafia Ayeni of Cornell on April 24 (6-2, 6-4).
Gupta, playing in the No. 3 position, had a 13-3 regular season mark, including a 5-1 record in the Ivy League. On March 3, he defeated USC's Peter Makk, the 56th-ranked player in the country, 6-2, 4-6 (1-0).
Parikh, playing in the No. 4 and No. 5 spots, had a perfect 6-0 record in conference play and an 18-3 record overall. His 18 wins were tops on the team.
Thirty conferences received automatic invitations to the Division I Men's Tennis Championship. No. 14-ranked Harvard earned the Ivy League's automatic bid.
First- and second-round competition takes place May 6-7 and features four teams playing in a single-elimination format. The winner of each site advances to super-regional competition May 13 or 14.