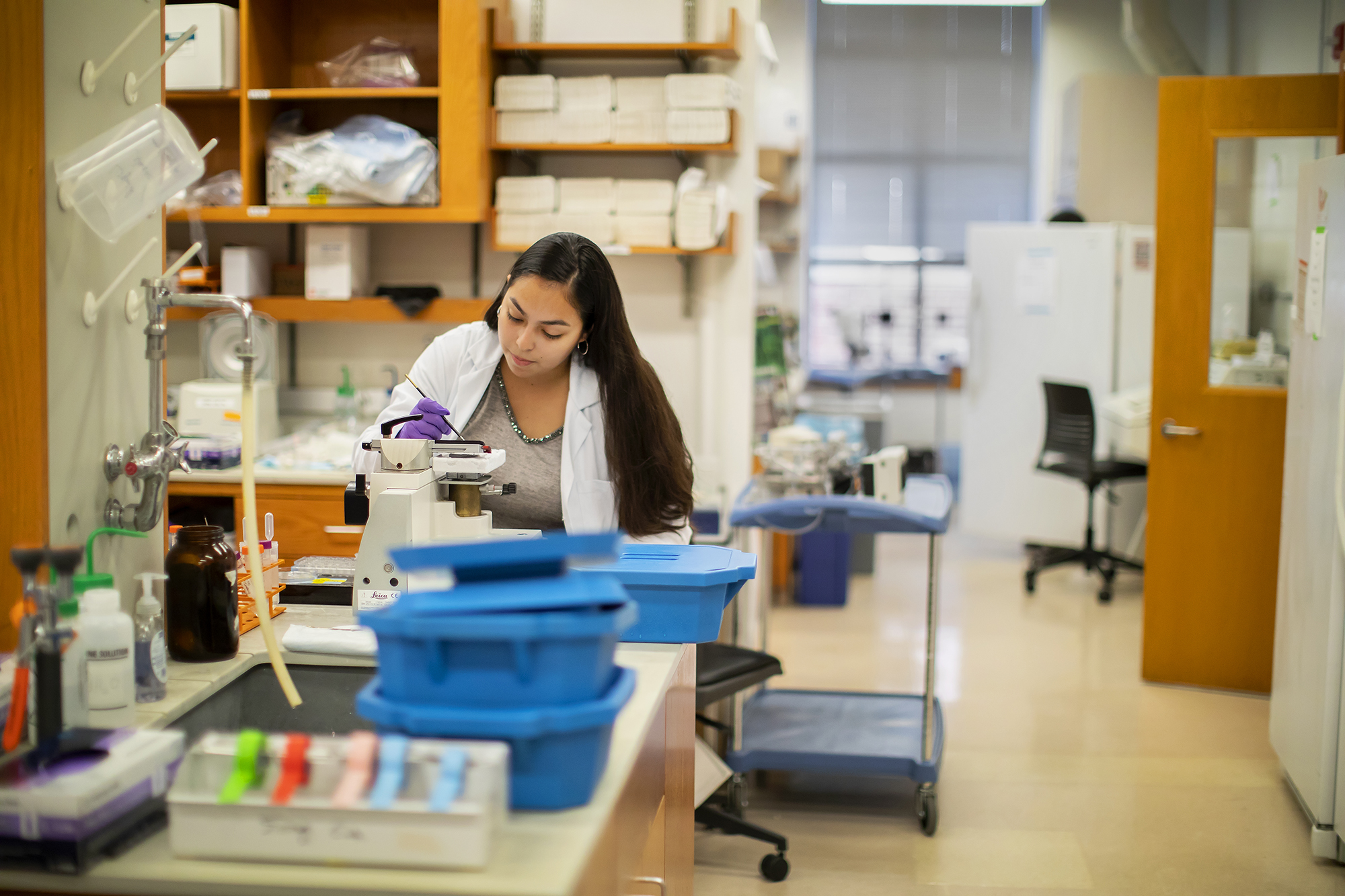 Now in its 25th year, Penn's Summer Undergraduate Internship Program (SUIP), a course for students interested in research-based graduate work in biomedicine and biological sciences, has grown increasingly popular since its inaugural cohort of 10 students. 
This year, the program attracted 1,300 applicants from colleges and universities across the county, and 41 undergraduates were admitted. Administered through the Office of Research and Diversity Training (ORDT), the 10-week residential program offers training in responsible conduct in research, laboratory safety, and presentation skills.
"The main objective is to increase access to a Ph.D. for students from all walks of life," says Arnaldo Diaz, SUIP's director. "To attain this, we show our scholars what a Ph.D. is all about, and design personalized experiences for them to develop necessary skills."
"We create a peer and mentor network during their time at Penn, by sharing experiences with fellow students and connecting scholars with distinguished faculty and speakers who offer advice based on their own careers," Diaz explains. "SUIP has been instrumental in helping students move on to advanced degrees in the biomedical sciences, and in diversifying our graduate student community here at Penn."
SUIP interns live in Harnwell College House, and are matched with faculty mentors from the Biomedical Graduate Studies program in the Perelman School of Medicine. The interns work on supervised projects related to ongoing research in their mentors' labs. 
Of the 41 SUIP interns this summer, one was from Penn: Andrea Gomez, a rising senior biological basis of behavior major in Penn's School of Arts and Sciences from Union, N.J. She was assigned Yijing Su and Kim Christian as her research mentors. 
Gomez combined molecular studies, conducted with Su, and behavioral studies, alongside Christian, to examine the effect of the gene Gadd45b on learning. Gomez studied whether increasing Gadd45b expression creates a critical window in which mice are primed to learn better.
"We talked about experimental design and the importance of identifying the proper controls and ruling out alternative explanations for the data," says Christian, whose lab at Penn conducts projects related to the Simons Foundation Autism Research Initiative. "We worked on identifying key concepts and presenting the science in a logical order."
For Gomez, the most important lesson was that the results might not be what one expects.
"That is how science works," Gomez explains. "Go with the data and figure out what it is actually trying to tell us because it may not be what we were expecting."
Another SUIP student, Víctor Vázquez Marrero, a senior molecular cell biology major at the University of Puerto Rico at Río Piedras, traveled 1,500 miles from Toa Alta, Puerto Rico. He worked in an immunology and microbiology lab, where he studied how immune cells detect and kill bacteria. 
He was paired with Sunny Shin from the Department of Microbiology, who helped him think critically, and develop his own ideas to answer scientific questions.
"We had frequent conversations about various topics related to research, aspirations, interests, and hobbies," Shin says. "We also discussed our shared experience of being first-generation college students, and also being the first in our families to pursue a Ph.D."
As an undergraduate, Shin had inspiring mentors and says mentoring others furthers the field of scientific inquiry.
"Being a mentor through SUIP is my way of paying it forward," says Shin. "I am highly committed to mentoring undergraduates who have an interest in pursuing a research-related career, and in promoting diversity in science."
SUIP armed Vázquez Marrero with new immunology lab techniques and bolstered his ability to identify, construct, and evaluate research questions, he says. He adds the biggest lesson was to always believe in himself.
Aside from the lab experience and mentorship, SUIP also provided its interns with "opportunities to practice being a scientist and to think like one," says Gomez.
One of those opportunities involved the cohort attending the inaugural Office of Research and Diversity Training Symposium on campus, where current biomedical Ph.D. students and post-baccalaureate and post-doctoral research fellows presented their work. Many of the presenters were SUIP alumni.
Other SUIP interns conducted oral presentations at the Leadership Alliance National Symposium in Hartford, Conn. The meeting was the first time Destiny Van, a rising senior and biochemistry major at Spelman College, spoke about her work. After LANS, she became more comfortable in discussing her research involving the biomarkers of sleep loss and sleep deprivation, and how they tie to metabolic levels. 
"Sleep loss can increase the risk of metabolic and cardiovascular disorders, and even fatalities," says Van, whose father was diagnosed with Type 2 diabetes, a disease that has passed from generation to generation in her family, and sparked her interest in science. "I can be a part of discovering medicine to save lives in my community."
Van says SUIP has empowered her to counter the underrepresentation of African-American women conducting science, technology, engineering, and math research. She adds that the program has helped her to develop independent thinking, resilience, and creativity.
The 41 interns were also able to present their work in a poster session during SUIP's 25th Annual Research Symposium on Aug. 9.
Gomez, who also identifies as a first-generation, low-income (FGLI) student, says she wants to "pay it forward," when she becomes a future scientist. 
"In SUIP, many of us are FGLI students," says Gomez, who plans to study neuroscience. "We all have similar struggles, but we found each other. We realized that no matter how 'left behind' we feel, we can still succeed."
Gomez says she appreciated SUIP's leadership-focused role models such as Diaz, along with Raquel Castellanos, the assistant director of the ORDT office, both of whom identify as FGLI and always had their doors open. 
"They are dedicated to helping minority and FGLI students get involved in research," says Gomez. "The SUIP cohort is lucky to have such generous and kind-hearted people."
Vázquez Marrero also benefited from the support of SUIP's leadership team. 
"They are part of what makes SUIP so amazing," says Marrero, who plans to earn a Ph.D. in immunology. "Every time I wanted advice, I was able to just go to them and talk. They promote a sense of community that stays with you forever."
Diaz says SUIP's growth over its 25-year history has contributed substantially to the diversity of science, but more needs to be done.
"The 25th anniversary was a celebration of our students' success, and how far we have come in achieving diversity and inclusion at Penn," says Diaz. The symposium which welcomed alumni from the program's two-and-a-half decades, "was a deeply inspiring day that energized us even more to continue advocating and working together to make institutional changes towards attaining diversity in STEM."