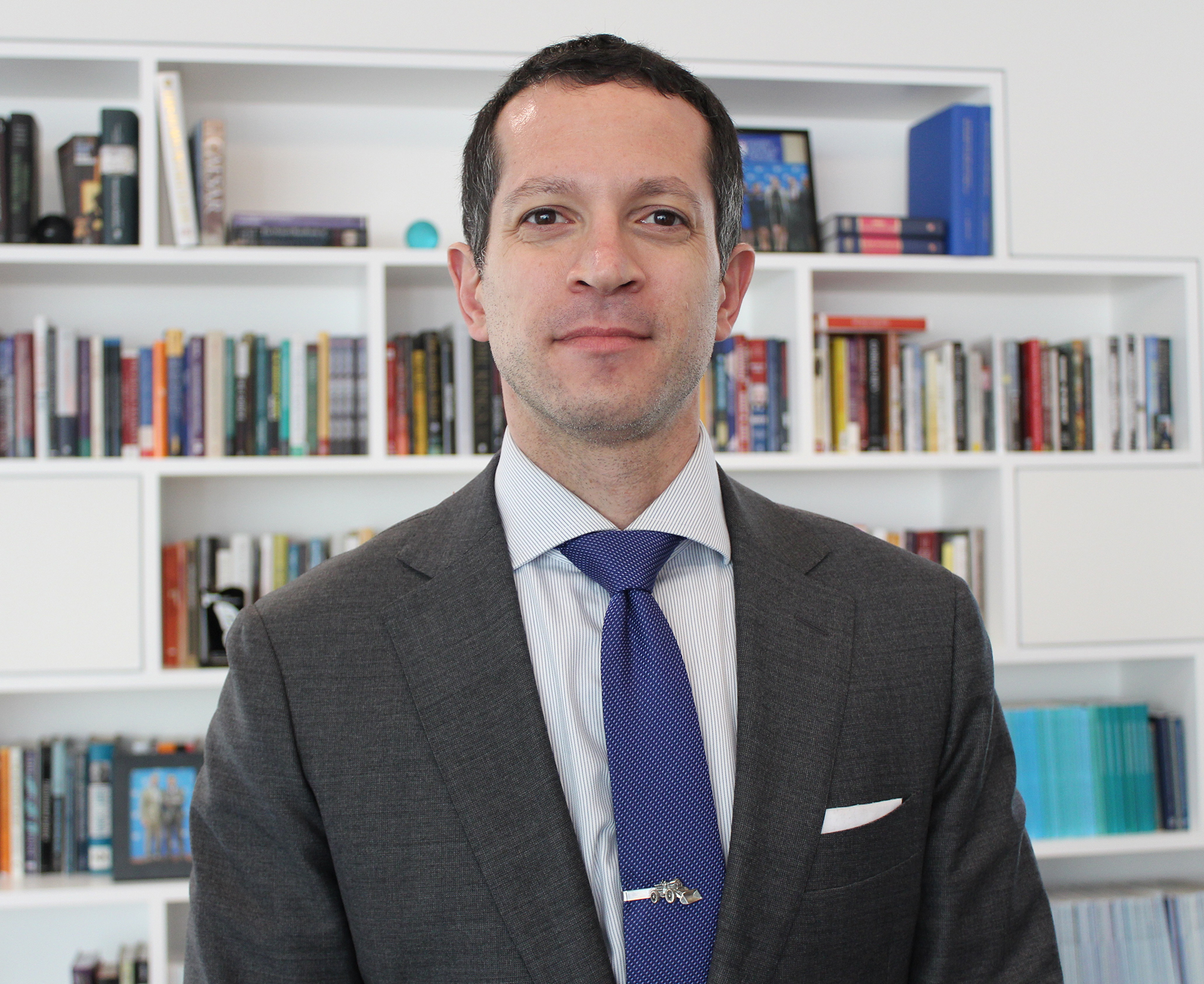 University of Pennsylvania President Amy Gutmann and Provost Wendell Pritchett today announced the appointment of Michael Horowitz as director of Perry World House and Richard Perry Professor. Horowitz is currently interim director of Perry World House (PWH) and professor of political science in the School of Arts and Sciences.
"Penn's Perry World House is a leading convener of preeminent thinkers and doers, all committed to great global policy," said Gutmann. "To lead Perry World House, we searched for an accomplished scholar in the study of global and international issues. We also sought someone with a distinct vision for global policy and a robust network of global academics and policy makers to help see that vision through to implementation. In Mike, we get both: an outstanding scholar and a seasoned visionary with a network of relationships among global policy makers."
Horowitz is an accomplished scholar of global politics and international relations. He authored "The Diffusion of Military Power: Causes and Consequences for International Politics" (Princeton University Press, 2010), a landmark study that received awards from, among others, the Mershon Center for International Security Studies, the International Security Studies Section of the International Studies Association, and the Society of Policy Scientists.
He has taught at Penn since 2007 and served as associate director of PWH from 2015 to his appointment as interim director in 2019. He is the recipient of the 2017 Karl Deutsch Award from the International Studies Association, presented annually to a scholar under age 40 who has made the most significant contribution to the study of international relations and peace research.
"Mike Horowitz is the ideal leader to chart the future of Perry World House," said Pritchett. "He has been central to its mission from the beginning, galvanizing dialogue and research to address the most critical global challenges. Now he will help us build on the outstanding work begun by Prof. William Burke-White, the founding director of PWH, in sustaining the essential place of global issues at the heart of our campus. I am confident that we will greatly benefit from his energetic and visionary leadership in the years ahead."
Horowitz has also published in a wide array of peer reviewed journals, as well as in popular media including The New York Times and Politico, and co-authored "Why Leaders Fight" (Cambridge University Press, 2015). He is a member of the Council on Foreign Relations, a consultant to the National Security Commission on Artificial Intelligence, and affiliated with the Foreign Policy Research Institute, the Center for Strategic and International Studies, and the Center for a New American Security. He earned a Ph.D. in government from Harvard University and a BA summa cum laude in political science from Emory University.
"Mike has made tremendous contributions to the work Perry World House has undertaken over the last three years," said Vice Provost for Global Initiatives Ezekiel Emanuel, "and made Perry World House a catalyst for Penn's global engagement. As director, Mike will be able to cement Perry World House's reputation as an international thought-center on issues of global governance, global migration, and other key challenges facing our world. With his demonstrated dedication to mentoring undergraduate and graduate students, the Penn community can look forward to an exciting era in the study of and engagement with global issues."
Perry World House was founded in 2015 as a center for scholarly inquiry, teaching, research, international exchange, policy engagement, and public outreach on pressing global issues. Its mission is to bring the academic knowledge of the University of Pennsylvania to bear on some of the world's most pressing global policy challenges and to foster international policy engagement within and beyond the Penn community. Located in the heart of campus at 38th Street and Locust Walk, it draws on the expertise of Penn's 12 schools and numerous globally-oriented research centers to educate the Penn community and prepare students to be well-informed global citizens. At the same time, Perry World House connects Penn with leading policy experts from around the world to develop and advance innovative policy ideas.
"I am enormously honored to lead Perry World House," said Horowitz. "Penn has a special commitment to blending theory and practice to address society's most challenging questions and dilemmas. Perry World House is central to that mission. I look forward to ensuring the continued growth of Perry World House and convening diverse groups of faculty, students, and policymakers as we bring the world to Penn and Penn to the world."