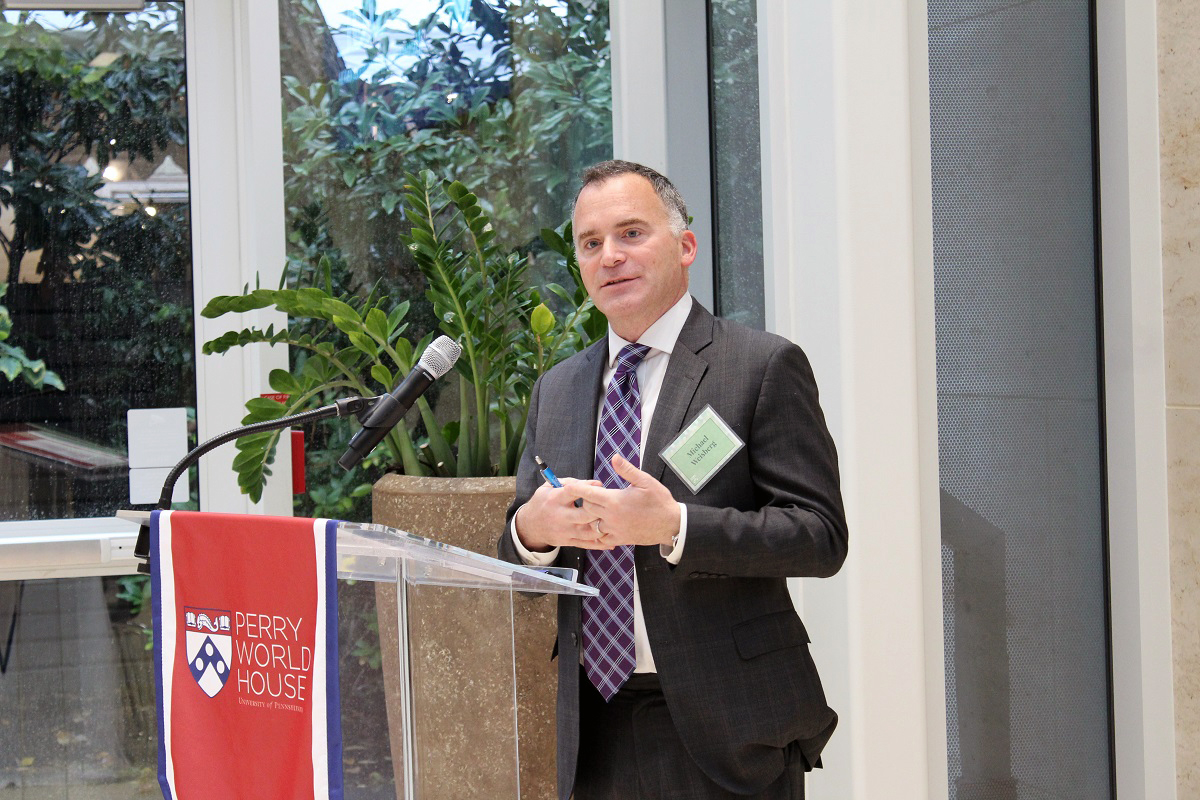 President Liz Magill and Provost John L. Jackson Jr. announce the appointment of Michael Weisberg as interim director of Perry World House, which began on Sept. 1, 2023.
Weisberg, the Bess W. Heyman President's Distinguished Professor and chair of Philosophy in the School of Arts and Sciences, has served as Senior Faculty Fellow, Global Climate Policy Lead, and director of Post-Graduate Programs at Perry World House since 2020. A renowned philosopher of science and senior negotiator at United Nations Climate Conferences, he is editor-in-chief of Biology and Philosophy, director of the Penn Laboratory for Understanding Science, and director of the Galápagos Education and Research Alliance. He is the author of "Simulation and Similarity: Using Models to Understand the World" (Oxford Studies in Philosophy of Science, Oxford University Press, 2013) and co-author of the landmark photographic study "Galápagos: Life in Motion" (Princeton University Press, 2018). Weisberg has been a visiting professor at East China Normal University and the Australian National University, and currently serves as senior adviser to the Maldivian Minister of Environment and adviser to the Maldivian Ambassador to the United Nations. He received a Ph.D. and MA in philosophy from Stanford University and a BS in chemistry and BA in philosophy with highest distinction from the University of California at San Diego.
"How can nations best support their people while protecting the environment? How do we bring interdisciplinary insights to bear in helping communities weather climate change? On these and other urgent questions, Professor Weisberg is a widely recognized global scholar and leader," said Penn President Liz Magill. "Esteemed across campus and at Perry World House, he is an outstanding choice for interim director. We are grateful for his service."
Perry World House was founded in 2015 as a center for scholarly inquiry, teaching, research, international exchange, policy engagement, and public outreach on urgent global issues. Its mission is to bring the academic knowledge of Penn to bear on some of the world's most pressing global policy challenges and to foster international policy engagement within and beyond the Penn community. Located in the heart of campus at 38 Street and Locust Walk, it draws on the expertise of Penn's 12 Schools and numerous globally-oriented research centers to educate the Penn community, prepare students to be well-informed global citizens, and connect Penn with leading policy experts from around the world to develop and advance innovative policy ideas. Michael Horowitz, who was appointed director of Perry World House in 2020, is on leave from Penn to serve as Deputy Assistant Secretary of Defense for Force Development and Emerging Capabilities.
"Michael Weisberg is a pathbreaking leader," said Jackson, "who brings together philosophy, science, and global inquiry in highly original and influential new ways. In particular, his work is illuminating critical issues of biodiversity and global climate policy that are of vital interest across our campus. He is already well-known to the Perry World House community, and I look forward to the exciting new ideas and initiatives that he will bring to the role of interim director. We are deeply grateful to Vice Provost Zeke Emanuel, Associate Vice Provost Amy Gadsden, and the entire team at Perry World House and Penn Global for their outstanding work across this critical area of our Penn mission."