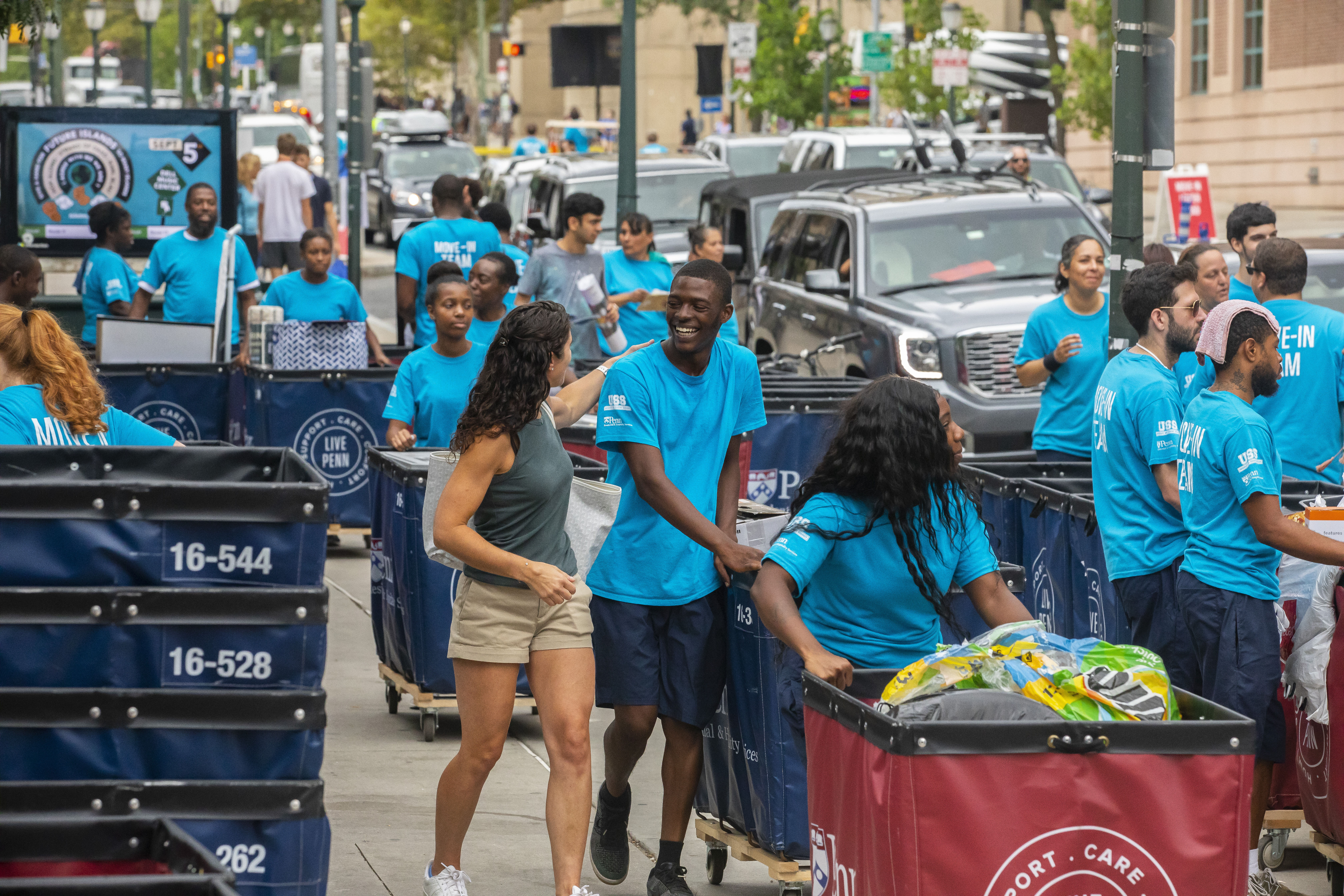 The University of Pennsylvania is making final preparations for fall 2023 undergraduate Move-In between Aug. 21 and 27, when nearly 6,000 undergraduates, including 2,416 members of the Class of 2027 and 3,301 returning students, will be moving into Campus Housing.
Hundreds of volunteers and staff working with New Student Orientation, College Houses, and Residential Services will be ready to assist with logistics, and there are a variety of activities to welcome students and guests. The theme for this year is Penn Celebrates the Arts. Families and students can enjoy live music and samples of Philly favorites such as water ice. Other activities include walking tours, College House meetings and activities, and a President and Provost Family Welcome.
Penn Today has gathered a few tips to help guide students and guests through the process:
Plan ahead and be on time. If you need to change your time, you may do so via MyHomeAtPenn.
 
Before arriving on campus, the Division of Public Safety provides traffic and construction advisories as needed. We encourage families to consider signing up for their email announcements. For more information about the SEPTA project impacting regional rail service which affects travel from the airport, visit the Public Safety website.
 
Penn's Public Health and Wellbeing team is dedicated to helping students understand and fulfill the University's immunization and health insurance requirements. Students should visit the New and Returning Students page for information about these requirements.
 
Students may have guests to assist them during Move-In. Guests must have a photo ID and mobile guest pass to enter the College House with the student.
 
Ten minutes before arriving on campus, students should use mobile check-in to begin the move-in process. Mobile check-in will occur on the RHS Portal. The mobile check-in tool will ask students to login using their PennKey and Password and answer simple verification questions. As soon as students check in via the mobile process, they will have officially taken residency of their room assignment and the University's standard Terms & Conditions apply.
 
For those coming by car, free street parking at the allocated Move-In dates, time and location will be offered for up to one hour to unload. After that hour, complimentary parking passes can be obtained at the check-in sites for one of the three designated parking garages on campus for the remainder of the day.
 
Move-In drop-off locations will have staff available to assist and answer questions. Additional staff will be available at information stations inside the College Houses. Students may also email living@upenn.edu with questions.
 
The day of Move-In, first-year students must check in and pick up their PennCards upon arrival at their College House.
 
Dining cafes will be open starting Tuesday, Aug. 22 and families and guests who have pre-registered can join students for lunch and dinner on Tuesday Aug. 22 and Wednesday, Aug. 23.