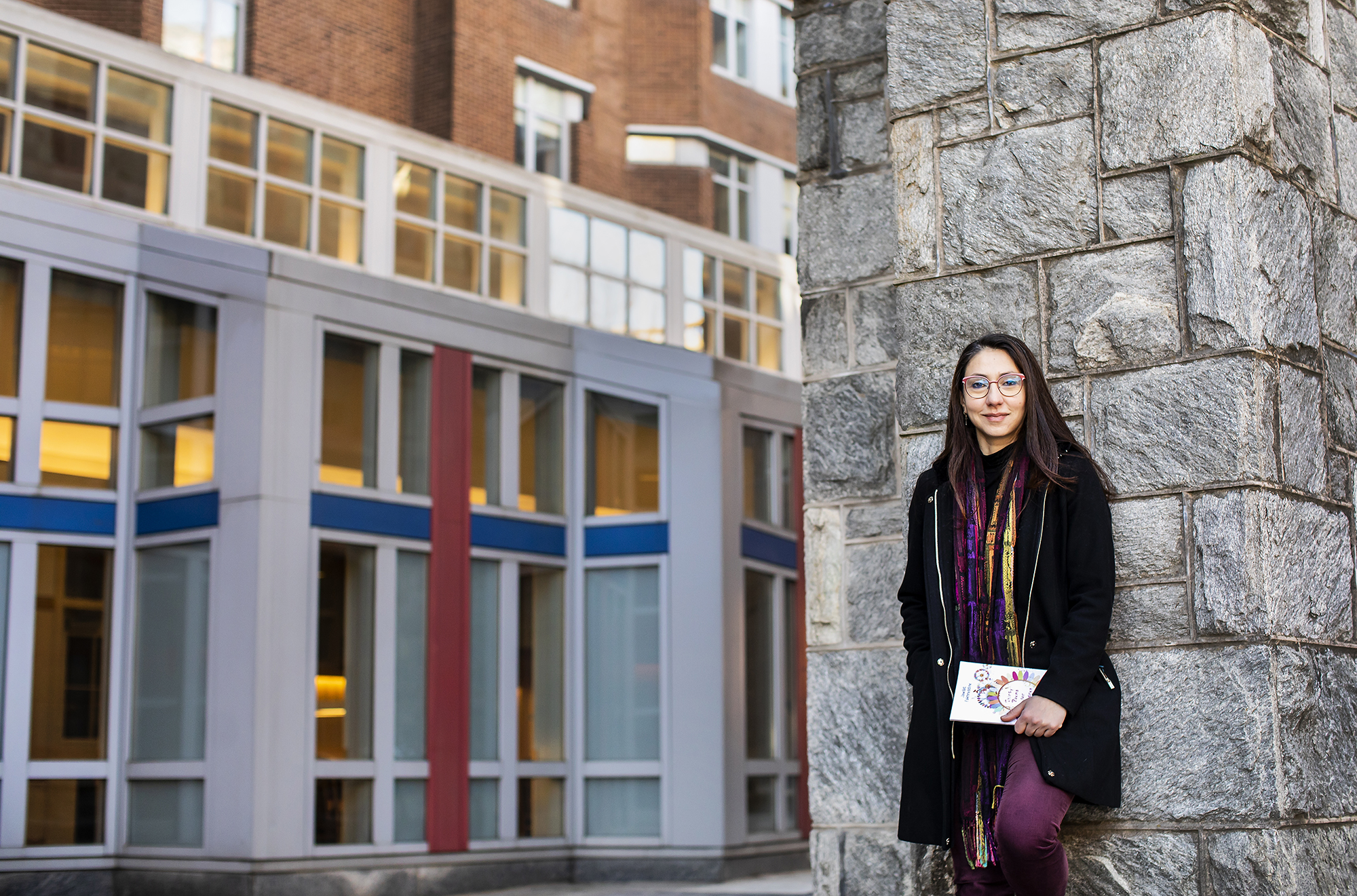 Children's books have a way of bringing families together, a young one tucked into the adult reader's lap or sitting cross-legged on the floor, rapt, awaiting the next adventure. For Penn scholar Huda Fakhreddine, such a catalyst was a book in Arabic called "Thirty Poems for Children" written by her father, Jawdat Fakhreddine. 
"There's always interest in having a message or lesson in poems. But my father, he was interested in bringing classic Arabic meter to children through poetry," says Fakhreddine, an associate professor of Arabic literature in the Department of Near Eastern Languages & Civilizations. "More important for him was the music." 
So, when Fakhreddine, her 9-year-old daughter Samaa, and her husband Ahmad Almallah began translating the poems from that book into English—together, as a family, and with the elder Fakhreddine's blessing—they knew it was crucial to honor that idea. Their version, which published this past November and like the original, includes illustrations by her brother Ali Fakhreddine, pays tribute to both the endearing and enduring subject matter of the words and to the musicality and richness of their sounds. 
The challenges of translation
At Penn, Fakhreddine's scholarship focuses on Arabic poetry. Specifically, she studies modern trends in the field as they relate to traditional literary practices. "I'm always working in translation, thinking about the challenges of translation, especially in poetry," she says. Texts get broken down, then "regathered and rewritten and recollected." 
But how much gets lost through that process? What if the words themselves cannot easily be preserved? Perhaps their effect can remain? 
For Fakhreddine, the questions aren't just theoretical—though she does think about them in the context of her research. She has also co-translated several books of poetry, including one by a Kurdish-Syrian writer named Salim Barkat and several by her father, who is a well-known poet and educator in Lebanon. Though her father more often writes for adults, "he's been involved in several projects around literature and poetry for children in Arabic," Fakhreddine says. "He was once commissioned to write a poem every month." 
Eventually that assignment led to more than 100 poems, 30 of which became the volume Fakhreddine would later translate. In 2014, the original book won a prestigious honor called the Sheikh Zayed Book Award, which brought it worldwide attention. 
'The center of my relationship'
The poems themselves are morsels, succinct and beautiful odes to nature or family or the changing of the seasons—perfect, Fakhreddine thought, for reading aloud in Arabic to her then one-and-a-half-year-old daughter. "I've been reading these poems to her for as long as she can remember," she says. 
"We're haunted by the need to preserve our language and to maintain a real connection with our children," Fakhreddine adds. "There's always this fear that she will grow up and be a stranger to some fundamental part of me. The book has been at the center of my relationship with her, and with her family that's far away." 
When the pandemic arrived, it presented both an expanse of time to fill and many hours of family togetherness for Fakhreddine, Samaa, and Almallah, an artist-in-residence in Penn's Creative Writing Program. Almallah also happens to be a poet himself. "We sat with this book of Arabic poems and said, 'Let's see what happens if we try to translate them,'" Fakhreddine recalls. "It started as a language lesson for my daughter but became a very important ritual during lockdown." 
Together, the trio would read a poem, then, concentrating first on the grammar and themes, do an initial translation. Samaa would focus on the central idea, internalizing then rephrasing the concept in English, taking liberties to modify those without exact translation. Almallah was the listener, Fakhreddine says. "His contribution was tweaking, especially the ends of lines," she adds. "His ear was our partner."  
For her part, Fakhreddine made sure they stayed true to the intent of the original poems and that they sounded genuine; she didn't want any to feel forced, taking inspiration from a poet many English-reading children already knew: Shel Silverstein. "I like his music and rhymes and off rhymes. I'm not saying we imitated him, but he was guiding in terms of solutions to create music" with the words. 
Sharing with the world
The project was almost complete when Canadian publisher BookLand Press expressed interest in printing the final product. The English translation came out in November 2021, funded through an initiative that encourages translations of books that win the Sheikh Zayed Book Award—like Fakhreddine's father's had seven years prior. 
"Our goal was to create a text that could stand alone in English. We tried, and of course, it didn't always work. Some poems work much better than others," she says. Even so, she hopes the poems appeal to and get read by any child who reads in English, "not just people who are interested in academic literature." 
Fakhreddine and Samaa are doing their part to get the word out. An organization called Al-Bustan, a nonprofit that offers artistic and educational programming "rooted in Arab arts and language," asked the pair to record themselves reading the poems in Arabic and English. The video then became part of Al-Bustan's Fil Bayt or "At Home" YouTube series. 
The whole project was a labor of love, Fakhreddine says, elevating "Thirty Poems for Children" even further for her. "We weren't eager to finish. We wanted it to go on and on," she says, a three-generation, pandemic-time effort that aims to bring levity and light to all who open its pages. 
Huda Fakhreddine is an associate professor of Arabic literature in the Department of Near Eastern Languages & Civilizations in the School of Arts & Sciences at the University of Pennsylvania. She is also part of Penn's Program in Gender, Sexuality, and Women's Studies and the Middle East Center. 
Ahmad Almallah is an artist-in-residence in the Creative Writing Program in the School of Arts & Sciences at Penn.