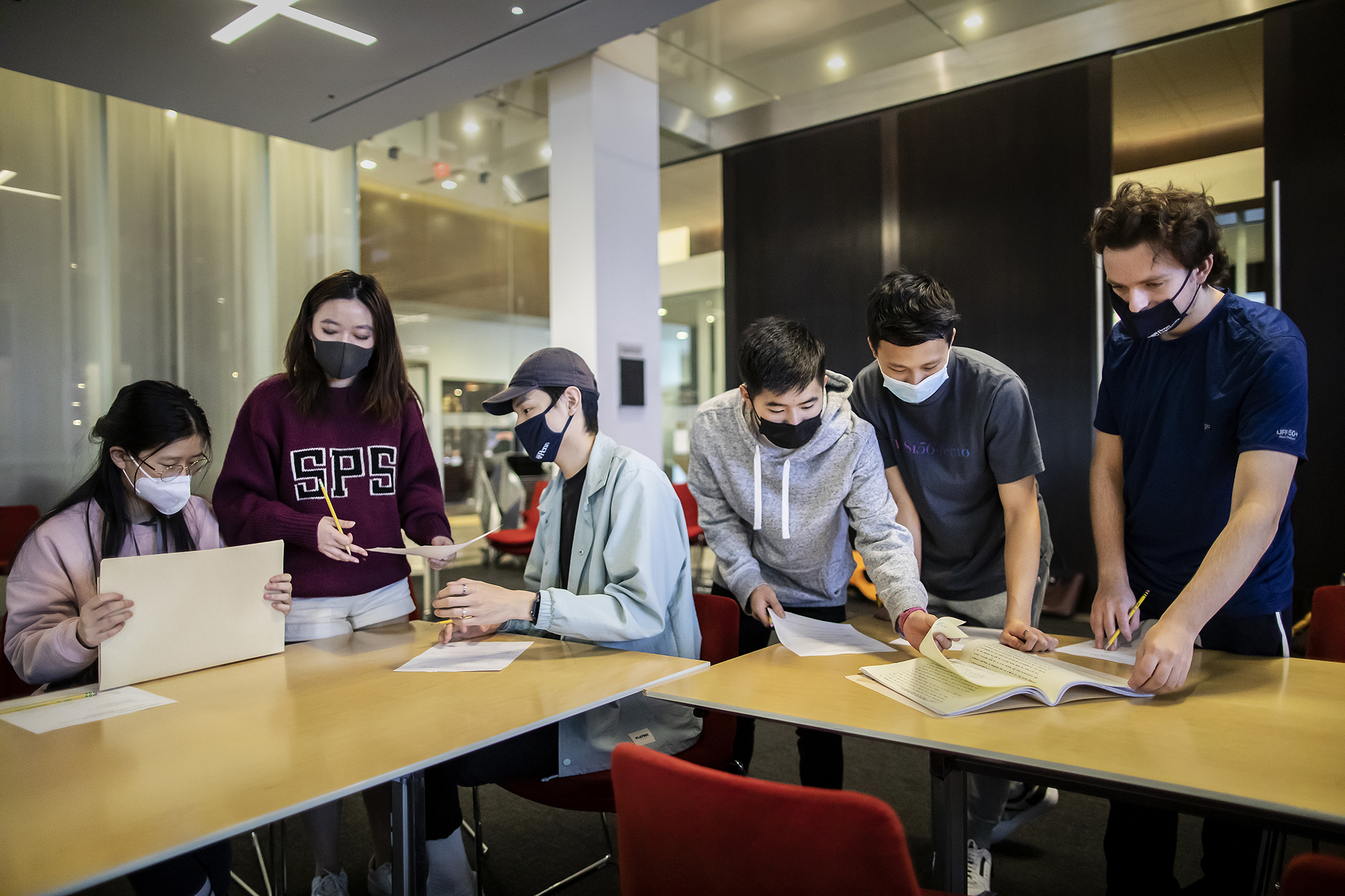 The moment Kathryn Hellerstein decided to change the course of her academic career is clear in her memory. It was November of 2007 and she was standing with her husband in the center of a crowded Shanghai neighborhood, a place where Jewish refugees fleeing the Nazis in Europe lived during the Japanese occupation of Shanghai during World War II.
"Being there was just so intense and mind-blowing," says Hellerstein, a professor of Germanic languages and literature in Penn's School of Arts & Sciences. "We both became extremely interested in the Jewish-China connection."
Hellerstein immediately thought of a scholar she had met seven years earlier in Jerusalem, Irene Eber, who at that time was working on a book about the Yiddish writings by Central European Jewish refugees in Shanghai. "I emailed her and I said, 'Please teach me. I want to learn from you,'" says Hellerstein, who is also the Ruth Meltzer Director of the Jewish Studies Center at Penn. "She was an incredibly generous, welcoming person who was thrilled to have somebody to mentor."
The relationship they created resulted in Eber giving her archives to the Penn Libraries, before her death in 2019 at the age of 89. It is named the Irene Eber Gift of the Yedidya Geminder Memorial Collection of Sino-Judaica in memory of Eber's father, who was murdered in a labor camp during the Holocaust.
Recently catalogued by the Libraries, the archive is already in use by the 21 students in Hellerstein's first-year seminar, Jews and China: Views from Two Perspectives.
"Irene wanted somebody to continue her work. She did her research in archives and libraries, and she wanted her papers to be at an American university, and I was a connection," Hellerstein says. "She really hoped for continuity of scholarship and study and curiosity about this area of Jews in China."
Holly Mengel, head of archives and manuscripts processing at the Penn Libraries, led the effort to process Eber's collection. Mengel spoke to Hellerstein's students about aspects of archival collections, and assisted as they worked with the Eber materials one afternoon in November.
"I believe it's really important that students get to use the primary resources. When they actually get to handle the stuff I hope that takes away levels of intimidation. And then that they're more likely to come and use the collections," Mengel says. "For me, this is the whole reason that I have a job, and it seems like they actually are excited and care about it, which is great."
Eber's archive at the Penn Libraries
The Eber materials donated to Penn fill 13 file boxes, or 13 linear feet, which translates to thousands of documents, Mengel says. Nearly all of the materials are related to Eber's work as a scholar, gathered throughout her career, Hellerstein says.
"There's not a lot of original manuscript material. They're copies from other archives," Hellerstein says. "But the human power, the hours and hours that go into locating, finding, selecting, these texts, I can't even begin to tell you how much time it takes to amass this kind of research."
Arthur Kiron, who curates Penn's Judaica collections and heads the Library at the Herbert D. Katz Center for Advanced Judaic Studies, spoke to the students about the role of a curator as an interpreter of cultural heritage, and as a matchmaker. "I'm always on the lookout for good matches, relationships between people and content like archives, and the use of those materials," he said.
In the case of Eber's archives, it was Hellerstein who came to him with the possible match. "There is a very human dimension to this, about the relationship between the mentor and the professor, and that we are not only preserving her research papers, but also preserving something about her life story, and this cultural heritage," Kiron said. "Jewish history is a diasporic history, a nationalist history, a religious history, a personal history."
For a dozen years, Hellerstein and Eber emailed regularly, had frequent video calls by Skype, and would meet at least once a year in Jerusalem. Hellerstein and her husband, David M. Stern, now a professor at Harvard University who previously taught for over 30 years at Penn, usually travel to Israel each year to visit friends and family.
"Every time I came to Israel, I would plot out with Irene what I could work on, given what I knew and what I have expertise in, and what I didn't know, and how I could work around the gaps in my knowledge," she says. "She guided me in my research, and in navigating the Israeli library system. She would tell me where to go in the archives, who to talk to, and what to look for."
And Hellerstein would, in turn, help Eber. "She wrote fiction as well as scholarship and I helped her get some of her fiction published. She named me her literary executor so I could help deal with her publishing legacy," Hellerstein says.
Published in November 2019 is a book that Hellerstein edited, "Jews in China: Cultural Conversations, Changing Perceptions," which gathers 14 of Eber's most salient articles and essays on the exchanges between Jewish and Chinese cultures. A book of essays by 19 authors is forthcoming in April, "China and Ashkenazic Jewry: Transcultural Encounters," which Hellerstein co-edited with Lihong Song, a professor of Jewish Studies at Nanjing University.
The forthcoming book and Penn first-year seminar grew out of a multipronged project that included a workshop at the Penn Wharton China Center in Beijing, and another workshop and international conference "China and Ashkenazic European Jewry: Transnational Encounters" at Nanjing University. The project was organized by Hellerstein, Stern, and Song, and funded by Penn Global's China Research and Engagement Fund, partnering with Nanjing University's Glazer Institute of Jewish and Israel Studies and Institute for Advanced Studies, and Penn's Jewish Studies Program.
Encountering the archive through a Penn course
Teaching at Penn for 28 years, Hellerstein's scholarship and expertise are on 19th and 20th century Jewish-American literature, specifically Yiddish literature and Yiddish poetry by women. She's written a monograph, "A Question of Tradition, Women Poets in Yiddish 1586 to 1987," and several books of translations.
Her first-year seminar course considers different communities of Jews in China from the Middle Ages through the 20th century and focuses on the process of interpretation and translation and cultural exchange, looking at texts that show interaction between Jewish and Chinese cultures, she says. This is the third time Hellerstein has taught the course, but this is the first year she has incorporated Eber's archives.
"This class is particularly collaborative because people are coming from all sorts of directions and backgrounds and preparations, and we all contribute something to the conversation," Hellerstein says. "I find it really fascinating."
On the day the students worked with the archive materials, they spaced themselves around tables on the 6th floor of Van Pelt-Dietrich Library to review several folders of papers and photos from the collection. Working in groups to answer a list of questions, the room was full of animated conversations.
"They completely got it. They were in. I kept walking around eavesdropping on them and answering questions," Hellerstein says. "Their assignment often is to ask questions rather than to provide answers. They were really curious. They made me realize that I needed to change my final assignment for the course to include an option of working with archives."
Several students said it was the first time they had handled primary sources.
"Before college, I had only done research using online sources that were rarely, if ever, primary sources like these. That alone made this a unique experience," says freshman Joseph Hochberg, a molecular and cellular biology major in the College of Arts and Sciences from Mount Laurel, New Jersey. "We had read a lot of Irene Eber's work throughout this course, so it was interesting to be able to go through her personal resources. It really humanized her as a scholar. Usually these scholars seem very far off from our lives, but this experience brought Irene Eber to a very personal level."
The students also are getting a chance to explore aspects of their own heritage.
"I took this class to better understand the complex history of Jews in China and better understand my own identity," says freshman Adam Shi, from Cumming, Georgia, who is concentrating in finance in the Wharton School. "Ever since I could remember, my grandfather would tell me stories about our family's Jewish heritage, and how my ancestors came all the way from the Silk Road to settle in China. Even though I'm not religiously Jewish, I spent a good amount of time in my teens exploring Judaism and talking to other family members about my Jewish heritage."
Shi says his Jewish ancestry is on his father's side of the family. His ancestors, he says, lived in a village where all had the last name "Shi", which was one of the last names that the Chinese empire allotted to Jews in China. "This class has been a highlight of my freshman fall, and I'm looking into taking more Jewish studies classes," he says.
Two students who are from China were able to translate script written in Chinese characters on the back of several photographs, identifying the prominent author and essayist Lu Xun. Mengel included their translations in the archive folder.
"I was honored to be given the opportunity to study Dr. Eber's collection, and I find it very interesting that these photos were a part of it," says freshman Nancy (Ziqi) An, a biochemistry major from Beijing who is in the Vagelos MLS program in the College of Arts and Sciences. "I believe that this experience highlights the importance of diversity and cross-cultural communication in a scholarly setting, especially regarding topics that intersect different cultures, languages, and nations."
Hellerstein says she was thrilled that the students were able to translate the identification information on the photos. "This is wonderful. These students are contributing to the archive," she said that afternoon as they deciphered the characters.
Eber's journey and Hellerstein's connection
Eber wrote hundreds of articles and a dozen books, including a definitive biography of Samuel Schereschewsky, a Jew born in Russian Lithuania who emigrated to New York in the mid-1800s, converted to Christianity, became a missionary in China, and translated the Old Testament of the Bible directly from Hebrew into two different Chinese dialects. Documents about him were among the archival materials examined by Hellerstein's students.
Eber is perhaps best known for the memoir she wrote about her wartime experiences and as Holocaust survivor in "The Choice - Poland, 1939-1945." She escaped as a young teen when the Germans marched the Jews toward the death camps, and spent more than two years hiding in a chicken coop, harbored by a family in her father's hometown of Mielec in Poland.
Eventually she made her way to the United States and attended universities in California: Pomona College for her bachelor's degree in Asian studies, the State University of California in Sacramento for her master's degree in history, and Claremont Graduate University for her Ph.D. in Asian studies. She eventually settled and lived the rest of her life in Jerusalem, from 1969 to 1999 she was a professor in the Department of East Asian Studies at The Hebrew University of Jerusalem.
"She told me she decided to study something that had nothing to do with her life, and that turned out to be Chinese," Hellerstein says. "She was a very complex, really interesting person."
Eber's lifelong project, and much of her writing and translating, was related to the Jewish refugee community in Shanghai in the 1930s and 1940s, culminating in a 718-page book, "Jewish Refugees in Shanghai, 1933-1947: A Selection of Documents," published in 2018, just months before her death.
"Irene did an enormous amount of research, compiling thousands of documents," Hellerstein says. "I could teach a whole course just on that."
It was during a spring evening nearly two decades earlier, in 2000 in Jerusalem, that Hellerstein first met Eber, both of them invited to give readings from their projects during a small literary salon focusing on Yiddish works. "Afterwards she said to me, 'I love your translations. Do you want to do some translations for my book, from the Yiddish?'" Hellerstein recalls. "And I said no, that I was in the middle of my own writings on women poets. And honestly, I thought, China? Why would I be interested in Yiddish in China?"
As it turned out Hellerstein was interested, but she didn't realize it until she went on the walking tour of the "Jewish Shanghai" Hongkou neighborhood seven years later and circled back to Eber, a path which resulted in Penn students reading the work that Eber assembled. Hellerstein has been taking her time in making her way through those 13 boxes.
"In one of the folders I found a Xerox of an article and there was a little yellow Post-it note in Irene's handwriting and it said 'must show to Kathryn,'" Hellerstein says. "So I feel like she was speaking to me from the world beyond, which was really very moving, very funny, and wonderful. And so, I guess I'm saying to her, 'I'm doing what you told me to do.'"
Kathryn Hellerstein is a professor of Germanic languages and literature (Yiddish) and the Ruth Meltzer Director of the Jewish Studies Program at the University of Pennsylvania.
Arthur Kiron is the Schottenstein-Jesselson Curator of Judaica Collections and heads the library at Penn's Herbert D. Katz Center for Advanced Judaic Studies, He is also an adjunct assistant professor of history at Penn.
Holly Mengel is the head of archives and manuscripts processing at the Penn Libraries.
David Stern is the Harry Starr Professor of Classical and Modern Jewish and Hebrew Literature and Professor of Comparative Literature and the Director of the Center for Jewish Studies at Harvard University. He is the Moritz and Josephine Berg Professor of Classical Hebrew Literature Emeritus in the Department of Near Eastern Languages & Civilizations at Penn.
The Penn China Research and Engagement Fund was established in 2015 and supports Penn activities that advance the interdisciplinary study, teaching, and engagement of China.