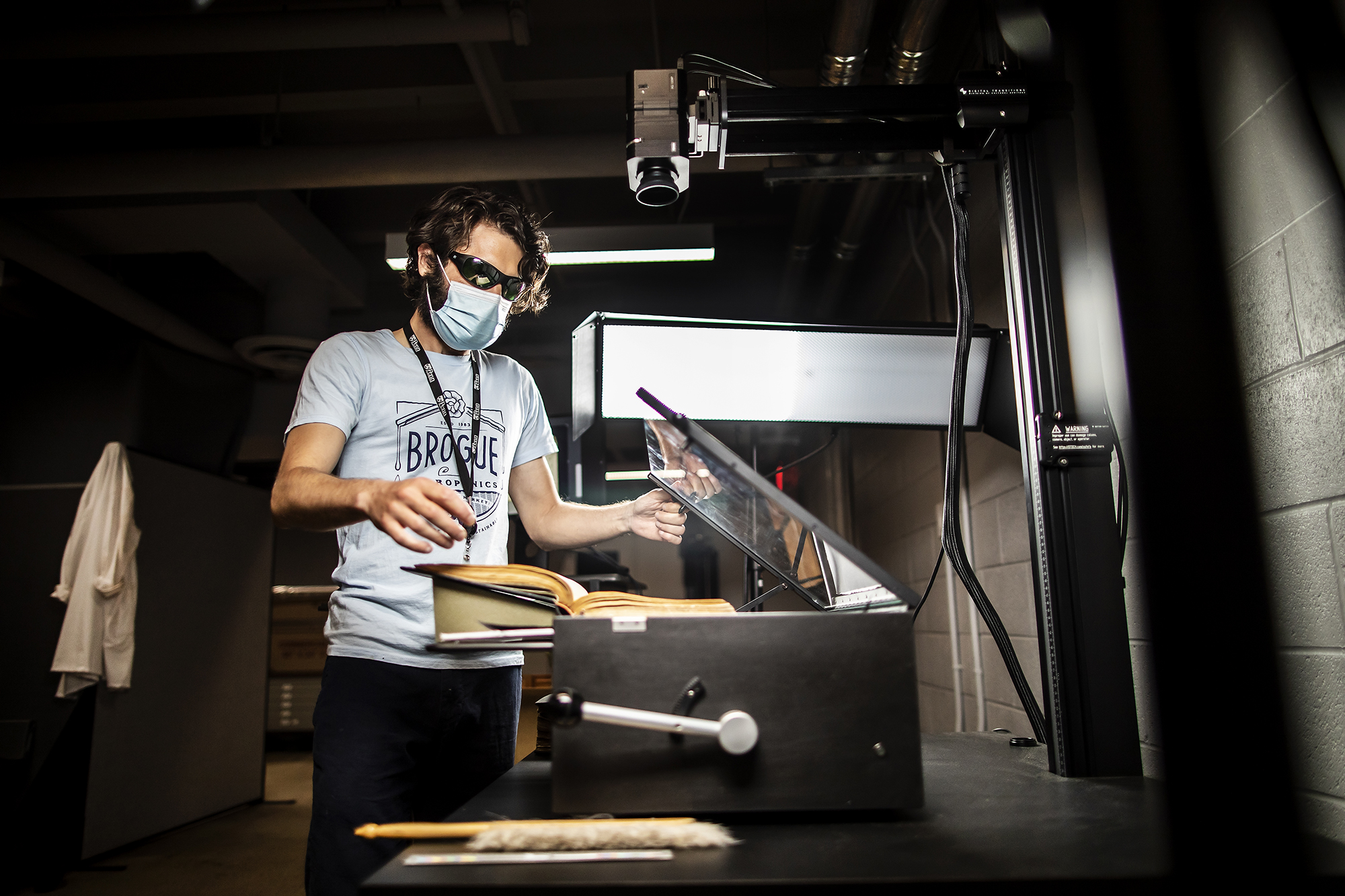 The script in black ink on cream cotton rag paper is filled with flourishes on the title page of the dissertation by University of Pennsylvania medical student Americus Vesuvius Payne, dated March 30, 1820. In the corner, in pencil, is the address, No. 201 Walnut.
Photographed at the Penn Libraries earlier this summer, it is one of more than 60,000 pages in more than 1,000 Penn medical student dissertations from the early 1800s that have been digitized over the past two years. The dissertations are available to the public free of charge through the Libraries online catalogue.
Penn opened its School of Medicine, the nation's first, in 1765. The Hospital of the University of Pennsylvania was established in 1874 as the nation's first teaching hospital. Until just the Civil War, Penn's medical school required students to write dissertations as part of the degree process, and those submitted to the College are in the Libraries collection.
"We are hoping there will be a lot of interest in these dissertations, as you can get a sense for early medical education. And you can see intersections, for example, of medical education with gender and race," says Mitch Fraas, senior curator, Kislak Center for Special Collections, Rare Books and Manuscripts. "Having a targeted project on material this early is unusual."
Research value
A Visiting Fellow since 2019 with the Penn Medicine and the Afterlives of Slavery project, Christopher D.E. Willoughby has read through nearly 2,000 of Penn's medical dissertations from 1807 to 1861. 
What he discovered "became the backbone" of a book he just completed, "Masters of Health: Racial Science and Slavery in U.S. Medical School," now under contract with the University of North Carolina Press. Willoughby also used the dissertations for research on his own Ph.D. dissertation, "Pedagogies of the Black Body: Race and Medical Education in the Antebellum United States" for his doctoral degree from Tulane University in 2016.
Penn, he says, has more of these 19th century dissertations than any other medical school in the country. "With the sheer volume of the dissertations at Penn you can take the pulse of medical education," Willoughby says. "You really get a sense of what they were teaching and how the students were processing it."
The digitized dissertations, which allow for computerized searches by keyword, are much more accessible and easier to manage than paging through the original volumes as he did, looking for interesting titles. Researchers can learn "what a more average physician is thinking and trace that over this 50-year period," written by people whose work would not usually have been published, he says.
"Their mundaneness is what makes them special," Willoughby says. "They provide interesting, and in some cases disturbing, anecdotes about everyday medical complaints, as well as what doctors thought."
Digitizing details
The digitization project started in April two years ago, and the scans were completed in June, Fraas says. More than 1,000 dissertations are now online, and all included in the project are expected to be uploaded and available this month. The project was funded by a $500,000 Council on Library & information Resources (CLIR) grant to a consortium of Philadelphia libraries which house early medical materials, including the College of Physicians of Philadelphia and Thomas Jefferson University.
At some point in the 20th century the dissertations were bound together, each with a plain, black hardback book cover, Fraas says. Each of the bound volumes has 20 to 30 dissertations and total about 800 pages each. The median number of pages per dissertation is 25 to 30, but there are a number that are much shorter, and a few "really prolific" ones that are more than 200 pages, Fraas says.
The CLIR-funded project includes 54 volumes and cover all surviving theses from before 1829, with the earliest dating from 1807 and the majority written in the 1820s. There are many more dissertations on the Kislak Center's shelves, at least five times the amount they have just digitized, Fraas says, while standing in the stacks in front of the rows of black-covered volumes. The Libraries also has hundreds of volumes of lecture notes taken by medical students.
It takes about two days to digitize one of the bound volumes, says P.J. Smalley, digital camera operator in the Libraries' Schoenberg Center for Electronic Text & Image. They photograph every page front and back even if it appears to be blank. "The only way you're going to capture the objects and do it right is to do the whole thing, every page," Fraas says.
The paper is made of cotton rag, not of wood pulp like modern paper. "Sometimes we'll shoot stuff from the 20th century that will be way worse shape than something that's from the 1600s," Smalley says. "These are in really good shape."
They are "creating a surrogate," digital files that may or may not outlast the original, says Jordan Rothschild, digital camera operator, while preparing one of the bound volumes on the glass. The images are a very high resolution and color-corrected for accuracy, he says, "reproducing an image of an item as faithfully as we possibly can, not making it 'look pretty' or altering in any way."
Cataloguing and keywords
When the manuscripts were bound together, they were grouped by topic. Many of the topics are recognizable, like cholera and constipation and croup, but some of the dissertation topics use medical terminology from the early 19th century that are not used today.
Elsa Varela, special collections cataloging librarian, has reviewed every manuscript to catalogue characteristics for database searches, like the date, the author, title, date, and subject. While cataloguing the manuscripts Varela includes both the original medical citation and also an interpretation with modern terminology.
"It's important because those subject headings and keywords make things more findable," she says. "A lot of titles were vague, like the effects of cold, or described in terms that are no longer being used. Using a standardized Library of Congress subject heading is especially important."
The team conducting the digitizing within the Schoenberg Center for Electronic Text & Image shoot more than 300,000 images a year in their workspace in the basement of the Van Pelt Library, says Smalley. The digitizing team was not on campus due to pandemic restrictions starting in March 2020. They returned, but at limited capacity, starting in August 2020 and picked up the work once again.
Varela continued the cataloguing work from her home using digitized images instead of pulling the volume from the shelf and going through each dissertation by hand. She was working on Volume 34 when the pandemic restrictions went into effect, and there were 20 more volumes to go. "In a way it is better to catalog from the digitized dissertations. It allows you to zoom in on things," she says. "Sometimes the handwriting is hard to read and it does help me identify names."
The handwriting varies, of course, with some so beautifully executed that Fraas and Varela speculate some students hired scribes to write out the final manuscript. Some dissertations have notes written in the margins or on the backs of pages. The cover pages can be elaborate or plain or even include the address of the author, like Americus Payne's, "An Inaugural Dissertation on Cholera Infantum."
"It was interesting to look at these different handwritings and different styles," Varela says. "I wondered if these were farmed out, just like hiring someone to type up a term paper. Some of the handwriting is so lovely. It was nice to see."
Dissertation details
Although she didn't read each one, she did examine some that piqued her interest. "It was really interesting during these times to be reading them because we are all thinking about health," she says. 
One of the dissertations was included in the Penn & Slavery project: "Observations on The manner of Living and Diseases of the Slaves on the Wateree River" by William L. McCaa of Camden, South Carolina, written in 1822 and presented as an inaugural essay to Penn's medicine faculty. "On the last page the author tells of a case in which an enslaved woman delivered her own child in the field," Varela says. "I added the subject heading 'discrimination in medical care' as a way to highlight the author's bias."
Others she highlights as interesting include "Essay on Menstruation" dated 1829 by Joseph M. Urquiola, a native of Trinidad de Cuba, who she says was the first Latin American graduate of Penn. And "An Inaugural Dissertation on Lead and its Preparations" dated 1824 by William Wetherill of Philadelphia, because the Libraries also holds the papers of the Wetherill & Son's white lead company. The Libraries has a portrait of the author of "A Treatise on Spina Bifida with two cases of its treatment" written in 1829 by Josiah Barnes of Litchfield, Connecticut.
Fraas says some of the dissertations are "pretty lugubrious," noting that some of those that he read were philosophical speculation. "Some of them are more based in observation, some are sort of last-minute, made-up things, and some of them are more serious works of research," Fraas says. "It is a different kind of medical education than people would know."
Willoughby says these dissertations are "more rote, derivative products," not like the dissertations of today that have original research. "It's much more akin to a senior thesis," he says.
In the 18th century when Penn's medical school was founded, physicians were mostly trained through apprenticeships, and the few elite who went to medical school wrote dissertations in Latin, Willoughby says. As medical schools became established, the enrollment grew and those students did not usually know Latin, he says, so they were written in English. After the Civil War most medical doctors went to medical school, and it was decided the dissertations were not valuable, he says.
But they have value now. "They can help us take the pulse of medical education in a lot of areas, like race, gender, medical history, and learn how medical students learned and how they planned to apply it to their practice," he says. "These medical theses allow us to see what the average physician thought." 
Willoughby says he can trace the origins and growth of racism in the practice of medicine through the dissertations, and also gain insight into the lives of impoverished and enslaved people by their ailments and injuries. "I'll be citing medical dissertations from Penn until I retire, or change research subjects," he says. "I think they have a lot to tell."
Mitch Fraas is director of special collections & research services and a senior curator for special collections at the Kislak Center for Special Collections, Rare Books and Manuscripts at the University of Pennsylvania Libraries.
Jordan Rothschild is digital camera operator in the Schoenberg Center for Electronic Text & Image at the University of Pennsylvania Libraries.
P.J. Smalley is digital camera operator in the Schoenberg Center for Electronic Text & Image at the University of Pennsylvania Libraries.
Elsa Varela is special collections cataloging librarian at the University of Pennsylvania Libraries.
Christopher D.E. Willoughby has been a visiting fellow with the Penn Medicine and the Afterlives of Slavery project since 2019. In the fall he will be the Molina Fellow in the History of Medicine & Allied Sciences at The Huntington Library and a visiting scholar at the Charles Warren Center for Studies in American History at Harvard University.