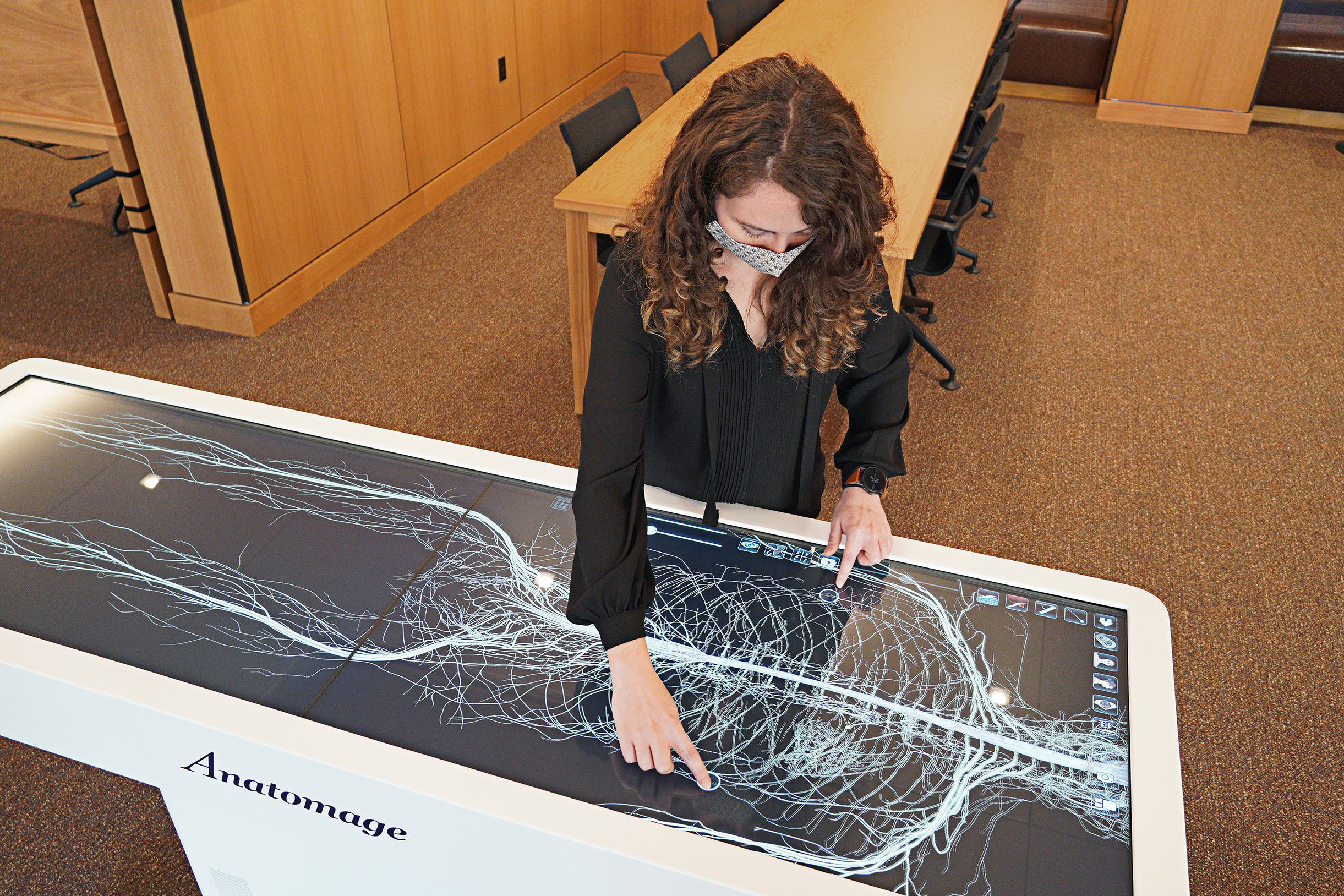 The Penn Libraries has transformed its former Biomedical Library into a dynamic space with a new name, the Biotech Commons.
"The Biotech Commons is a true 21st century library facility," said University of Pennsylvania President Amy Gutmann. "We have created a space for unparalleled collaboration, creation, and discovery where visitors can take advantage of a vast array of scientific and scholarly resources, as well as cutting-edge technologies for studying the health sciences."
The $11.5 million renovation was designed by Voith & Mactavish Architects and funded through a combination of private donations and contributions from the Perelman School of Medicine, the School of Nursing, and the Office of the Provost. Renovations began in December 2020, and the facility opened its doors to the Penn community on Sept. 20.
Collaboration and partnerships are at the core of this paradigm-shifting new facility, which was planned with vital input from library users, researchers, partners in Penn Medicine and Penn Nursing, facilities experts, and the Libraries' staff and subject specialists.
"No place is as interdisciplinary as a library space, and the reimagined Biotech Commons takes this to the next level," said Constantia Constantinou, H. Carton Rogers III Vice Provost and Director of the Penn Libraries. "The Penn Libraries' Biotech Commons will enhance the intellectual vitality of Penn as a whole by providing an extraordinary user experience for all."
When the Biomedical Library was built in the late 1960s, the southern portion of Penn's campus stopped at Hamilton Walk. Since then, communities of research and clinically focused buildings have transformed and expanded the south side of the campus. Situated at the heart of this biomedical activity, the Biotech Commons will facilitate new relationships among the many interdisciplinary groups that surround it, including graduate and undergraduate students, clinicians, faculty, and researchers.
"Collaborative learning is key to the future of science and medical education," says J. Larry Jameson, executive vice president of the University of Pennsylvania for the health system and dean of Perelman School of Medicine. "The Biotech Commons will become a crossroads where anyone interested in the acquisition of biomedical knowledge can form partnerships and experience chance encounters that advance their scholarship and research."
The Biotech Commons will foster innovative thinking by offering a range of spaces and services that better support the many ways its constituents learn and work.
"This state-of-the-art space inspires state-of-the-art thinking," said Antonia M. Villarruel, the Margaret Bond Simon Dean of Penn Nursing, who celebrated the facility's added consultation and small-group study spaces. "We infuse innovation into everything we do at Penn Nursing, and the staff at the Biotech Commons play an integral role in fostering creativity and collaboration among our faculty and students."
To serve the diverse needs of these populations, the renovated facility includes the Wendy and Wayne Holman Reading Room, which doubles as a multipurpose event space with movable furniture to accommodate a variety of activities such as lecture-style events, and open-space gatherings; a Design Thinking Studio furnished with wall-mounted whiteboards, supplies, and movable, writable tables; and a Mixed Reality Lab where faculty and students can experiment with virtual and augmented reality.
An Anatomage Table, the first of its kind available for use by all members of the Penn community, will allow for the virtual dissection and review of life-size virtual cadavers outside of clinical lab coursework.
A conference room will showcase the libraries' historic collections, while the flexibly furnished Gershwind & Bennett Family Collaboration Classroom can be used for seminars or lecture-style presentations as well as active learning and flipped-classroom style instruction.
Newly expanded 3D-printing and poster-printing services will be available to patrons in the Judith and William Bollinger Digital Fabrication Lab, which will house nine high-end 3D printers and two 3D scanners, a laser cutter, and plotters for scientific poster printing.
The renovation also offers enhancements to ensure the Biotech Commons will serve as a key study destination for students. A spacious, natural-light-filled reading room supplies a location for individual study, various seating options will encourage discussion and collaboration, and 20 group study rooms will accommodate as many as eight people each.
Like any library, this one encompasses more than its physical space, says Hannah Rutledge, inaugural director of the Biotech Commons. "With this renovation, we have a facility that is as advanced and as impressive as our staff and their expertise," Rutledge says. "Our librarians are here to help students and researchers along their journey of discovery at Penn, and we are confident this updated, inspiring space will aid in their success."
Images by Brian Hogan, Penn Libraries.