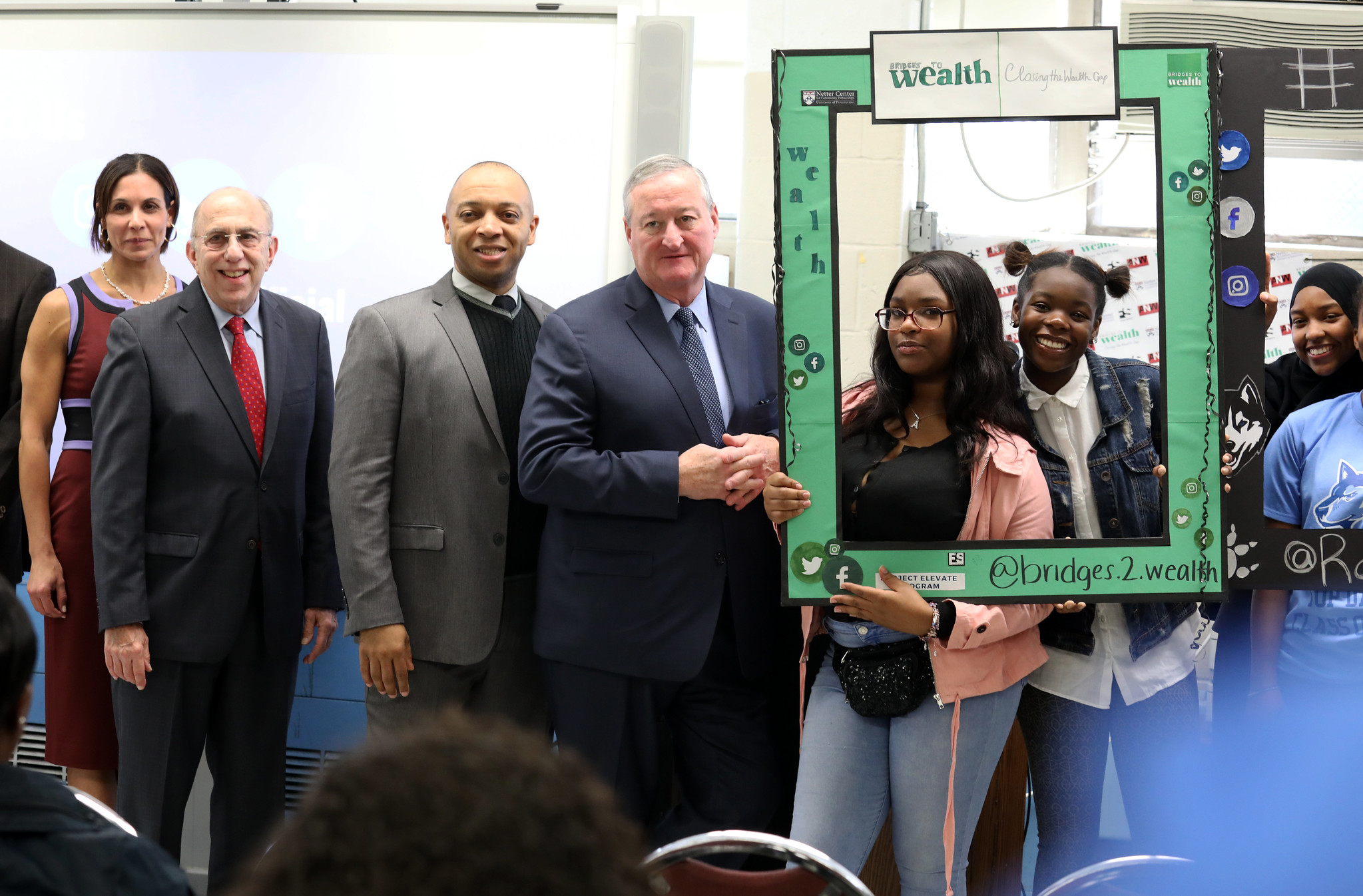 The City of Philadelphia and Action Not Words have selected Penn's Netter Center for Community Partnerships to develop and implement a new entrepreneurial program, Project Elevate, offering financial literacy education at public high schools.
Rashon Nelson and Donte Robinson created Project Elevate and the nonprofit Action Not Words following their 2018 wrongful arrest at a coffee shop in Philadelphia's Center City. As part of its settlement with Nelson and Donte, the city committed $200,000 as seed money to launch Project Elevate and, after issuing a request for proposals, chose the Netter Center as the program partner. 
The Netter Center's Bridges 2 Wealth program will use the funds to implement a Project Elevate pilot program this year at Paul Robeson High School and John Bartram High School in Philadelphia. The goal is to broaden students' perspectives and equip them with the tools, resources, and access needed to reach their goals and make an impact on their broader communities. 
"Penn is very proud to partner in launching this invaluable initiative," said Provost Wendell Pritchett at a press conference on Oct. 21 with Philadelphia Mayor Jim Kenney. 
"We know this program will positively impact our community for years to come," Kenney said. "Philadelphia's future is innately linked to people who can create, and thanks to Project Elevate and Action Not Words students in our city will gain critical, life-building skills they need to become creators—of jobs and opportunity in their communities." 
Pritchett noted the University's broad experience in entrepreneurship, social ventures, and community engagement. "From Penn's perspective, this initiative speaks to two aspects of our mission, first advancing access to education, collaboration in our community partnerships—in this case the School District—and second, helping students get out into the world equipped to succeed," he said. "Project Elevate advances these goals by exposing young people to leaders and programming in education and business and by helping them and their families with financial literacy, something that we all need." 
The Netter Center's comprehensive University-Assisted Community Schools approach draws on more than 25 years of experience in collaboration between Penn and Philadelphia public schools. Project Elevate is part of this approach, and will increase the wealth-building capabilities of students, families, and communities, said Jill Bazelon, director of Bridges to Wealth. "As educators, we are always looking for teachable moments, hidden lessons that ask students to think critically about things in their own lives," she said. "Donte and Rashon demonstrate the power of moving forward. Instead of getting stuck in bitterness and division, they focused on elevating themselves and the most underserved communities in Philadelphia."
Project Elevate is a multiyear program for students in participating high schools, providing mentorship and professional and University connections in financial literacy, investing, self-branding, marketing, and business strategy. The curriculum includes weekly classroom instruction for two student cohorts per school, as well as guest speakers, field trips, and weekly mentoring sessions with Penn students. 
Kayla Daniels-Redden, a senior at Robeson, has already seen the program benefit her life. She's using the curriculum to learn how to manage her money and formulate a business plan, in addition to completing a senior project and leveraging her GPA. "I'm setting myself up for my future in college," Daniels-Redden said.
Her mother, Clissita Daniels, a senior community health worker at the Penn Center for Community Health Workers, said she was heartened by "the opportunity to teach our students before they go into debt."
"Partnerships are critical to continuing to build a strong city. Colleges and universities are important contributors to these partnerships," said Otis Hackney, chief education officer for the City of Philadelphia. "I want to recognize the Netter Center's founding director, Dr. Ira Harkavy, for leading this effort at Penn, throughout Philadelphia, and beyond."
Speaking to the impact of the pilot project, Harkavy said, "Project Elevate will help improve the education of West Philadelphia high school students through Bridges to Wealth and other Netter Center University-Assisted Community Schools programs. It will also enrich the education of Penn students who will be engaged as mentors in this program, helping them to develop as democratic citizens."