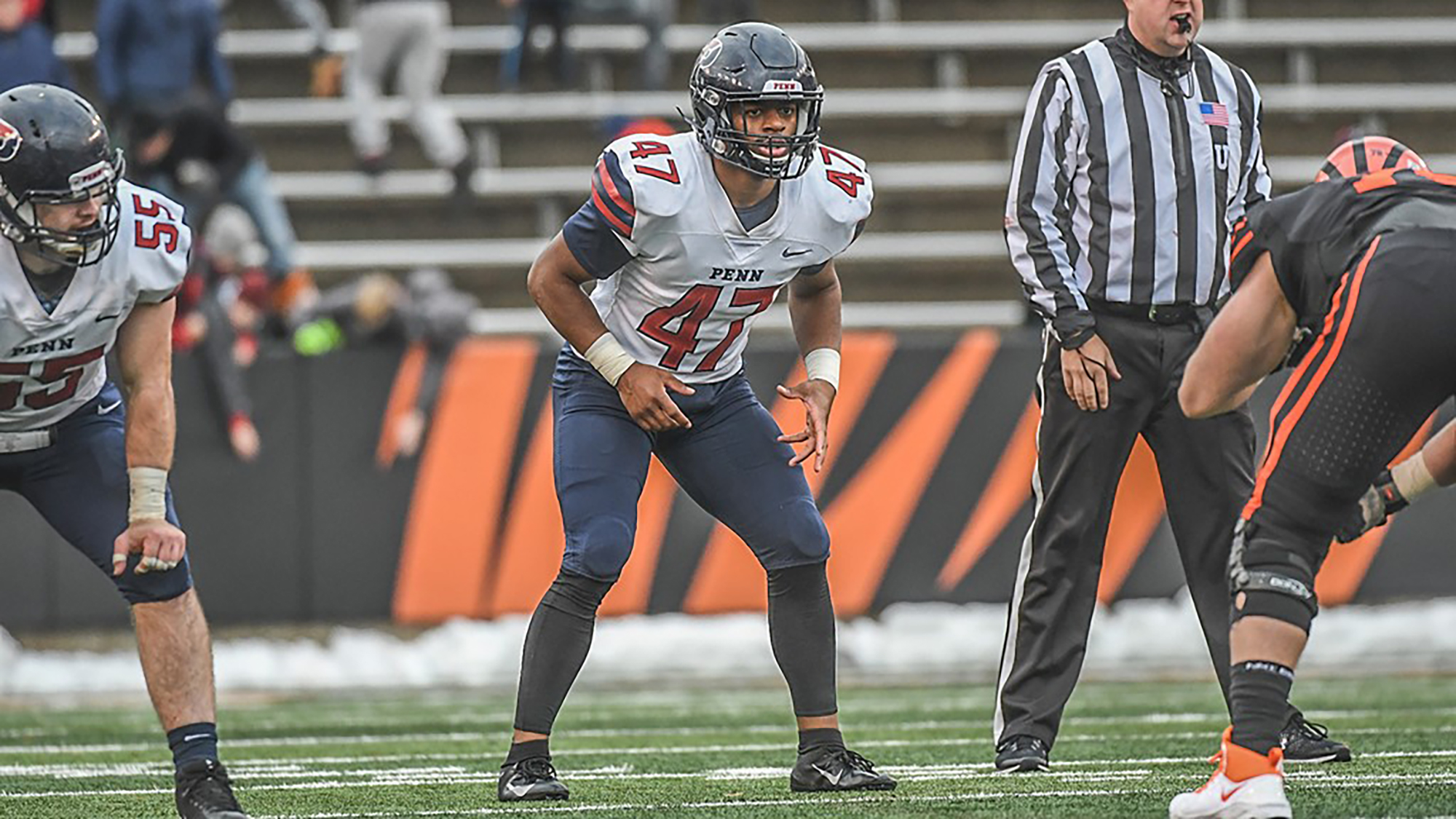 Nine members of the Penn football team have been awarded All-Ivy honors by the league's head coaches.
For the second consecutive season, the Quakers have a unanimous First-Team All-Ivy selection. Last year, it was Justin Watson, now with the Tampa Bay Buccaneers. This year, it is senior linebacker Nick Miller, who finished the season with 87 tackles (48 solo), 9.5 tackles for loss, six sacks, and three forced fumbles. Miller was also a First-Team All-Ivy selection last season. 
Joining Miller as a First-Team All-Ivy honoree is senior defensive lineman Cooper Gardner, who had 31 tackles (19 solo), seven tackles for loss, and four sacks.
Second-Team All-Ivy recognition was bestowed upon junior running back Karekin Brooks, senior linebacker Jay Cammon, Jr., and senior offensive lineman Tommy Dennis. Brooks led the team in rushing with 167 carries for 898 yards (5.4 yards per carry) and eight touchdowns. Cammon, Jr. had a career-high 8.5 tackles for loss and ranked No. 2 in the Ivy League in tackles for loss-per-game (1.1). Dennis did not miss an offensive snap for the third consecutive season.
Senior wide receiver Steve Farrell, junior safety Jacob Martin, freshman cornerback Mohammed Diakite, and senior kicker Jack Soslow were all honorable mention All-Ivy selections.
 
"Each of these young men is well-deserving of All-Ivy honors," says Ray Priore, the George A. Munger Head Coach of Football. "They were consistently a big part of our fourth consecutive winning season, and have set the standard for the level of play we expect from Penn football players. For the seniors, this is a tremendous honor to cap their careers alongside their two Ivy League championship rings. For the underclassmen, hopefully they set the tone as they take the next step as leaders of our program."