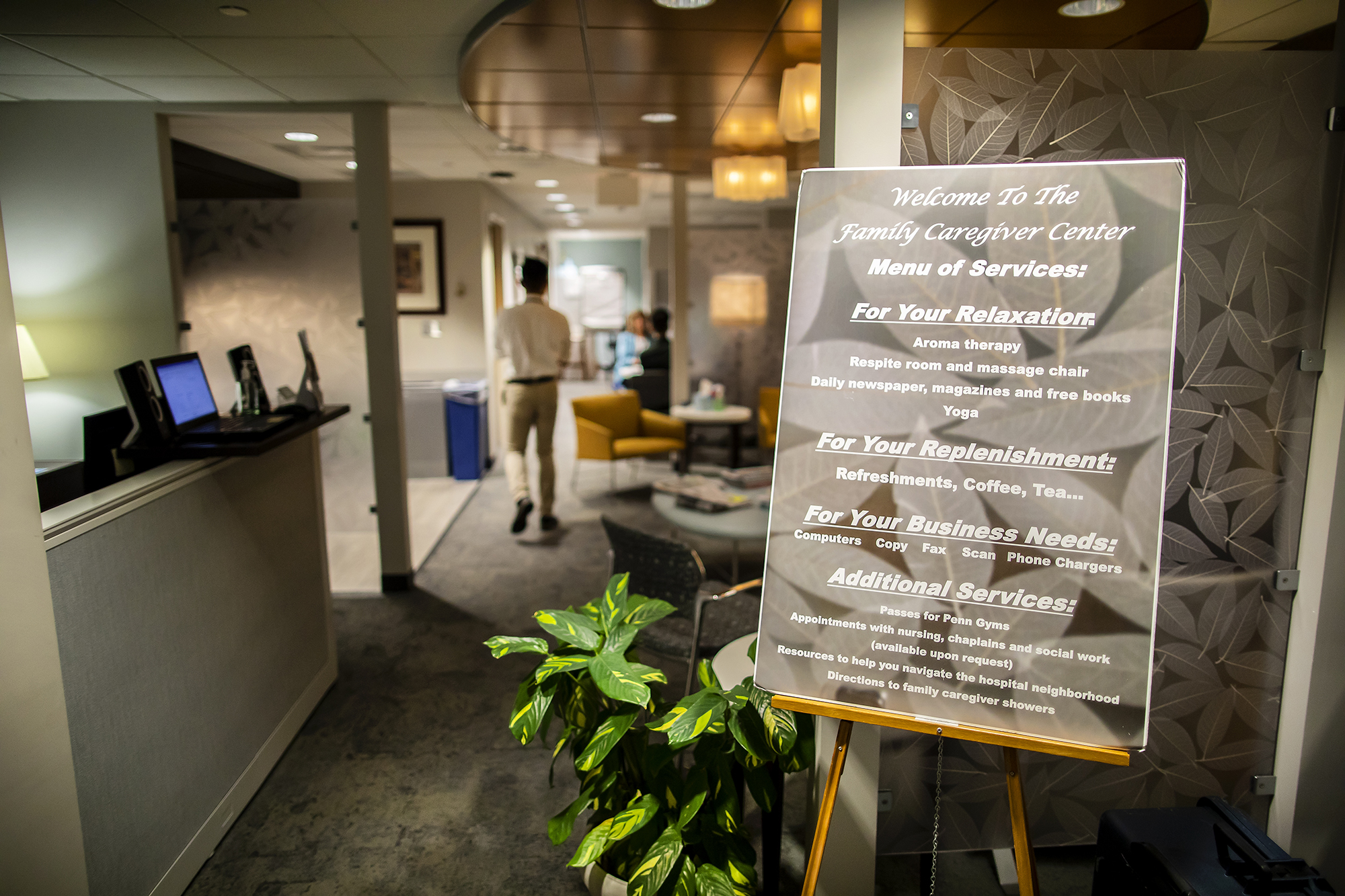 Barb Harnly was exhausted.
"It's a tough job, it really is," she says. "And I don't know that you can ever really prepare for it."
Harnly is referring to the job of a family caregiver.
From Lititz, Pa., Harnly came to the Hospital of the University of Pennsylvania (HUP) for three months last summer while her husband underwent treatment for idiopathic pulmonary fibrosis, for which he would receive a lung transplant that June. Abruptly, she was saddled with the responsibility of managing his needs, making phone calls, sending faxes—all while trying to maintain her state of affairs at home and, for work, filing paperwork for Family Medical Leave.
"Transplants bring this whole new normal," she says. "They gave us an entire arsenal of medications, and we had to learn how to fill his pill tender, the whole week four times a day. 'You take this medicine every single time, but then this one only in the evening, this one Monday, Wednesday, Friday and—whoa, how do you pronounce that one again?' And there's appointments, lab work, physical therapy, follow-ups with the doctor, the surgeon, and visitors are coming.
"It's a lot."
Nor is Harnly's circumstance an unusual one.
A position statement published by the American Academy of Nursing estimates that in 2013, 40 million family caregivers provided 18 hours of care per week. That amounts to $470 billion in unpaid caregiving—significant, when 60 percent of caregivers are otherwise employed—and a whole lot of stress for a population that is significantly less likely to care for themselves, in the process of caring for their loved ones.
Easing that stress is where the Family Caregiver Center steps in.
"We try and do anything we can to make their lives as normal as possible," says Beverly Rubin, who volunteers at the Center twice a week. Rubin, once a caregiver herself—a requirement to volunteer—listens to and empathizes with caregivers who come in, as well as makes rounds in the hospital waiting areas, spreading word of the Center and doling out stress balls to weary family members.
"They're usually very surprised or puzzled to hear there's someone there who wants to take care of them," she says.
Tangibly, the Center is a three-room space inside HUP, dressed in neutral or earthy tones and adorned with plants, monitors that project calming images, computers, kitchen tools, toys for kids, and a coffee table topped with a stack of magazines—none of which are particularly stress-inducing, in line with the Center's all-around serene aesthetic. A newspaper is even opened to the crosswords section. On the whole, it's a quiet, nonclinical oasis living among the hustle and bustle of an anxious hospital environment; it's a place to exhale.
As an arm of the hospital, it's equal parts physical hub and program. Family members are invited into the 958-square-foot space to relax with a magazine or book, enjoy a cup of coffee, or—as has become quite popular among patients who spread word of it like secret intel—release tension in a massage chair. But they also stop by to discuss what's weighing on their mind with any one of the 12 volunteers and staff, write their thoughts in a journal or on a poetry board, or be around other caregivers—to know, by way of the Center's very existence, they're not alone.
"Family caregivers enter the Center for a variety of reasons," says Mary Walton, director of Patient and Family-Centered Care, who led the launch of the Caregiver Center in 2015. "Some just need to get away from the intensity of the patient care unit; others may come in needing the privacy of the smallest room saying, 'I just need to go in there and cry.'  Some have quiet time; some need to work remotely."
Though, what's important, Walton says, is for families to understand this space is for them and offered as a safe space for respite and healing.
"They determine what they're going to share, what their need is, and then we try to connect the dots with hospital resources," Walton says. "I've certainly known family members who are hungry when they're here. How do you pick up on that? Because they often might not say [they're hungry]. But they might say, 'I don't have any money for food'—and that can be embarrassing to say. So, there are times I might say, 'When was the last time you ate?'
"It's about picking up cues."
Walton says family caregivers originally used the Center as a resource for computer access, to meet business and printing needs, but it has evolved far beyond that as more people acquire smartphones and tablets. Now, many people stop by for the massage chair, or just to vent or be around other caregivers.
Harnly, for example, found a friend who turned into a regular coffee and ice cream partner. They still keep in touch.
"We understand the stress," Harnly says. "We'd get together, and she would have a meltdown. Or we'd get together and I would have a meltdown. But you never had to apologize, because it was release—so you don't explode. And they totally understand."
The Center, located out of what was once a Patient Education Center in the Dr. Bernett L. Johnson Jr. Mezzanine, was inspired by a similar operation at the Northern Westchester Hospital, in New York. Walton was charged with leading an initiative to study the needs of patients and families—a sort of cultural evaluation of how the hospital interacts with patients and their family members. Essential to such a cultural transformation was establishing a formal role for patients and families to work with hospital staff to improve the care experience. Thus, the HUP Patient and Family Advisory Council was launched in 2011. In 2013, when a colleague suggested she look at the Family Caregiver program at the Northern Westchester Hospital, she and a team of colleagues got in touch to learn more.
"You can imagine, we're Penn and we think we're pretty good, and here's this little community hospital that's going to teach us something," Walton says, cracking a smile. "But we recognized they had a gem there, and their mission was to help other places develop."
After a site visit to the Northern Westchester Hospital, and careful study and evaluation of what HUP patient family members' needs were, Walton and colleagues decided to press forward with obtaining a replication license from Northern Westchester Hospital, then tailoring the Center to the needs of HUP and its patients.
Caregivers who have encouragement and resources to rest and replenish while supporting their loved ones in the acute care setting are able to focus on the needs of the patient, learn about their loved ones' plan, and engage in the planning for transition to the next level of care. This enables practitioners to work with them toward achieving optimal patient outcomes.  
Karen Anderson, clinical nurse specialist for patient and family-centered care, leads the Center's volunteer program and co-operative education students, organizing a team that's trained in the art of listening. Rather cleverly, their work with family caregivers assists in the medical team's information-gathering process.
"Families come to the Center and their stories are disorganized. 'I was in an ambulance, and…' There are all these bites of disjointed information," Anderson says. "It takes time and multiple retellings, but one day it makes sense to them and, as they organize their thinking, they are better able to partner with the clinical team. They create what we call a coherent narrative. All of a sudden, what seems like chaos coalesces and the family can begin to make decisions and feel in control again."  
Anne Shoemaker, Geriatric Nursing Program manager, says the geriatric nurse consultants at HUP are trained to inform family members and other caregivers of the center, and emphasizes the importance of having a knowledgeable and healthy caregiver in the process of healing a patient.
"Caregivers are advocates for the patients that we see," says Shoemaker. "When a part of a patient's care, they tend to be the ones asking a lot of follow-up questions. They know what home life is about and, as a result, understand the patient's needs in the hospital as well as the home better than the team, who only sees them in the hospital. They see the bigger picture beyond just the acute issue that's going on while the patient is in the hospital."
Initial data from a pilot program through the Penn Medicine Center for Health Care Innovation, she says, suggests discharged patients with well-defined caregivers often have more successful recovery outcomes.
Care for the caregiver, then, is paramount.
"I think it's huge for a place like Penn to have this," says Walton.
At present, Penn is the only health system in the region to support a Family Caregiver Center, and one of few in the country. It's a fact Walton is especially proud of, and a symbol of the University's patient-care culture.
"I think everyone knows if you come to the Penn hospital, you get the best of knowledge and skills that an incredibly talented group of health professionals has to offer. But I don't think they necessarily think of us as compassionate first; they think of science, of innovation," she says. "The foundation needs to be that we care. It's a relationship. That patients who are vulnerable know that we support their families as we provide world-class patient care.
"In some ways, it's really a significant statement of who we are."
Ideally, Walton and Anderson would like to see this type of center exist elsewhere in the University of Pennsylvania Health System.
"We'd love to see a Family Caregiver Center in all our hospitals, just like the Redcoats are now in every one," she says. "That would be a really great thing."
Harnly, meanwhile, reflects fondly upon her time at the Caregiver Center, where she made new friends and connections, and found a place to allow herself to be helped—to feel cared for. She still makes visits back to the Center when her husband returns for check-ups; she drops off toothbrushes, one of many seemingly insignificant needs of caregivers who unexpectedly find themselves in a hospital waiting room with only a few dollars and a mountain of prayers for their loved ones.
To allow herself that kind of human support, she says, was what made all the difference in how she coped with her situation.
"The Caregiver Center takes care of you physically and, to some degree, emotionally—they're there and they listen, and are very good at listening," she says. "But there are so many other facets that come to it, like just taking care of yourself. The biggest thing I learned [as a caregiver] was to allow people to love you. That's part of the support.
"And I like to say 'love you,' instead of 'help you.' Because that's what they're doing."